Text: Beijing Youth Daily reporter Zhu Kaiyun
Source: Beijing Youth Daily
In order to further optimize the business environment, promote the benefit of enterprises and the people, and implement the Beijing Blockchain Application Action Plan for Municipal Services (2020), the Beijing Municipal Planning and Natural Resources Commission, together with the Beijing Housing and Urban-Rural Construction Commission, and the State Administration of Taxation From February 8, 2020, the Inland Revenue Department and the Beijing Municipal Administration Commission will launch an upgraded version of the real estate registration information platform based on blockchain technology, launching 7 application scenarios of "blockchain + real estate registration".
Optimize online services and block chain to help prevent and control. In order to cooperate with the prevention and control of the pneumonia epidemic of new-type coronavirus infection, the city promotes the "Internet + Real Estate Registration" online service, and the masses and enterprises can log on to the Beijing Real Estate Registration Online Service Platform to handle the blockchain application scenario business. At the same time provide online inquiry, online booking, online payment and EMS delivery services.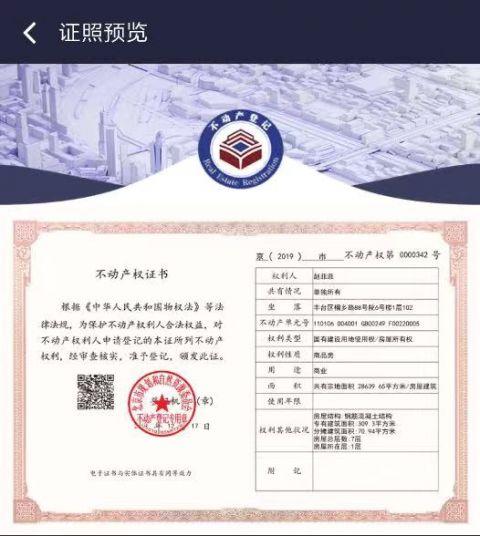 The whole process does not meet, the blockchain is safe. Real estate right holders can complete mortgage registration and mortgage cancellation registration applications directly at service outlets such as banks or provident fund departments, without having to go to the real estate registration hall. After the intelligent approval is completed, the electronic certificate of real estate registration certificate will be automatically generated. The bank or provident fund department directly obtains the electronic certificate of real estate registration certificate, and quickly realizes the "credential loan". In addition, an online declaration service for supplementary recording of existing housing has also been launched. Applicants can log in to the online service platform to complete the business declaration, and there is no need to go to the real estate registration hall for processing.
The whole business runs quickly, and the blockchain reduces time. For non-residential real estate transaction registration business between enterprises, choose a Netcom office model. After the two parties complete the online service platform information reporting, use blockchain technology to reduce the on-site processing time. Adopting the model of computer intelligent examination and approval, the mortgage deregistration and registration business realizes automatic examination and registration, which improves the examination and approval efficiency and shortens the processing time.
One network handles reducing materials, and blockchain promotes sharing. Applying blockchain technology to achieve reliable sharing of data between departments, based on the public security, civil affairs, market supervision, tax and other departments on the chain, optimized business processes such as registration of house transfers between husband and wife, registration of stock room transactions and one Netcom office, streamlining identity cards , Marriage certificate / divorce certificate, business license, tax payment certificate, etc. At the same time, when the applicant goes to the electric power, gas, and Gehua Cable Department to conduct business, he / she does not need to bring a paper real property certificate, and can present the real estate registration electronic certificate on the mobile phone to complete the business.