The biggest public enemy of the "epidemic"-trust, to overcome its most effective weapon-blockchain
Text | Interchain Pulse · Black Pearl
[Interlink Pulse] The "war epidemic" is a major event in China and the world. The war between humans and viruses without gunpowder may have begun since the birth of humans, but there are many tools in the human arsenal, including the blockchain. Mutual Chain Pulse explores the ability of blockchain to fight the epidemic from multiple dimensions. This is the third episode of the special "Blockchain War Epidemic".
In the fight against the epidemic, the biggest public enemy is trust.
In recent days, many netizens have exposed some of the things they have seen and experienced online, such as the delay of Chi aid supplies to reach the "frontline" hospitals for epidemic resistance, the smashing of Wuhan license plate vehicles, and the discovery of short-term shops after buying masks online Seizures, etc., have caused high public trust costs.
The root cause is that the transparency, accuracy, and symmetry of information are the causes of people's mistrust or deliberate deception. Increasing numbers of infections and sudden shortages in some medical resources can lead to trust issues. If trust issues can be resolved, many conflicts may not occur. As a "trust machine", the blockchain may solve the problem from the technical level.
In this "war epidemic" operation, due to the emergence of some cases, there was a problem of trust in people, things and organizations. The trust built through blockchain technology can effectively eliminate the high trust cost.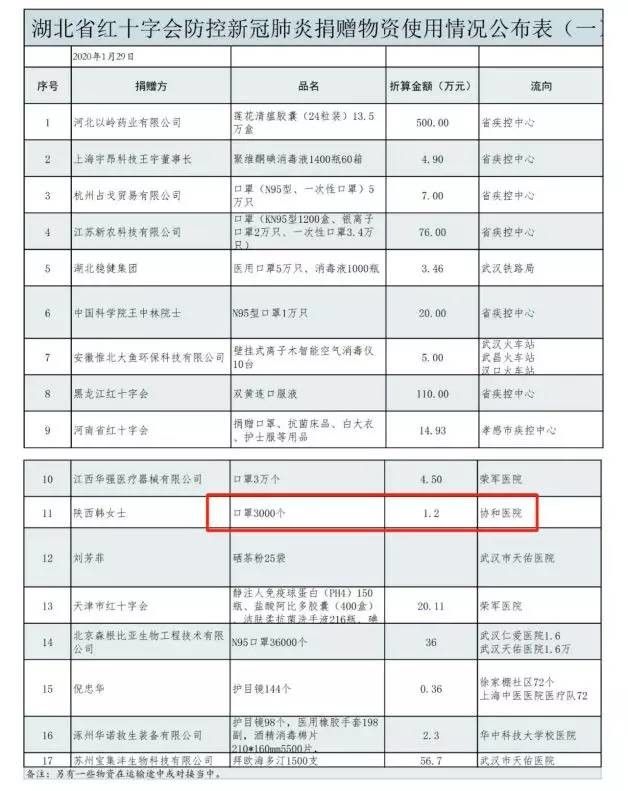 Institutional trust issues: public welfare also needs effective supervision
A report from China Economic Weekly recently pointed out that the Hubei Red Cross and Wuhan Red Cross are experiencing a major crisis of trust.
After the outbreak of the epidemic, the shortage of medical supplies, including masks, alcohol, and protective clothing, broke out in Wuhan's frontline hospitals. But on the other side, various units, institutions and thousands of netizens in the society are continuously donating materials to Wuhan. According to a number of media exposures, many of these relief supplies were piled up in Wuhan Red Cross warehouses and were not delivered to various hospitals in a timely and effective manner.
"Sanlian Life Weekly" stated that when visiting the warehouse of Wuhan Red Cross in Wuhan International Expo Center A in Hanyang on January 30, it was found that the warehouse was filled with a football field-sized material. The introductory letter is in the process of being used without any trace of using modern logistics information systems that China has developed for many years.
In addition to questioning the efficiency of material distribution, Wuhan Red Cross material distribution has also been criticized. On January 30, the Hubei Red Cross announced for the first time the use of donated materials since the outbreak. Statistics show that Wuhan Union Medical College Hospital, which is on the front line of the epidemic, received only 3,000 ordinary masks and donated 12,000 yuan.
After the incident was exposed, public outcry was triggered and Wuhan also took urgent action. Assigned by Wuhan New Crown Pneumonia Prevention and Control Headquarters, Kyushu Tong Co. is responsible for logistics operation management of donated materials by Wuhan Red Cross, and officially started material distribution at 12 noon on January 31. Digital material distribution systems are beginning to work. On February 1, a working group of the Chinese Red Cross Association rushed to Wuhan, Hubei Province to guide the Hubei Red Cross and Wuhan Red Cross to manage the receipt and use of donated funds and materials to ensure that the use of donated funds and materials is standardized, efficient, and transparent. Actively accept social supervision.
In this incident, problems such as the distribution of charitable materials did not meet actual needs, and the distribution and distribution efficiency was low. In addition to some subjective human factors, the low degree of digitization also aggravates the problem. From the moment of donation, there is no open and comprehensive system that can trace the location of the material in real time. As a result, reporters must visit the site to find that the material has been backlogged for a long time. Secondly, the distribution of materials and the scarcity of hospital resources are not effectively linked, and there is also a lack of public supervision. The materials donated by the public cannot be accurately delivered to the hospital.
During the anti-epidemic period, time is life, improper distribution of materials causes a crisis of trust, and the lack of basic masks and protective clothing by front-line doctors is even more worrying. If from a technical perspective, an open and effective public welfare blockchain platform can realize real-time traceability of materials, and all demand and supply information cannot be tampered with on the chain, which can greatly improve the quality of material distribution and strive for time and opportunities for more lives. .
Matter of trust: how to pay for three masks?
At present, disposable medical surgical masks and alcohol have become scarce supplies. Although various mask makers are already expediting production, it is still difficult to achieve a balance between supply and demand. In this case, some "three-nothing" products appeared in the market.
Interlink Pulse retrieved "masks" on the "Complaints" platform, and there are now 426 complaints. The front-end displays are disputes over the sale of masks on e-commerce platforms in recent days. Among them, there are cases in which "disposable masks" are used instead of "disposable medical masks"; there are also incidents in which after the purchase, the merchant cannot deliver the goods according to the purchase and cannot be refunded in full; there are also some stores that have no business qualifications but illegally sell medical masks Reported.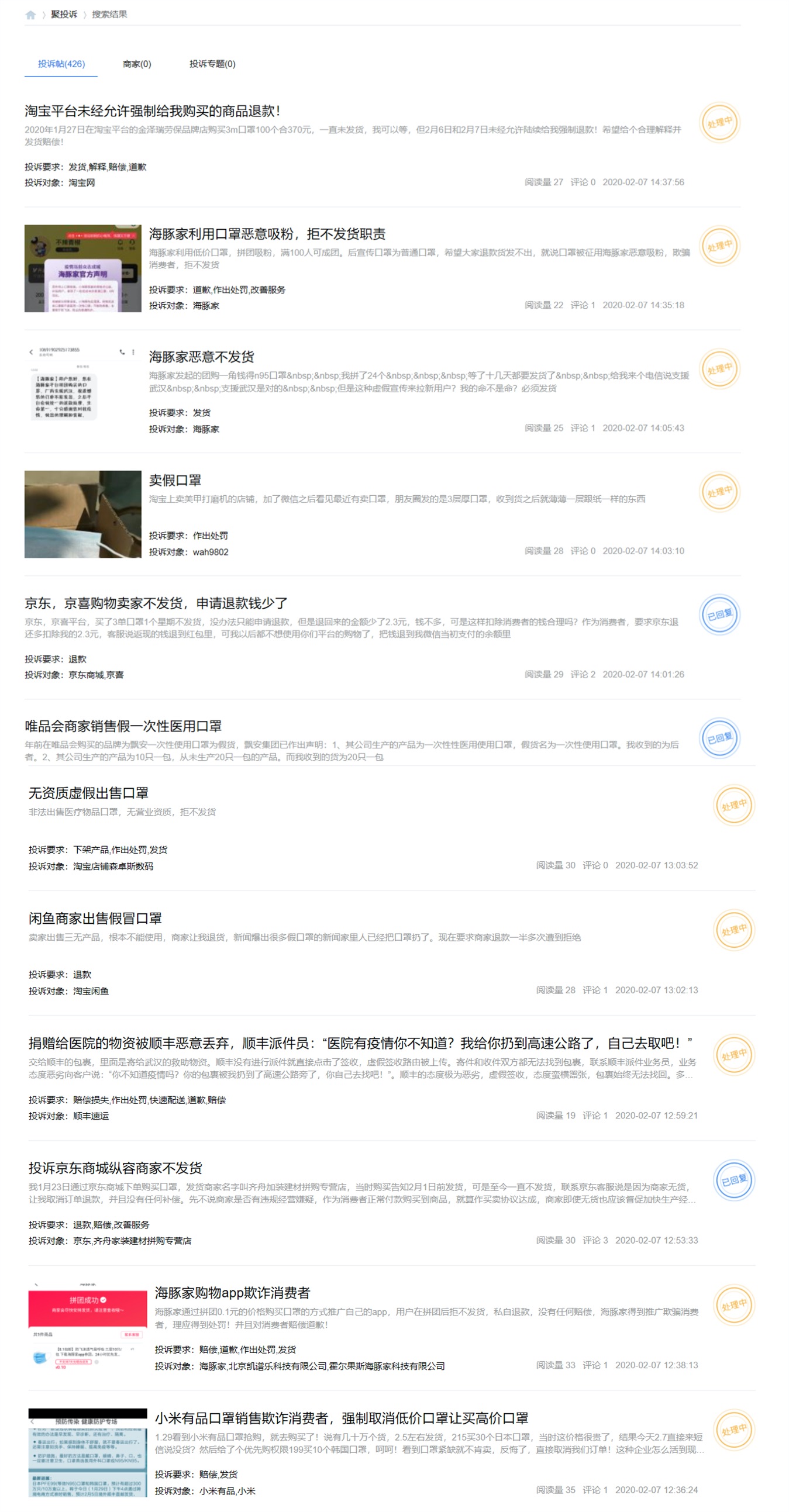 On February 7, the Beijing News reported that the Public Security Bureau of Changyuan City, Henan Province, had successfully cracked two cases of producing and selling fake masks, seized 8 mask machines, recovered over 600,000 frozen funds, and detained 8 people. The state has also issued relevant documents to combat such illegal acts. On February 6, the State Administration of Market Supervision issued the Opinions on Strictly and Seriously Combating New-type Coronavirus Epidemic Prevention and Control during the Epidemic Prevention and Control Act. The opinion stated that illegal trade in wild animals and their products, and fake and sale of protective supplies such as masks Illegal acts such as falsehoods shall be punished within the types and ranges of punishment that can be selected according to law.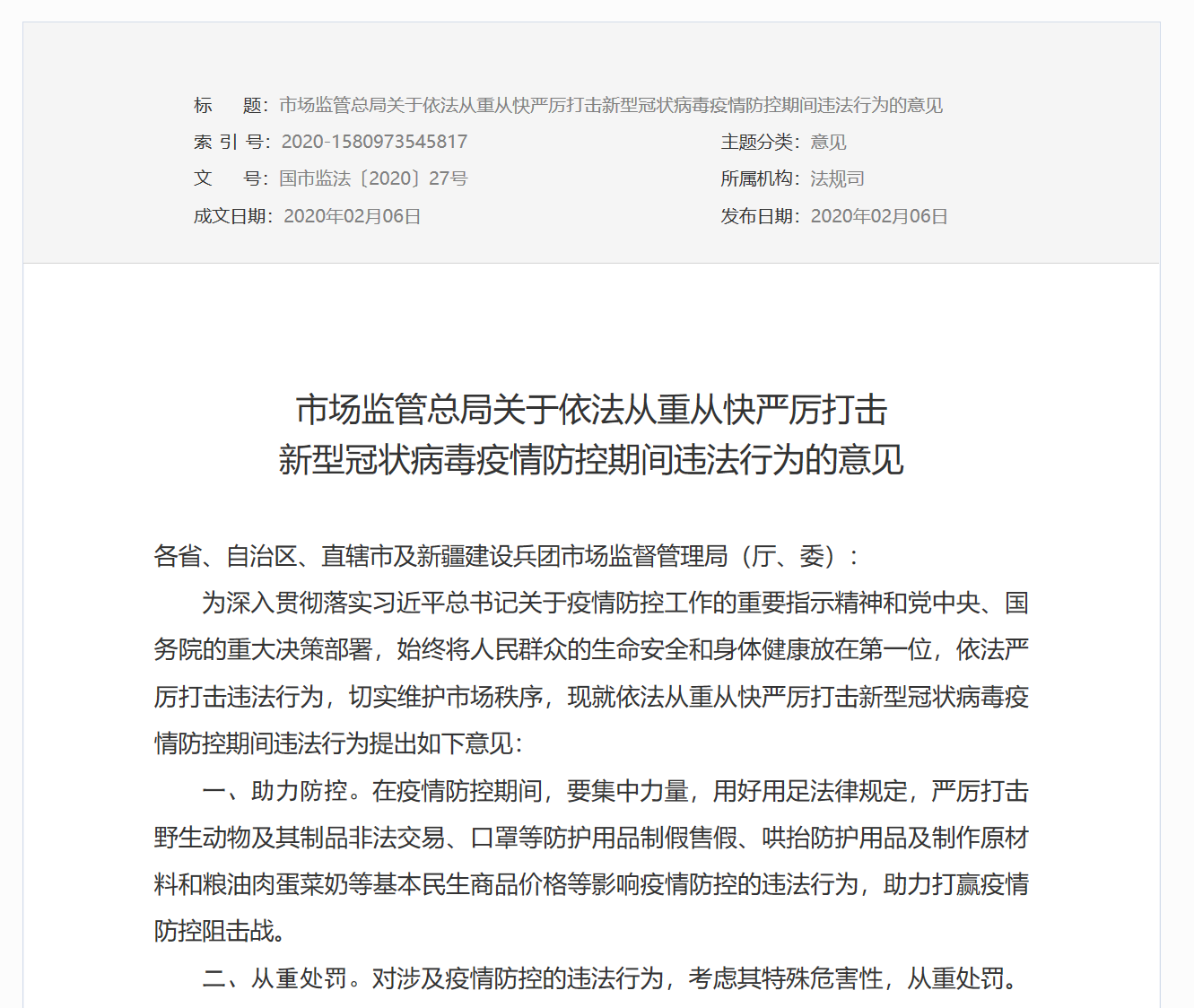 In fact, the phenomenon of counterfeit and inferior products and unqualified business has always existed. During the fight against the epidemic, this kind of behavior will lead to greater danger, thus causing strong warnings and crackdowns. At this time, if each item on sale can be traced and checked, the operating licenses obtained by the merchants on each platform can be recorded on the chain and verified at any time. Such incidents can be effectively banned and consumers can rest assured. consumption.
Human trust issues: identity and whereabouts need to be verified
On February 5, Shenzhen Nanshan Police opened a case in which Yang Yanghua (female, 61 years old) was suspected of endangering public safety in a dangerous way. Yang Mouhua was confirmed to be infected with the new coronavirus on February 3, but before that he deliberately concealed his identity and travel information, causing the risk of infecting others. Yang Mouhua drove from Wuhan, Hubei, and then transferred to the high-speed rail to Shenzhen on January 23, but he concealed this information when he checked into the hotel, and did not isolate at the hotel as required, and went to public places multiple times with his relatives. He has been sent to a hospital for isolation and treatment, and his relatives have been sent to a designated place for isolation.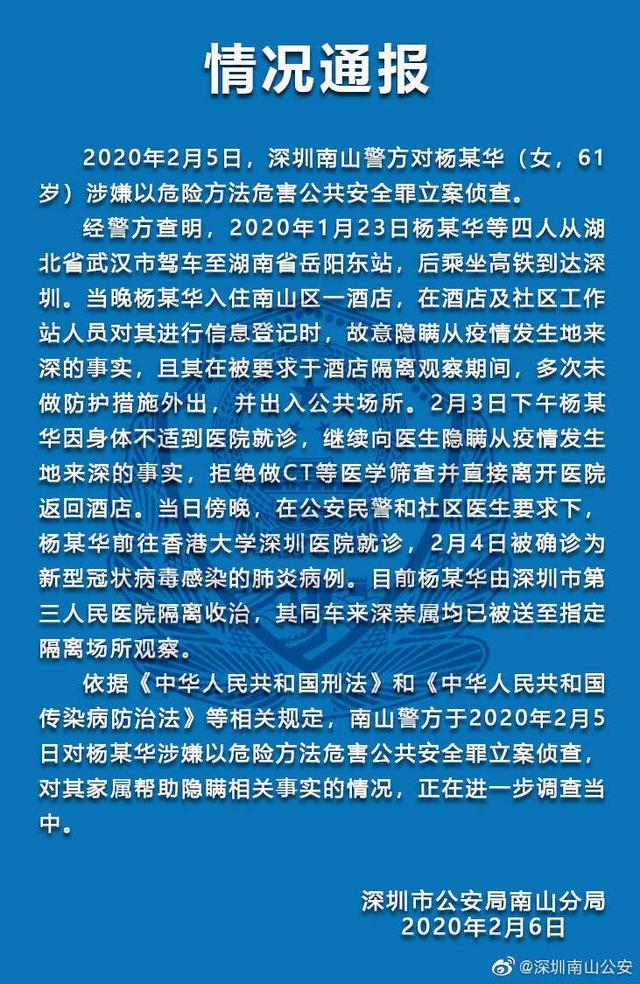 Yang Mouhua deliberately concealed the information and did not take the initiative to isolate it. However, such an example will aggravate social panic. For example, residents of various places are highly alert to foreign vehicles, people, and even returnees because they are afraid of such incidents and cause more waste of social resources.
According to Shangguan News, a Mr. Xie, who returned to his hometown in Xintai, Shandong, from Huangshi, Hubei by car in mid-January, consciously sought medical treatment and was quarantined. Wuhan license plate was reported fever, driving away. What's more, directly destroyed the Wuhan license plate vehicles you saw.
If you want to solve this kind of problem, you need to ensure the travel of the vehicle and the mobile people within a certain period. Or, if the driving history of the vehicle for two weeks can be queried through a QR code, the owner can attach evidence when he says the vehicle has not been to Wuhan recently, which is also convenient for law enforcement officers to check. At the time of check-in, if the positioning information, riding and driving information can be recorded and queried, there will be no incidents like Yang Mouhua's concealed information going out at will.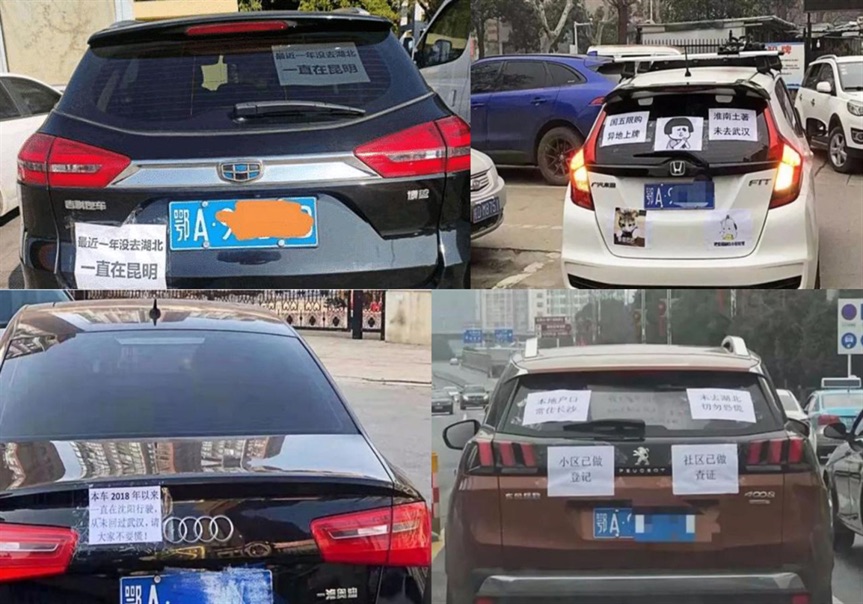 In this epidemic, Hubei license plate owners who have no history of exposure in Wuhan, no contact history of infected people, and no physical discomfort in the past two weeks, or many returnees from Wuhan have been affected, and even had direct economic losses. These could have been avoided or should not have happened.
How does blockchain build trust mechanism through technology?
The problems caused by deliberate deception and non-disclosure of information may bring huge dangers to society and cause a lack of trust at the same time. People may also reduce trust in others and society because of such incidents. During the fight against the epidemic, the cost of trust is very high, including delaying rescue fighters, occupying medical resources, operating inefficiently, and consuming resources in transition. These costs may be effectively circumvented through blockchain technology.
The Economist magazine likened blockchain to a "trust machine." First of all, the blockchain can allow governments, enterprises, and citizens to appear on the distributed network as equal nodes and share an unmodifiable transaction ledger.
The blockchain can ensure that the data cannot be tampered with and can be traced throughout. In this way, the items on the chain are "transparent" and trustworthy. The cost of trust at the item level can be quickly reduced.
Second, the blockchain can build a credible proof of personal identity and solve the problem of trust building in social interaction. The interests of all parties that belong to the same blockchain platform have the same goals, and fair equity distribution on the chain can be used to regulate member behavior. At the same time, the blockchain platform can replace third-party platforms at the regulatory level and conduct credit supervision, making supervision more efficient and secure.
The identification of people and things and the solution of platform supervision can reduce the cost of trust. Problems such as improper allocation of resources and inefficient operations in this epidemic can be properly resolved.
At present, the blockchain has built a trust system to prove it in practice. For similar product production information, item distribution process, information docking certificate service, etc., the blockchain can solve the trust problem very effectively. At present, there are a large number of projects in China in traceability, logistics, supply chain, and certification.
Blockchain has been called a "trust machine" for a long time, and the non-tamperable characteristics of the information on the chain are more like a boost to users. In the future, on the premise that blockchain technology is more popular, it is hoped that the blockchain system can make people trust this society more.
This article is the original [Interlink Pulse], please indicate the source when reprinted!
We will continue to update Blocking; if you have any questions or suggestions, please contact us!
Was this article helpful?
93 out of 132 found this helpful