Source: Smart City Research
Editor's note: The original title was "Shanghai Takes the Lead in Changing the Crisis: Opinions on Accelerating the Construction of Smart Cities"
On February 6, the China Smart Cities Forum proposed "taking epidemic prevention as an opportunity to comprehensively promote smart cities", and advocated that governments in all regions should work hard to prevent epidemics and work together to control the disease in a good atmosphere. Hands, comprehensively promote smart cities.
We need to take epidemic prevention as an opportunity to comprehensively improve smart cities!
On February 10, Shanghai issued "Several Opinions on Further Accelerating the Construction of Smart Cities".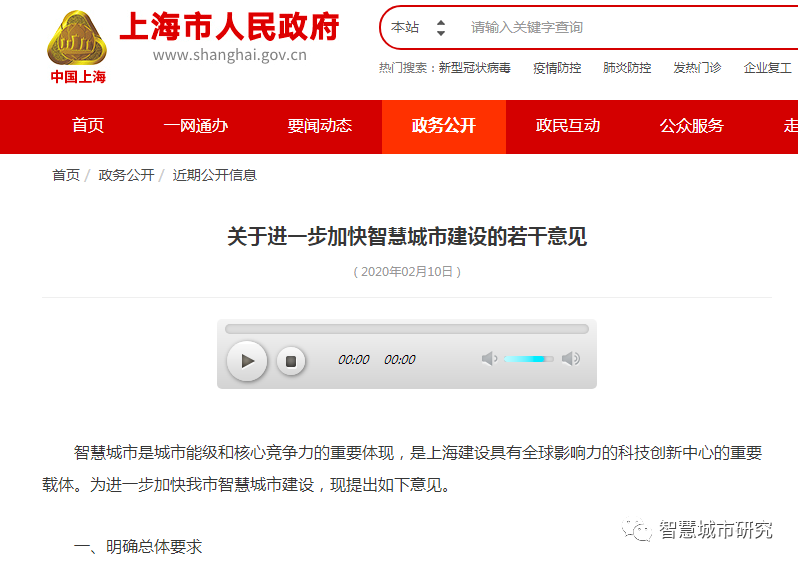 At present, it is an urgent period that requires big data and smart technology support. The construction of smart cities with "really good" areas has already shown a good effect on joint prevention and control of the epidemic.
Building a smart city not only plays a strong supporting role in the epidemic situation, but also requires comprehensive insight into the city's data, so that the data can be quickly and realistically made from bottom to top, accurate and scientific decision-making, and make the government The major risks, including the epidemic, can be known as soon as possible, eliminating the danger in the bud.
Building a smart city not only provides management tools to the government, but also better services to the people. Regarding the various types of people in the extraordinary period of time, how to provide technical support, how to isolate people to monitor, how community workers to investigate, how to protect the lives of normal people, all need to use smart city big data to plan.
Shanghai's performance in epidemic prevention has attracted national attention, and many regions have followed suit and learned from it. The advancement of Shanghai's smart cities is also worth learning and reference throughout the country.
The full text is as follows:
Several opinions on further accelerating the construction of smart cities
Smart cities are an important manifestation of urban energy levels and core competitiveness, and an important carrier for Shanghai to build a science and technology innovation center with global influence. In order to further accelerate the construction of our city's smart city, the following opinions are proposed.
I. Clear general requirements
(1) Guiding ideology.
Guided by Xi Jinping's thoughts on socialism with Chinese characteristics in the new era, fully implementing the spirit of the 19th National Congress of the CPC and the 2nd, 3rd and 4th Plenary Sessions of the 19th CPC National Congress, adhere to the new development concept, and conform to the new wave of information technology and technological revolution. Focus on smart government, smart society, digital economy, etc., comprehensively promote the deep integration of new smart city construction and urban development strategies, meet the people's longing for a better life at a higher level, promote economic transformation, innovative development, and improve urban management with higher quality And social governance level, focusing on optimizing the system and mechanism, improving the system architecture, strengthening overall planning, coordinating planning, construction, management and production, life, ecology and other aspects, giving play to the role of government, society, citizens and other parties, focusing on government services "One Netcom Office ", city operation" one network management ", comprehensively empowering the three major construction priorities of the digital economy, consolidating the three basic guarantees of" urban brain ", information facilities, and network security, and accelerating the new round of smart city demonstration and comprehensive construction. Constantly enhance the attractiveness, creativity and competitiveness of cities.
(2) Construction goals.
By 2022, Shanghai will be built into the vanguard of a new global smart city, an important hub of the international digital economic network; a pioneer in leading the development of a smart society and a smart government nationwide; an innovative city with a smart and beautiful life. Adhere to the city's "one game of chess and integration" and make more use of information technology such as the Internet, big data, and artificial intelligence to promote innovation in urban governance systems, model innovation, and method innovation, and improve the scientific, sophisticated, and intelligent management of cities. The scientific and intensive "urban brain" has been basically built, and the fully aggregated data center operates efficiently. The "one-net communication office" of government services has continued to deepen, making it easier for the people to do business, and the business environment has been further optimized. The "one-net unified management" of urban operations has been accelerated and urban governance The capacity and governance level have been continuously improved; the vitality of the digital economy has emerged, and new models and new formats have been developed; the new generation of information infrastructure has been fully optimized, network security is tough and reliable, and system supply has become more effective; the city's comprehensive service capabilities have been significantly enhanced, and it has become a radiating Yangtze River Delta city cluster An important leader in creating world influence.
2. Overall planning and improvement of the "urban brain" structure
(3) Deepen data aggregation and sharing. Taking data as the core resource of the "urban brain", relying on the city's big data center, it optimizes the quality of public data collection, realizes the centralized aggregation of public data, strengthens data governance, and establishes and improves a cross-department data sharing and circulation mechanism. Explore the construction of a digital twin city, digitally simulate the city's all-factor ecological resources, and build a digital base for urban intelligent operation.
(4) Strengthen system integration and sharing. Guided by the construction of large networks, large systems and platforms, in accordance with the "six unified" requirements of portal integration, access management, user management, authorization management, resource management, and security protection, the integration and integration of private networks and information systems in various departments and districts is promoted to achieve Coordination of cross-department and cross-level working mechanisms is smooth. Optimize the allocation of government affairs cloud resources, restructure and optimize various government affairs systems, and promote efficient and efficient government management and service standards. Promote the construction of cross-sectoral systems in the areas of urban management and social governance, and jointly solve the difficulties of urban governance.
(5) Support application ecology openness. Vigorously attract the active participation of various social entities to build an excellent smart city development ecology. Relying on the city's big data center resource platform, the city's public data set is opened in an orderly manner. Focus on social credit, medical health, inclusive finance and other fields, promote solution providers and innovative product directories, establish a big data joint innovation laboratory, and form an open application demonstration. In the areas of Huimin service, precision governance, network security and other fields, create a number of typical social applications.
3. Comprehensively promote the "One Netcom Office" of government services
(6) Promote revolutionary reengineering of government affairs processes. From the government department management as the center to the user service as the center of change, combing and optimizing the department's internal operation process, handling and disposal process. Focus on the high frequency of use by the masses, speed up the application of electronic certificates, electronic seals and electronic files, and promote the reduction of links, certification, time, and number of runs. Continue to increase the power of streamlining government affairs, simplifying and optimizing work procedures, and achieving "one thing" with high efficiency.
(7) Continuously optimize "Internet + government services". We will improve the functions of the "One Netcom Office" general portal, expand the beneficiary of mobile application, and continue to expand various service scenarios and improve government application clusters. Taking "Enterprise Service Cloud" as an important component of "One Netcom Office" for enterprise services, it aims at full-scale, all-ownership, and full-life-cycle enterprises to strengthen overall coordination and coordination of services for enterprises and the sharing of policy resources for benefiting enterprises. We will deepen cross-department collaborative approval and parallel approval, continue to improve the full-process integrated online service platform, make every effort to launch the "One Netcom Office" government service brand, and strive to create an efficient and convenient business environment.
(8) Focus on providing smart and convenient public services. Focus on medical, education, pension, culture, tourism, sports and other key areas, promote the inclusive application of intelligent services, and continue to improve people's sense of gain. Promote the interconnection and mutual recognition of health information, promote the precision of medical services, explore the innovation of medical insurance payment methods, and improve the information service capabilities such as supporting the elderly and supporting the disabled. Gather high-quality subject resources, support intelligent interactive learning, and improve education supply satisfaction. Strengthen the intelligent service level of the cultural arts market, support digital entertainment and other cultural and entertainment activities, and expand the richness of cultural services. Integrate regional commercial, cultural, and tourism public resources, create a "one-mobile tour of Shanghai" demonstration project, and expand the urban experience and perception.
4. Accelerate the "One Network Management" of Urban Operation
(9) Integrated construction of urban operation system. Keeping close to the goal of "seeing the world with one screen and managing the whole city with one network", relying on the e-government cloud to strengthen the interconnection and interoperability of various urban operating systems, unified management model, data format, and system standards across the entire network to form a unified view of urban operations Co-construction and sharing of hardware facilities accelerates the formation of a cross-department, cross-level, and cross-region collaborative operation system.
(10) Improving the level of rapid response and efficient linkage handling capabilities. Based on the needs of the city's grid-based integrated management, a command center for information sharing, mutual push, rapid response, and joint logistics is established, and a coordinated event handling process with matching responsibilities is established. Carry out analysis of urban operation data, strengthen comprehensive research and judgment, enhance the monitoring and early warning, emergency response and cross-domain coordination capabilities of urban comprehensive management, and achieve efficient disposal of "one thing".
(11) Deepen the construction of "smart public security". Promote the construction of a safe city with high standards, realize ubiquitous perception, multi-dimensional judgement, flat command, and efficient disposal, and build an all-round security posture. Implement strong police with science and technology, re-engineer modern police procedures, effectively improve data utilization capabilities, and promote the in-depth application of new information technologies in areas such as adult flow monitoring and early warning, urban security, and cracking down on crimes, and create a domestic benchmark for smart police.
(12) Construction and operation of emergency safety intelligent application system. In the key areas of urban safety such as fire prevention, disaster prevention and mitigation, safe production, and management of hazardous chemicals, early warning supervision and disposal of the whole process and the whole process are realized. Promote the application of IoT sensing and intelligent prediction in the fields of water supply and drainage, gas, and urban construction, and comprehensively improve the ability of urban operation safety and security. Continue to improve the flexibility and compatibility of smart grids to meet the diverse needs of power transmission. Strengthen the information security of public health safety, build a food and drug information traceability system and a public health early warning system. Promote the application of real-time data analysis and computer vision in the field of intelligent transportation to improve service efficiency.
(13) Optimize the urban intelligent ecological environment. Strengthen the real-time acquisition, analysis, and judgment of water, gas, forest, soil, noise, and radiation in urban ecological environmental protection data, and improve the digital management and control of ecological resources. Actively develop the "Internet + Recycling Platform", improve the overall classification and information system of domestic waste, and realize digitalization, refinement, and visual control of the entire process. Promote the connection between meteorological data and urban operation applications, and improve the accurate forecasting and prevention capabilities of meteorology.
(14) Improve the governance level of grassroots communities. Strengthen the leadership of party building, build a "community cloud", promote the collection of various information systems in towns and villages, and effectively support the village committees to reduce the burden and increase energy. Support grass-roots comprehensive management applications, improve grass-roots event discovery mechanisms, and enrich cities and districts' coordinated disposal bodies. Innovate the community governance O2O model, build a digital community convenience service center, and promote community governance to jointly build and co-govern.
V. Enabling the digital economy to flourish
(15) Create a source of innovation for digital new industries. It is used first in the construction of smart government, and supports new technologies such as blockchain data traceability and V2X intelligent network connection. Focus on key areas such as next-generation artificial intelligence, next-generation information and communication, high-end chip design and manufacturing, and core software, promote the in-depth integration of a number of key technologies and smart city construction, strengthen key core technology research, and build functional platforms to vigorously enhance the emerging digital economy Core competitiveness of the industry.
(16) Promote high-quality development of digital transformation. Accelerate the penetration of digitalization into more and wider fields, and realize the deep integration of information technology and the real economy. Focus on key industries such as automotive, electronic information, and biomedicine, and take the lead in building intelligent manufacturing industry clusters. Focus on cloud services, digital content, cross-border e-commerce and other characteristic areas, build a "digital trade international hub port", and form a high-level digital trade open system that is in line with international standards. Focus on "agriculture, rural areas and farmers", develop smart green agriculture, and promote the safety and quality improvement of agricultural products. Improve the efficiency of "smart +" services, accelerate the promotion of professional services such as law, accounting, and technology transactions, and use information technology to transform and enhance, and vigorously develop digital services such as digital shipping and streaming media.
(17) Speed ​​up the development of new models and new formats. Promote the innovation and development of the Industrial Internet, focus on personalized customization, networked collaboration, intelligent production, and service-oriented extension, build a number of industrial Internet benchmarking parks, and strengthen a number of leading enterprises. Continue to promote the application of data fusion and innovation, and build a batch of innovation and entrepreneurship demonstration projects such as fintech, digital design, and "Internet +" life. Build a world-class smart city application scenario, implement "unveiling and take command" in key areas such as city management and people's livelihood services, cultivate innovative leading companies, unicorn companies and a large number of dynamic SMEs, and fully transform the advantages of the scenario into industrial development New kinetic energy.
(18) Focus on the construction of a digital economy demonstration zone. Planning and layout of new smart urban areas, accelerating urban intelligent renewal, focusing on "3 + 5 + X" key areas, strengthening the integration of smart production and cities, and promoting the high-quality construction of new cities. Accelerate the transformation of Nanda, Wusong, Takahashi, Wusong, and Taopu to the emerging digital economy industries, and support the construction of new carriers for smart industries based on local conditions. In the pilot free trade zone Lingang New Area, the Yangtze River Delta Ecological Green Integrated Development Demonstration Zone, the Hongqiao Business District and other key areas, create a "future city" demonstration urban area and a national new smart city pilot zone.
Optimize and improve the layout of the next-generation information infrastructure
(19) Promote the growth of network connections. Promote 5G pilot and 4G optimization to build a "dual Gigabit broadband city". Be the first to deploy Beidou Space-Time Network to deepen IPv6 applications. Promote the functional integration and intensive construction of information infrastructure and urban public facilities.
(20) Promote the enhancement of information hubs. Create a new generation of international interaction system with global reach, and build a "global data port". Strengthen regional cooperation in the Yangtze River Delta, and establish a new model of data centers based on direct connections in adjacent areas. Relying on the Lingang New Area of ​​the Pilot Free Trade Zone, we will deepen the facilitation of investment and trade in the value-added telecommunications field, deploy a city-wide content storage and exchange hub, coordinate energy efficiency indicators, and optimize the layout of the Internet data center.
(21) Promote the efficiency of intelligent computing. Establish high-performance computing facilities and big data processing platforms, and build artificial intelligence-oriented computing power and algorithm centers. Optimize the planning and layout of edge computing nodes, build edge computing node resource pools, and realize unified supply of computing power at the cloud edge.
(22) Promote ubiquitous perception and intelligence. Create a new urban IoT private network consisting of the Internet of Things, the Digital Association, and the Intellectual Connectivity, deploy urban neuron nodes and sensing platforms, and build an "urban neuron system" to help expand the "urban brain" function and service extension.
7. Effectively guarantee the security of cyberspace
(23) Enhance the security and toughness of key information. Implement the "Cyber ​​Security Law of the People's Republic of China" and the hierarchical protection system and the security protection system for critical information infrastructure, and strengthen network security management in key areas such as planning and construction, operation monitoring, and notification rectification. Be the first to implement the Chief Cyber ​​Security Officer system.
(24) Improve the response speed of information security incidents. Compact the responsibilities of the main body of cyber security work, explore the in-depth application of new technologies such as dynamic defense and quantum communication in the discovery of cyber security vulnerabilities and major event warnings, and improve situational awareness, emergency co-processing and rapid recovery capabilities.
(25) Improve the protection of public data and personal information. Strengthen the security assessment of data resources in the areas of collection, storage, and application, and build a security assessment system for data cross-border flows. We will continue to crack down on cyber crimes and further promote the spread of cyber security knowledge and skills.
(26) Strengthen the management of bad network information. Give full play to the role of industry self-discipline, improve the Internet's bad information discovery mechanism, strengthen the technical pipeline network, and strengthen the management of harmful information. Optimize and improve the functional layout of the collaboration system, and promote the traceability and comparison of digital systems and electronic files to form a comprehensive network governance structure.
(27) Innovate and develop the cyber security industry. Strengthen the upstream and downstream collaboration of the cyber security industry, lay out characteristic industrial parks, build a common platform for the industry, establish a service requirement and capability assessment mechanism for secure enterprises, and improve core technology breakthroughs and service support capabilities.
Eighth, comprehensively enhance the joint efforts of smart cities
(28) Optimize the organizational structure. Strengthen the city's smart city construction leadership group (hereinafter referred to as the leadership group) overall coordination function, adhere to urban coordination, division of responsibility. Special working groups have been set up in key areas such as government service, urban operation, and the digital economy. The city leaders are in charge of the convener to lead and coordinate the promotion of cross-departmental and cross-level informationization in various fields. Give full play to the functions of the overall coordination and service hub of the Leading Group Office, do a good job of planning, standardization, project organization, statistical evaluation, and strengthen guidance to the districts.
(29) Strengthen planning guidance. Optimize the construction mechanism of the city's large network, large system and platform, and coordinate the preparation of informatization planning in various districts and fields. Realize the city's public information system "overall planning, rolling implementation, effect-oriented, dynamic adjustment" construction management path, establish and improve the assessment and inspection system. Benchmarking the world's first-class cities, and strengthening the dynamic assessment and results application of smart city construction.
(30) Improve the standard system. Strengthen the standard formulation and test certification, support enterprises to participate in the development of basic common technical standards, and establish a smart city application safety test system. Give full play to the role of national-level demonstration areas and pilot areas in various fields as a test field, and strengthen cross-domain and cross-level key common areas of standard formulation.
(31) Strengthen the construction of talent teams. Intensify the introduction and training of smart city composite talents, and take the lead in implementing the chief information officer system in the industrial field. Continue to promote the selection of smart craftsmen and the selection of leading pioneers, and build a training base and a continuing education base for professional and technical personnel. Establish a talent pool of city-level artificial intelligence, integrated circuits, 5G, and industrial Internet, and build a multi-level, high-quality talent echelon.
(32) Improve investment and financing mechanisms. In accordance with the principle of overall planning and intensive planning, overall planning and staged investment, optimization of the corresponding provisions of government procurement, and establishment of a life-cycle management system for government informatization projects. Through government guidance and enterprise leadership, we will vigorously attract social capital and financial resources. Encourage the in-depth exploration of smart city application scenarios, and provide a broad market for all types of innovative enterprises to grow bigger and stronger. Support the active participation of all parties in the society to form a vivid situation of co-construction and governance.