When the epidemic strikes and companies are blocked, what can the blockchain do?
Unauthorized, declined to reprint
Judging from this epidemic event, it can indeed and has brought practical value to all parties in the society, and some local governments have also accelerated the cultivation and implementation of blockchain technology, which undoubtedly sent a very positive signal to the industry.
The sudden outbreak of new crown pneumonia has disrupted the normal operation of the entire social system, and many industries have fallen into a state of near stagnation. This will undoubtedly bring a lot of trouble and inconvenience to the public and related companies.
Specifically, due to the infectious nature of the epidemic, the vast majority of the public are inconvenient to go out and most of the public transportation has ceased operation. Many enterprises are unable to make ends meet and their cash flows are in a depleted environment. This has caused a huge negative impact on the economic operating environment.
As far as the blockchain industry is concerned, although it seems to be less relevant to this epidemic, after the application in the past few years, the blockchain technology has already had many well-known cases in serving the public life and work. In an environment where it is not convenient to go out, the inherent characteristics of blockchain technology can be further amplified, allowing companies and the public in crisis to obtain more convenience in terms of financing, digital government and other aspects, and accelerate the restoration of normal public order and corporate production order.
01
Digital government
In the field of government affairs, due to many historical problems and technical obstacles, there have been many pain points such as inconsistent entry points, incomplete platform functions, unsynchronized Internet access, and inaccurate service information. Information islands between government departments are very serious and data sharing In reality, it is often difficult to advance, and the public and enterprises need to run back and forth between different government departments when handling many businesses.
In the context of this epidemic, the public going out to handle business in government departments may bring a certain risk of infection to themselves. Multi-departmental handling and multiple operations are even more dangerous. The digital government affairs that the government departments have pushed for in the past few years are prominent. Out of necessity, blockchain technology plays an important role in it.
From the perspective of the industry, the characteristics of blockchain technology such as decentralization, immutability, asymmetric encryption, and traceability just fit the needs of digital government for data circulation security and credibility. All parties build a multi-party participation through consensus mechanism Network of trust, which simplifies the process of government affairs in all walks of life, even without going out to the scene.
At the same time, the blockchain can create trusted information audit trails, record the location, purpose, visitor, etc. of data in real time, greatly improve the transparency of data processing and processes, and prevent the misuse or forgery of information in the government environment to achieve Effective supervision.
In December 19, Haizhu District of Guangzhou announced that it would launch a credible government service chain with Alibaba. The official said that it would build a "no media, equal effectiveness, full circulation" credible electronic certificate verification service on the blockchain to further solve the problem online. The legality and credibility of submitting office materials, optimizing the past on-site submission of paper materials to online submission of electronic materials, and on-site collection of paper results are optimized to push electronic results online, truly achieving "zero running" of office work.
In the same month, the Hangzhou Municipal Data Resources Administration released the Hangzhou Government Service Chain. The blockchain is more focused on trusted identity authentication, allowing citizens to submit personal information to the Data Resources Administration's data center and submit it to the police when handling multi-department business. The Ministry initiates a verification request to get the verification result, returns to the data center to issue a certificate to enter the blockchain system, and calls identity information to verify verification when used across departments, so that there is a blockchain entrance and exit to call.
With time stamped information proof, citizens can read the data from higher-level departments without having to go back and forth once on the chain, which greatly improves the longer validity period and wider scope of citizen's identity information.
Of course, the number of cities launching digital government services based on blockchain has increased. At least more than ten cities, such as Shenzhen and Fuzhou, have already been applied. It can be expected that this epidemic will promote more citizens to use convenient digital government services to handle required services. Its superiority will also make blockchain-based digital government into the plans of more governments.
02
Corporate financing
Due to the epidemic's shrinking consumer consumption and poor transportation, SMEs have become the most affected groups. Many industries such as catering, tourism, and logistics have been severely impacted. A large number of manufacturing factories are also difficult to start. Many companies face the dilemma of making ends meet. Catering company Xibei also said that even loans can only guarantee survival for 3 months. It can be seen that many companies across the country will face increased liquidity risks and severe challenges for their own survival. Therefore, there is a high demand for loan financing.
Nowadays, small and medium-sized enterprises can take advantage of the immutability and clear traces of blockchain technology to make their business operations data flow on the blockchain step by step, which makes it easier for banks to evaluate corporate funds and business conditions and provide financing. Shorten the time and cost of corporate financing to restore normal production and operations more quickly.
Supply chain finance is usually the financing method commonly used by various types of enterprises, that is, banks provide advance payment agency and inventory financing services to these customers' upstream and downstream suppliers or distributors while providing services such as financing, settlement and wealth management. A flexible financing model. Nowadays, dozens of blockchain-based supply chain financing platforms have been launched.
Many local governments are already taking action under the urgency. The "Beijing Municipal Government" on the 5th of this month issued "Several Measures on the Impact of Pneumonia of New Coronavirus Infection to Promote the Sustainable and Healthy Development of Small, Medium and Micro-sized Enterprises." The blockchain's supply chain debt and debt platform provides rights-financing financing services for small, medium and micro enterprises participating in government procurement and state-owned enterprise procurement.
On February 7, Beijing Financial Control Group, which is jointly with the Haidian District Government and the Microchip Research Institute, officially launched a blockchain-based supply chain debt and debt platform, and realized government and state-owned enterprise procurement contract receivables through the underlying technology of the blockchain. Confirmation of rights, and aggregation of various financial resources such as financing guarantees, asset management, etc. Its main functions include providing block chain technology-based account confirmation, and supporting online confirmation of the entire process; After the confirmation of the right, the company initiates financing needs online and launches the "right to credit" product; it supports banks to conduct financing application review, credit management and loan management.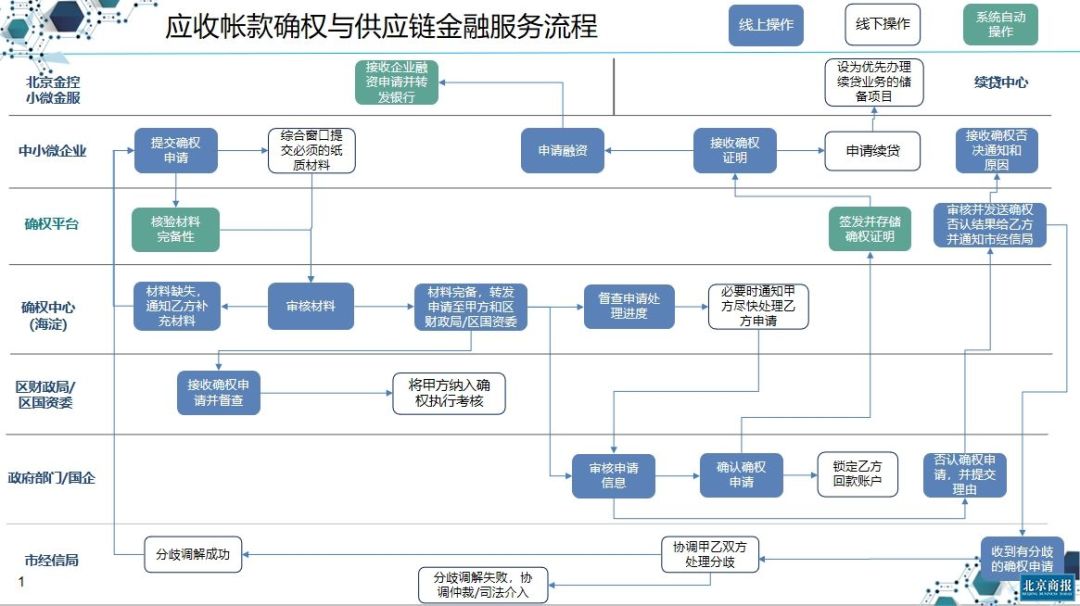 According to media reports, Haidian District SMEs can now apply for confirmation of Haidian District government department procurement and district-owned state-owned enterprise procurement contracts through this platform, and initiate financing applications based on the confirmation of the authority, and it is expected that the first loan will be realized next week. Through this initiative, many small and medium-sized enterprises in Haidian District will be able to quickly obtain official financing to solve their funding problems.
The cross-border blockchain platform initiated by the foreign exchange bureau last year has made many practices and achievements in facilitating financing. According to public reports in early December, the platform has accessed more than 170 commercial banks and served 1662 in the first half of the year. Companies, accumulatively completed accounts receivable financing lending amounted to 10.169 billion US dollars.
According to official information, the platform has established various mechanisms for end-to-end credible information exchange and effective verification between banks and enterprises to realize a variety of information sharing, including fund receipt and payment, pledged documents, financing applications, loans, etc., and conduct financing business processes. Optimization and reconstruction, facilitating banks to quickly and accurately handle corporate financing project audits and credit verification checks, helping to alleviate SME financing difficulties, bank risk control difficulties, has been launched and has run multi-level financing of supply chain receivables, cross-border financing, international Supervision of trade accounts, tax filing of external payments, and many other businesses.
In addition, there are many private companies such as Ant Blockchain, Weizhong Bank, and Bubi that have launched corresponding supply chain financial platforms, which have been widely practiced. In this outbreak, blockchain-based supply chain financing may become the choice of more and more small and medium-sized enterprises, and it will have a good effect on restoring social and economic vitality.
At a more direct level of epidemic management, blockchain is also very promising. Zhang Mingjing, founder of Lianxing Capital, also recently stated publicly, "We are very optimistic about the project of epidemic management. The blockchain technology is just needed, such as Charity tracks the flow of funds, guarantees special funds, records the time of grants, and improves the efficiency of fund circulation; in terms of materials, it can trace the source of materials and prevent fidelity; and based on the real-time uploading of inventory data of each batch of goods to prevent upsurge Prices etc. "
However, most of these directions are at the stage of conception and design. In this outbreak, they failed to play their role in a timely and effective manner, but they will inevitably play their expected role in the future public crisis with the acceleration of the implementation of blockchain technology.
In general, because the implementation of blockchain technology is still in the exploratory stage and the coverage is not extensive, but from the perspective of this epidemic event, it can indeed and has brought practical value to all parties in the society, and some local governments have also Accelerating the cultivation and implementation of blockchain technology has undoubtedly released a fairly positive signal to the industry.
We will continue to update Blocking; if you have any questions or suggestions, please contact us!
Was this article helpful?
93 out of 132 found this helpful