[Author's note] "War epidemic" is a major event in China and the world at present. The war between humans and viruses without smoke can start from the birth of human beings, but there are many tools in human arsenals, including blockchain. Mutual Chain Pulse explores the ability of blockchain to fight the epidemic from multiple dimensions. This is the eighth episode of "Blockchain War Epidemic".
The epidemic is both a test and an opportunity for the blockchain industry.
Interchain Pulse observed that from February 1st to February 14th, 20 blockchain applications to assist in epidemic prevention and control work went online. The inter-chain pulse previously counted the full month of January 2020, and only 29 domestic blockchain applications were disclosed in the country. It can be seen that during the development of the epidemic, the number of timely blockchain applications has increased sharply, and the application landing speed has also increased to a certain extent.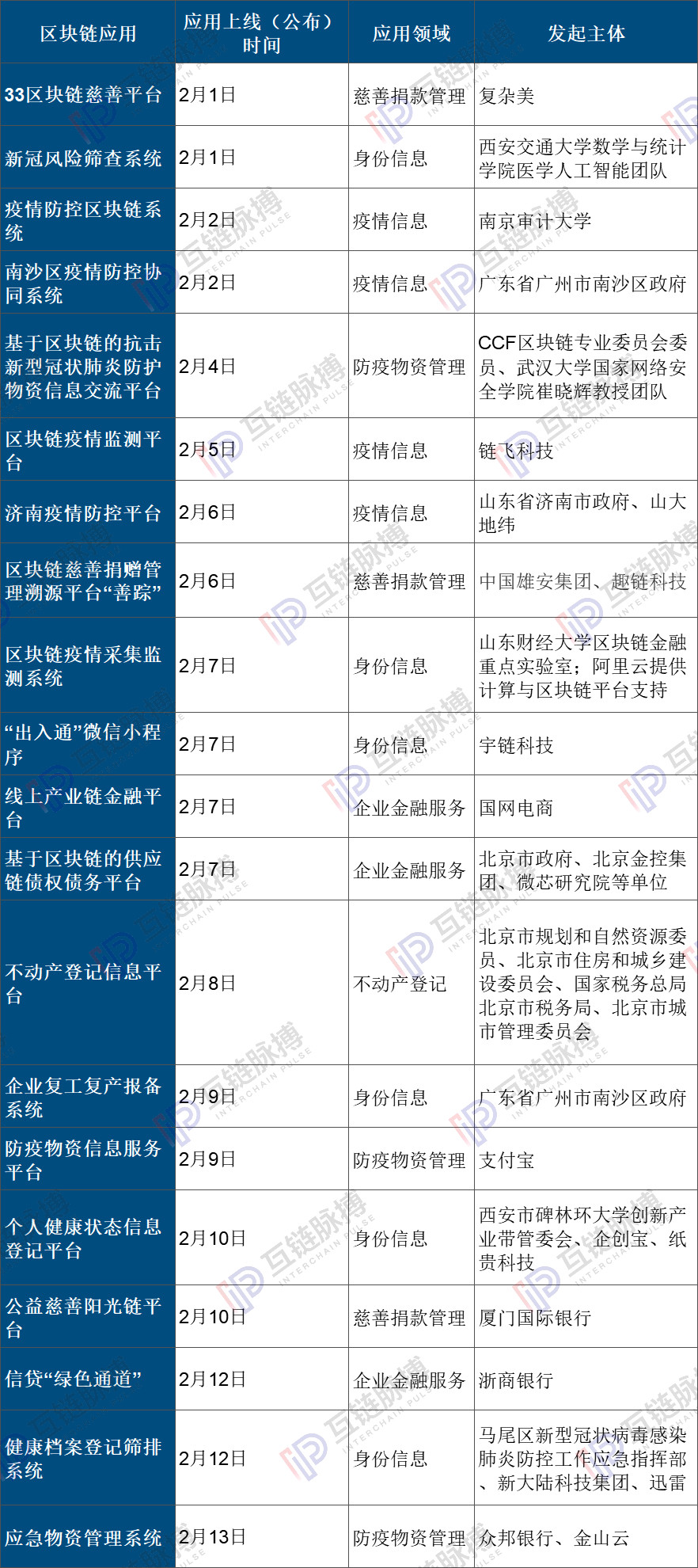 (Tabulation: interlink pulse)
Blockchain epidemic prevention application: identity information management is the main field
After the Spring Festival holiday, in the first week of February (February 1-February 9), blockchain epidemic prevention applications went online. In this stage, a total of 16 blockchain applications went online. Most of the time, 4 blockchain applications to help with the epidemic went online on February 7th; and this week (February 10 to February 14), a total of 5 epidemic-related blockchain applications went online.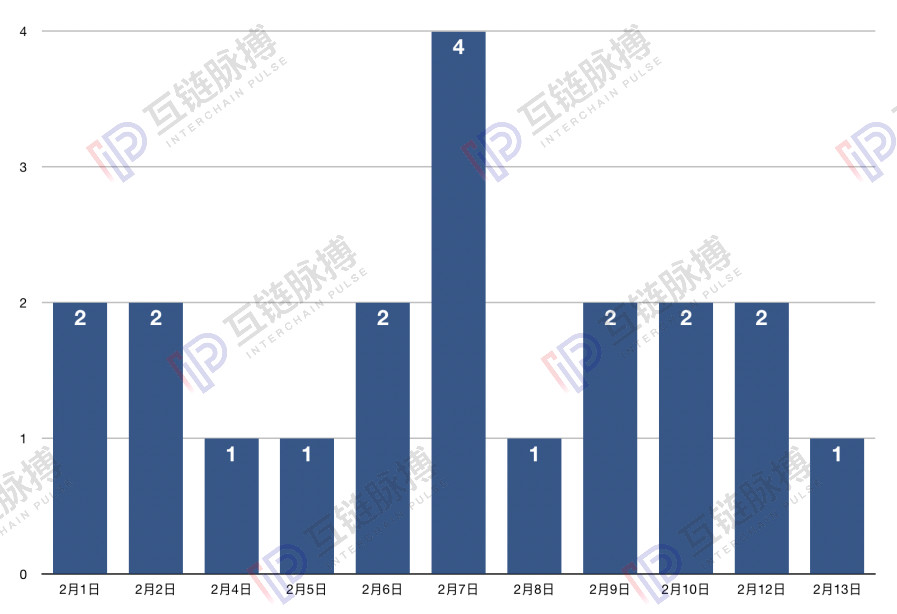 (Drawing: Interchain Pulse)
Inter-chain pulse observation, the main role of these applications is in the field of identity information management, a total of 6 projects. For example, the "New Crown Risk Screening System" initiated by the medical artificial intelligence team of the School of Mathematics and Statistics of Xi'an Jiaotong University; the WeChat mini program of "In and Out" initiated by Yuchain Technology; Backup system ". The difference is that these applications are targeted at users belonging to different groups, including campus level, community level, and enterprise level. Currently, these applications play an active role in protecting the privacy of users' personal data through blockchain technology. However, the blockchain systems for the collection of identity information are still relatively fragmented, failing to fully promote the interconnection and interconnection of information from all walks of life.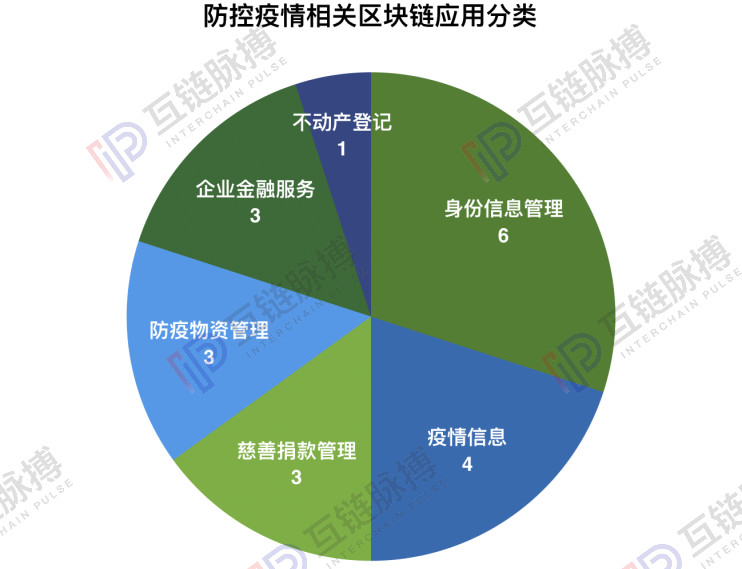 (Drawing: Interchain Pulse)
Secondly, out of the 20 blockchain applications that help to prevent and control the epidemic, 4 belong to the epidemic information management category. "Blockchain system for epidemic prevention and control" launched by Nanjing Audit University; "Blockchain epidemic monitoring platform" launched by Linkfei Technology; "Jinan epidemic prevention and control platform" launched by Jinan Municipal Government of Shandong Province and Shanda Diwei class. This kind of application aims to establish a channel for uploading and distributing epidemic information, and provides functions such as intelligent analysis of big data. It is more for the government affairs department to make epidemic related decision-making services.
In addition, there are 3 blockchain applications for charity donation management, epidemic prevention materials management, and corporate financial services. The earliest "33 Blockchain Charity Platform" launched by Complex America; "Blockchain Charitable Donation Management Traceability Platform" initiated by China Xiong'an Group and FunChain Technology; Alipay's "Epidemic Material Information Service Platform"; Zhongbang Bank, Jinshan The "emergency materials management system" and "emergency materials management system" initiated by cloud are all blockchain applications that respond to the public demand for charitable donation information and material distribution information.
The "blockchain-based supply chain debt and debt platform" initiated by the Beijing Municipal Government, Beijing Financial Control Group, and Microchip Research Institute; and the "Online Industry Chain Finance Platform" of State Grid E-commerce is aimed at the affected areas. Influential small, medium and micro enterprises, launched plans to alleviate corporate development difficulties. In addition, the seven application scenarios of the real estate registration information platform newly launched by multiple ministries and commissions in Beijing during the epidemic were all handled through online government affairs to alleviate the pressure of current personnel movements.
Governments, technology companies, universities support
At the same time, the pulse of the mutual chain is also concerned about the initiators of the blockchain applications that help to prevent epidemics. Government departments and state-owned enterprises are at the forefront. Eight of the 20 blockchain applications have the participation of government departments and state-owned enterprises. These are projects initiated by the governments of Beijing, Guangdong, Shandong, and Fujian, and China's Xiong'an. Group, State Grid e-commerce application.
In addition, news on February 13th, the 15th meeting of the Standing Committee of the 13th People's Congress of Guizhou Province announced the relevant "decision", saying "the full use of information technology such as big data, blockchain, artificial intelligence, etc. Means to effectively improve the scientificity, timeliness, and effectiveness of epidemic prevention and control. "Also on the 13th, Gansu Province held a meeting of the provincial government party group (expanded). The meeting emphasized that it is necessary to use information technology to effectively prevent and control, actively explore and use emerging technologies such as blockchain, and continuously improve the efficiency of office, leadership, guidance and epidemic prevention and control.
The above governments and state-owned enterprises have fully recognized the role of blockchain technology in epidemic prevention and control, and are actively promoting the implementation of corresponding projects.
At the same time, Internet companies and blockchain companies are also working hard to promote the development of epidemic prevention blockchain applications. Traditional Internet companies such as Ali and Xunlei have participated in the development of the application of the epidemic prevention blockchain. In addition, Zhang Xiaojun, director of Huawei's blockchain project, also disclosed in a public share on February 10, "Huawei is currently communicating with government departments and hospitals, and hopes to use our capabilities to achieve transparency in charity fundraising using blockchain. Establish a charity fundraising chain to make the information flow controllable and manageable. Set up nodes on key entities such as government departments, hospitals, and public welfare organizations to track and manage with digital tokens to make each use clear and transparent. "
On the other hand, native blockchain companies are more sensitive to blockchain applications to help with the epidemic and respond more quickly. Complex Beauty launched a blockchain charity registration platform on January 25, and the platform was officially launched on February 1. As of February 14, the mutual chain pulse observed that its number of certificates reached more than 250,000; Funchain Technology said on February 4 It has jointly launched a "charity donation management traceability platform" with Fosun Group, Xiong'an Group and other well-known enterprises. The platform was officially launched on February 6.
Not only governments, Internet companies, and blockchain companies are actively participating in epidemic prevention blockchain projects. Universities are also the main force for such blockchain applications. Of the current 20 blockchain projects, 4 are initiated and participated by universities, of which two are universities in Xi'an, Shaanxi. Xi'an Innovative Design Center of Xi'an Beibei Ring University in Shaanxi Province has launched a personal health information status registration platform using blockchain technology; Xi'an Jiaotong University has developed a new crown risk screening system and supports blockchain technology in the background. In addition, Wuhan University, Nanjing Audit University, and Shandong University of Finance and Economics all have corresponding applications.
Banking institutions also participated in this battle. Xiamen International Bank has launched a "philanthropy and charity sunshine chain platform" based on blockchain technology to realize the online and transparent whole process of information such as loving donations, donation assistance, and capital flow; Zhongbang Bank teamed up with Jinshan Cloud to provide free to the community The emergency material management system solves the current problems of emergency materials management and scheduling of various institutions and organizations; Zhejiang Commercial Bank Guiyang Branch uses block chain technology to provide funding for small and micro enterprises in epidemic situations. It is reported that during the epidemic control period, the bank has 21 upstream small and micro enterprises to obtain 220 million yuan in funding.
At the same time, on February 8th, the China Software Industry Association Blockchain Branch and the 2020 Blockchain Conference Organizing Committee launched the "Blockchain + Public Welfare Charity" project. There have been 109 associations, foundations, etc. nationwide. Respond and participate in a joint initiative.
In terms of anti-epidemic, the blockchain was not absent although it was late due to the innate development stage.