Author | Xin Nan Edit | Mandy 王 梦蝶
Production | Odaily Planet Daily (ID: o-daily)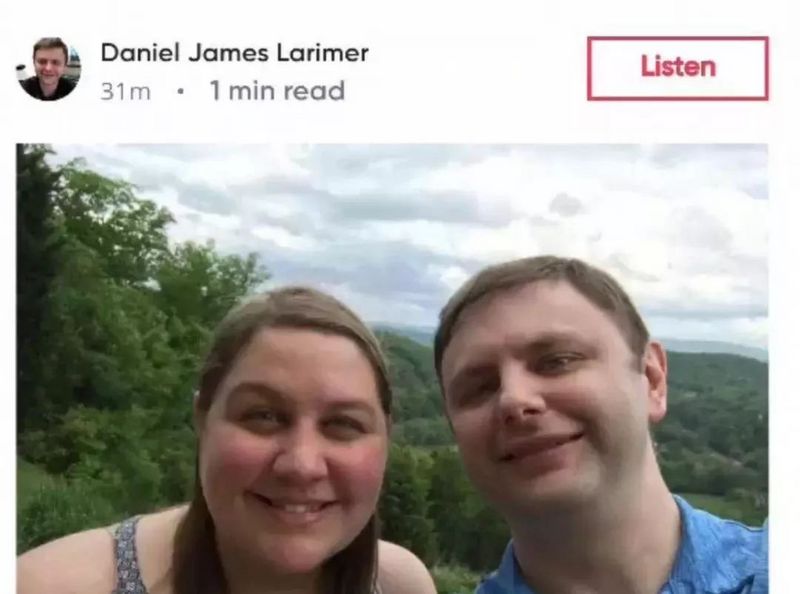 An unscrupulous remark made the currency people who were somewhat panicked in the call back even more dissatisfied. Within 2 hours of BM's remarks, the EOS Falls fell by nearly 12 points, and the entire network had hundreds of millions of RMB out of stock.
Looking back at the mainstream coin market over the past year, EOS has often been criticized as the weakest performing coin, always leading the dive before the market falls. This time, it was only one week before breaking the new high for nearly half a year, and EOS has become the "hot potato" in the minds of the currency people.
The development of Dapp has become a bottleneck, and BM's reputation in the community has been repeatedly questioned. EOS, which lacks "fundamentals", is in urgent need of a benchmark product to regain confidence in the market. Block.one's heavily built Voice is regarded as the final self-rescue of EOS Rope.
However, the test that blocked Chinese users seemed to be less effective than expected. Not only did the currency price fluctuate, but few people outside the community paid much attention.
People can't help but wonder whether Voice, which claims to be a "subversion of social media platform," can really rely on the social track, which seems to have repeatedly been proven to be "not doing well with the blockchain," to find a new way for EOS?
Voice starts flat, but "Voice it" is fun to play
Voice was born with a golden spoon.
As early as the summer of 2019, Block.one spent 3.3 million EOS to buy half of the RAM in the market (about 32 GB), which indirectly promoted a 260% skyrocketing RAM price.
This sudden move detonated the EOS community. Soon after, Block.one officially announced to build a social project called Voice based on EOSIO. All the RAM and CPU costs on Voice were paid for by B1 account. All Voice accounts are free, only for Minimize the barriers to entry for users.
Not only that, but in January 2020, Block.One invited Forbes Global Chief Digital Officer Salah Zalatimo to be the CEO of the Voice project.
The huge amount of money and energy that Block.one smashed into Voice made Eye catch countless before it appeared.
According to the official website, Voice is a transparent, reward-based social network that is mainly used to create, distribute, and discover content. It wants to foster a new, trusted experience through infrastructure such as authentication and a transparent database.
In fact, Voice's gameplay is the same as Steemit and Coinhub. They all tell the story of returning the value of social media platforms to users themselves.
Voice claims to be a blockchain-powered social network. There is no opaque unilateral data trading, no hidden algorithms, and the value is recycled back to users through Voice tokens.
According to the concept of Voice, every content and post posted by a user is his own Voice. When someone likes your post, you will be rewarded with Voice Tokens. The more popular the post, the more tokens you will get.
After the official test was opened, although the participation of Chinese users was lacking and Voice's discussion was a bit cold, there were still American users who took the lead in revealing the true voice of Voice.
Judging from the screen recordings shared by users in the United States, the current Voice beta is a web-based app with a simple page design. Each new user has 3,000 Voice tokens in his account so that users can interact on the platform.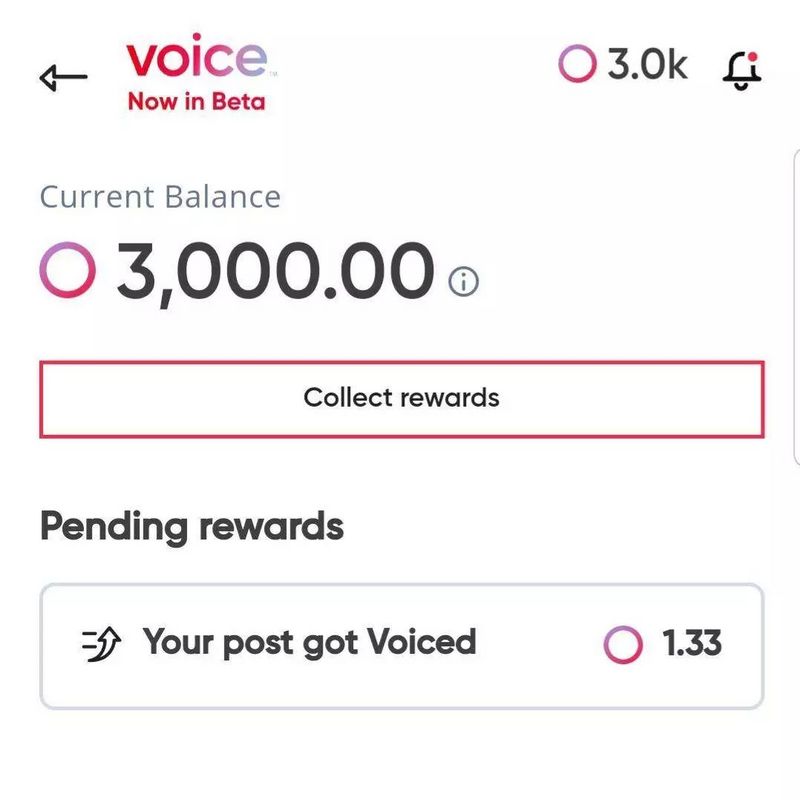 The homepage is the Voice information stream. According to the official introduction, all the information streams are sorted according to the amount of likes, comments, "voice it", activity and posting time of the posts, and the new posts have greater weight.
Users can further filter the 5 information flow sorting schemes through the drop-down menu bar-most popular, latest post, most comments, most likes, and most "Voice it".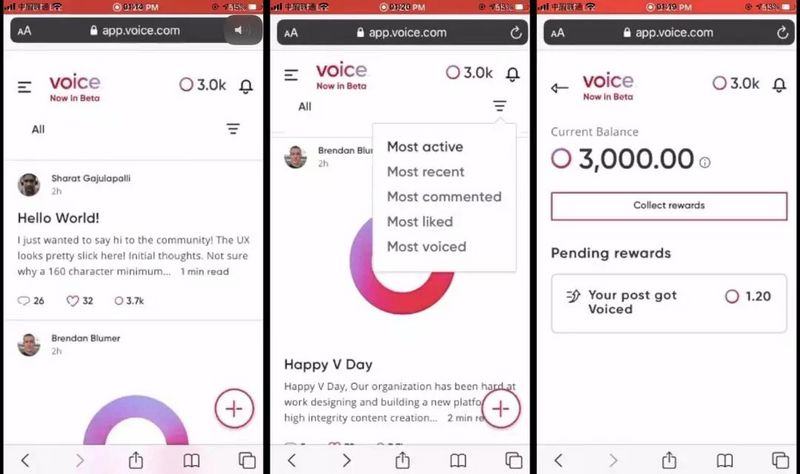 "Voice it" is actually the most interesting design in Voice.
According to the official introduction, "Voice It" is one of the ways to increase the exposure and spread of posts in the Voice platform.
If you see a good post on Voice and you want more people to see her, then you can choose to "Voice It" on his post
Each Voice post has a "Voice it" button at the top, followed by the number of Voice Tokens that "Voice it" will cost.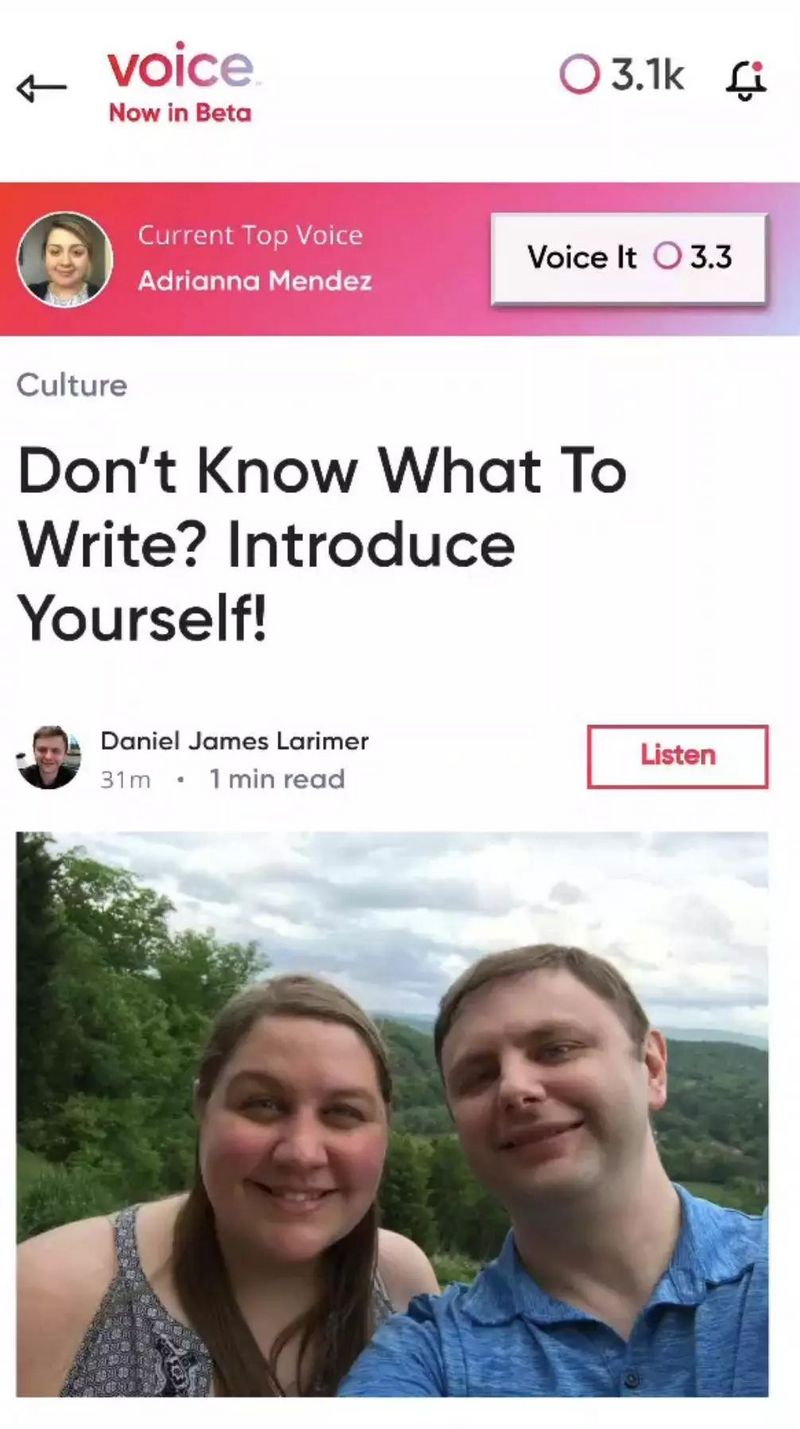 (As shown in the figure, the cost of "Voice it" for BM's Voice post is 3.3 Voice Tokens)
At first glance, you may find it difficult to spend your own tokens on other posts in Voice, but in fact everyone may get Voice tokens through posts from other users in Voice.
"Voice it" is played with a little "FOMO" style.
When you post a voice, others can replace your "Top Voice" status with a higher price within 24 hours. If no one bids higher than you within 24 hours, then you will be the last "Top Voice" of this post, not only can you recover all the Voice tokens you bid, you can also get an additional 33% of the new bid portion reward.
The initial price of "Voice it" is 1 Voice Token. For each additional "Voice it", the cost will increase by 30%. Each post is owned by the author of Voice's tokens for the first time. When the next user comes to take the order, the voice of the previous user will be refunded in full.
Tips:
33% of "Voice it" growth costs will be distributed to post authors;
33% of the proceeds will be given to the previous "Top Voice";
Voices acquired by users will no longer be counted towards the next circulation.
For example, Xiao A has just posted a new Voice post. You spend 1 Voice Token to become the first person in this post (ie Top Voice). Xiao A will receive 1 Voice Token. .
Within 24 hours, Little B appeared and spent 1.3 Voice Tokens to replace you as the new Top Voice. Then you can not only get back the cost of your 1 but also get 0.3 Voice Tokens paid by Little B. 33% (0.3 * 33% ≈0.1). In the same way, the author A can get 33% (0.3 * 33% ≈ 0.1) of the 0.3 Voice tokens paid by B, and the 0.1 distributed to the previous "Top Voice" and the author will no longer be included in the next Of circulation.
Of course, "Voice it" is not the only way to earn Voice tokens. In addition to registration, users can get rewards through daily active rewards (as long as the account is active and in good condition, they can receive rewarded Voice Tokens daily) and like rewards (receive more than 10 likes within 24 hours) Or commented posts have a chance to get rewarded Voice Tokens, the more popular the content, the more voice tokens received).
Strict KYC requirements are also important for compliance
Voice is probably the most stringent KYC authentication among so many social products.
On February 11, Voice officially announced that the beta version will be open in the United States, then slowly transition to English-speaking areas, and finally the world. Although most EOS users are concentrated in China and all members of the Chinese community are looking forward to it, the founders still chose to start in the United States. The strict KYC conditions have blocked a larger group of Chinese users.
Why pay so much attention to KYC? Voice is saying that it wants to create a platform without fake accounts and bots. Therefore, Voice uses the third-party vendor Hooyu to verify the identity of the user. The user needs to provide verification information such as address, driver's license, passport or ID number, selfie, and so on. After passing the verification, he can participate in the platform interaction.
In addition to advocating live communication and combating systemic zombies, the move is more to solve the problems of the Wool Party.
In fact, Steemit, BM's previous project, was emptied by the Wool Party.
Unlike Voice, Steemit does not adopt a one-person-one-vote system, which has led to a large number of Wool Party influx. Users cheat by signing up for small accounts and commenting on their articles abound. Real quality content is buried and speeded up. Ended the life cycle of the platform.
At present, the content on Voice is basically released under a real name, but Voice also said that privacy options will be provided in the future, but it still needs to guarantee unique users and be responsible for the content.
Despite a lot of blockchain elements, Voice is a real social product. In the official voice, Voice's vision is also great.
"We live in a" post-truth "era, and many media platforms have lost their way … It's time for us to use technology to find a better way." Voice CEO Salah Zalatimo said.
What Voice wants to do is not a U.S. version of the currency, not just a Steemit on EOS, but a new social solution that subverts traditional social networks such as Facebook and Twitte. All actions have shown that Block.one has a Reshape the heart of social media platforms.
According to the calculation of Hellopool, B1 has previously purchased 32G of memory, and it takes about 3K to create an account. 32G of memory can create about 10 million accounts. In other words, Block.one is ready for tens of millions of users.
To become the next generation of social giants, compliance is inevitable. Strict to somewhat harsh KYC conditions is actually the first step in the compliance route.
Before the beta was officially launched, the Voice team pave the way for compliance, and it is understood that more than 100 legal professionals in its team alone. Efforts are currently underway to obtain independent licenses in most states in the United States.
In a previously published article, Voice stated that it is working hard to ensure that Voice's tokens comply with U.S. securities laws, not only working with the SEC, but also establishing policies and systems that comply with OFAC and AML requirements.
Of course, the current application channel of Voice tokens is still relatively single. But Voice also plans to add more features and launch more applications about Voice tokens after the beta.
On the profit model, Voice talked about relying more on advertising. Having an audience means having an advertiser. Voice claims to supply 10% of tokens per year and sell them to ads that want to be placed on Voice.
Voice, you can do it
Since the official announcement for half a year, the Block.one team has devoted a lot of energy and money to Voice. In the past six months, people have closely linked the future of EOS to Voice, and even called Voice "the life-saving straw to save EOS". exaggeration.
Many people are disappointed with EOS: "EOS feels basically falsified. For several years, it hasn't done anything serious."
The highlight moment of EOS is as short as fireworks. Now 2 years later, EOS is facing the crisis of user loss and incremental slowdown. These commercial chains, known as Blockchain 3.0, have not yet waited for commercial use.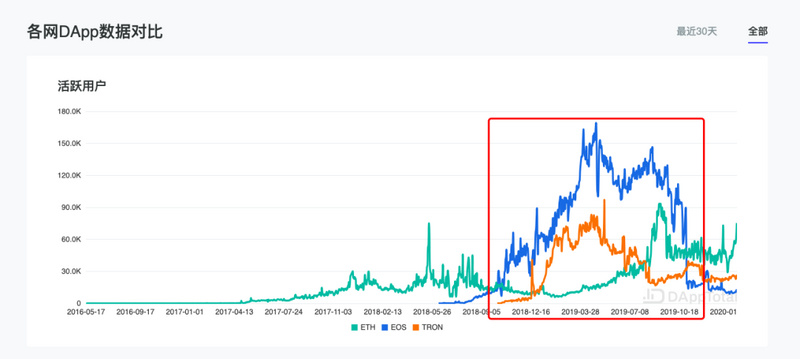 According to data compiled by DappRaddar, EOS's daily active user data shows that January 2020 decreased by 61% compared to January 2019. While the user base of Ethereum and TRON has increased, the user base of EOS has steadily declined.
After reviewing the data of the Planet Daily, it was found that in the past 30 days, the number of active users on the EOS chain was significantly different from that of the Ethereum and Tron public chains.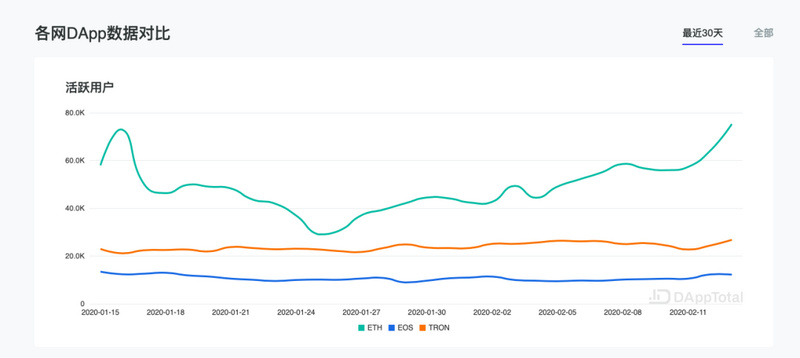 Looking at the data on the number of DApps, EOS ushered in a period of new DApp outbreaks from mid-2018 to the end of the year. However, from January 2019, the rate of DApp additions has begun to slow down. By the middle of 2019, it is rare. There are new DApps.
On the contrary, the DApp ecosystems of Ethereum and Tron have gone fairly smoothly.

Only when the EOS-based DApp ecosystem is sufficiently prosperous, and DApps with large user scales and high-frequency user behaviors continue to appear, the value of the EOS public chain will be more stable.
Voice to EOS is not just as simple as Block.one issuing a new coin.
"At this stage, Voice is the ultimate growth driver of EOS." Guo Dafeng, founder of EOS Asia, commented on the significance of Voice to EOS.
"Voice's biggest advantage is to once again attract large Vs from around the world to join and regain its traffic advantage." Hello Eos founder Zi Cen once analyzed that the launch of Voice is not only to increase the mainnet activity and CPU RAM consumption. In his view, Voice will not only recall traffic, but also re-create a positive image of EOS.
"No one can be sure whether Voice will eventually promote the real rise of EOS, but Voice must be a barometer of the EOS ecosystem. For Block.one, Voice can be achieved or not." Zi Cen believes that Voice For EOS Just as Defi is for ETH, this road must be followed whether or not it can succeed.
Can Voice really help the future of EOS?
"With the help of Voice, the total number of EOS accounts can easily reach 5 to 10 times the current scale." It is believed that the users of Voice are naturally EOS users, and the growth of Voice will also be the growth of the EOS platform.
At present, there are 1.73 million users with EOS accounts. These users have an educational foundation. They have long been adapted to the various token network earning methods in the blockchain world and will undoubtedly become the seed users of Voice.
But the social track is not so good. Everyone wants to disrupt the Facebook empire, but more players are hitting the rocks with eggs. Without talking about existing users, is it possible for Voice to enter the lives of ordinary people and move from niche to the general public?
"Voice may enter the lives of ordinary people, but it will take longer than expected," said Hahn, founder of NodeONE, a Korean alternative node. "Voice was originally launched only in the United States and seems to be at the right time. The US elections have just begun, and social platforms play a vital role in American politics. But I don't think this means that Voice may be successful overnight, but in the long term.
"Voice has the potential to be welcomed by the public. But I also want to say that the great success of Voice depends on how to establish an effective drainage mechanism." Guo Dafeng, founder of Eos Asia, also thinks so.
From DApp games to spinach to funds, there are still no killer DApps for millions of users in the blockchain world. The dilemma that EOS is facing may also occur on public chains such as ETH and Tron.
"Blockone needs to create a template for EOSIO, and even for the blockchain world, to prove that blockchain technology can truly be extended to the vast majority of ordinary users. This template is Voice." Voice is not just a benchmark for EOS, It is still helping a group of players known as commercial public chains to find the product form of the blockchain world.
Maybe for those indulging in casinos, they don't need any idealism at all, they just need to pull the disk. In the short term, we may not see the boost that EOS brings to the price of the EOS currency, but as the Voice team said, industry changes will not happen overnight, let alone in a vacuum.
If no one is involved in this process, and no one monitors and feedbacks, Voice may never be what it is expected to be.