Source of this article: shallot
Bitcoin broke $ 10,497 on February 13 to a new high in 2020 and has risen 42% since the beginning of the year. In addition to the rise in the price of bitcoin, the price of altcoin has also soared. In the past week, NEM and Tezos (XTZ) have achieved amazing double-digit growth. The issue of altcoin's correlation with bitcoin has once again received attention.
Correlation of altcoins during bitcoin's rise
From April 2019 to June 2019, Bitcoin experienced a strong rise, reaching a price of $ 13,800 on June 26, a cumulative increase of more than 200%. Using the current correlation between Bitcoin and the top 30 cryptocurrencies in the market, we found that 58% of cryptocurrencies showed a correlation with Bitcoin higher than 60% during this period of rise.
The most famous currencies related to Bitcoin are Ethereum (ETH), Dash, Bitcoin Cash (BCH), Monero (XMR) and EOS, with a correlation between 74% and 82 %between. USDC has the lowest correlation among all currencies, with a negative correlation (-4.3%).
During this period of rise, currencies such as Chainlink (LINK), Cosmos (ATOM), Crypto.com Chain (CRO) and Huobi Token (HT) have also shown a low correlation with Bitcoin-in Between 20% and 30%.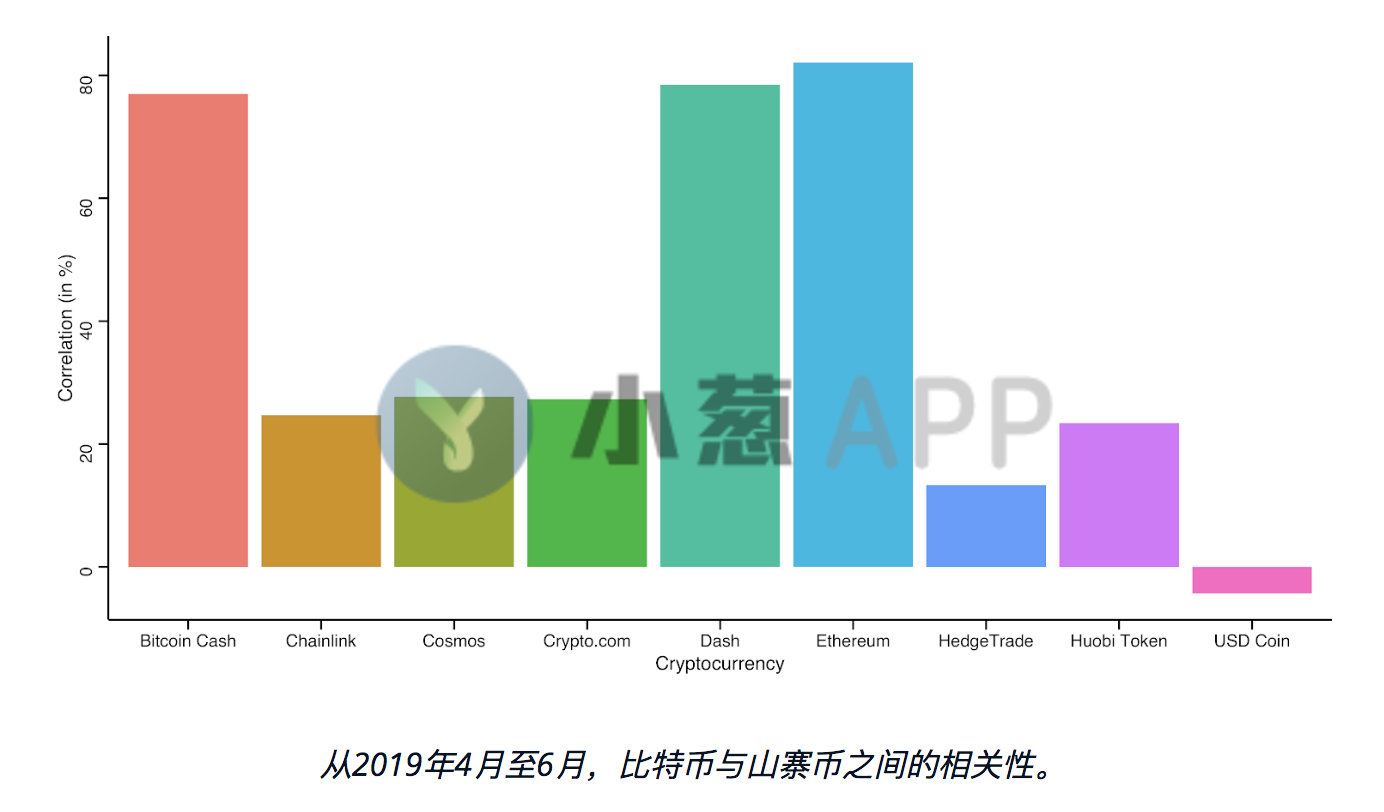 Correlation during altcoin's rise
According to the observed altcoin rise from December 2018 to March 2019, the correlation between all mainstream altcoins and Bitcoin is stronger than that during the rise of Bitcoin. Except for USDC, the correlation is higher than Bitcoin The period was even lower at -7.8%.
77% of mainstream altcoins have a correlation with Bitcoin of over 60%, while Monero has the highest correlation at 92.3%. In addition, Dash, EOS, Ethereum, XRP and ZCash (ZEC) are all more than 87% related to Bitcoin.
During the altcoin's rise, the correlation between BSV, Chainlink, Huobi Token and Tezos and Bitcoin was between 50% and 60%.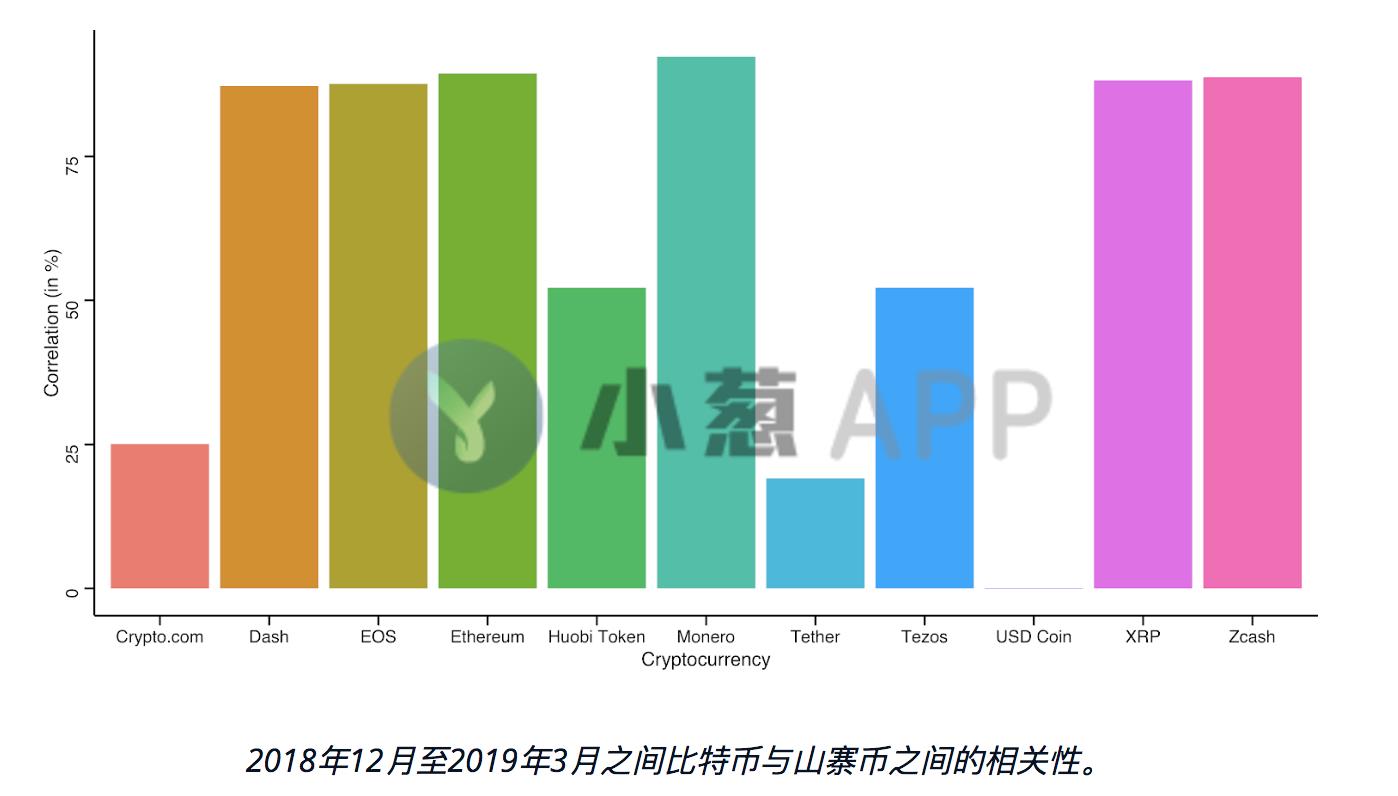 What about the outlook?
Bitcoin has indicated that bullishness may occur throughout 2020, and digital assets have grown by more than 35% since the beginning of 2020. During this period, as with mainstream altcoins (such as Bitcoin Cash, Ethereum, Litecoin ( LTC ), NEO , TRX, and XRP), high correlations have been observed.
In terms of low correlation, USDC and Cosmos both showed consistent results during the last bullish period and the early rise of 2020.
The correlation of Chainlink, Crypto.com, HedgeTrade, Huobi Token, and Dash with Bitcoin is not exactly consistent with the previous bullish period.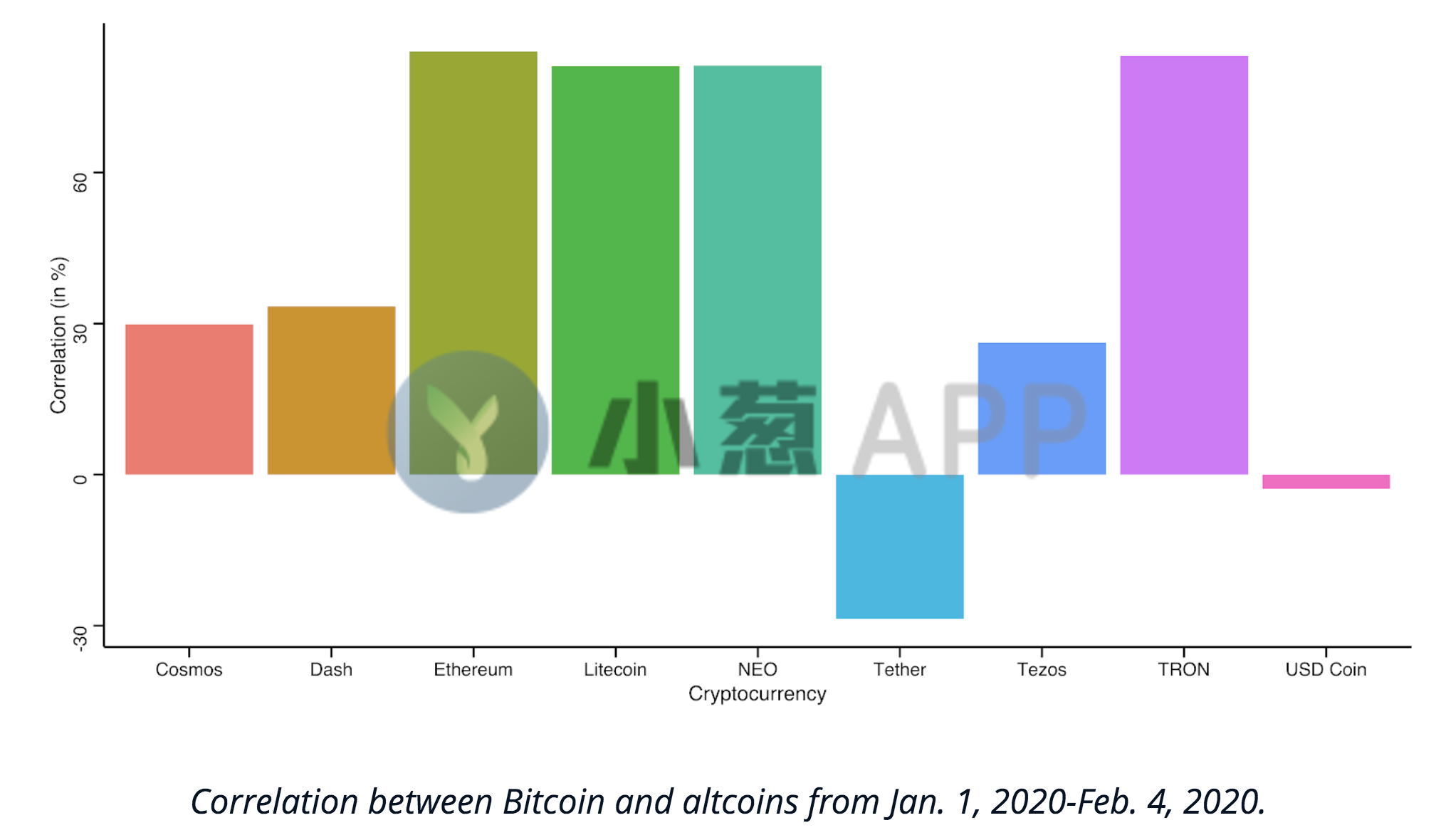 Under the bullish situation of Bitcoin and altcoins, stablecoins have the lowest correlation with Bitcoin, while mainstream altcoins such as Ethereum, Litecoin, Bitcoin Cash, NEO, Monero and XRP are always highly correlated with Bitcoin. However, compared with the period of Bitcoin's rise, the altcoins studied in this article have a higher correlation with Bitcoin during the period of altcoin's rise.
In terms of investment, if a new Bitcoin bullish period starts, investors can accumulate altcoins because they have higher upside potential. In addition, investors who only buy bitcoin can take a more conservative approach by buying stablecoins with low correlation to bitcoin to hedge higher-risk bitcoin investments.
Translated from: cointelegraph " https://cointelegraph.com/news/does-correlation-between-bitcoin-price-and-altcoins-mean-buy-the-dips "