Text 丨 Interlink Pulse · Liangshan Huarong
On February 12, Lakara announced that Beijing Koala Kunpeng Technology Growth Fund completed the filing of private equity funds, which is a fund that mainly invests in blockchain.
In the blockchain investment and financing market, industrial capital, represented by listed companies, has become more and more powerful. According to the incomplete statistics of the inter-chain pulse, since 2017, at least 11 listed companies in China have established 12 blockchain-related industry funds (including the planned establishment).
However, the investment progress of these industry funds is very different. For example, Wanxiang Holdings and Kodak have frequently shot, while other blockchain companies established by more than 60% of listed companies have no investment trends. Some blockchain industry funds are facing "death".
Wanxiang and Kodak lead the way, with over 60% of the fund making no substantial progress
Among these listed companies, Wanxiang Holdings has the most sensitive sense of smell. As early as October 2015, Wanxiang Holdings announced the establishment of a $ 50 million blockchain investment fund, also known as distributed capital (Shanghai Wanchain Investment Center (Limited Partnership)).
Under the leadership of Shen Bo and Xiao Feng, distributed capital investment has been opened and closed, and nearly 50 blockchain projects have been invested in 5 years. The investment fields include public chain, exchanges, digital wallets, and supply chain finance. And many other areas. Due to the early entry time, distributed capital enjoyed a lot of dividends in the early days of the industry.
The second most active investor is Kodak. Mutual Chain Pulse statistics found that up to three blockchain industry funds led by Kodak Co., Ltd. and participated in the investment.
Among them, the largest number of investment projects is the "Koda Rongrong Blockchain Industry Fund" established in March 2018. The total size of the fund is 60 million yuan. Kodak Co., Ltd. has invested 50 million yuan, and Rui Dingrong has invested 10 million yuan.
According to the announcement released by Kodak in mid-August 2018, the Kodak Rongrong Fund invested in 9 projects in less than 5 months, with a total investment of approximately 53.4 million yuan.
And at the beginning of June of that year, Kodak Co., Ltd., together with Shubei Investment and Jia Nan Yunzhi, set up another Blockchain Industry Fund, "Kodak Yunzhi Fund" with a scale of 50 million yuan.
However, there are not many projects invested by Keda Yunzhi Fund. The mutual chain pulse through the inspection of Tianyan Check found that there are only two targets for public investment of Kodak Yunzhi Fund, namely the mustard circle, which focuses on the realization of blockchain and other content communities, and the currency wisdom that provides currency circle users with market analysis.
Kodak's earliest participation in a blockchain industry fund with a scale of 1 billion yuan, led by the Hong Kong stock HC Group, announced that it would invest in the first UGC game chain project, and there was no investment movement.
In addition to Kodak and HC Group, Yijian, Halo New Network, Chenxin Technology, Annie Co., Ltd., Tianzhou Culture, etc. have also set up blockchain industry funds from 2018 to early 2019, but there are fewer investment projects.
For example, Yi Jian shares a 760 million yuan investment fund established in September 2017 in conjunction with Yunnan Trust and Zhejiang Zheyin Hongwan Asset Management Co., Ltd., and currently only invests in Holgos Yi Jian Blockchain Commercial Factoring Co., Ltd .; Annie shares After the announcement of the Jia Zhuo An Win-Win Industrial Joint Fund, there was no news of investing in blockchain projects in the future.
After the announcement of the establishment of a blockchain-related industry fund by Halo New Network, Chenxin Technology, and Tianzhou Culture, the following is also missing. Although all three listed companies have invested in blockchain companies, from the perspective of public information, they are not projects invested by their blockchain industry funds.
There are even two listed companies' blockchain industry funds that have "killed."
For example, High Light Software, which established a blockchain industry fund as early as May 2017, announced in January 2019 that it would suspend the subsequent investment in blockchain-related industry funds; and * ST Xinwei announced its intention to establish on November 7, 2019 The 7.5 billion USD "5G MICT Development Fund" invested in 5G, blockchain and other fields, and was sent to the Shanghai Stock Exchange overnight to inquire. Two days later, it issued a risk alert announcement that it could not raise sufficient funds.
Interchain Pulse statistics found that although 11 listed companies in China issued announcements of 12 blockchain-related industry funds, the industry funds that actually made substantial progress accounted for less than 40%.
Round A and previous projects accounted for 60% of the four most popular areas
According to the incomplete statistics of the interchain pulse, since 2017, the total number of projects invested by the blockchain industry fund of 11 listed companies has reached 63, of which the number of investment projects in 2018 is the largest, with 34; 2017 and 2019 respectively There are 8 and 12.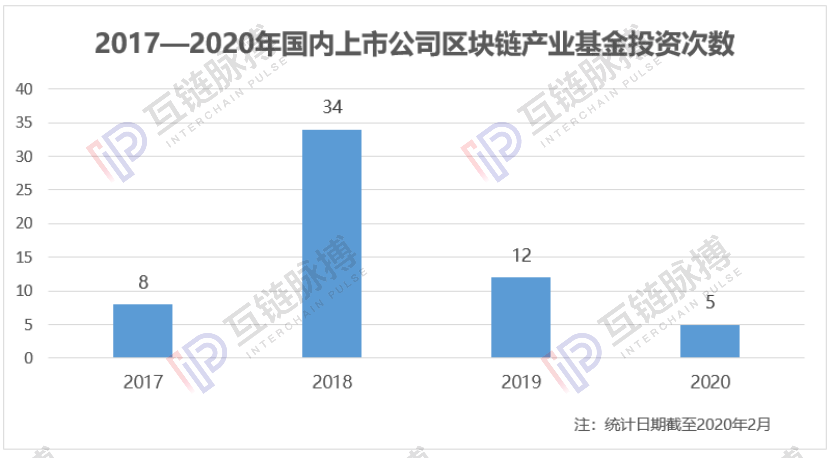 (Tabulation: Interlink Pulse Academy)
In terms of investment round distribution, the number of round A and previous projects was the largest, accounting for over 60%. Among them, angel round, Pre-A and round A projects accounted for 33%, 17% and 11% respectively. In addition, the number of strategic investment projects is also large, accounting for 26%.
(Tabulation: Interlink Pulse Academy)
From the perspective of investment direction, the investment field of listed companies' blockchain industry funds spans a wide range, covering more than 20 fields, of which the four major areas of public chain, online community, exchanges and digital wallets are the most popular.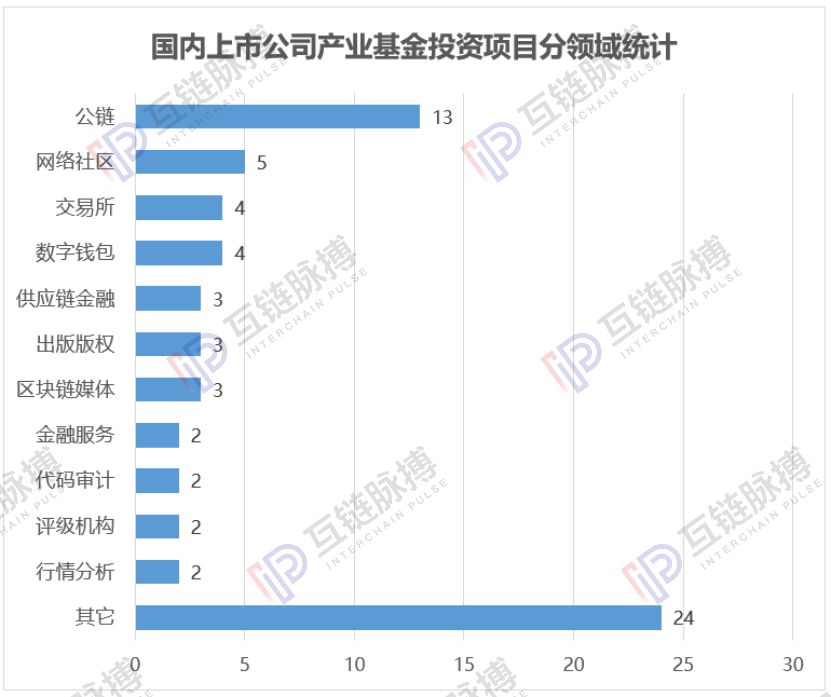 (Tabulation: Interlink Pulse Academy)
The mutual chain pulse combing comparison found that Kodak's two funds are mainly aimed at trading services and information services, while Wanxiang Holdings' distributed capital investment direction is more diversified.
For example, in the field of transaction services, during the period from June to August 2018, Kodak Rongrong Fund invested in three digital wallets: Tokenonly, Master Wallet, and Ellipal. "Koda Yunzhi Fund" invested in the platform currency wisdom that provides trading market services in the same time period. Distributed capital is mainly targeted at exchanges. From August to October last year, distributed capital has successively invested in BitMart, CoinFLEX and SIBEX three exchanges.
In terms of information services, the "Koda Rongrong Fund" is more inclined to blockchain media. It has invested in Ear Finance and Nuclear Finance in 2018 and 2019. "Koda Yunzhi Fund has also invested in blockchain KOL. Realize the community mustard circle. The direction of distributed capital investment covers the content community, rating agencies and research institutions. During 2018 to 2019, it invested in the operating research agency, TokenInsight, Token Pass, and KEY GROUP, the parent company of Token Group. .
In addition to transaction services and information services, distributed capital has also invested in a large number of public chain projects. According to public information, before 2019, distributed capital has invested in at least 13 public chains, including Factom, VeChain, Hashgard, ArcBlock, etc. This is something that other listed companies' blockchain industry funds dare not easily touch. .
In addition, application areas such as financial services, copyright trading, mobile e-commerce platforms and games are also key areas for distributed capital investment. From 2017 to 2018, Distributed Capital invested in Bubby Blockchain, Matrix Finance, and Titanium Square, which focus on financial services; in copyright transactions, it invested in the original blockchain; and mobile e-commerce invested in agricultural products The e-commerce platform has excellent food; in terms of games, it has invested in the blockchain e-sports gaming platform Plair.
In comparison, the distributed capital of Wanxiang Holdings has significantly promoted the development of the blockchain industry than other listed companies' blockchain industry funds. However, in recent years, with the introduction of more and more LPs in distributed capital, the influence of Wanxiang Holdings on distributed capital has been greatly weakened, and the intersection of the two has become less and less.
Overall, the impact of domestic listed companies' blockchain industry funds on the industry is still very limited, but after the "1024 speech" last year, as a large number of listed companies continued to overweight, industrial capital may accelerate the takeover of the blockchain investment and financing market. The second half.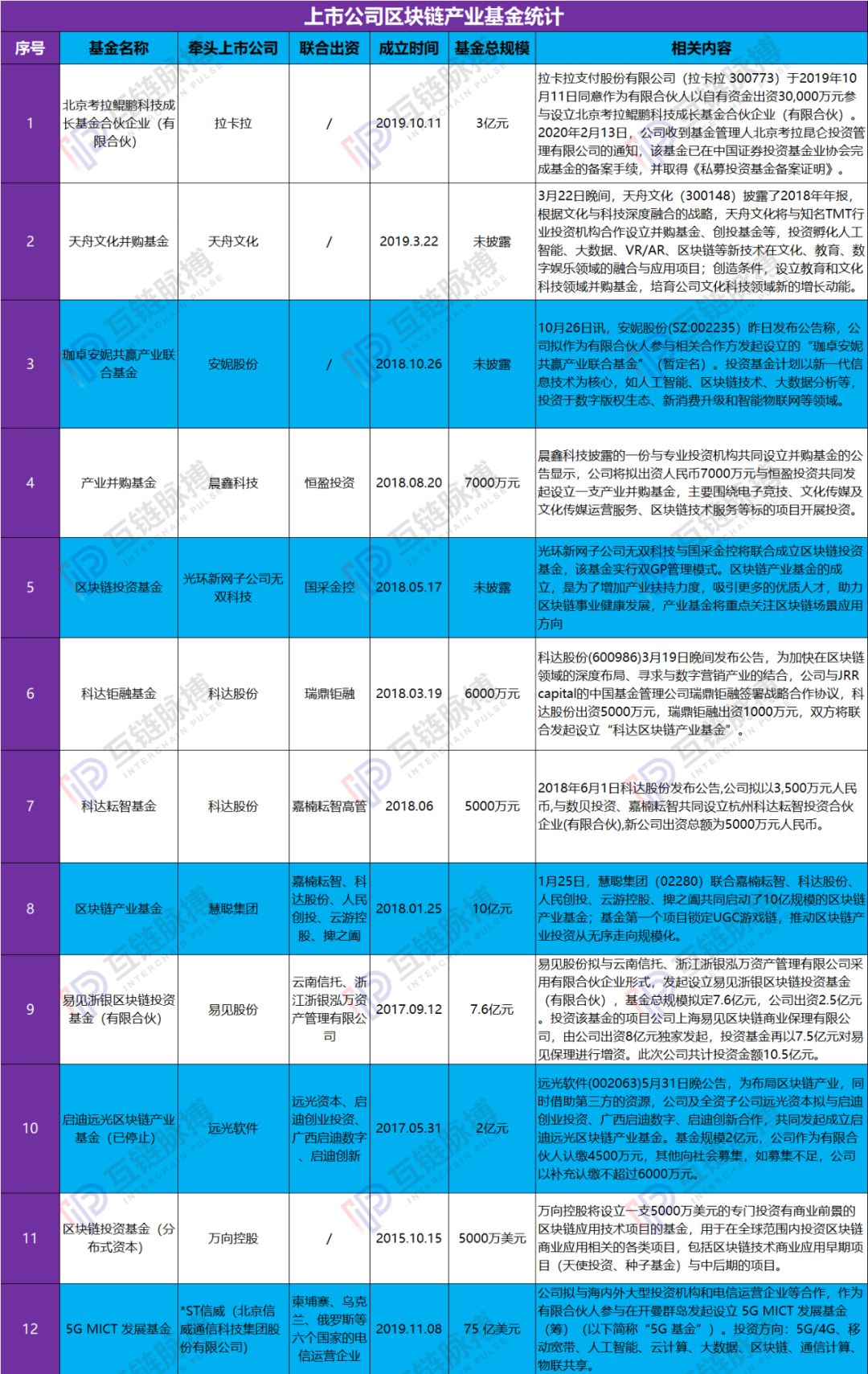 (Tabulation: Interlink Pulse Academy)
(Part of the target of the listed company's blockchain industry fund investment)