Source: Cointelegraph Chinese
Author: William Suberg
Compile: Zweig
Bitcoin ( BTC ) has contributed 1% of global GDP, and this proportion has grown "exponentially" with each halving cycle.
Statistician Willy Woo analyzed data from Coin Metrics, a cryptocurrency monitoring resource. According to him, Bitcoin's investment flows are $ 727 billion per year.
BTC processes $ 727 billion annually
This number is almost 10% of the annual transaction volume of payment processor Visa-Visa processes $ 8.8 trillion in transactions each year.
Bitcoin's investment flow (ie annual investment speed) is currently increasing by an order of magnitude (10 times) every 4 years.
Woo concluded.
According to statistics, Bitcoin should "catch up" with Visa sometime after the next halving in May. According to Cointelegraph, smaller fiat currency operators like PayPal have lost their way to competition-in 2018, PayPal only processed a total of $ 578 billion.
Bitcoin's 1-year adjusted trading volume Source: Coin Metrics
Woo acknowledges that the Bitcoin data is only an estimate, which may include currency movement between cold wallets held by the exchange, which will not constitute a real transaction. Recurring payments between wallets and multi-step multi-hop transactions are also excluded.
Small Wallet Hits Record High
These impressive numbers came at a time when the number of low-balance bitcoin wallets hit a new high, suggesting that more and more private investors are trying bitcoin.
According to Glassnode, existing wallets have more balances than ever before, with balances greater than or equal to 0.01 BTC ($ 101) and 0.1 BTC ($ 1080).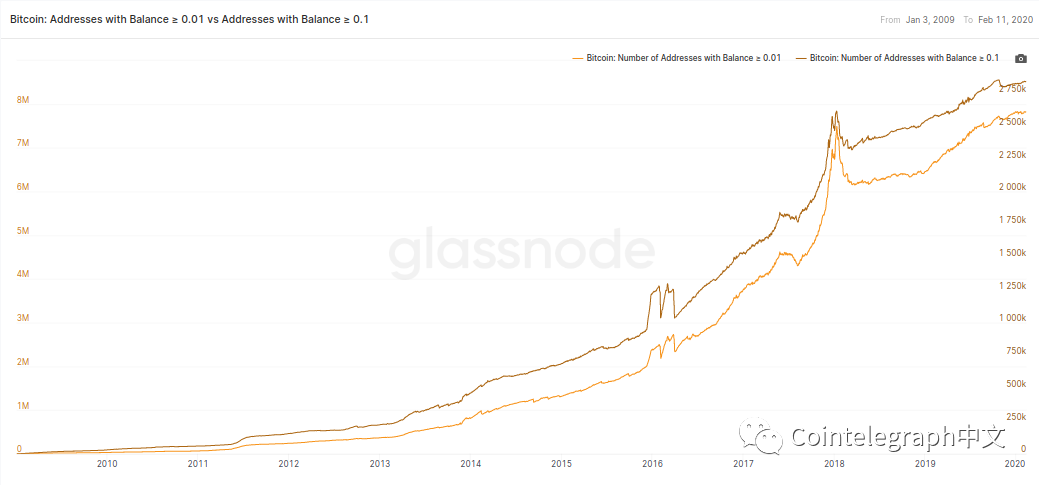 Bitcoin wallet growth since 2009 Source: Glassnode
Nonetheless, when it comes to cryptocurrency fund storage, both private and institutional investors value convenience over security. For example, a recent survey showed that more than 90% of institutional investors use trusted third parties (such as exchanges) to store their bitcoins.
The industry is developing "key proofs" in an effort to raise awareness of the importance of wallets' self-management of private keys, but as of now, the plan is still difficult to achieve.