Author: PeckShield, the original title "graphic dismantling FCoin assets to its heyday already noticeable decline?
》
On February 11, the FCoin Exchange issued a 4-hour shutdown maintenance announcement. In the next few days, they delayed delaying the panic and questioning from investors due to system vulnerabilities, loss of key personnel, system and data damage.
Until February 17, the FCoin Exchange issued an announcement entitled "The Truth of FCoin", claiming that the reason why FCoin was unable to go online was because its cash reserves were not enough to meet users' withdrawal needs, and it was expected that it could not be redeemed. The funding scale is between 7,000-13,000 BTC.
After this news was exposed, it exploded in the media instantly, and a huge question mark was placed in front of everyone. When did the digital assets on FCoin account fall short? What is the distribution of assets now? Can it be tracked back to recover investor losses?
Based on this, CoinHolmes, a visual digital asset tracking system under the PeckShield security team, launched targeted tracking and analysis of relevant addresses involved in the FCoin exchange. The CoinHolmes on-chain tracking system includes dozens of exchanges, over 60 million address tags, and involves a variety of mainstream digital assets such as BTC, ETH, USDT.
According to the official FCoin official announcement on June 14, 2018, the BTC cold wallet address 12rU7whLERNrkDb8bTe9VJJSKZvCXy7dj7 in the "FCoin Asset Transparent Plan Address Public (Part One)" announcement, we have collected a total of FCoin exchanges through a comprehensive on-chain data tracking analysis. A total of 33,938 BTC asset wallet addresses including cold wallets, hot wallets, user wallets, etc.
Through traceability tracking and asset flow analysis of these addresses (June 13, 2018 to February 17, 2020), the CoinHolmes visual asset tracking system draws a FCoin asset flow path map, as shown below:
Graphic dismantling: Where did FCoin assets go?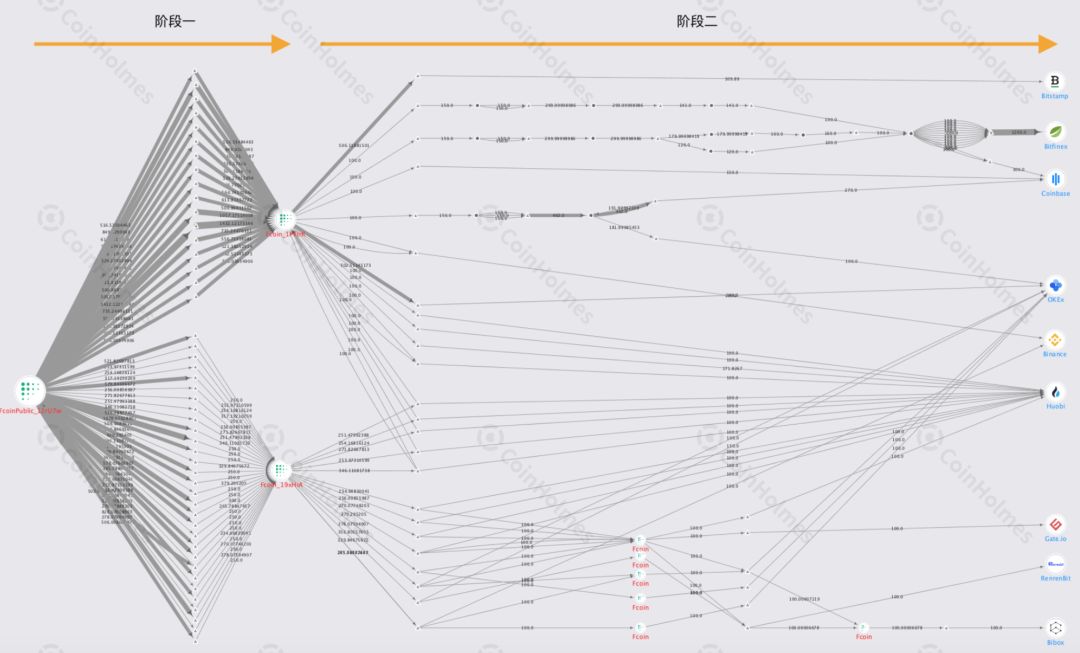 (For details, please go to www.coinholmes.com)
1) In the first stage, FCoin cold wallet funds transfer: As shown in the left half of the figure, the cold wallet address beginning with 12rU7w transfers funds to two addresses beginning with 19xHiA and 1PFtrR through multiple transactions. The amount of BTC ranges from 200 to 900. From June 13, 2018 to February 17, 2020, the address will be transferred to 19xHiA address 8,009 BTC, and 1PFtrR address 11,107 BTC.
2) The second stage, decentralized transfer to the exchange:
As shown in the right half of the figure, after the two addresses starting with 19xHiA and 1PFtrR sorted out the funds, the BTC was scattered into 9 exchanges. It should be noted that each BTC transferred to the exchange here is 100, Ranging from 150. Transferred exchanges include Huobi, OKEx, Coinbase, Bitfinex, Binance, Bitstamp, Gate.io, Bibox, Renrenbit, etc.
We have calculated the amount of BTC transferred by FCoin to each exchange as follows: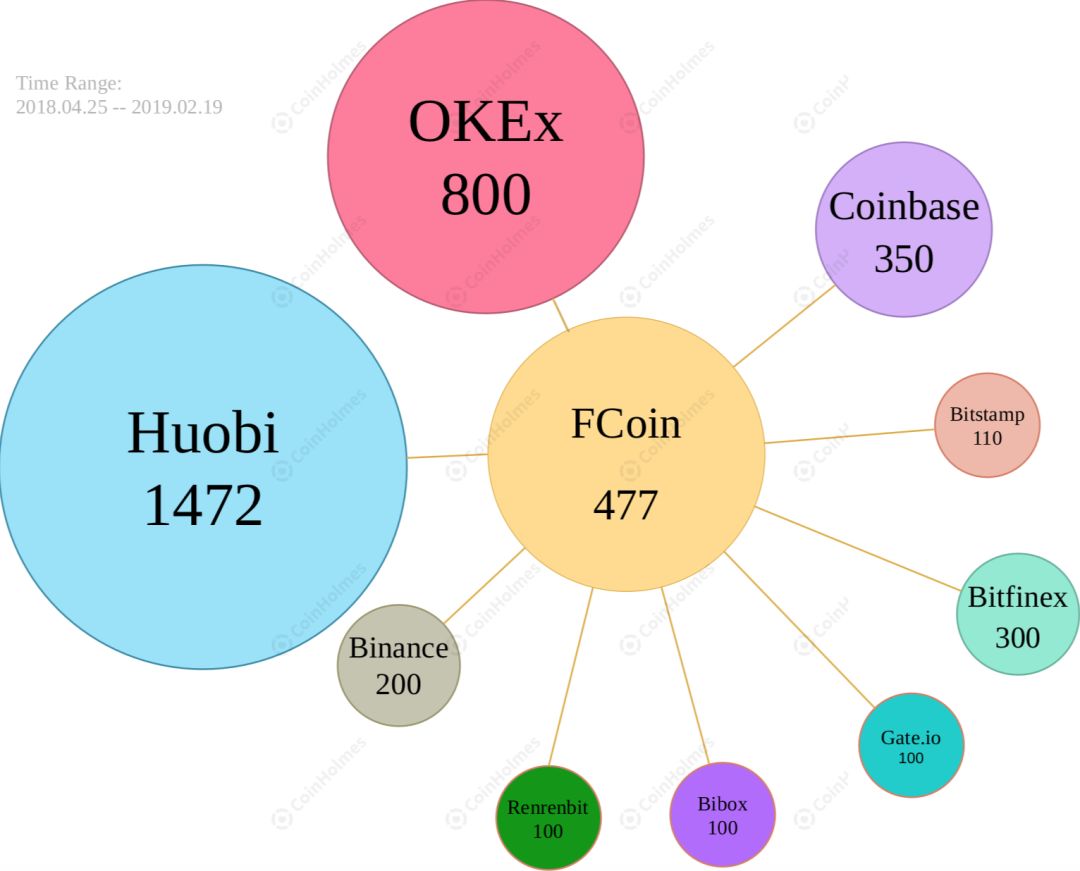 (Note: The chart only shows the transfer records of a minimum of 100 BTC or more for a single transaction)
Above we have selected some of the funds flowing into the exchange, but the actual amount of BTC transferred from the cold wallet address starting with 12rU7wh far exceeds these. As shown in the figure below, the total amount of funds transferred from the FCoin cold wallet address before and after is up to 19,171 BTC.
But a bleak fact is that the balance of FCoin's publicly available cold wallet addresses has now been shown to be zero, leaving many investors in extreme anxiety. However, we have statistically summarized all FCoin-related address balances and found that there are about 477 BTC remaining.

When does Pandora's Box open?
After grasping the current distribution of FCoin's funds, everyone will still wonder, when did FCoin , an ever-famous phenomenon-level Internet celebrity exchange, have opened the Pandora's Box that was going to perish? In order to further analyze the transfer of FCoin BTC funds, CoinHolmes traced the time back to the first day of FCoin's balance on April 25, 2018, and plotted the trend trend of wallet address balances from FCoin's launch to the present, as follows: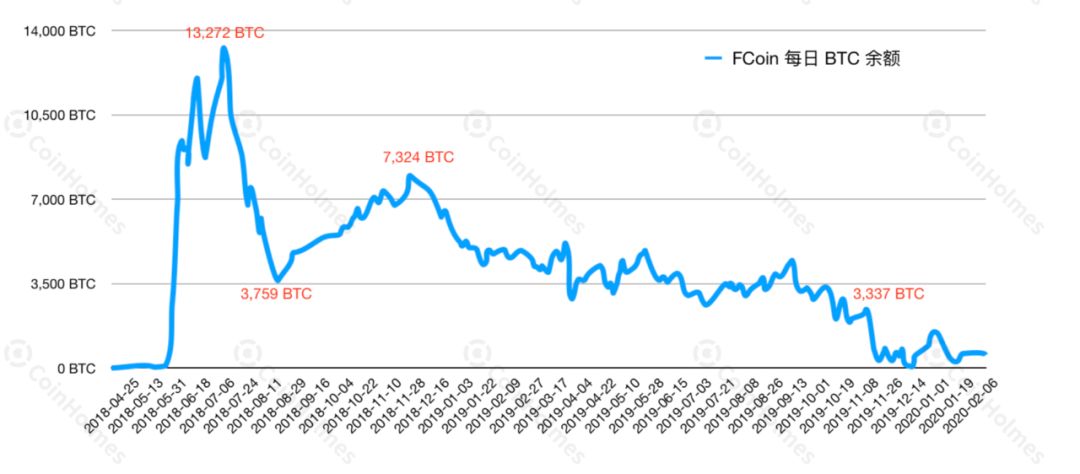 As shown in the figure above, FCoin's BTC balance reached its peak on July 19, 2018, at 13,272. This is the achievement that FCoin has achieved in about two months since its launch, and its popularity was evident at that time.
However, what is paradoxical is that after the peak reached a sudden flash of decline, as of August 31, 2018, there were only 3,759 remaining, a reduction of nearly 10,000 BTC in 40 days. Where did these assets go? If, as stated in Zhang Jian's announcement, FCoin's persistent data decision errors, this decline should be considered a major turning point for FCoin.
Fortunately, the balance of FCoin BTC began to increase again, reaching 7,324 on November 18, 2018. However, this did not stop the potential decline of FCoin. Since then, FCoin assets have entered a continuous decline phase, and the BTC balance has gradually decreased. . The most recent fluctuation occurred on October 19, 2019, and there were 1,343 BTC reductions in three days from October 24 to October 26.
It is suspicious that during the period when the FCoin BTC balance continued to decrease sharply, we monitored that multiple cold wallet addresses starting with FCoin starting with 12rU7w coincided with the transfer of funds, and they were basically net outflows.
Following the change of its cold wallet address, PeckShield security personnel found that April 9, 2019 was a watershed moment.
Before April 09, cold wallet addresses starting with 12rU7w frequently transferred out BTC, and a total of 16,924 BTC were transferred out of 33 transactions; after that, the transfer of address balances has slowed down, with five months in the middle The time transfer amount is zero, and as of February 17, 2020, only 2,228 BTCs were transferred. The most recent occurred on February 14, 2020, and 55 BTCs were transferred to addresses beginning with 363sZd.
Another question arises, what happened between April 09, 2019 and September 25, 2019, why no funds were transferred out of the cold wallet. At this time, did FCoin preliminarily restrict users' withdrawals? ? We combined the fact that the balance of FCoin decreased by nearly 10,000 BTC between July 19, 2018 and August 31, 2018. It is initially speculated that FCoin's funding chain may have problems in July 2018, and Pandora's box was also opened from that time, which was when it was in the limelight.
As we all know, the FCoin exchange innovatively proposed a "transaction is mining" model in 2018 and quickly accumulated a large number of users and funds, but a series of data traced by CoinHolmes have confirmed that after FCoin reached its peak, the crisis Began to appear. From July 2018 to April of the following year, FCoin seemed to die under tremendous pressure. Unfortunately, as you can see, once Pandora's magic box is opened, even if it is exhausted, it will face a crash someday.
We ca n't speculate on the right and wrong behind FCoin with the worst malicious intentions, but the data of iron has given us the fact that God wants to make it mad before he can die. It is possible to play with the innovative mode, but if we ignore the long-term development strategy, , Is tantamount to drinking and quenching thirst, in the end it will be difficult to escape the fate of death.
PeckShield also reminds the centralized exchanges to play any operational innovation. It is necessary to do a good job of internal account management first. If there are small loopholes, they should be promptly investigated, and should not be evaded by chance. Third-party security companies will be introduced to assist in handling to ensure that the problem is truly resolved .
It is worth mentioning that through the incident of FCoin, everyone began to realize the potential crisis of centralized exchanges due to the lack of transparency of assets. This is a disaster, but at the same time I hope it will also be an inflection point. I hope more centralized exchanges will recognize the importance of transparency of funds and the mechanism of reserve payments.