Jincha failed? Analysts say Bitcoin will continue to rise after price correction
In the past few days, many people have talked on social media about the technical fork of Bitcoin forming a golden fork. The scallion article mentioned earlier that the cross formed by the 50-day moving average crossing the 200-day moving average is a very important technical indicator, indicating that a bull market trend is forming.
Bitcoin formed a golden fork early this week, and global crypto investors are cheering, claiming that the next bull market will raise BTC to $ 100,000 or more.
But it soon turned out that this was not the case. On February 19, Bitcoin fell from a high of $ 10,300 to a low of $ 9,250 within a few hours, a drop of about 10%.
The cryptoslate analysis article pointed out that although this plunge may scare traders' pants, but in a larger upward trend, Bitcoin's decline may still be corrected.
The article suggested that although Bitcoin dropped sharply by about 10% this day or two after the golden fork, this phenomenon is exactly the same as the previous one after the appearance of the golden fork.
According to analyst Nick Chong @ _Nick_Chong's tweet, there is an interesting phenomenon. In the 48 hours after the Bitcoin crossover in April 2019, Bitcoin plunged $ 641, a drop of 11.41%. A few weeks after the Golden Fork, Bitcoin price correction continued to rise. In fact, in the two months following the formation of the Jincha and the subsequent two-day plunge, BTC surged 180% to a level slightly below $ 14,000.
Chong is not the only one who noticed this special trend of Bitcoin. Cryptocurrency market commentator Alex Krüger also tweeted that Bitcoin was a gold fork in February 2020. , Fell 10%, died in October 2019, and then rose 42%. But this rally has not changed the overall bearish trend of Bitcoin. In the next few months, the price pulled back from more than $ 9,000 to $ 6,400, a decline of 50%.
These two cases show that Bitcoin will form a new upward trend after completing the correction on the next day or the next day.
Nick Chong @ _Nick_Chong further calculated the long-term performance of bitcoin after previous golden forks, and three times rose. On July 13, 2015 and July 10, 2014, the trend of bitcoin declined after the two golden forks, with declines of 32.53% and 64.72, respectively. %.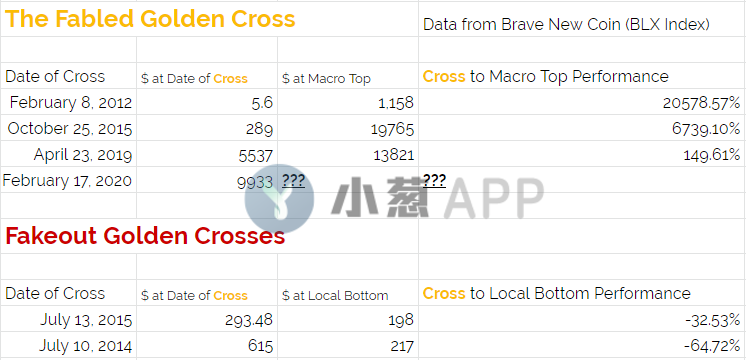 Translated from: cryptoslate
We will continue to update Blocking; if you have any questions or suggestions, please contact us!
Was this article helpful?
93 out of 132 found this helpful