CCB was shortlisted for the Forbes Global Blockchain Top 50 for the first time and has already operated 9 blockchain projects
Author: medicine sugar
Source: Financial Institute No. 1
Recently, Forbes official website announced the list of the top 50 global blockchains, involving 5 Chinese companies.
Specifically, China 's Internet technology giant Ant Financial, Baidu, Tencent, Foxconn, and China Construction Bank are all on the list. The "Financial Institute 1" noted that except for Ant Financial and Foxconn, which are not on the list for the first time, China Construction Bank, Tencent, and Baidu all made the list for the first time, and China Construction Bank was the first bank institution in China to enter the Forbes list of the top 50 global blockchains.
Dong Ximiao, a specially-appointed researcher of the National Finance and Development Laboratory, told the "Financial Institute 1",
"China should increase the research and application of blockchain technology, and the alliance chain may become the main form of future blockchain applications."
China Construction Bank debuts
Has operated 9 blockchain projects
At present, the application of blockchain technology has extended to many fields such as digital finance, the Internet of Things, intelligent manufacturing, supply chain management, and digital asset trading. At the same time, major countries in the world are accelerating the development of blockchain technology.
"Financial Institute No. 1" noted that the list included giants from financial institutions, technology companies and other industries, such as BMW, General Electric, JP Morgan Chase, Citibank, HSBC, Honeywell, IBM, ING Group , Amazon, Intercontinental Exchange, Nasdaq, LV, Mastercard, Google, Microsoft, Samsung, Wal-Mart, etc.
It is understood that the list requires that the companies on the list have annual revenue of not less than 1 billion US dollars, or a valuation of 1 billion US dollars or more.
It is worth noting that China Construction Bank is the first bank institution in China to enter the Forbes Global Blockchain 50 list.
From the information released by Forbes, China Construction Bank currently operates nine blockchain projects. Including helping to track the origin of pharmaceutical products, tracking carbon credits, etc.
Forbes believes that China Construction Bank's BCTrade has developed the farthest, linking 60 financial institutions such as China Postal Savings Bank, Bank of Shanghai and Bank of Communications with 3,000 manufacturing companies and import-export companies. If the exporter is waiting for delivery confirmation but needs cash, they can share the records of future receivables on the blockchain and get a loan within minutes.
Public information shows that in October 2019, China Construction Bank officially released the "BCTrade2.0 Blockchain Trade Finance Platform". Since the blockchain trade finance platform went online in April 2018, the cumulative transaction volume has exceeded 360 billion yuan. , Has deployed domestic letters of credit, forfaiting, international factoring, refactoring and other functions.
According to the inquiry of China Construction Bank's 2019 semi-annual report from "Financial No. 1 Academy", it can be seen from the fintech strategy that it attaches importance to the technology and blockchain fields.
According to reports, China Construction Bank will continue to increase investment in fintech innovation, make overall plans to take into account R & D, construction and operation and maintenance, focus on supporting the application of smart financial technology capabilities in research and development, and build a collaborative evolutionary smart finance internally. Achieve centralized management and control of supply chain services, form a unified view of supply chain relationships and a supply chain financial business view at the group level, and promote a new business relationship of "transactional business and emerging business seamless integration". Launched a blockchain service platform. At present, 5 application scenarios, 9 major areas and 61 applications have been launched, and the cloud ecological effect has begun to appear.
Dong Ximiao's analysis believes that "At present, blockchain has begun to gradually move from proof of concept to business practice, including supply chain finance, cross-border payments, asset securitization, and securities settlement."
In addition, compared with last year's Forbes list of the top 50 global blockchains, Internet financial technology giants such as Tencent and Baidu also made the list for the first time.
Ant Financial, Tencent and Baidu have also been on the list
Among the Forbes 50 global blockchains in 2020, the remaining Chinese companies include Ant Financial, Tencent, Baidu, and Foxconn. Among them, Tencent and Baidu are on the list for the first time.
Forbes disclosed in the list that Ant Financial 's Duo-Chain financial platform has facilitated $ 1.5 billion in rapid loans, thereby funding cash-strapped supply companies such as Sichuan GuanYong Computer. Ant Financial is using its own exclusive blockchain to verify accounts receivable and make payments.
According to previous public information of Ant Financial Service Alipay, the Ant blockchain has been implemented in more than 40 scenarios in a variety of fields including public welfare, government affairs, people's livelihood, and supply chain finance.
On the Tencent side, it is helping to build trade finance blockchain applications and simplify bulk metal purchases. For example, Gangjuren, a commodity e-commerce company, is working with Tencent and several small and medium-sized steel trading companies to simplify the financing process.
Another data is that as of the end of 2019, Tencent's blockchain-related Chinese invention patent applications were published in an amount of 777, ranking first among Chinese applicants.
Zheng Haojian, vice president of Tencent Financial Technology, said that the Tencent blockchain has so far solved the problem of low efficiency in the past, through technological innovation.
Baidu has multiple blockchain projects, one of which allows millions of Chinese users to adopt and trade cute digital puppy dogs-these pets are different and "live" on the blockchain.
Forbes analysis believes that for the companies on the list this year, the benefits of blockchain are not limited to theory, but are reflected in tangible revenue and cost savings.

Dong Ximiao said frankly to "Finance 1", "In the future, China will strengthen the top-level planning and institutional arrangements for the application of blockchain technology, and accelerate the construction of related standard systems such as the underlying platform and business applications. On the other hand, we must prevent the opportunity to deify and hype the blockchain. "
Attached to the specific list: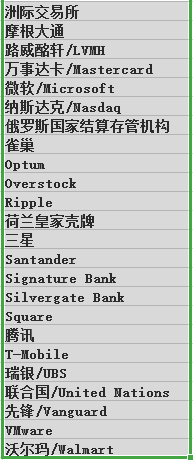 We will continue to update Blocking; if you have any questions or suggestions, please contact us!
Was this article helpful?
93 out of 132 found this helpful