Source: CointelegraphChina
Editor's Note: The original title was "How is the blockchain landing?" Global experts such as Asia, Africa and the United States answer your questions "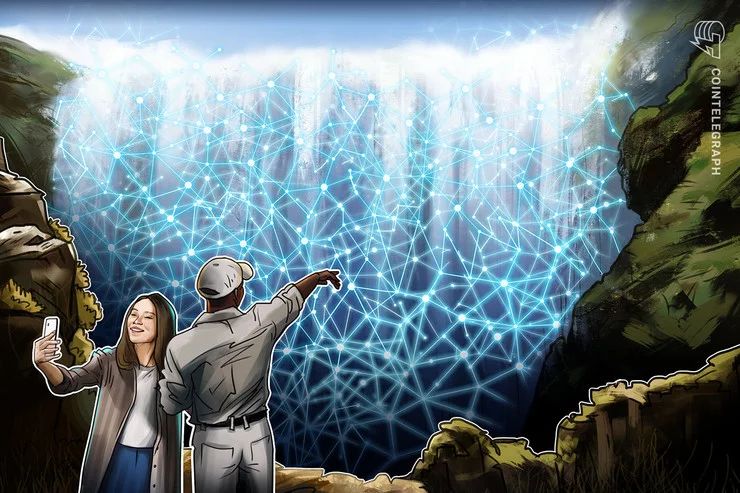 The use of blockchain is exploding around the world. However, despite the many proponents of this technology, the spread of technology has not always been so balanced. Its application is also restricted by many factors, including infrastructure construction, local resources and supervision.
As is happening in the spread of any emerging technology, some regions are seizing the lead. Rado Dragov, head of blockchain at International Data Corporation, explained that there are many factors that can create favorable conditions for their applications, ranging from investment to talent. He added:
"In addition to these factors, blockchain investment is also greatly influenced by current and forthcoming regulations and the government's macro attitude towards this technology. In some cases, the lack of regulation may scare this uncertainty Many investors are bad. By implementing regulatory measures that are conducive to business development, some European countries such as Switzerland, Estonia and Malta have become fertile ground for many blockchain startups. "
Dragov added that while blockchain investment is growing steadily, it still lags behind investment in other technologies in the information and communications technology sector:
"IDC predicts that blockchain spending in 2019 will be $ 2.7 billion, an 80% increase over 2018. Although the current growth rate is impressive, it still accounts for only a small portion of total information and communications technology spending. Compared to Below, IDC predicts that ICT investments related to other emerging technologies (IoT, artificial intelligence, AR / VR, etc.) will reach US $ 961 billion in 2019. "
middle East
The Middle East is an emerging technology center. Many countries, especially the smaller oil-producing countries, have their own free economic zones dedicated to promoting technological development and innovation. There are 45 countries in the United Arab Emirates alone, and both Saudi Arabia and Oman are rapidly developing their own countries. Saba Kifle of Devcon in Miami told Cointegraph that governments in the Middle East and Africa are taking full advantage of these economic zones by incubating blockchain projects:
"In the final analysis, government agencies in these regions have invested heavily in understanding how blockchain and digital currencies can improve the economic prospects of their regions. More importantly, they have wisely taken prudent steps to establish a regulatory sandbox to Test how these technologies will affect these people. "
The scale of development in the Middle East and Africa will increase. An IDC report in February predicted that in the next 4 years, governments in the region will witness a 400% surge in blockchain-based investment.
The report found that multilateral environmental agreement countries will increase spending from US $ 21 million in 2019 to US $ 105 million in 2023, a compound annual growth rate of approximately 50%. The report states that multilateral environmental agreement authorities are keen to explore blockchain solutions to address fraud, security and public management issues.
Despite the impressive surge in blockchain investment, Jyoti Lalchandani, vice president and regional general manager of IDC's Middle East, Turkey and Africa division, said that governments of multilateral environmental agreements have not Prepare for a major digital transformation:
"Governments in the region are facing increasing pressure to achieve more efficient and effective work. Whether it is exploring ways to integrate 5G, artificial intelligence and blockchain, or preventing the invasion of digital credit systems, governments Institutions have a whole new set of IT skills to learn. "
According to Deloitte's Blockchain Application Report, development is not limited to Gulf Coast countries. The data shows that Israel also has a large number of blockchain-related activities, mainly focusing on digital assets. Other Israeli use cases extend to DNA storage, diamond registration, cybersecurity and international shipping.
A noteworthy trend in the Israeli blockchain environment is the shift in government behavior from a regulatory role to a user role. The report found that the Israel Securities Authority has begun using blockchain in its information systems. Hagai Zachor, Deloitte's Israeli strategy manager and head of blockchain, said that it is not surprising that Israel is a regional leader in blockchain-based projects:
"Given Israel's strengths in intelligence gathering and analysis, security and cryptography, Israel is one of the leading nations in the crypto revolution and remains a leader in blockchain-based data security and traceability technologies. Amazing. "
Despite the challenges facing governments of multilateral environmental agreements, Kifle believes that with the support of governments in the Middle East and North Africa, blockchain projects in these regions are increasing:
"Governments in the Middle East and North Africa are developing policies and legislation for blockchain-based projects, the most famous digital currencies and other financial products. This level of support has enabled banks to develop blockchain-driven trading systems."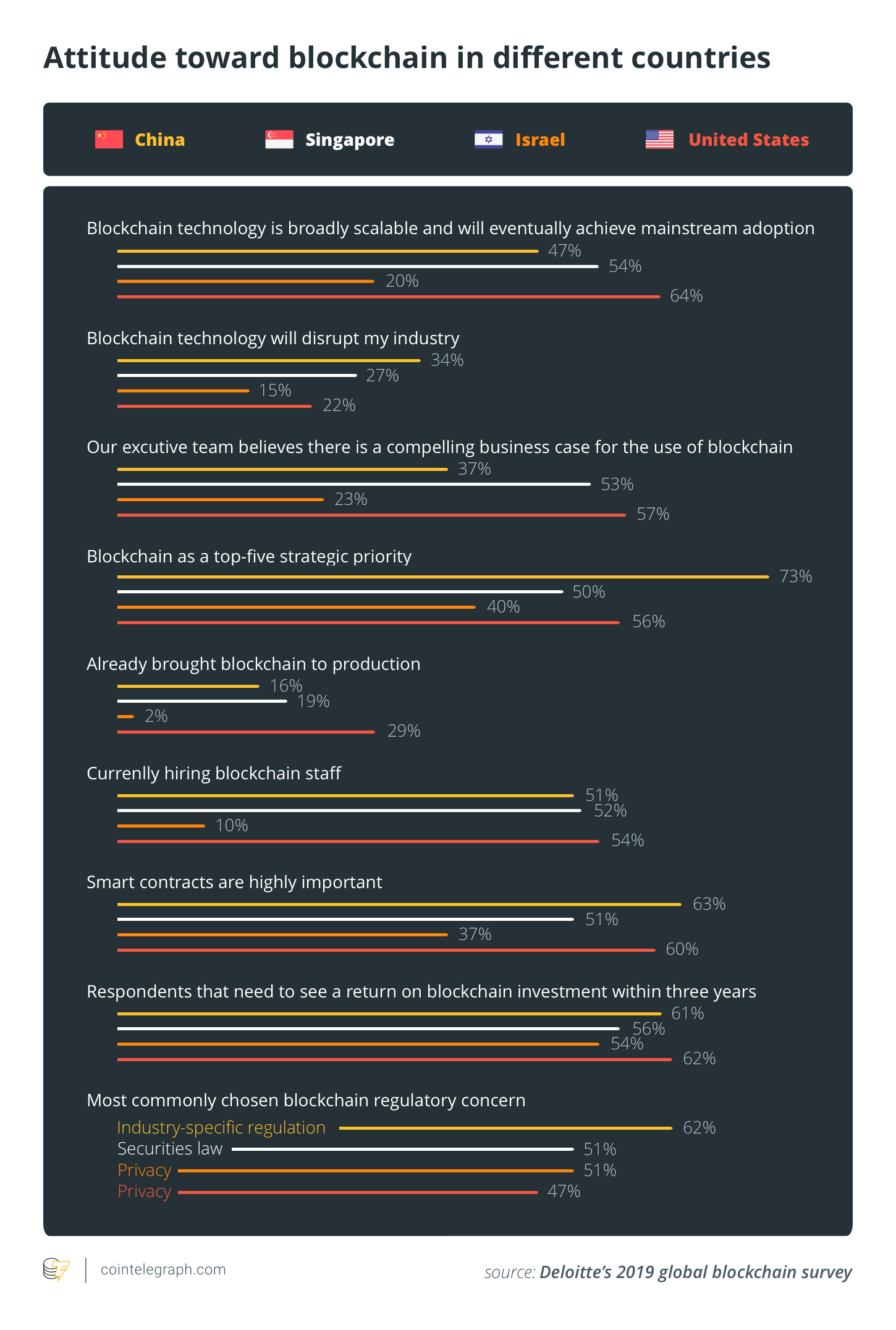 Europe
Due to the single market, Europe is one of the most important financial hotspots in the world. The regulatory environment in Europe is perfect and emerging technologies have strong academic and political support. In addition, the European Union (European Union) is also interested in blockchain. The European Commission's executive agency, the European Commission is actively exploring how to implement this technology.
For example, the European Union launched the European Blockchain Partnership in April 2018, which operates at the political level of all member states of the European Economic Area. The countries that signed the declaration are working to implement blockchain solutions that benefit their citizens, society and economic development.
The European Blockchain Partnership plans to deploy a distributed blockchain node network throughout Europe. The European Commission is also working to ensure public-private cooperation in the blockchain field, and in April 2019, the International Trusted Blockchain Application Association was established. Although many other regions are also seeking ways to implement blockchain applications, INATBA's executive director Marc Tavener outlines his point to Cointegraph that there is an opportunity in Europe:
"We see continued investment (public and private investment) giving Europe a competitive advantage in how governments, businesses and institutions implement this technology."
Tavenna told Cointelegraph that the EU's competitive advantage stems from its early enthusiasm for the benefits that the technology could bring:
"The EU is one of the earliest and most enthusiastic advocates of blockchain technology.It is a way to stimulate digital innovation for the benefit of the public and private sectors. For example, Estonia has been testing blockchain technology since 2008. Since 2012. Since the beginning of the year, blockchain has been operating in many registries in Estonia. "
IDC's Dragov told Cointelegraph that certain industries in Europe are actively promoting investment in blockchain, from manufacturing to banking:
"Looking at Europe, we predict that by 2023, the top five industries with the highest compound annual growth rate (CAGR) will be: processing manufacturing, professional services, retail, discrete manufacturing, and banking. Although the block Chain solutions are popping up in various industries, but we expect the financial industry to continue to attract the most blockchain investment. "
United States
The United States (United States) has the most developed regulatory environment, strong academic support, and a long history of supporting technology development, and is the fertile ground for any emerging technology. Therefore, it is not surprising that the United States has taken the benchmark position in most blockchain investments. Dragov explained to Cointelegraph that the US blockchain investment in 2019 was nearly $ 1.1 billion, which is much higher than the $ 661 million in Western Europe, which also dwarfs China's $ 304 million.
Jeff Barroga, CEO and founder of the exchange Paxful, outlined Cointegraph his views on this topic. He said that North America not only dominates the application pattern of blockchain, but also Government officials are turning to support the technology, and this trend could be exacerbated:
"Governments in North America are racing to leverage the technology behind distributed ledgers to modernize military warehousing, help enforce law, validate government contract bids, and promote transparency in government grants. As more and more elected officials are finally taking a positive approach, Looking at blockchain technology, you can expect to launch more pilot projects in the coming months. "
Baroga told Cointelegraph that as actual use cases grow, blockchains will eventually get rid of the reputational risks associated with cryptocurrencies, because "financial sectors will eventually use blockchain technology to provide processes by using automatically executed smart contracts Efficiency and reduce costs. "
China and East Asia
The Asia region is one of the most competitive markets for global technology projects because they play a central role in driving economic growth in the region's largest economies, such as China and Singapore. As a result, governments are more open to the benefits that emerging technologies can bring.
According to a report from Deloitte, the Singapore government highly supports blockchain platforms because of their huge potential for future financial development. The report also pointed out that the Monetary Authority of Singapore also described blockchain technology as the "fundamental" of its economic development.
In terms of blockchain development, China is an elephant in this field. Since Chinese leaders affirmed the importance of blockchain to China's future economic prospects in a landmark statement, China is likely to replace the United States as the world's leading hotspot for blockchain investment.
Due to the uncertain legal environment of China's cryptocurrency and blockchain projects and limited information, it is still difficult to accurately assess the actual application level of this technology in China.
Nonetheless, the Deloitte report states that the 13th five-year plan formulated by the Chinese government lists blockchain as "a key driver of economic development." The report found that the real economy and fintech are the two social public domains most likely to find long-term applications of blockchain.
In Deloitte's survey, 73% of respondents said that blockchain is China's five most important areas of strength. Another 34% said they were more willing to believe in the huge potential of the blockchain.
China has a huge advantage in the number of blockchain patents. The authors of the report assume that China will continue to be the leader in the field of blockchain, and the United States will be ranked second. Paul Sin, a consulting partner of Deloitte Consulting Co., Ltd. and head of the Deloitte Asia-Pacific Blockchain Lab, said that China is likely to become a global leader in strategic blockchain applications:
"China, more than anywhere in the world, will use blockchains strategically rather than tactically. More projects are driven by senior management who use blockchain as a strategic weapon, not a productivity tool."
IDC data shows that by 2022, the amount of blockchain investment in the Asia-Pacific region (excluding Japan) will reach $ 2.4 billion. The report predicts that the amount of blockchain investment will surge, and is expected to reach approximately $ 523.8 million in 2019, an increase of 83.9% from $ 284.8 million in 2018. The International Data Center expects a five-year compound annual growth rate of 77.5% from 2018 to 2022.
The report found that the Asia-Pacific region (excluding Japan) contributed approximately 18.4% of the total global blockchain technology spending in 2019, second only to Western Europe (23.7%) and the United States (37.7%). Chinese spending in the region is dominant, at about 70%.
Africa
Africa is a target market for some of the largest and best companies in the industry. Facebook's Libra project has huge potential to affect a large number of African users in this social network without a bank account. Jack Dorsey, CEO of Libra and Square, has stated that the future of Bitcoin (BTC) will be "defined" by Africa, adding that he will spend up to six on the African continent in 2020 Time of month.
Related reports: Africa uses blockchain to drive change: Part I, Nigeria and Kenya
Many comments on Africa rightly mention that Africa has had no place in previous industrial revolutions due to colonial occupation by generations. As a result, many African countries have underdeveloped infrastructure. As a result, up to 80% of the population in sub-Saharan Africa does not use formal or semi-formal financial services.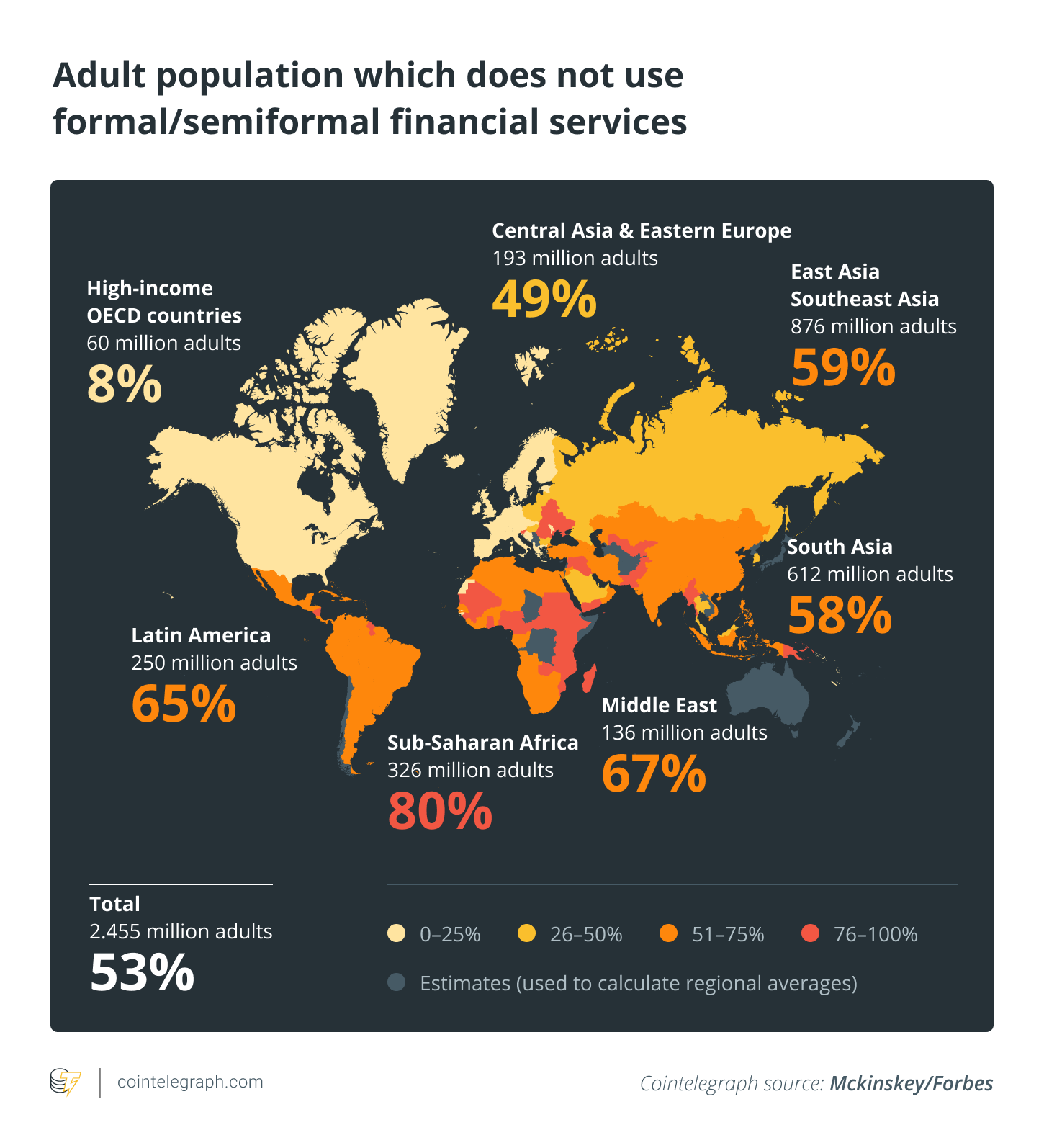 According to Akin Sawyerr, the African leader and strategic developer of Decred cryptocurrency, this is exactly why blockchain applications have so much potential in Africa. Soyer told Cointelegraph that distributed financing could play an important role in Africa's fourth industrial revolution as mainstream financial institutions ignore the unbanked population:
"Sub-Saharan Africa is making significant progress in the development and use of blockchain networks. I expect that the region will be the first to adopt blockchain networks for a number of reasons. The World Bank believes that about 60% -70% of sub-Saharan Africa There are no banks in the region. The "bankless" population is not the target user group of traditional financial institutions, because most people live on less than $ 3 a day, and they ca n't make a profit from a market perspective. "
Paxful's Barog also noted that blockchain technology has the potential to reach customers without a bank account. In explaining the existing digital characteristics of many transactions in Africa, Baroge told Cointelegraph that Africa is a fertile land full of practical application cases:
"The economic instability and poor banking system in sub-Saharan Africa paved the way for digital and mobile payments, an alternative solution accepted by the African people. Most transactions on the continent are digital, with the vast majority Adults have some kind of e-wallet: This is a good indicator that these families may be more willing to accept new technologies. "
In Africa, blockchain not only represents a way for people to better manage and consume money, but also a way to make money. The population of many African countries continues to grow. In terms of population, 13 of the world's top 20 cities will be located in Africa in the next century. Sawyer explained that many young Africans see blockchain as their future career path:
"Finally, Sub-Saharan Africa has a very young and vibrant population who believe that technology, especially software development, is a viable way to make a living, not just limited to local employment opportunities."
Latin America
Latin America is witnessing the rapid growth of cryptocurrency and blockchain applications. From the BRICS discussions on the joint issuance of cryptocurrencies to get rid of its dependence on the U.S. dollar, to the Venezuelan regime of Nicolas Maduro's attempt to impose its oil-backed "cryptocurrency" on people everywhere, the region continues to explore New uses for blockchain.
Decred's head of Latin American operations, Elian Huesca, told Cointelegraph that the diversity of financial and technology use cases in the region is driving a surge in cryptocurrency and blockchain projects: "An important factor that is causing this The reason is that the diversified use cases of cryptocurrency remittances, investments, and savings have made people use them as an alternative to fighting hyperinflation. "
The Middle East and China are not the only regions that use special economic zones to develop blockchain technology. Hesca told Cointelegraph that Uruguay is becoming the center of cryptocurrency and blockchain companies:
"They are exploring the use of the existing economic free trade zone to create a blockchain-friendly center to attract blockchain companies, talents and innovative industries. They are effectively using their economic advantages and development power to become the region A model of blockchain development. "
problem?
Although there are obviously a large number of application cases around the world, blockchain technology still faces some issues that prevent it from being more widely adopted. Since this technology is relatively new and development speeds are not the same, interoperability can become an issue. INATBA's Tavener told Cointelegraph:
"But this issue is being addressed in a dialogue between the public sector and the private sector. So while we see some credible challenges, we are also seeing some activists begin to step in and address these challenges and ensure the technology Can continue to grow. "
One of the most important criticisms of blockchain is its huge energy costs. But that will soon change. Tufner said the public and private sectors are working to address energy inefficiencies, as both sectors are "committed to identifying sustainable solutions that reduce energy use in blockchain data centers and increase productivity and efficiency."
Finally, according to a spokesman for the ISO / TC307 leadership team of the International Standards Organization, the lack of common regulations or standards is hindering the development of blockchain, he added:
"Blockchain technology is interdependent on other technologies and today's legal, business, and social realities. These close links and interdependencies with other technologies require interdependence and interoperability between standards."