What are the developments of Libra during the epidemic that deserve attention?
Source: 52CBDC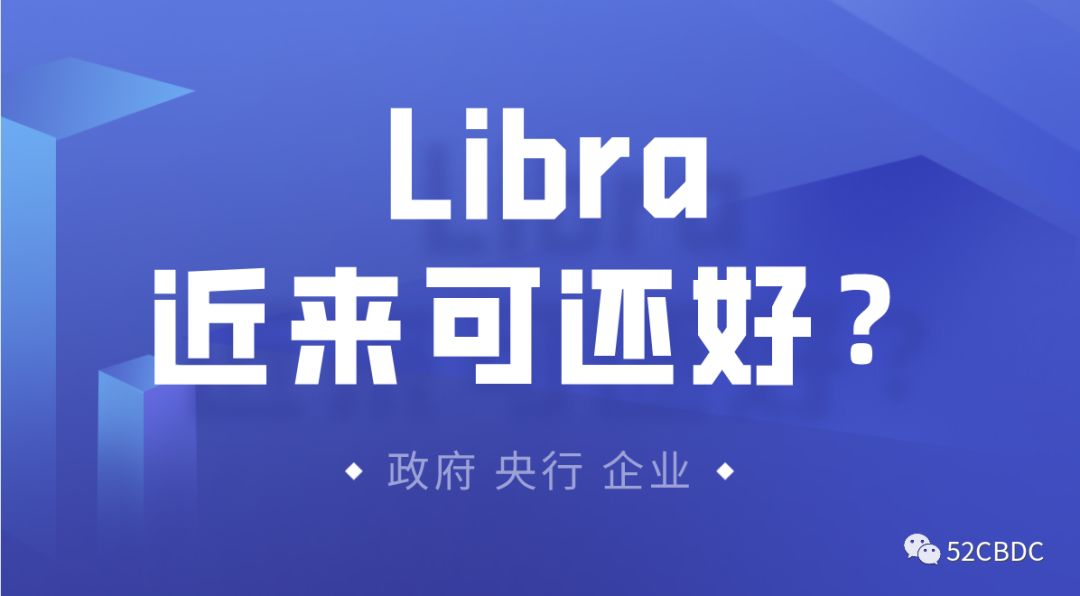 During the epidemic, the development status of digital currencies of central banks in various countries and the application of blockchain frequently occurred. For example, the epidemic promoted the accelerated launch of the central bank's digital currency, DCEP, and the United States evaluated the feasibility of issuing central bank digital currencies. Digital currency, the Swedish central bank digital currency electronic krona began testing and so on. The application of blockchain is reflected in the non-contact community digital epidemic prevention during the epidemic period, the retrospective supervision of medical items such as vaccines, data sharing and trust establishment during the epidemic prevention period, and supply chain finance that play a role in financial asset transactions.
Is there anything new about the Libra project, which is causing nervousness and concern among central banks around the world to provide services to people around the world and plan to build a simple, borderless currency and financial infrastructure that serves billions of people? ? Let's take a look ~
Central banks and governments
The first is some recent developments related to Libra and its success in various countries:
The Bundesbank governor said recently that banks should upgrade their transfer systems to counter alternatives such as Libra.
The Swiss government has expressed a desire to relax its position on Libra, saying: "Switzerland is generally open to projects that reduce the cost of cross-border payment transactions and seek to promote financial inclusion."
On February 18, according to a memorandum issued by Valdis Dombrovskis, Executive Vice President of the European Commission, the European Union is still working to resolve the Libra issue. He said more details are still needed to regulate Libra.
Ueli Maurer, the Swiss president and member of the Swiss Federal Council, recently said that Libra "failed in its current form" and that the project had to be revised to get approval.
Ripple CEO Brad Garlinghouse believes that Libra will not be launched by 2023.
Interpretation: Because it involves threats to the effectiveness of economic policy regulation and the status of sovereign currencies of various countries, as well as the possible subversive impact on their financial institutions, it is also difficult to achieve regulatory trust in illegal activities such as "money laundering" Various factors have caused the attitudes of governments and central banks to the Libra project to remain relatively conservative and cautious. For Libra, a project and issuer that plans to provide financial services to global people, there may be more stringent and detailed regulatory requirements in the future.
Libra Association and related members
Furthermore, the latest comments and developments from Libra project personnel on Libra:
Libra chief David Marcus said in an interview with CoinDesk that no private company, company or entity should control a payment network like Libra. He also believes that Bitcoin and Libra will eventually complement each other and have completely different uses. He expects politicians and regulators to take more resistance in 2020. If Libra is unable to obtain permission from the regulators, it may not be online until 2021.
Facebook CEO Zuckerberg said that the work of the Libra project is being handled by the Libra Foundation and emphasized the separation between the foundation and the social network. In addition, he said the company is developing a digital wallet for use with Libra "to make payment infrastructure around the world, especially cross-border transfers, more efficient".
On February 21, Shopify, a Canadian cross-border e-commerce SaaS platform, said that it had joined the Libra Association and focused on its own digital payment system. Shopify stated that it intends to build a payment network that can be used anywhere and hopes to create an infrastructure to support more entrepreneurs worldwide.
Calibra Digital Director recently introduced Facebook's Move programming language. Move was created by Facebook to provide a secure and programmable foundation for the Libra blockchain. He said the move will make financial applications running on Libra easier and more secure. "Move is a new smart contract language built into the core of Libra, designed to bring a modern approach to today's financial system." He also mentioned that Libra's mission is to solve financial services lack of. "With Libra, users don't have to rely on intermediaries to store funds. Libra provides direct access to the platform and creates a more inclusive system. Developers can also access the platform and build applications to help Serving people outside today's financial system. "
Interpretation: Combining the previous relevant information and the above libra dynamics, we can see that although the Libra project has been deeply trapped in the regulatory quagmire since its announcement in June, the road to release seems to be far in the future, but its internal technology and related process design work is still in progress. Methodically proceeding. So even though Libra is currently unavailable for the time being, as long as the regulatory authorities indicate that the Libra project is legal, Libra may soon be put into practical use.
Authorities and organizations in the industry
At the same time, some authoritative persons or institutions have recently confirmed the vision and role of the Libra project:
A recent JPMorgan Chase report talked about Libra, stating that it has the potential to grow significantly and ultimately take a significant portion of global trading activity. However, the report acknowledges that to achieve this, some modifications to the current design and proposals are required. For example, how Libra responds to the persistent negative returns on most reserve assets.
In response to the withdrawal of some members such as Visa from the Libra Association and the fact that they are facing adverse regulatory factors in the United States, Alex Tapscott, co-founder of the Blockchain Institute, said, "Some members have withdrawn, but the problem should not be exaggerated. There are many others Still want to be a participant. Overall, Libra is a good thing, and I hope it will be launched. "
Garry Tan, co-founder and managing partner of well-known venture capital Initialized Capital, talked about Shopify's joining the Libra Association, saying that he is very bullish on Libra and believes it will help advance the "practical use cases" of encryption. He further explained that he was interested in Libra's idea, and Libra would be an "effective way" to bring new users into the crypto ecosystem.
Zhu Min, Dean of the National Institute of Finance of Tsinghua University and former global vice president of the IMF, said: "In the short term, Libra is a cross-border payment (means); in the medium term, it is an international currency that will affect monetary policy and finance Stability brings a series of shocks. If it can finally be fully implemented on the basis of a blockchain supply chain and a fully intelligent platform can do bottom-up transactions, it will fundamentally change the entire financial ecosystem. "
Interpretation: We can read the above information. Compared with government agencies and central banks, venture capital companies and technology companies have a higher degree of recognition and support for the Libra project. They value the Libra project's ability in encryption technology more. The tremendous impetus it brings, and the changes, disruptions and challenges that Libra's vision of inclusive finance brings to the entire financial sector.
The above is the sorting and interpretation of the latest relevant information about Libra by 52cbdc.
We will continue to update Blocking; if you have any questions or suggestions, please contact us!
Was this article helpful?
93 out of 132 found this helpful