Source: Digital Chain Rating
Editor's Note: Original title was "Crypto Turkey on Attack"
Turkey spans Eurasia, is surrounded by sea on three sides, the depth of the Black Sea in the north, the civilization of the Mediterranean in the south, and the romance of the Aegean in the west. There are also magnificent monuments and natural features, said to be beautiful.
However, this article focuses on encryption, not romance.
Considered by the market as a "hedging newcomer," bitcoin seems to have been "smashed" by the epidemic these days. Bitcoin and US stocks also fell.
Let us look back at Turkey.
Turkey is a country with too much debt. As of September 2019, the foreign debt was 433.9 billion US dollars, more than half of GDP, and more than five times the foreign exchange reserve.
The tariff confrontation deteriorated the relationship between Turkey and the United States, the escape of hot money, and the loss of external reserves, which caused the Turkish law lira (TRY) to plummet.
The country's central bank significantly raised its benchmark interest rate from 8% to 24%. After continuous interest rate cuts since the second half of last year, it is still at a high level of 10.75%.
Turkey's economic development is almost stagnant in 2019, with the World Bank forecasting zero growth.
The International Monetary Fund predicts that the country 's inflation rate this year will be 12.6% and the unemployment rate will be 13.7%, exceeding the international warning line.
Crisis drives encryption
There is no capital control in Turkey, but a one-day deferred settlement has recently been implemented for retail exchange purchases of more than $ 100,000. The lira has plummeted 90% against the US dollar in the first eight months of 2018.
In fact, everyone in the market knows that Turkey does not have enough external reserves to defend the lira on a continuous and credible basis. This allows the media to see the relative stability of Bitcoin.
It has sparked more interest among Turkish people in buying decentralized cryptocurrencies such as Bitcoin. The lira's collapse has plunged Turkey into a currency crisis. A relatively large currency devaluation or inflation can slightly increase the adoption rate of cryptocurrencies.
The trillion-dollar Zimbabwe dollar, Venezuela buys things to weigh Bolivar, the Argentine peso has shrunk by 67% in two years, and the Iranian rial has depreciated by 13.3% this month. Such events indicate that we may now Entered an era like this:
Fiat currencies in some countries are far less stable than Bitcoin.
In countries where it is difficult to obtain a reliable fiat currency, Bitcoin has the largest volume and the fastest growth. In other words, the long-term weakness of the lira has played a role in making Turkey a country with a high rate of cryptocurrency ownership, and the lira crisis has greatly boosted national encryption.
ING investigation: Turkish encryption is hot.
In June 2018, Dutch International (ING) conducted a survey of about 15,000 respondents in 15 countries around the world and found that Turkey owns nearly one-fifth of the cryptocurrency, making it the cryptocurrency among the countries surveyed. Highest rate country.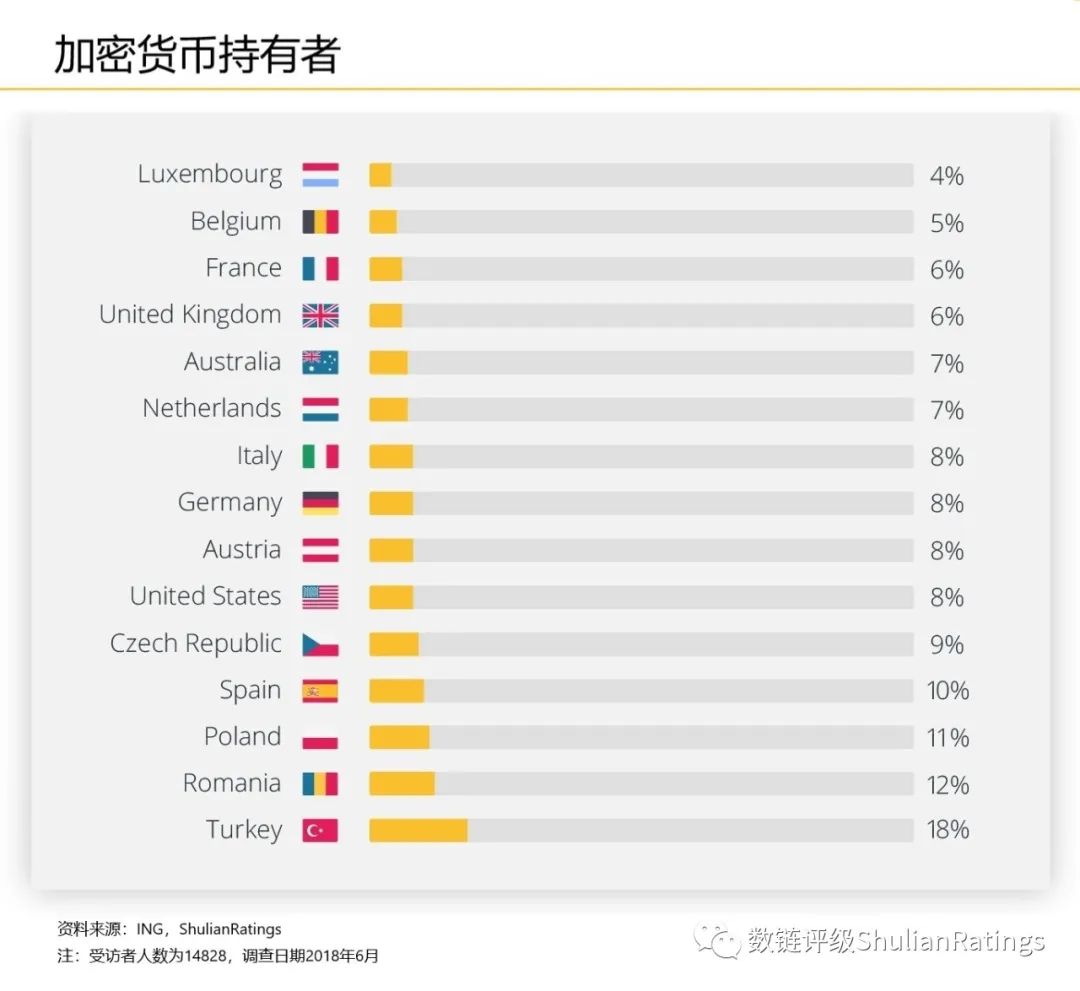 More than half (53%) of respondents in Turkey believe that digital currency is the future of online consumption (the 2015 survey showed 45%), and nearly half (49%) of respondents believe that digital currency is the future of investment. These two ratios are the highest in the world.
Online surveys may be biased towards young professionals who are exposed to media and technology. Young people and countries with lower per capita income levels seem more likely to consider using cryptocurrencies for payment, and the rise in crypto asset prices has made them a form of investment.
To prevent this currency crisis from turning into a debt and liquidity crisis, rather than using a domestic interest rate hike, international lending, capital controls and other measures to resolve the currency crisis, Turkey is also exploring new solutions to promote national encryption:
Turkey is trying to rewrite the chapter on crisis management in emerging market scripts.
Turkish crypto policy
The contradiction between encryption and doctrine
Islamic finance is financial activity that takes place on the basis of Shariah. The Shariah Commission is the religious regulator and oversees the daily operations of financial institutions.
The Shariah Law sets strict guidelines: prohibiting interest and income from interest is the core criterion, pursuing risk sharing and profit sharing (the income from investment belongs to normal labor income); financial transactions and products must have corresponding entities Assets; prohibit uncertainty, such as speculation on derivatives such as gambling, futures and options.
However, Islam is divided into different denominations, and there are differences in the interpretation of doctrines between denominations.
The total population of Turkey is about 80 million, with Muslims accounting for more than 80% of the total population. According to Turkish media Hurriyet, there are about 1 million investors in the country. Despite the great interest of the Turkish people, any legal framework and regulation of the crypto industry in Turkey does not exist.
On November 24, 2017, the Turkish Bureau of Religious Affairs issued guidelines that currently, the purchase and sale of virtual currency is not compatible with religion, and it is not appropriate to buy and sell virtual currency at this stage:
Bitcoin is actually "incompatible" with Islam. The same "inappropriate" principle applies to Ethereum.
The Turkish Capital Markets Board (CMB) is the regulatory body that oversees the country's securities market.
In early 2020, CMB plans to develop a crypto market regulatory framework that year to observe, audit and standardize the country's crypto market and eliminate legal gaps in crypto assets.
Research focuses on issues such as what crypto assets are, how to tax them, how to monitor and control them, and how to protect the rights of traders of these assets.
Turkish government
Digital Lira Project-National Digital Currency Turkcoin
On February 7, 2018, the Deputy Prime Minister of Turkey said in an interview with CNN that the government will prepare to release a national cryptocurrency.
Two weeks later, in the report of the Turkish Nationalist Movement's Vice Chairman Tanrikulu overseeing the cryptocurrency market, he considered issuing a national digital currency called "Turkcoin":
The use of cryptocurrencies can be considered legitimate, as our laws do not prohibit the use of cryptocurrency for trading, and making money through bitcoin mining is currently outside the scope of criminal activity in Turkey.
On July 9, 2019, the Turkish government included the central bank's digital currency in the economic roadmap in its 2019-2023 development plan. Both the country's central bank and the Turkish Scientific Research Council are committed to developing new currency systems.
On November 3, 2019, according to the presidential plan released by the official Turkish national publication "Resmi Gazete", President Erdogan instructed the government that the first trial of a digital lira-based instant payment software platform (CBDC) should be completed by the end of 2020 .
In fact, in order to circumvent international sanctions and get rid of the dollar-dominated international financial system, countries with stale or broken relations with the United States are trying to design national digital currencies.
For example, in Dubai, where gold jewelry is a part of a woman's weight, the official digital currency emCash supported by the Ministry of Economic Development of Dubai will be equivalent to the UAE Dirham; Venezuela will issue the official digital currency Petro, which will have a barrel of each Oil support; On September 18, 2019, Special Representative of North Korea and the Committee on Foreign Cultural Relations Benos said that North Korean authorities allow citizens to own cryptocurrencies and are designing crypto wallets and other related applications immediately:
Will be more like Bitcoin or other cryptocurrencies.
Turkish Lira (TRY)
Lira market accounted for fifth in the world
According to Coinhills data, as of February 26 this year, in the bitcoin-to-fiat transaction, the lira was the fifth with a market share of 1.59%. Among them, the US dollar accounts for 79%, the Japanese yen accounts for 11%, and the other two are the euro and the Korean won.
Currently, Lira can buy cryptocurrencies on 13 exchanges including Binance, Bitci, BTCTurk, Coinsbit, DSX, EXMO, Gobaba, Koinim, LocalBitcoins, Paribu, Paritex, Sistemkoin, Vebitcoin and other exchanges.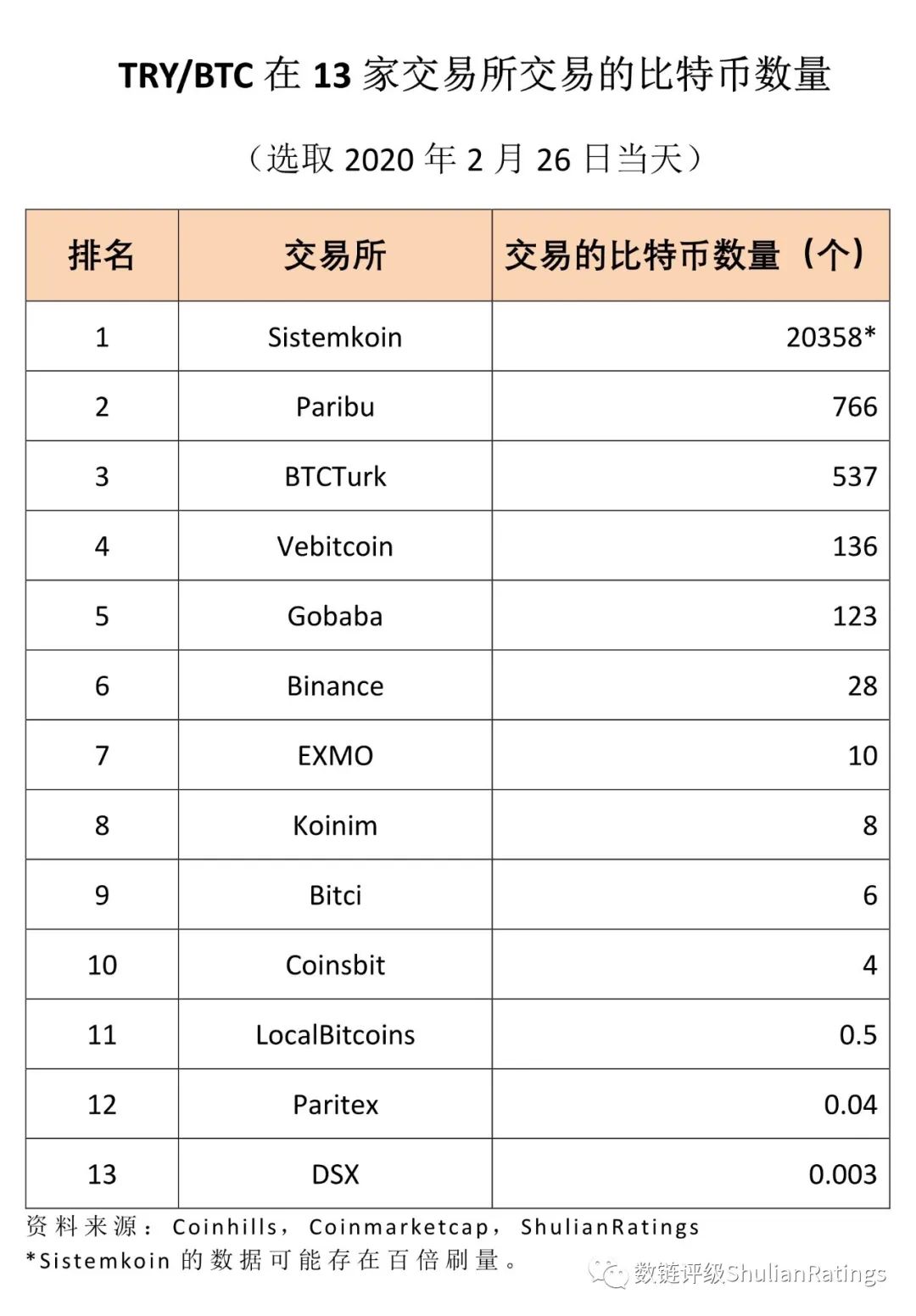 According to Localbitcoins, in the week ending August 11, 2018, Bitcoin's lira transaction volume increased to 760,000, an increase of 132% compared to the single week in early July. History is up to 2.4 million per week.
Turkish Crypto Exchange
Active distribution of domestic mainstream exchanges
In June 2019, Huobi announced that it would enter Turkey. Four months later, Huobi announced that it would open an office and form a team in Istanbul, and launched the Lira Gateway to enable Turkish users to deposit via wire transfers and trade on Huobi Global. In early November, Huobi had opened an office of a four-person team in the country, and plans to double its local staff by the end of the year. Currently, the Turkish language option has been added to the official website of Huobi.
In October 2019, regarding the question of whether to consider adding lira, OKExCEO said: We will definitely take this into consideration.
In November 2019, Binance announced a partnership with Turkish local digital wallet Papara. One month later, Binance launched TRY, and opened trading pairs of BTC, ETH, XRP, BNB, USDT and BUSD to TRY. On the one-click currency purchase page, 15 fiat currencies including TRY have been supported. "Soon we will add the Turkish Lira Bank Direct Transfer to Binance", said CEO Changpeng Zhao in December. Binance will form a local team of 10 to 20 people. According to SimilarWeb statistics, Turkey is the third largest traffic country on Binance website.
In addition, in January 2020, cryptocurrency data and wallet provider Blockchain.com launched the TRY gateway, which is the fourth fiat currency it supports in addition to the British pound, US dollar and euro.
Turkish native exchange
Since Coinmarketcap has not effectively adjusted the exchange volume, we use data provided by the CoinGecko platform to compare the four crypto exchanges headquartered in Turkey, including trust scores, standardized 24h trading volume, and global trading volume ranking , The number of online currencies and traffic (SimilarWeb).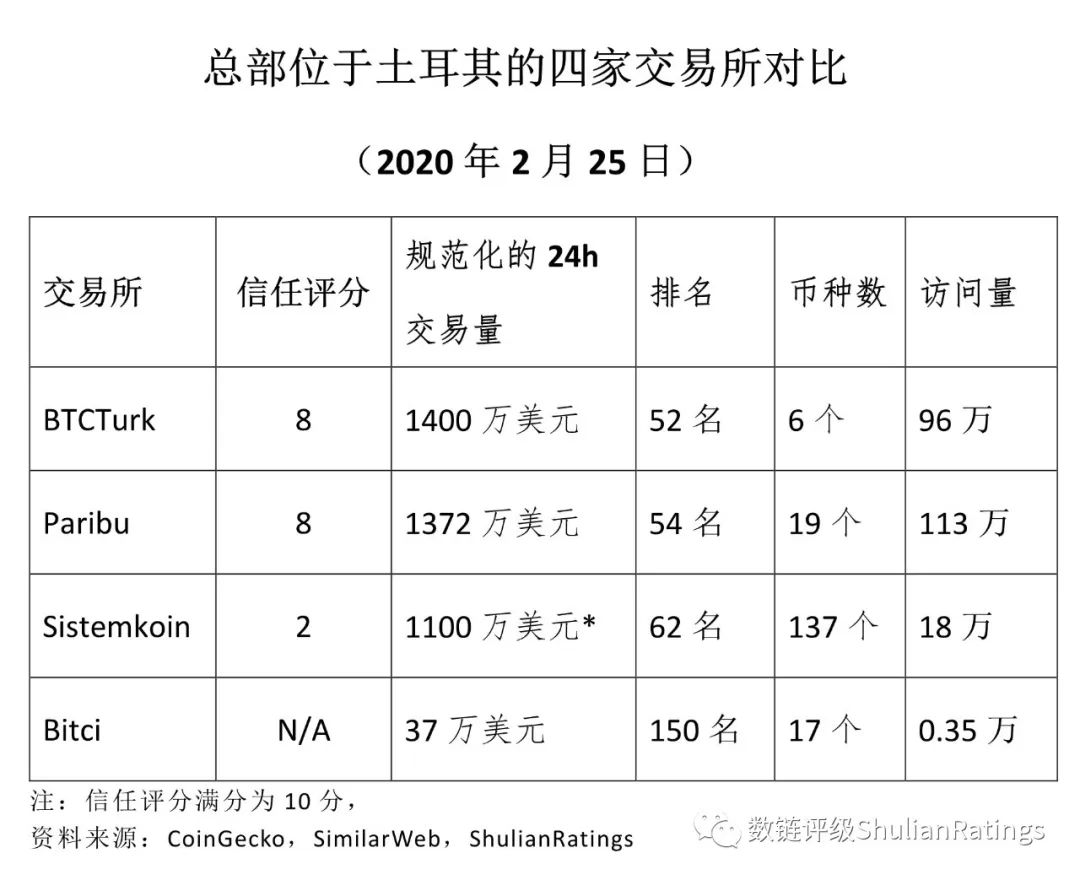 All four exchanges support the use of fiat currencies (TRY), including fiat currency pair transactions, deposits and withdrawals.
Launched in 2013, BTCTurk is located in Istanbul, Turkey and claims to be Turkey's first and fourth crypto exchange in the world, serving more than 700,000 users and cooperating with five Turkish banks. There are 7 trading pairs on the official website, and the PRO version provides 27 trading pairs.
Paribu was founded in February 2017 and claims to be the highest trading volume in the country.
* Sistemkoin was launched in January 2018 and is the most widely traded exchange in China. Its 24h trading volume before normalization was 1.1 billion U.S. dollars, up to 100 times the normalized data. The transaction volume is generally proportional to the number of visits. The transaction volume of 11 million US dollars still has a large amount of water. It can be inferred that the exchange volume has exceeded 100 times.
Bitci.com has the lowest number of visitors and low transaction volume.
Other Turkish institutions
Turkish Ministry of Industry and Technology
On September 18, 2019, the Ministry of Industry and Technology of Turkey released the "Strategy 2023", saying that a new blockchain open source platform will be established in Turkey. The plan will analyze different use cases, such as land registration, academic credentials, and customs to identify potential public sector applications.
University R & D Center
On August 3, 2018, the Istanbul Blockchain and Innovation Center (BlockchainISTCenter) was opened at Bakhsaishir University to reduce the gap in blockchain expertise and ensure widespread technology deployment. Follow-up collaboration with Cornell University's Ava Lab. This is the first university-level blockchain center in Turkey.
Telecommunication service provider
On February 26, 2019, Turkcell, a telecommunications service provider in Istanbul, has launched a blockchain-based ID management service. Designed to provide users with control of their personal information and ensure privacy requirements in accordance with general data protection regulations, it is said that the required user data is stored on the blockchain, eliminating additional authentication.
Stock exchange
On September 6, 2018, the Borsa Istanbul Stock Exchange (BIST) stock exchange developed a customer database supported by the blockchain. BIST was established in 2013 and is a merger of Istanbul Stock Exchange, Istanbul Gold Exchange and Turkish Derivatives Exchange.
Clearing Custody Bank
On September 6, 2019, Takasbank, the Istanbul clearing and settlement custody bank, announced the blockchain-based physical gold trading platform BiGA, enabling people to transfer and store physical gold through digital gold units on the blockchain. 1BiGA is equivalent to 1 gram of gold. On December 30 of that year, the platform was officially launched.
Konya "City Coin"
The mayor of the Turkish city of Konya disclosed on January 16 this year that the city is developing a "city coin" for 2 million people in the city and creating a blockchain-based financial ecosystem around it.
Sports
Sports have always been avant-garde.
Sacramento, California's capital, is only a 2-hour drive from Bitcoin-friendly Silicon Valley. The advantage of being close to the Bitcoin consumer group is unique. In January 2014, the Kings announced their official acceptance of Bitcoin for tickets, jerseys, hot dogs and beer. The Kings became the first NBA team to accept Bitcoin. Four years later, Mavericks owner Cuban expressed support for Bitcoin to buy tickets to the game.
On January 30, 2018, Turkish amateur football club Harunustaspor paid player Faruk's transfer fee in the form of 2500 lira cash + 2,000 lira Bitcoin.
Farouk's transfer fee is discounted to 1,200 US dollars, which is only one hundred thousandth of the highest Neymar transfer fee in football.
However, the Turks made history this time.
This may be the first time that semi-professional sports have hired a player in this format, and the team chairman proudly said:
This will enhance the image of the club, both internationally and in the Bitcoin community.
In September 2019, the Turkish crypto exchange BtcTurk signed a sponsorship agreement with the local football club, Yeni Mares, worth 7.5 million Turkish lira ($ 1.29 million). Its CEO once said that "football is the right tool to reach the masses."
At last
Considering the country that is leading the way in crypto adoption, Turkey may not be the first place to think.
According to World Bank data for 2017, Turkey's GDP ranks seventh in Europe after Germany, Britain, France, Italy, and Russia, but it lacks political and financial stability in the euro area. Turkey's large and young population and high technology penetration rate give the country a competitive advantage in the global blockchain competition.
In countries where these infrastructure collapses, including Venezuela, Bitcoin is considered a way to prevent depreciation and carry money abroad. And in Turkey, it offers another option for investors who use the US dollar but are looking for profits.
Turkey has a vision to make Istanbul a financial center, which may open the door to the crypto market for 1.8 billion Islamists worldwide.
References
ING survey
https://think.ing.com/uploads/reports/ING_International_Survey_Mobile_Banking_2018.pdf
Turkish High Commission for Religious Affairs
https://www.ensonhaber.com/din-isleri-bitcoin-caiz-degildir-dedi.html
Economic and Commercial Counsellor's Office of the Chinese Embassy in Turkey
http://tr.mofcom.gov.cn/
Turkey Development Plan 2019-2023
http://www.sbb.gov.tr/wp-content/uploads/2019/07/OnbirinciKalkinmaPlani.pdf
Turkish Ministry of Industry and Technology Strategy 2023
https://www.sanayi.gov.tr/strateji2023/
Presidential plan released by Turkish official publication Resmi Gazete
https://www.resmigazete.gov.tr/eskiler/2019/11/20191104M1-1.pdf
Istanbul Clearing and Custody Bank Takasbank Officially Announces "BiGA Digital Gold"
https://www.takasbank.com.tr/tr/duyurular/duyuru-detay/takasbank-blokzincir-tabanli-transfer-platformu-biga-dijital-altin-ile-hizmete-girdi
Turkey's Capital Markets Commission Develops Crypto Regulatory Framework
http://bigpara.hurriyet.com.tr/haberler/ekonomi-haberleri/kripto-paralara-spk-denetimi_ID1459467/
Research on Islamic Financial Supervision System from the Perspective of "Belt and Road"
http://www.xml-data.cn/SHCJDXXB/html/147e1cd1-8c3c-4ad1-9e98-0618ff25ba01.htm