Research Report | January 2020 Digital Asset Exchange Industry Report
Author: BitMEX
Translation: Ziming
Source: Crypto Valley
Summary: This report not only analyzes the transaction situation of BTC (currency / fiat currency) and stablecoin, but also summarizes the ranking of top digital asset exchanges based on the spot transaction volume, and focuses on introducing those top How the trading volume of "transaction is mining" exchanges and decentralized exchanges has developed in the past.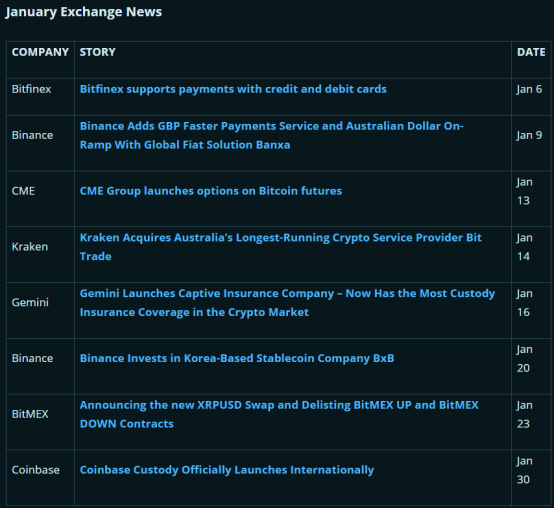 January Exchange News
There are clear signs that 2020 is expected to be a key year for the crypto industry in its short-term history, stimulated by increasing investor interest and speculation around major events, such as the halving of BTC in May. In view of growing demand and volatile trading environment, the exchange is stepping up to provide various products and services required by the market. Important news emerged from major exchanges in January. Let's review some of the main topics of the month.
BitMEX is recognized as the leading place to trade digital currency derivatives. Its biggest attraction is its most famous product: BTC Reverse Perpetual Contract. The quotation provided by the tool has no expiration date and is kept linked to spot prices through clever financing mechanisms. The tool continues to attract more than $ 4 billion in trading volume every day. Speculators will be keen to observe the market impact of BitMEX's new XRP permanent swap contract, which allows traders to guess the price change of XRP / USD without having to deposit USD.
In addition, CME announced the opening of options trading as a supplement to BTC futures contracts, and Deribit announced the launch of BTC daily options, which expire at 8 am UTC every day.
Compliance is a topic of constant concern in the crypto space. Institutions that provide financial products in multiple regions and jurisdictions are almost destined to face difficulties raised by regulators. The first response was Deribit, a Dutch-based derivatives platform. The exchange announced its move to Panama, which is more suitable for the development of the crypto industry, to continue its development to avoid new European anti-money laundering regulations. Deribit said the regulation would hinder a large number of traders. The exchange also announced new requirements for KYC to comply with global regulations.
Surprisingly, stablecoins have become one of the most popular use cases in digital currencies, and recent data indicates that the Tether transaction volume on the Ethereum blockchain now exceeds its native ETH assets, which also highlights the importance of stablecoins. Sex. The exchange continues to provide investors with the opportunity to take advantage of stable assets in a volatile environment. USDC, a stablecoin jointly developed by Coinbase and Circle, is listed on Kraken. Binance announced an investment in South Korea's BxB to provide Korean investors with Korean won-linked assets.
At present, the exchange still faces difficulties in docking with domestic banks and financial institutions. Binance continues to make significant progress in this regard. Binance announced that it has partnered with Banxa, a global fiat currency channel provider, to open fiat currency channels for digital currency purchases in Australian dollars (AUD), British pounds (GBP), and euros (EUR). Binance founder Zhao Changpeng said that Binance's goal in 2020 is to support all 180 fiat currencies. BitFinex also announced the launch of credit and debit card payment methods for its users to obtain assets directly from the platform, including BTC, ETH and USDT.
As more and more organizations demand increased crypto asset custody solutions. Coinbase has announced that it will expand the reach of its escrow solutions, a capability that was strengthened last year with the acquisition of Xapo. Gemini has also expanded the appeal of its escrow services by launching a new insurance product that provides up to $ 200 million in insurance coverage.
As any emerging market matures and industry leaders seek to consolidate their positions, the possibility of merging with other companies is becoming ever greater. Kraken acquired Australia-based Bit Trade, one of Australia's longest-running digital currency companies. The transaction was completed following Kraken's acquisition of Circle Trade, which was completed at the end of 2019. Together, these two assets will enable Kraken to expand its business in Asia and the Asia-Pacific region of the digital currency world. As part of the BIT Trade acquisition, Kraken will hire Jonathon Miller as Managing Director of Kraken in Australia.
Exchange benchmark analysis
CryptoCompare's Exchange Benchmark aims to serve investors, regulators and crypto enthusiasts by scoring transactions in terms of transparency, operational quality, regulatory status, data provision, management team and their ability to effectively monitor transactions and illegal activities . Instead of paying special attention to bad actors, we emphasize that those behaviors help maintain an effective and fair market and ensure safer behavior for investors. Therefore, we introduced the concepts of "top-level" and "low-end".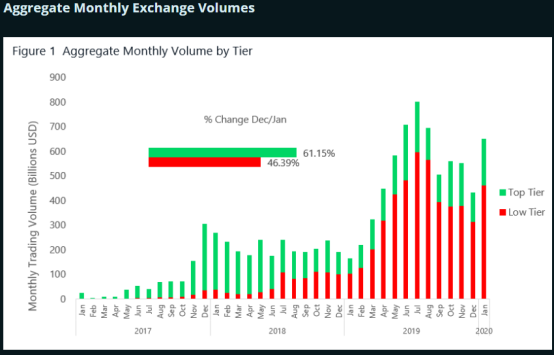 Overall, the trading volume of the top exchanges (AA-B) increased by 61.2%, while the trading volume of the low-end exchanges (CF) increased by 46.4%. In total, the trading volume of top exchanges accounted for 29.3% of the entire market.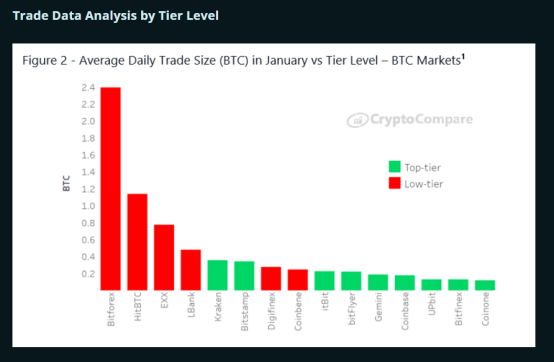 Compared to other top (based on trading volume) exchanges, Bitforex and HitBTC have the largest average daily transaction sizes, at 2.4 and 1.2 BTC, respectively.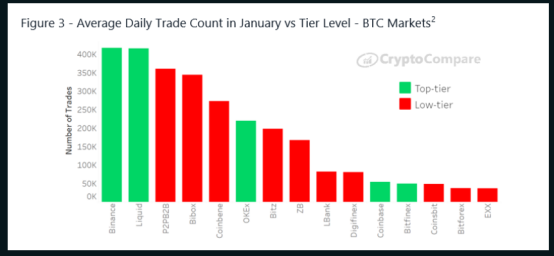 Binance and Liquid (both top) had the highest average daily trading volume in January, with 417k and 415k transactions per day, respectively.
Analysis of trading data: top exchanges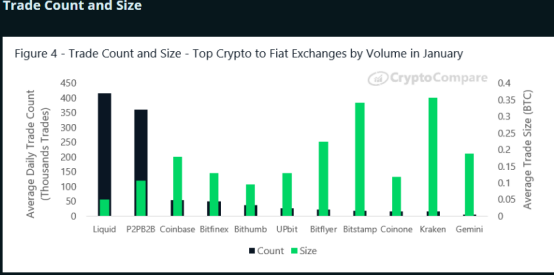 * Note: The above chart analyzes data from BTC transactions to the most relevant fiat currency for each exchange. For example, Liquid's numbers refer to its BTC / JPY market, while Coinbase's refers to its BTC / USD market.
Among the top fiat currency exchanges, Liquid has the largest average daily transactions (415.61k), with an average transaction size of 0.05 BTC.
P2PB2B, Coinbase and Bitfinex have fewer daily transactions (360.66k, 54.33k and 49.28k respectively), while the average BTC transaction size is larger (0.11, 0.18, 0.13 BTC, respectively).
* Note: The above figure analyzes the data of BTC exchange USDT of each exchange. Among the top digital asset exchanges, Binance has the largest average daily transactions (417.19k), while the average transaction size of BTC is lower (0.12 BTC). , Followed by Liquid (415.61k, 0.05BTC) and Bibox (343.92k, 0.1BTC)
In the chart above, Kraken and Bitstamp had the highest average transaction size in January. Meanwhile, Liquid and Bithumb have the smallest average transaction size.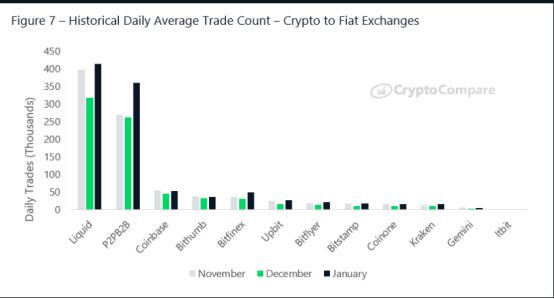 Among the top exchanges, P2PB2B and Coinbase had the highest average daily transactions in January. Meanwhile, itBit and Gemini have the fewest average daily transactions.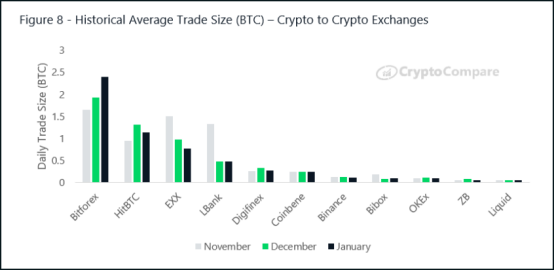 Among the digital asset exchanges with the largest trading volume, Bitforex, HitBTC and EXX exchanges had the highest daily average trading scale in January. At the same time, Liquid and ZB have always maintained low transaction sizes.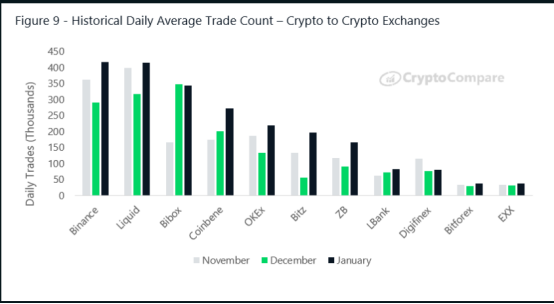 * Note: The above chart represents the BTC / USDT market

Binance, Liquid, and Bibox have the highest average daily trading volume last month
Macro analysis and market segmentation
Breakdown of charge types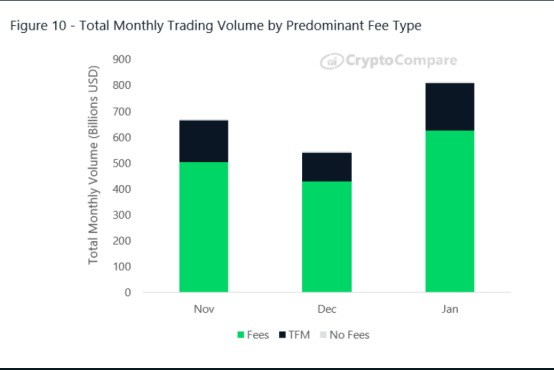 76% of the exchanges that charge transaction fees in January account for 22% of exchanges that implement TFM.
In January, the total transaction volume of exchanges that received transaction fees was US $ 624.87 billion (a 46.1% increase over December), while exchanges implementing TFM were US $ 183.31 billion (a 63.5% increase from December). The remaining transaction value was US $ 6.39 billion, mainly from exchanges that did not charge transaction fees.
Segment by currency transaction / fiat currency transaction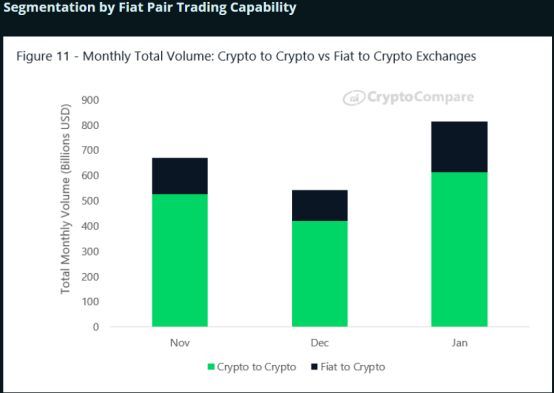 Only exchanges offering currency transactions accounted for 75.4% ($ 614.18 billion) of the total transaction volume in January, while exchanges offering fiat currency transactions accounted for 25.0% ($ 200.38 billion). Similar to the previous two months.
BTC against fiat currency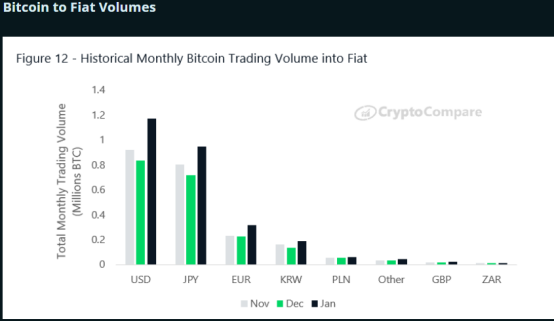 In January, 73% of BTC transactions were converted into USD. The trading volume of BTC against the US dollar increased from 837,476 BTC in December to 1.17 million BTC in January (an increase of 40.0%). At the same time, 964,649 BTC were converted into Japanese yen in January (up 32.0% since December), and 316,615 BTC were converted into Euro (up 42.0% since December).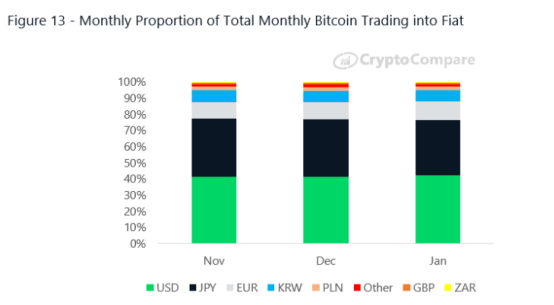 In January, BTC exchanged for fiat currencies (USD, JPY, Euro, Korean Won and Polish Zloty) accounted for 95.01% of the total transaction.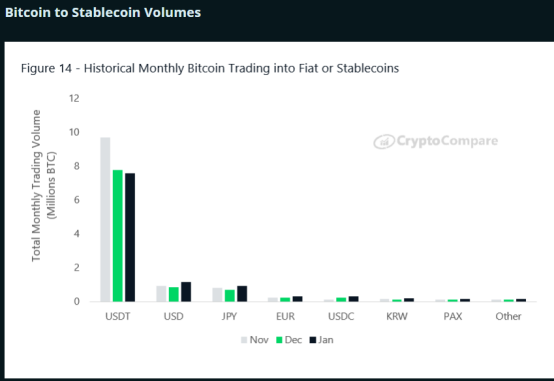 The total amount of BTC to USDT exchange is 7.58 million BTC (down 2.34% since December).
USDT is still the most popular stablecoin, accounting for 94.08%. Followed by USDC, PAX and TUSD.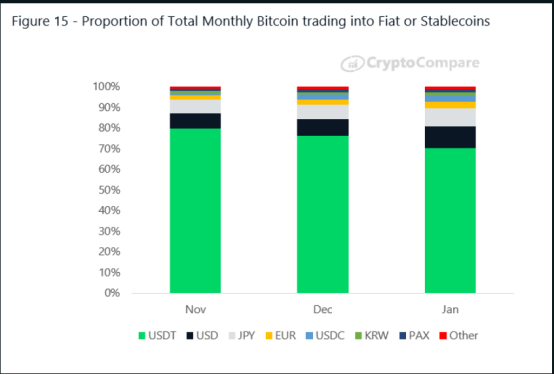 January overview: derivatives
Regulated BTC derivatives trading is still dominated by the Chicago Mercantile Exchange. Since December, its total transaction volume has increased by 14.56% to $ 9.72 billion. The trading volume of CME's BTC futures products increased from US $ 3.96 billion in December to US $ 9.72 billion in January. At the same time, the total transaction volume of Grayscale's BTC Trust Products (GBTC) has increased, with January's transaction volume of US $ 912.5 million (an increase of 131.4% since December).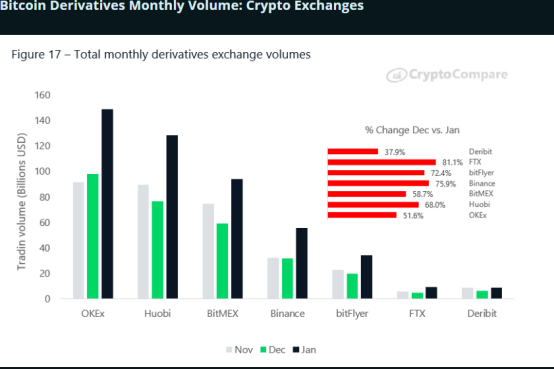 OKEx was the largest derivatives exchange in January, with a total transaction volume of $ 148.86 billion (a 51.6% increase since December). Followed by Huobi and BitMEX, the transaction volume was 128.67 billion (a 68.0% increase from the previous month) and 93.82 billion (a 58.7% increase from the previous month).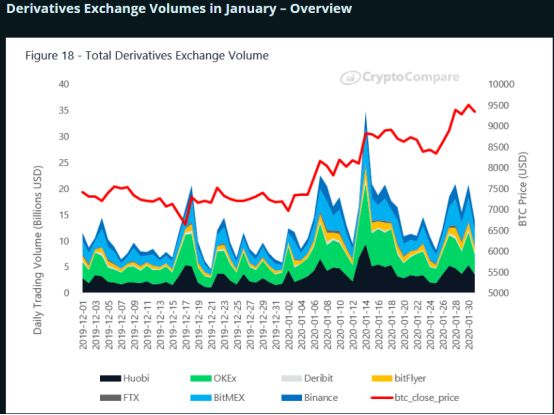 In January, OKEx accounted for most of the daily derivatives transaction volume: the transaction volume was 4.96 billion US dollars per day (31.1% of the market share), followed by Huobi (US $ 4.29 billion, 26.9%), BitMEX (3.13 billion US dollars, (19.6%) and Binance ($ 1.86 billion, 11.6%).
The smaller exchanges bitFlyer and FTX accounted for 7.2% ($ 1.14 billion) and 1.9% ($ 301.39 million) of the market, respectively.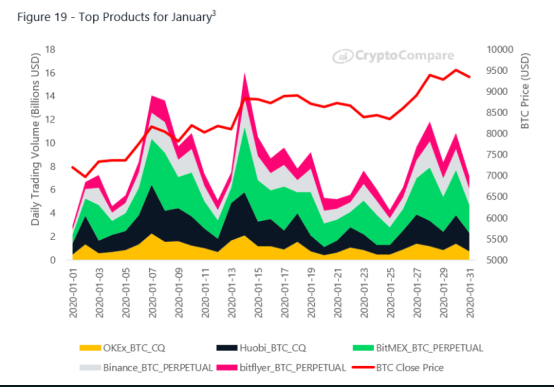 In January, the products with the largest total monthly trading volume were BitMEX's BTC perpetual contract ($ 82.53 billion) and Huobi's quarterly contract ($ 60.37 billion), followed by Binance's BTC perpetual contract ($ 43.36 billion). The average daily trading volume of these three products in January was 2.75 billion, 2.01 billion and 1.45 billion US dollars.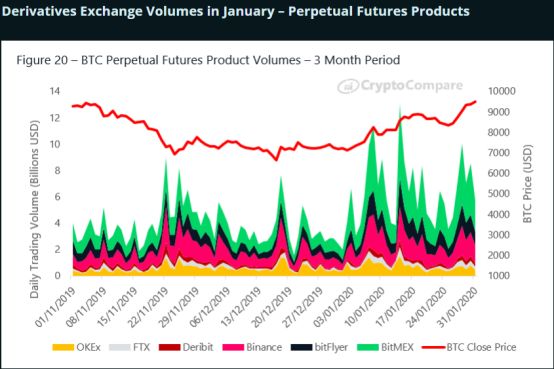 BTC perpetual futures: BitMEX, Binance and bitFlyer account for the majority of the BTC perpetual futures market transaction size, with an average of 2.66 billion (42%), 1.45 billion (22.1%) and 11.1 billion (17.5%) per day.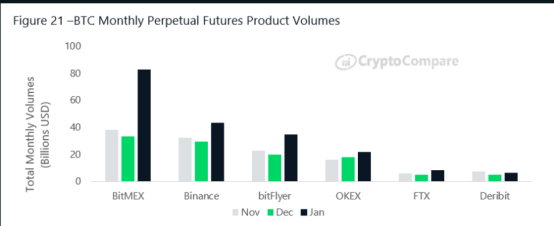 In terms of total monthly transaction volume, BitMEX transaction volume was $ 82.5 billion (an increase of 148% since December), Binance transaction volume was $ 43.36 billion (a 47.6% increase), and bitFlyer transaction total was $ 34.35 billion (an increase (72.4%).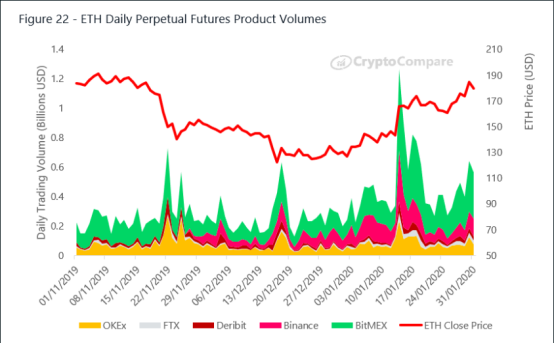 ETH perpetual futures: BitMEX and Binance account for most of the size of the ETH perpetual futures market, with an average of 283.4 million (49.6%) and 115.3 million (30.1%) per day, respectively.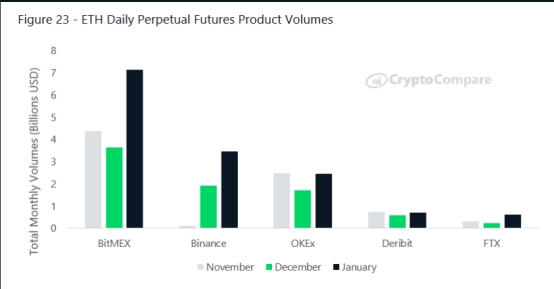 Based on the monthly trading volume in January, BitMEX accounted for 49.6% ($ 7.15 billion in monthly trading volume), and the trading volume has increased by 96% since December. This was followed by Binance (+ 81%) and OKEx (+ 44%) at $ 3.46 billion and $ 2.45 billion, respectively.
Exchange trading ranking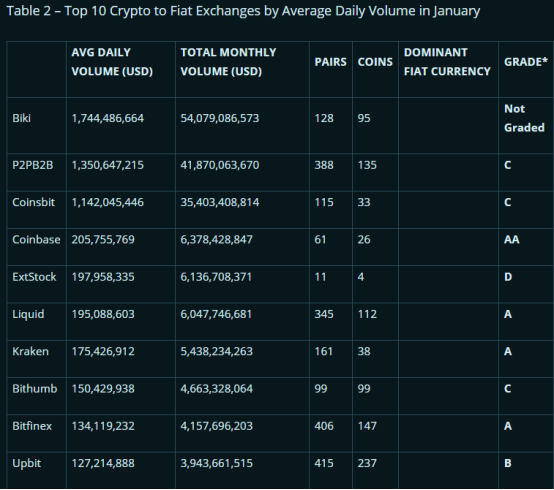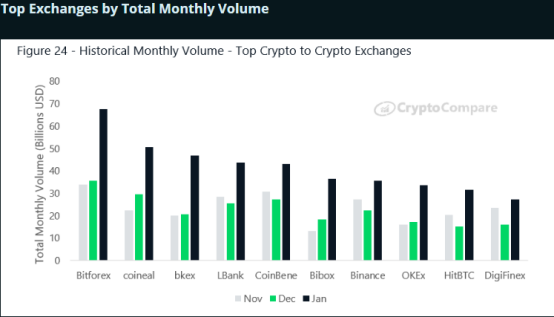 Overview of the trading volume of the first few coins: In January, Bitforex ranked first with 67.51 billion US dollars (an increase of 89.45% since December). Close behind are Coinal and Bkex, with $ 50.61 billion (up 70.72%) and $ 46.88 billion (up 125.28%).
Overview of the top fiat currency transaction volume: Biki ranked the highest in terms of transaction volume in January, with a total transaction volume of US $ 54.08 billion (an increase of 120.14% since December). This was followed by P2PB2B and Coinsbit, which were $ 41.87 billion (a 52.01% increase) and $ 35.4 billion (a 52.23% increase).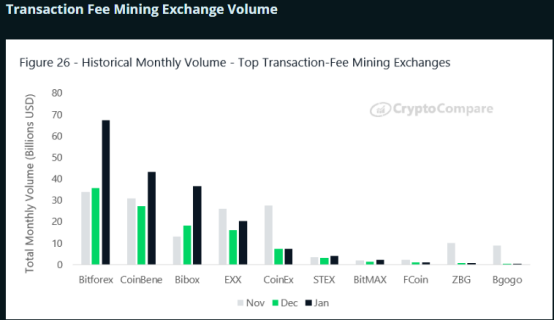 "Trading is mining" exchange: Bitforex is the TFM exchange with the largest total transaction volume in January, with a transaction volume of 67.51 billion US dollars (an increase of 89.45%), followed by CoinBene's transaction volume of 43.14 billion US dollars (a 58.04% increase) and Bibox The transaction volume was 36.51 billion US dollars (an increase of 99.91%).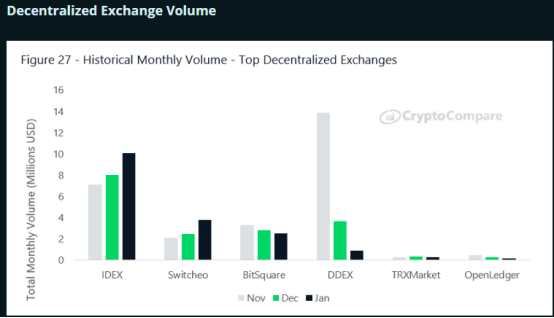 Decentralized exchanges: IDEX is the largest DEX exchange in January with a total transaction volume of USD 10.05 million (up 25.4%), followed by Switcheo and BitSquare, which traded USD 3.77 million (up 54.7%) and USD 2.56 million (Down 9.4%).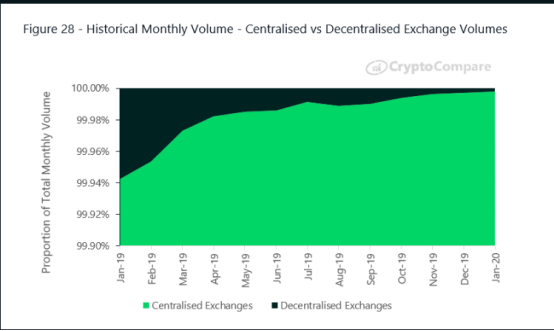 Since the beginning of 2019, DEX trading volume has decreased by 88%. They now account for only a small portion (0.003%) of global spot trading volume, with monthly transactions totaling $ 17.8 million in January 2020. However, in January 2019, its transaction volume totaled approximately $ 148 million.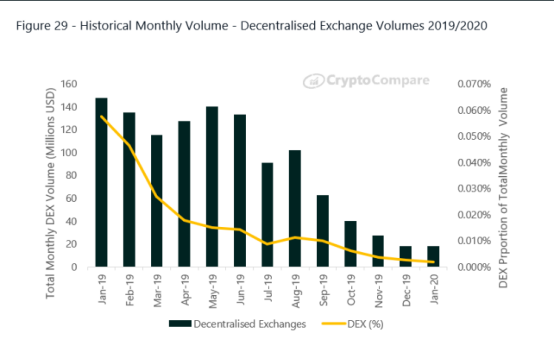 We will continue to update Blocking; if you have any questions or suggestions, please contact us!
Was this article helpful?
93 out of 132 found this helpful