Microsoft: All in blockchain, BaaS services overpowering tech giants such as Alibaba Cloud and Amazon
Source: 01 Blockchain
Currently, BigTech worldwide is accelerating the layout of the blockchain. For blockchain, Microsoft has its own clear definition, and believes that blockchain is a transparent and verifiable system that will change people's views on the exchange of value and assets, the execution of contracts and the sharing of data. It also considers this technology to be a shared, secure transaction book distributed over a computer network, rather than being kept by a single provider. In the layout of the blockchain, Microsoft builds technical barriers through its own technical advantages on the one hand, and builds a blockchain enterprise ecosystem through external cooperation on the other, and provides blockchain services for enterprises. This article analyzes the development history, business layout and layout reasons of Microsoft Blockchain. Microsoft is the earliest technology giant to lay out a blockchain. It first introduced Blockchain as a Service (BaaS) and decided "All in Blockchain"; its blockchain layout is based on Azure cloud services According to the latest data from the research organization Garter on blockchain cloud services, Microsoft's blockchain cloud services are topped by five technology giants including Alibaba Cloud, Amazon, Google, IBM and Oracle.
Development history: Based on Azure cloud platform, the earliest launch of BaaS services
In 2014, after Satya Nadella, the third CEO of Microsoft, took office, he proposed a "Mobile First, Cloud First" development strategy. Microsoft has gradually transformed from a company that sells operating systems and consumer software to a company that provides enterprise-grade services as its main source of profit, and cloud services have become its main source of revenue. The layout of Microsoft's blockchain is mainly based on the continuous development of cloud services. From the change in the proportion of Microsoft's main business, it can be seen that the proportion of Microsoft's cloud services has gradually increased. The core product of cloud services is the Azure cloud platform, which is the basis of its blockchain layout . Figure 1: Composition of Microsoft's Main Business (Unit:%)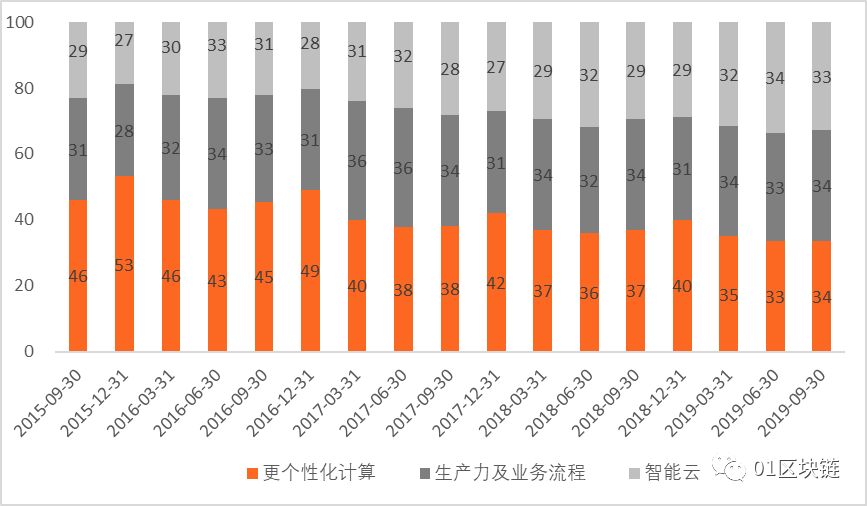 Source: Wind, Zero One Think Tank Blockchain has occupied an important strategic position in Microsoft's business layout. In 2015, Marley Gray, then the head of Microsoft's financial services technology strategy, mentioned that in order to support the development of the blockchain, Microsoft bet on almost the entire cloud service. In 2018, Microsoft CTO Kevin Scott said in an interview: " Microsoft decides on All In blockchain. "
The research organization Gartner analyzed the 2018 blockchain cloud of six companies including Microsoft, Alibaba Cloud, Amazon, Google, IBM, and Oracle from five dimensions: overall situation, core infrastructure, tools and services, application development and public chain. The relevant technical evaluation of the service has shown that Microsoft has become the world's largest blockchain cloud service provider. Among the indicators, Microsoft has 7 high levels, 5 medium levels, and 4 low levels. .
Figure 2: Ranking of global blockchain cloud services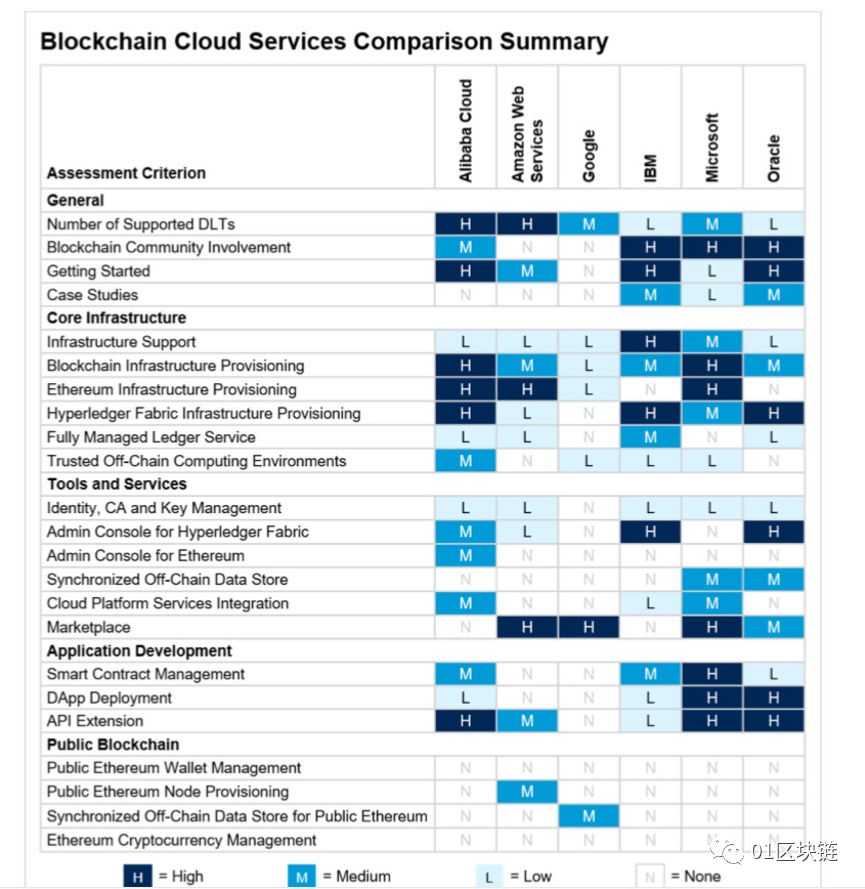 Source: Gartner
Gartner believes that on the blockchain cloud service, Microsoft's advantage is that it is one of the founding members of the enterprise Ethereum alliance. It has a high degree of support for Ethereum technology, but it does not support the Hyperledger Fabric technology architecture and has no set controls To manage infrastructure components.
Table 1: Comparison of the advantages and disadvantages of the blockchain cloud services of the six technology giants
Source: Gartner, Zero One Think Tank
Looking back at the history of blockchain layout, Microsoft's blockchain-related layout originated in 2014, and the real layout of blockchain technology originated in 2015. It is the earliest technology giant to lay out the blockchain .
In 2014, Microsoft began accepting bitcoin payments, and users of Windows 10 systems in the United States can use Bitcoin to purchase applications, games, and more. In November 2015, Microsoft launched the Blockchain as a Service (BaaS) platform based on Azure cloud services, becoming the first technology giant to launch BaaS services. Azure BaaS is based on Ethereum. On the Azure cloud platform, applying blockchain technology provides partners and developers with a "one-click cloud-based blockchain development environment", enabling them to quickly create public cloud-based, private Cloud and hybrid cloud blockchain environments.
Among them, the Bletchley platform is a window for Microsoft to provide BaaS services. It is an open blockchain platform driven by the Azure cloud platform. The blockchain work platform Azure Blockchain Workbench is also structured on Azure BaaS, which can simplify the application development of developers and make the creation of blockchain applications easier.
In addition, for enterprise users, directly applying the existing public chain technology cannot meet the enterprise level requirements for system performance and security. After complex application development processes and network deployment management, even through fundamental architecture changes, it is also very Difficult to achieve the desired goal. The enterprise-level open source blockchain basic platform, the Confidential Consortium Blockchain Framework (Coco Blockchain Framework), provides enterprise-level blockchain solutions by integrating existing blockchain protocols, including Ethereum, Quorum, and Corda. A framework for simultaneously addressing performance, privacy, and organizational management issues on an enterprise-level blockchain.
Figure 3: Development process of Microsoft BaaS services
Source: Zero One Think Tank
Business layout: lock in corporate customers and build a blockchain service ecosystem
Microsoft mainly provides services for enterprise customers, but instead of developing its own public or alliance chain, Microsoft develops enterprise-level blockchain solutions based on Ethereum, Quorum, and Corda. Currently, based on the Azure cloud platform, Microsoft's blockchain products include Azure Blockchain Services, Azure Blockchain Workbench, Azure Cosmos DB, Azure Blockchain Tokens, and Logic Applications . Microsoft's blockchain service types can be summarized into three types: deployment and hosting, rapid development, and enterprise-level requirements. The purpose is to help enterprises solve problems related to blockchain applications and provide end-to-end solutions. Deployment and hosting provide customers with Baas services. It takes a lot of time for customers to establish and manage the blockchain network. Microsoft can help customers quickly deploy and manage the blockchain network. Rapid development is assisted by providing different tools and middle tiers. Customers open the connection between different components and services; while enterprise-level requirements are to help customers import blockchain services while realizing the standards of different industries and the internal security requirements of the enterprise. Figure 4: Microsoft product and service layout

Source: According to the public information of the Zero One Think Tank. In addition to using its own technical advantages to provide blockchain solutions and build technical barriers, Microsoft also actively engages in external cooperation and strives to build a blockchain service ecosystem. In January 2017, Microsoft announced three ongoing strategies at its Global Partner Conference, one of which is to build a blockchain ecosystem with partners and customers. Currently, Microsoft has hundreds of thousands of global ecological partners and tens of thousands of cloud partners. The annual growth rate of cloud solution providers has exceeded 200%.
Table 2: Incomplete statistics of Microsoft's cooperation in the blockchain field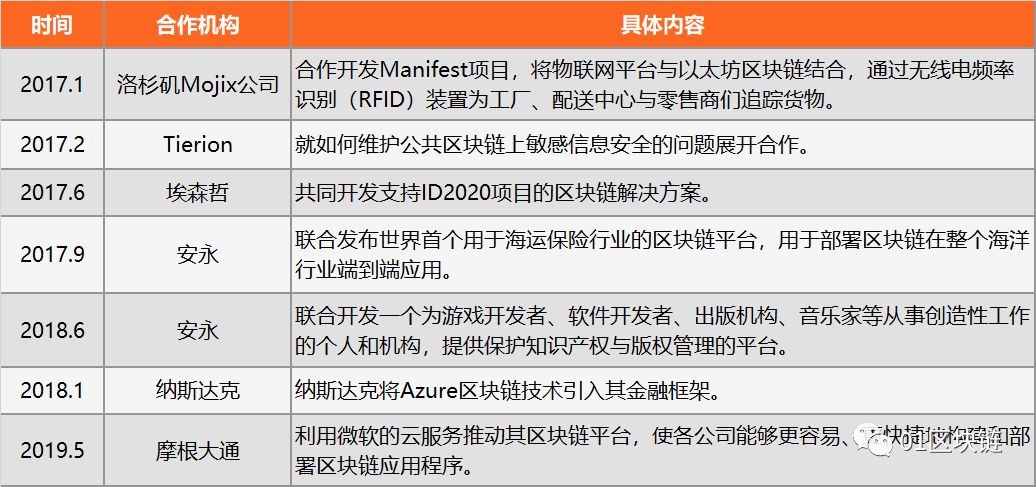 Source: Zero One Think Tank based on public information
Reason for layout: Build a "cloud + blockchain" service ecosystem, reduce development costs, and strengthen data security
Observe the development trajectory of the technology giant's blockchain. Each giant is building a "cloud + blockchain" service ecosystem to achieve the integrated development of cloud services and blockchain. Combining cloud services with blockchain can not only solve the data security problems faced in the development of cloud services to a certain extent, but also greatly reduce the development and deployment costs of blockchain applications and accelerate the development of the blockchain industry. . In terms of solving data security issues, cloud services are generally considered to be Internet-based value-added services. The Internet is used to provide dynamic and easily extensible virtualized resources. The platform that provides cloud services is basically a centralized organization, which makes data easy to appear. safe question. Combining blockchain with cloud computing, the distributed storage, point-to-point transmission, and encryption algorithms of blockchain can change the existing centralized status of cloud services to a certain extent, and build a more secure, private, and efficient business surroundings. More importantly, the integration of blockchain and cloud computing can reduce costs. Blockchain technology development, research, and testing involve multiple systems, and cost has become a key issue restricting the development of blockchain technology applications. By combining blockchain and cloud services, users can use existing cloud service infrastructure service facilities to simply, efficiently and conveniently build blockchain applications on existing cloud service platforms, which can greatly reduce development and deployment costs. To accelerate the development process of blockchain applications. Cloud services currently include three types, namely IaaS, PaaS, and SaaS. For the IaaS layer, cloud services can provide basic distributed storage services for the blockchain; for the PaaS layer, cloud services can provide development tools, operating environments and other intermediate layer services for blockchain applications; for the SaaS layer, directly for the district Blockchain applications provide services. Figure 5: Cloud Service Classification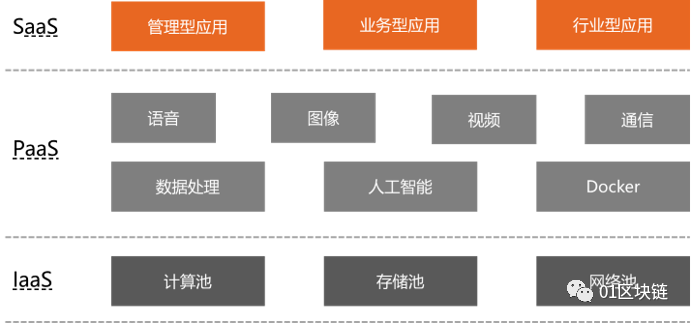 Source: Zero One Think Tank
At present, Microsoft cloud services have formed a whole industry chain layout from IaaS (VM, Storage, Network) to PaaS (AAD, SQL, Media, VSOnline) to SaaS (Office 365, Machine Learning). According to Canalys' 2018 global cloud service market ranking, Microsoft's cloud service market share ranks second in the world, second only to Amazon, but the annual growth rate is much higher than Amazon, exceeding 80%, and the potential for cloud service development is huge.
Figure 6: Ranking of cloud service market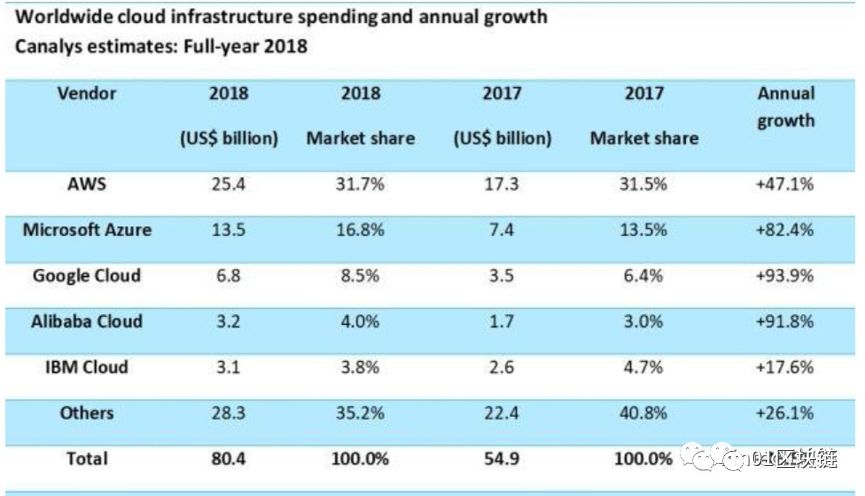 Source: Canalys Cloud Channels Analysis, February, 2019
Utilizing its comparative advantage in cloud services, Microsoft can greatly reduce the development and deployment costs of blockchain applications, and it can effectively promote the expansion of blockchain to more areas, which will have an important role in building an enterprise service ecosystem for Microsoft.
We will continue to update Blocking; if you have any questions or suggestions, please contact us!
Was this article helpful?
93 out of 132 found this helpful