Highlights of the week: The central bank officially released the "technical security specifications for financial distributed ledger"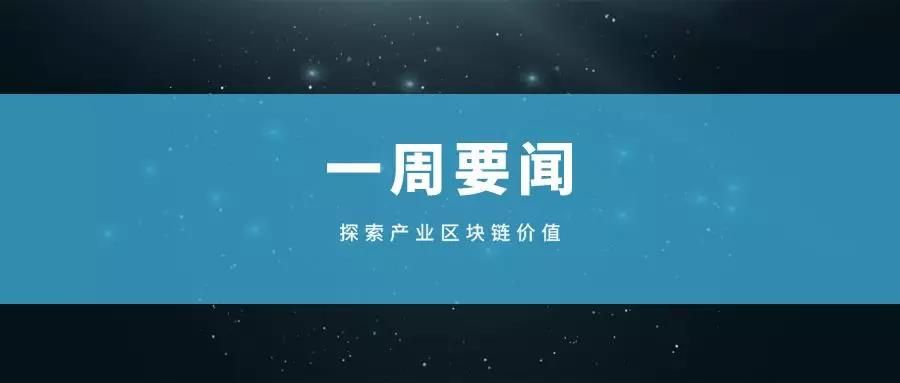 By Wang Qiao
Edit / Sole Show
This week, the People's Bank of China officially released the "Technical Security Specification for Financial Distributed Ledgers", and the blockchain service project was selected as a pilot project for the development of the Ministry of Industry and Information Technology's big data industry. Secondly, enterprises gradually resumed work. Jiangxi launched the nation's first "blockchain-based enterprise resumed production and filing reporting platform" to improve the efficiency of resumption approval. Suzhou applied blockchain technology to repurchase masks to solve the fairness of mask distribution .
The following is a summary of industry blockchain news from February 21, 2020 to February 27, 2020.
I. Industry Information and Reviews
The central bank has officially released the "Technical Security Specifications for Financial Distributed Ledgers"
The People's Bank of China has officially released the Financial Industry Standards for the Technical Specifications for Financial Distributed Ledgers (JR / T 0184-2020). The standard specifies the security system of financial distributed ledger technology, including basic hardware, basic software, cryptographic algorithms, node communication, ledger data, consensus protocols, smart contracts, identity management, privacy protection, regulatory support, operation and maintenance requirements, and governance mechanisms, etc. aspect. The standard is applicable to institutions engaged in the construction or service operation of distributed ledger systems in the financial field.
This standard is under the centralized management of the National Financial Standardization Technical Committee, and was proposed and drafted by the Digital Currency Research Institute of the People's Bank of China. The Department of Science and Technology of the People's Bank of China, Industrial and Commercial Bank of China, Agricultural Bank of China, Bank of China, China Construction Bank, China Development Bank and other units Participate in drafting together. The standard has been extensively solicited for opinions and demonstrations, and has passed the review of the National Financial Standardization Technical Committee.
Comment: In recent years, with its unique trust transfer mechanism, blockchain has gradually become a hot technology in the field of financial technology. The formulation of standards is fundamentally to guide the healthy and orderly development of the blockchain industry.
The Ministry of Industry and Information Technology announced the list of pilot projects for the development of big data industries, including blockchain service projects
According to the requirements of the "Notice of the General Office of the Ministry of Industry and Information Technology on Organizing the Application of Pilot Projects for the Development of the Big Data Industry in 2020", the Ministry of Industry and Information Technology organized the relevant application and review, and announced the development of the big data industry in 2020. List of pilot demonstration projects. These include the project of "Supply Chain Finance Big Data Blockchain Service Platform" by Shanghai Angtelanjell. (Official website of the Ministry of Industry and Information Technology)
Comment: Being listed on the list of demonstration projects means that the role of blockchain is gradually recognized, which is beneficial to the development of the entire industry.
Bank of Jiangsu launches blockchain brand "Su Yin Chain 2.0"
Recently, Jiangsu Bank independently created an upgraded version of "Su Yin Chain 2.0" based on the blockchain brand "Su Yin Chain 1.0". It is understood that "Su Yin Chain 2.0" realizes the intelligent driving of business processes through smart contracts. By setting transaction rules in the chain code and automatically performing verification steps, the automatic implementation of contract terms is driven. (Chinanews.com)
Comment: Since 2016, Jiangsu Bank has started to study the technical application of blockchain, and it is one of the banks that started to study blockchain in China. Technology empowers financial services and improves operational efficiency.
Jiangxi Unicom pioneered the launch of a "blockchain-based enterprise resumption of work and production filing platform"
Under the overall guidance of the Information Technology Promotion Department of the Jiangxi Provincial Ministry of Industry and Information Technology, China Unicom Research Institute has developed the nation 's first "blockchain-based blockchain technology" with Jiangxi Unicom and Jiangxi Industrial Internet Branch based on its deep accumulation of core technologies such as blockchain patents. Based on the advantages of anti-tampering and multi-node synchronization of blockchain technology, it solves the problems of remote online filing, rapid synchronization across provinces, cities, and departments, as well as the safety and credibility of filing data, to avoid problems such as On-site personnel gathered to improve the filing efficiency and worry about the government's resumption of work and production. The filing platform has been listed on the "Jiangxi Industrial Internet Cloud Platform". (People's Post and Telegraph)
Comments: On-chain filing, relevant departments responsible for approval can check at any time, while one-click approval, while improving efficiency, can also monitor the authenticity of the information reported by the enterprise.
Suzhou launches online appointment for masks, Suzhou Tongji Blockchain Research Institute provides technical support
Suzhou currently has two rounds of online appointment registration for masks, and its lottery notary system has been developed by Suzhou Tongji Blockchain Research Institute. At the beginning of February, members of the R & D team of the "Notary System" that Suzhou Tongji Blockchain Research Institute resumed in advance received the unified deployment of the new coronavirus-infected pneumonia epidemic prevention and control headquarters in Suzhou, and developed a set of online in the shortest time. A random lottery notarization system for the purchase of masks for appointment registration, and can be used for more than 500,000 samples at the same time. (China Youth Daily)
Comment: There is a black hole in black box operations for public resource allocation. The introduction of blockchain technology can make the entire process transparent.
PBC's blockchain patent ranks first among global central banks, with platform business volume exceeding 87 billion
Currently, the People's Bank of China has applied for a number of blockchain patents, ranking first among global central banks. As of December 17, 2019, there were 38 banks participating in the promotion and application of the trade finance blockchain platform established by the People's Bank of China, with a business volume of more than 87 billion yuan. (Daily Economic News)
Comment: With the increase in the number of patent applications, the advancement of digital currency has gone further.
Cloud signing of 9 projects in Chongqing Liangjiang New District, including cloud platform projects for intelligent supply chain management of agricultural industries using blockchain etc.
On February 22, the Liangjiang New District of Chongqing again signed a "cloud contract" with a "screen-to-screen" and "line connection" method. This time, a total of 9 projects were signed with a total investment of 15.8 billion yuan. Among them, the agricultural industry intelligent supply chain management cloud platform project will use big data, cloud computing, blockchain and other new-generation information technologies to build a modern agricultural industry supply chain intelligent management system to online, network and intelligentize agriculture The transformation of the Internet has achieved the improvement of industrial operation efficiency, cost savings and efficiency, reconstruction of the modern agricultural industry ecology, and promotion of the digital economy of the agricultural industry and the development of the platform economy of the agricultural industry. (Official website of Liangjiang New District)
Comment: Working on the cloud, not meeting does not affect the negotiation of cooperation to sign a contract. Use the power of technology to reduce the cost of the epidemic.
Characters and Voices
Cai Liang from Zhejiang University: Blockchain technology can provide technical support for data sharing and trust building during epidemic prevention
Cai Liang, executive deputy director of the Blockchain Research Center of Zhejiang University, said that blockchain technology has not only been applied in charitable donation tracking, epidemic tracking, medical data management, medical supplies and drug traceability, but also helps in the process of community prevention and control. Achieve accurate management and dynamic monitoring of community mobility.
As a low-level infrastructure, blockchain technology can provide technical support for data sharing and trust building during epidemic prevention. Even multi-party enterprises and institutions that do not trust each other can use blockchain technology to build consensus. How to make information public better so that the public can see and believe that blockchain technology has natural advantages. Blockchain technology has three major characteristics: distributed, difficult to tamper with, and traceable.It is naturally sensitive to data. Applied in public health systems, it can help achieve cross-regional and cross-agency trust collaboration, improve collaboration efficiency, and effectively break the medical system. Island of information. As more applications continue to land, blockchain technology will play a greater role in the process of optimizing the public health system in the future. (Legal Daily)
Bank of Japan Deputy Governor: Even if digital currencies are issued, central banks will still be the ultimate lenders
Bank of Japan deputy governor Amamiya said that the Bank of Japan will study the advantages and disadvantages of digital currencies. Even if digital currencies are issued, central banks in various countries will still be the ultimate lenders, guiding monetary policy by controlling the flow of digital currencies. When considering the issue of central bank digital currency, a comprehensive study must be conducted to influence its impact on the national settlement and financial system. If the central bank provides low-cost digital currency, this may stifle innovation in the private sector. Rather than focusing solely on central bank digital currencies and private sector digital currencies, we should focus on how they will interact with each other. If households and businesses start to favor central bank digital currencies over bank deposits, it will cause capital transfers and affect the country's financial intermediaries. "Cashless" does not change the basic positioning and role of the central bank. (Jin Shi)
People's Daily: Promote technological innovation and industrial applications such as blockchain
On February 27, the People's Daily published an article on "coordinated overall promotion of epidemic prevention and control and economic and social development." The article stated that to speed up the cultivation and development of emerging industries. The epidemic has promoted new technologies, new business development, and consumption model innovations such as risk early warning, information tracing, smart cities, telemedicine, unmanned distribution, online consumption, self-service retail, online education, video conferencing, and online business operations. Industry development brings opportunities. It is necessary to follow the trend, promote technological innovation and industrial applications such as artificial intelligence, the Internet of Things, big data, and blockchain, enrich 5G application scenarios, promote digitalization and intelligent transformation and upgrading of urban management and manufacturing and service industries, and promote industrial transformation and innovation. The development of emerging industries has promoted the formation of a number of strategic emerging industry clusters.
JP Morgan report: Libra has potential, but must be redesigned
A recent JPMorgan Chase report talks about the impact of stablecoins on the market, using Libra as an example. The report points out that stablecoins may be more widely adopted in the field of cross-border remittances and bank settlements, and many banking institutions around the world are seeking to issue their own stablecoins or use the company's stablecoins.
The report classifies stablecoins into three categories: asset-backed, sponsored, and algorithmic. Asset-backed tokens derive and maintain their value by being exchangeable for other assets. It also cited a recent report from Blockdata that 95% of the approximately 66 stablecoins currently active use this method; however, at the time of the report's release, there was more diversity among 134 new tokens under development, of which 77% There is also asset support.
The report also talks about providing banking services to people without a bank account, citing Libra's example, as its white paper clearly states that financial inclusion is the main motivation for the project. Negative returns pose a major challenge to stablecoins supported by fiat currencies such as Libra. As the function of the stablecoin supported by fiat currency is very similar to that of the central bank that implements a highly controlled exchange rate, the report believes that it is currently unclear how Libra and other similarly designed stablecoins will respond to the continued negative return on most reserve assets.
All in all, the report states that stablecoins (especially Libra) have the potential to grow significantly and eventually take a significant portion of global trading activity. However, the report does acknowledge that to do this, some modifications to the current design and proposals are required. (AMBCrypto)
Leader of IDC blockchain: Despite the steady growth of blockchain investment, it still lags behind other technology investments in the ICT field
Just like the spread of any emerging technology, certain regions are leading the way in blockchain adoption. Rado Dragov, Head of Blockchain at International Data Corporation (IDC), explained that there are many factors that can create favorable conditions for adoption, ranging from investment to talent, adding: "Besides these factors, blockchain investment is largely Affected by current and forthcoming regulations and the government's overall attitude towards this technology. In some cases, the lack of regulation can scare many investors. By adopting regulations that are conducive to business, Switzerland, Some European countries, such as Estonia and Malta, have become fertile ground for many blockchain startups. "
He also said that despite the steady increase in blockchain investment, it still lags behind other technology investments in the information and communications technology (ICT) sector. "IDC previously predicted that blockchain spending in 2019 will be $ 2.7 billion, an 80% increase over 2018. Although the current growth rate is impressive, it still accounts for only a small portion of total ICT spending. In contrast, IDC expects ICT investment in new technologies (Internet of Things, AI, AR / VR, etc.) to reach $ 961 billion in 2019. "(Cointelegraph)
Infectious disease experts: advocate the establishment of a blockchain infectious disease information cloud, share global information in time, and provide early warning
Professor Walter Ian Lipkin, director of the Center for Infection and Immunity, Columbia University School of Public Health and infectious disease expert known as the "world's best-known virus hunter", has led the team to successfully develop a new type with greatly improved accuracy Coronavirus detection reagent. He said in an interview a few days ago that the battle between humans and viruses will continue. As population movements intensify today, closer international cooperation and more efficient emergency response mechanisms are needed. He advocated the establishment of a blockchain-based infectious disease information cloud, which can share global information and make early warnings in a more timely manner. (Sina Finance)
Opinion: In the future, there will be more and more electronic evidence. With the integration of blockchain and other technologies, there will be more and more cases suitable for online trials.
The statistics of Hangzhou Gongdao Network Technology Co., Ltd. confirmed from the side that the promotion and use of the "smart court" is entering a period of rapid growth. Zhu Wenming, the company's deputy general manager, said that with the advent of 5G technology, other technical means, such as VR and virtual space, can be supplemented to enhance the reality of court trials. With the development and improvement of technology, there will be more and more electronic evidence in the future. Combining the integration of blockchain technology and multiple technologies, there will definitely be more and more cases suitable for online trials. This requires a process. (Legal Daily)
Review of this week's sharing meeting——Meng Yan, Vice President of Digital Asset Research Institute, Vice President of CSDN, and Sponsor of Token Thinking Lab
The biggest outstanding advantage of the blockchain is that the verification cost is extremely low. In particular, its data is transparent, which means that anyone can look at that information and verify the authenticity of the data.
Can you use a blockchain to build a supply chain and distribution system? First, make sure that the source of materials is clear. On this basis, create a market. In this market, people vote through some kind of token to decide who to give priority to.
Third, in-depth article review
As the epidemic is drawing to a close, we have a reflection on the digital system
In addition to the function of "vertical condition reporting", the infectious disease direct reporting system should also implement the "horizontal information sharing" function. In this way, when a hospital reports the first case, other hospitals in the system can learn the information and do a good job. Emergency and early warning measures.
A medical information sharing platform that can share patient information and protect patient privacy to a certain extent is very necessary. The role that the blockchain can meet in is to realize the automatic circulation of input information through smart contracts, so that relevant departments can quickly obtain information.
We will continue to update Blocking; if you have any questions or suggestions, please contact us!
Was this article helpful?
93 out of 132 found this helpful