HNA Group encountered the most severe moment in 27 years, blockchain could not save HNA
Text: Interlink Pulse Editorial Department
Editor's Note: The original title was "Blockchain Cannot Save HNA"
On February 29, the official website of HNA Group announced that the Hainan Provincial Government will lead the establishment of a joint working group to advance HNA's risk disposal work. HNA Group has encountered its most severe moment in 27 years.
Five years ago, HNA Group entered the blockchain; two years ago, HNA's blockchain business was personally platformed by Chen Feng. Since 2015, HNA's blockchain business has attacked on all sides, from point interconnection, logistics, supply chain finance to exchanges. Its blockchain applications are so diverse within a single organization, and it can't find a second in the world.
However, after all, the blockchain failed to help HNA get out of trouble. When HNA's financial problems began to emerge, the development of the HNA blockchain stopped abruptly. In fact, at this stage, the blockchain that is still in the application verification period is not enough to reverse the corporate plight. There are still a number of well-known companies in front of HNA: 2345, Storm Group, OFO, Wanda Group, etc.
Early risers of the industrial blockchain
The earliest news that HNA Group joined the blockchain is that in 2015, HNA established a dedicated research team for the blockchain. At this time, the HNA Group was expanding at a high speed. According to external statistics, from the beginning of 2015 to the end of 2017, HNA Group completed more than 80 M & A transactions, with a total amount of US $ 40 billion to US $ 50 billion.
In June 2015, Qianhai Airlines, a subsidiary of HNA Group, launched a blockchain-based aviation shipping financial settlement and data service management platform, Hangfu Insurance. The main purpose of this product is to provide safe and secure ship (aircraft) transaction settlement, tripartite agreement payment, and operation settlement services for air shipping enterprises. Based on the large amount of settlement payment data deposited on the aviation payment insurance platform, the company helps enterprises through big data models Establish its own sound credit management file, and ultimately diversify financing methods to meet corporate needs, and provide subsequent one-stop value-added services.
Now it seems that this is actually the application of blockchain in the field of supply chain finance. You know, in July 2015, Ethereum officially released the Ethereum mainnet, and started the era of blockchain 2.0, which is generally considered. The application of HNA Group in June of that year has already entered the blockchain 3.0.
In 2016, the merger and acquisition of HNA Group reached its peak. Several of HNA's largest transactions occurred in this year, including: $ 10 billion acquisition of CIT Group's aircraft leasing business, $ 6 billion acquisition of US electronics distributor Ingram Micro, and $ 6.5 billion acquisition of approximately 25% of Hilton from Blackstone Group Group shares become its largest shareholder. In 2017, HNA became the largest shareholder of Deutsche Bank.
2016 is also a year of high incidence of HNA blockchain applications. In January, HNA Group developed the Welfare Exchange, a product launched by HNA in cooperation with Jingtong Technology. HNA will issue employee benefits through the "Jingtong Wallet" in the "Welfare Exchange". 120,000 HNA employees can not only use the bonus points in the wallet to purchase various discounted air tickets and tickets provided by the group, but also purchase products on the JD platform .
In March of that year, HNA added blockchain technology to the group's procurement platform. The platform relies on blockchain technology for external merchant access, and uses the B-side wallet as the access port to achieve the coupling of the blockchain and the procurement system, providing purchasers and group member companies with the transfer and settlement of procurement information and funds. The seamlessly connected service throughout the process reduces transaction costs and improves circulation efficiency.
Entering 2017, while large Chinese companies are still struggling with blockchain, HNA Group continues to sing and advance. In January, the HNA Haiping Line project and the complex US cooperation landed the first domestic bill service application based on the blockchain matching system-"Haitihui". "Haitihui" includes functions such as information matching, credit rating, distributed supervision, data storage, and intelligent transactions. It can save information such as e-tickets, contracts, transactions, and data related to business privacy on the blockchain. Nodes are distributed. Corporate credit accumulated on the blockchain cannot be tampered with on multiple parties such as platforms, banks, and enterprises.
In January of the same year, HNA Group was no longer satisfied with the clutter at the bottom of the blockchain. Instead, it developed with Beijing Haopu Technology its own blockchain BaaS platform, the HNA Blockchain Basic Service Platform. The platform is built by the HNA Ecological Technology Group Technology Research Institute and is based on a private cloud.It provides blockchain basic services to enterprises and business networks, developers and partners, respectively.
After that, in June 2017, Qianhai Airlines, a subsidiary of HNA, launched an aviation shipping financial settlement and data service platform based on blockchain technology. The platform is a financial innovation research and development project based on "Blockchain + Air Navigation" jointly developed by the Qianhai Airlines Exchange and the Oxford University Professor Bill Roscoe team in 2017, helping small and medium-sized enterprises in the supply chain to complete transactions and data operations. In August 2017, this project was selected for the first time in Shenzhen's first batch of support projects, and received 4.47 million yuan in government special support funds. Since then, he also won the 2017 Shenzhen Financial Technology Special Award, and received 300,000 yuan in government special subsidy funds.
In September 2017, the HNA Intelligent Container Project was selected as one of the top ten blockchain application cases of the Trusted Blockchain Summit of the year. The project uses the blockchain's traceability function and third-party data to verify the authenticity of the cargo of the container.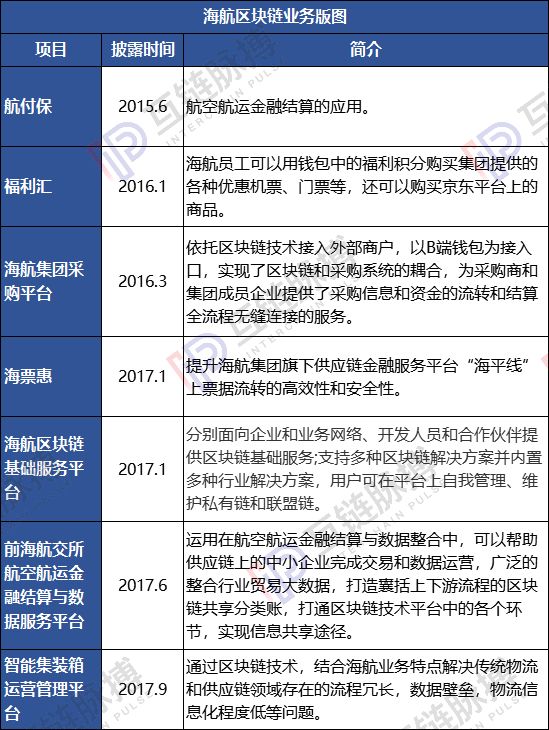 (Tabulation: interlink pulse source: public information)
In July 2018, Chen Feng, the founder and soul of HNA Group, said in an interview with the media that he would invest more manpower and material resources in research and application in this field in the future. At the same time, it will also work with more industry partners to accelerate the promotion of the application of blockchain technology.
However, with the overall operating difficulties of the HNA Group, its blockchain business no longer sounds in the market. "Invest more manpower and resources" became a blank check.
Blockchain is not a life-saving straw
When the HNA Blockchain Group made rapid progress in 2017, Chen Feng pointed out that the blockchain research technology is applied in various industries of the HNA Group in order to drive the group's digital transformation through technology.
However, the blockchain still has time to promote the digital transformation of the huge group, and the HNA crisis broke out. In mid-June 2017, the CBRC urgently requested banks to conduct a thorough investigation on domestic and overseas financing support and possible risks of HNA Group, Anbang Group, Wanda Group, Fosun Group, and Zhejiang Rosenelli Investment Company. Concerned about the risks of cross-border business risks such as M & A loans and "internal insurance and external loans". Since then, banks' reluctance to lend to HNA Group actually means that HNA Group's credit assets have shrunk.
Observing all of HNA's blockchain applications, in fact, the essence is not to establish "machine credit" through the blockchain, but to rely on trillion-scale HNA to extend "company credit". Therefore, when the company credit of HNA Group has problems, Various blockchain applications under the HNA Group are also difficult to develop. For example, HNA's blockchain BaaS platform is based on its own private cloud, and HNA's supply chain business is based on its own company industrial chain.
Looking back, HNA Group is a pioneer in the application of blockchain. However, the path is still centered on the enterprise's self, which is essentially a private chain. Therefore, when a company has a problem, its blockchain project will be difficult to operate. In contrast, during the same period of Ethereum, if there is a problem with the Ethereum Foundation, Ethereum will continue to run.
There are still many failed cases of trying to transform or upgrade through the blockchain.
For example, Wanda Group, a giant enterprise that is also facing pressure from HNA Group, is trying to use the blockchain to complete the industrial upgrading and transformation.
In June 2016, Wanda launched an independent blockchain technology research platform. In August, it launched a Hyperledger-based blockchain credit reference application. In September, it released the first autonomous blockchain browser version. It launched in October. Blockchain financial asset exchange application, the same month completed the open source operating system Polaris Polaris blockchain technology platform architecture design.
In March 2017, Wanda Network Technology Group officially laid out the blockchain field, mainly including domestic and international standardization work, community and open source contributions, and the development of blockchain industry solutions.
In March 2018, Wanda Network Technology and the New Zealand blockchain company Centrality cooperated to promote the ecological construction of blockchain in Wanda's business.
However, the blockchain layout of Wanda Group cannot solve its urgent needs. Corporate credit is declining. On February 28, Moody's lowered the corporate family rating (CFR) of Wanda Group Co., Ltd. from "B1" to "B3". Since 2019, the blockchain business of Wanda Group has rarely heard progress.
In addition, companies including Storm Group, 2345, OFO and other thunderstorms have also used blockchain to make transformation attempts, but most of them ended in failure.
Blockchain is not a panacea, it is not a life-saving straw. It should not rely on the company's own credit and cannot be expected to make money by issuing coins. This is also some of the lessons learned by the aforementioned well-known companies for the blockchain industry.
We will continue to update Blocking; if you have any questions or suggestions, please contact us!
Was this article helpful?
93 out of 132 found this helpful