Editor's Note: Original title was "Latest Data on Ethereum Ecology"
Foreword: At current market value, Ethereum is a network worth nearly $ 25 billion. So, from the data point of view, what level is the Ethereum ecology at? In general, Ethereum is far from entering the mainstream, but due to its breakthroughs in open finance and games, and the active participation of thousands of developers, it brings rich imagination for the future. This article is from ConsenSys, translated by "JT" from the "Blue Fox Notes" community.
From 1 million MetaMask users on the Google Chrome Web Store to $ 1 billion worth of locks on the DeFi protocol, to Ethereum mentions in Forbes' "Top 50 Blockchains", Ethereum in February It is another milestone for the community.
The Ethereum ecosystem is not only promoting the adoption of DeFi, but also promoting the generation of some frameworks for measuring the risks of the DeFi platform. As more and more businesses work to implement their blockchain proof-of-concept into products, things like Hyperledger Besu and its latest 1.4 upgrades make business functions such as licenses and key management easier.
The developer community has been doing what they do best: mobilize in real life and online to build composable software stacks that unlock industries such as games and asset markets. During the Valentine's Day weekend in February, more than 2,000 developers gathered in Denver to participate in the ETHGlobal event in 2020. This seems to be another important year for Web3.
The internet
Global nodes on the Ethereum mainnet: 7,083
Ethereum unique addresses: more than 88.8 million
Smart contracts created in February: 825,895
Successful smart contract requests in February: over 41 million
dApps
Total dApps: 2,773
dApp overall daily activity: 21,730
DApp contract transactions in the last 24 hours: 73,890
New Ethereum dApps released in February: 21
DAI prize pool of 16 players fighting in the SkyWeaver competition: 1,000 DAI
Developer
MetaMask users on Google Chrome Web Store: more than 1 million (Blue Fox Note: MetaMask is a web crypto wallet)
Truffle Suite lifetime download: more than 3 million
Gnosis team generated GitHub events in the last 30 days: 6,526
Gitcoin's total market value: more than $ 3.5 million
Possible tps for SKALE chain: 2,000
3rd Annual ETHDever Hackathon Participation: More than 2,000
Infura's request response time compared to self-hosted solutions: 20 times
Ethereum ecological developer number of goals: 1 million (Blue Fox Note: Note, here is the goal of the struggle, not realistic)
DeFi
Codefi data scores DAI on Oasis: 9.7
24 hour compound amount: $ 2.6 million
DAI mined in February: 3.6 million
Total holders of DAI: 183,714
Total rewards distributed via PoolTogether, a lossless storage game: $ 12,542
Total value locked in DeFi for two weeks in February: $ 1 billion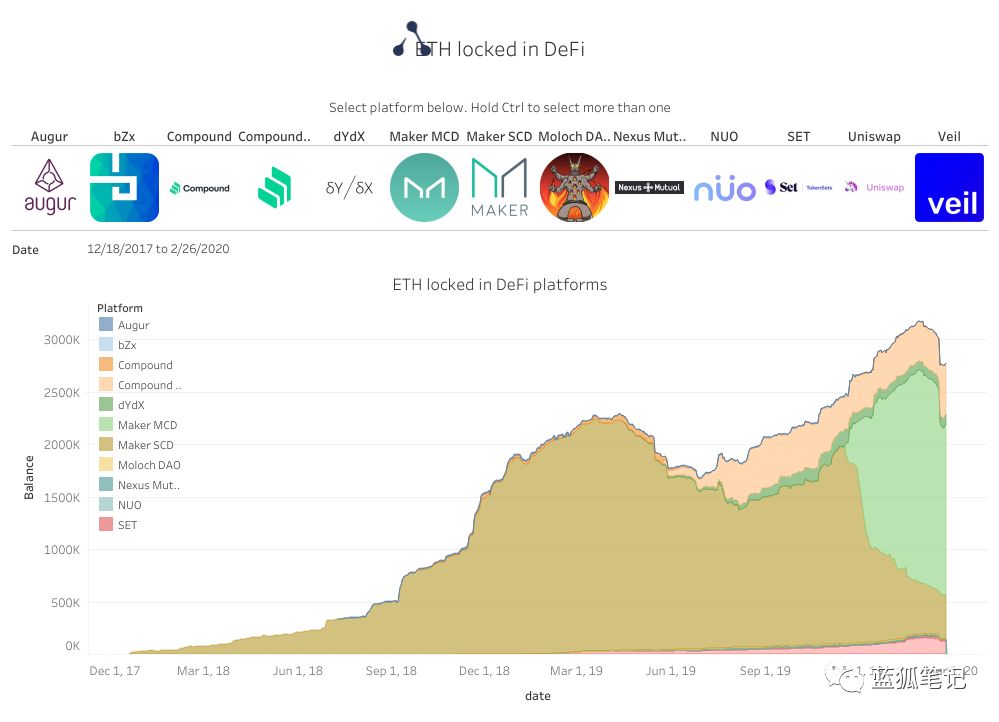 ETH locked in DeFi (Alethio DeFi Analytics)
Example
People receiving blockchain-based air strike alert systems: 2.1 million
Hong Kong dollars tracked and distributed via the LUXARITY platform (for charitable donations): 196,017
Reduced time to issue digital letters of credit on blockchain-based trade finance platforms: 99.58%
Benefit from the size of the municipal bond market based on blockchain issuance and coordination: $ 3.8 trillion
Number of times Ethereum mentioned in Forbes' "Top 50 Blockchains": 32
ETH2.0
Funds that ETH validators will pledge in ETH2.0: 32ETH
Duration of the slot on the beacon chain: 12 seconds
Validator withdrawal period reduced in ETH2.0: 36 days
Probability that an attacker will control the ETH2.0 Validator Committee: 1 trillion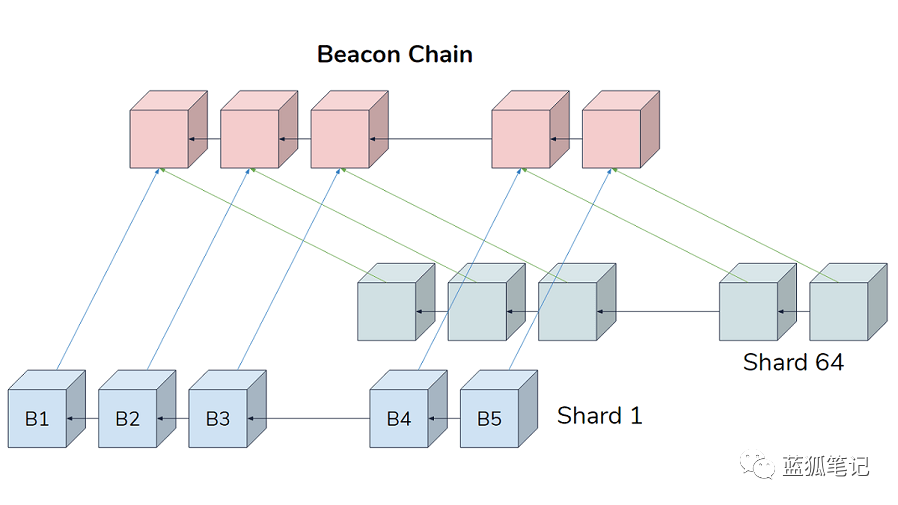 Visualization of ETH2.0 beacon chains and shards
——
Risk Warning: All articles of Blue Fox Notes can not be used as investment advice or recommendations. Investment is risky. Investment should consider personal risk tolerance. It is recommended to conduct in-depth inspection of the project and make good investment decisions.