Demystifying the secret flow of funds: the idle fish, Alipay, 58 cities, Baidu Post Bar are "occupied"
Text: Pizza
Source: A blockchain
Since 2019, funds under the banner of blockchain have appeared continuously.
The data shows that with only one token of PlusToken, the number of victims exceeded 1 million, and the amount involved was as high as 20 billion yuan.
Where did these funds come from?
One channel is the traditional offline channel and various social software.
The other channel is various hidden "traffic secrets"-Xianyu, Baidu Post Bar, 58 cities and even Alipay, all have funds invading and publishing their ads.
These scams under the guise of a blockchain not only lie to people, but they also mislead the public greatly, making them think that these are blockchains.
There is still a long way to go to eradicate funds.
Free fish is an idle item trading platform owned by Ali, but the fund is using it to guide itself.
At present, the term "blockchain" is searched on the idle fish. In addition to the normal content such as blockchain books and blockchain courses, the search results are also mixed with a large amount of fund disk promotion information.
If the search keywords are replaced with "blockchain projects" and "blockchain games", the proportion of funds will be even higher.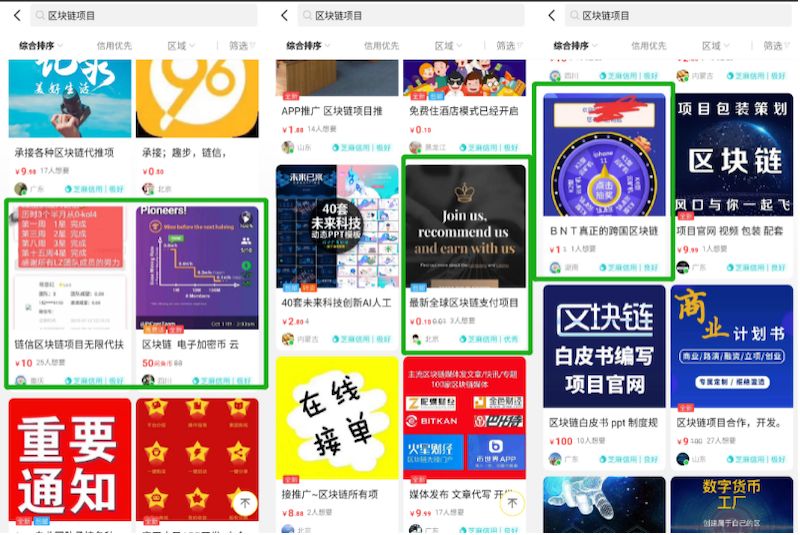 Search results for the term "blockchain project" in Freefish
Take "unlimited support for chain letter blockchain projects" in the search results as an example. There is no doubt that this is a typical fund disk promotion page.
The words of his poster are very tempting: "Zero investment, monthly income of 100,000."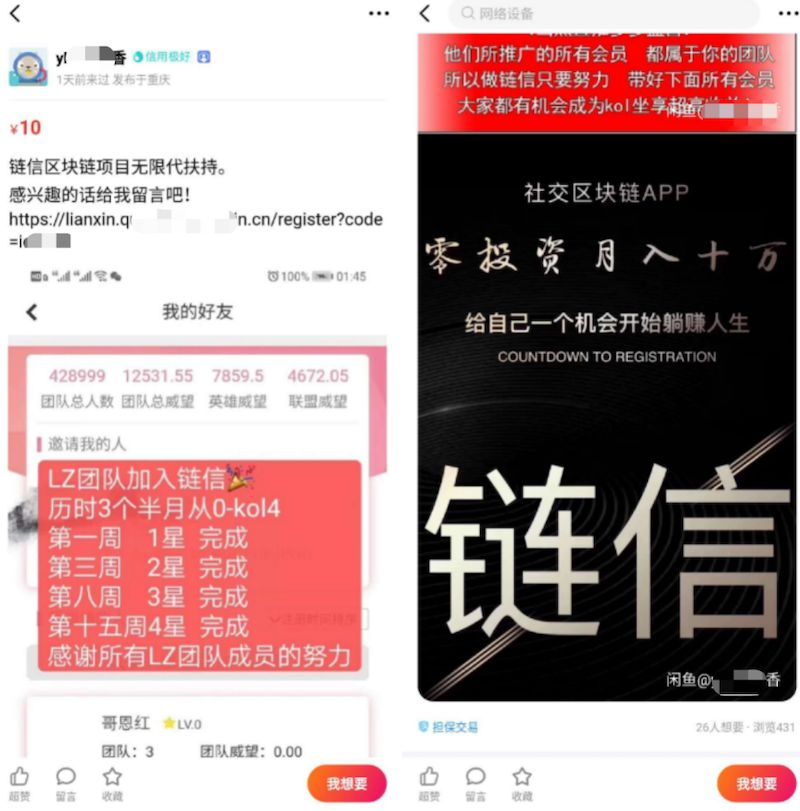 Chain letter promotion page on Xianyu APP
In the product introduction, the seller provided his own promotion link. Copy this link to the browser, and you can directly enter a project registration interface called "Quark Chain Letter".
A book of blockchain found that the quark chain signal is called a blockchain social software, but its core gameplay is similar to that of the previous fire fund.
On the quark chain letter, Qubu 's "Make Money by Walking" was replaced with "Like Money by Like".
"Without spending a penny, you only need to like 5 times a day and get 5 times likes, you can get the quark chain letter candy CCT. CCT can be sold to other players in the quark chain letter app for cash." Its promotion information Wrote.
This is called "Zero" (you can make money without investing).
But in fact, "Zero" is just a gimmick. Pulling the head and inducing players to invest is the purpose. Players who want to earn more CCTs need to take on tasks, and the tasks are also divided into multiple levels such as beginner, intermediate, advanced and expert.
Taking expert missions as an example, Quark Chain Propaganda stated: "Investing 295,000, you can earn 189,700 per month."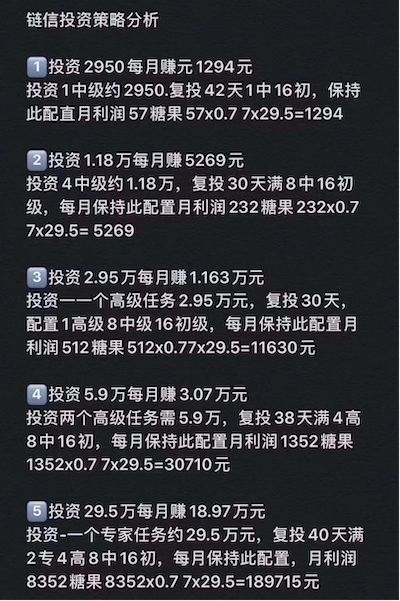 Quark chain letter promotion message
There is no doubt that the quark chain letter is an outright fund dish.
"The quark chain letter is now very popular. According to the trader's propaganda, they already have 10 million players." Zhang Wei, a veteran player of the capital disk, told a blockchain.
In addition to the promotion information of the fund disk, there are also many fund disk development and promotion teams on Freefish.
Advertisement on the development of funds on the free fish APP
These teams can provide a full range of services from imitation disk development, white paper writing to exchange building, with service prices ranging from 30,000 to 200,000.
When they publish their ads, most of them will also write the previously popular fund projects, such as Global Highlights, Mansing Cloud, YouBank, and so on.
The push-pull service on Freefish has also been favored by players with funds. On behalf of the pusher can help players to pull the head of the money disk, charge per head. "There are 6 dead people (robot registration) and 10 living people," said one agent.
"Xianyu 's traffic is good, and many players with funds will send promotional messages on it." Zhang Wei said, "In addition, the Xianyu APP supports one-to-one chat between buyers and sellers, which is very convenient."
Baidu Post Bar is also the hardest hit area for blockchain funds.
Blockchain, Blockchain games, Blockchain technology, Blockchain information … All Baidu Posts with the word "blockchain" in their names were all captured by the army of funds.
Take the blockchain game bar as an example, the content of this post is almost all the promotion information of the fund disk.

Blockchain Game Bar Screenshot
Here, the promotion methods for players in the money plate are not complicated.
The first step is to get an eye-catching headline. Encouraging and seductive headlines such as "Easy to lay down without spending a penny", "Easy to earn living expenses", and "A thousand dollars a day are not dreams" are very common.
The second step is to introduce the basic gameplay and income model of the fund disk in the body of the post, and then leave the invitation code or promotion link, "Please enter it."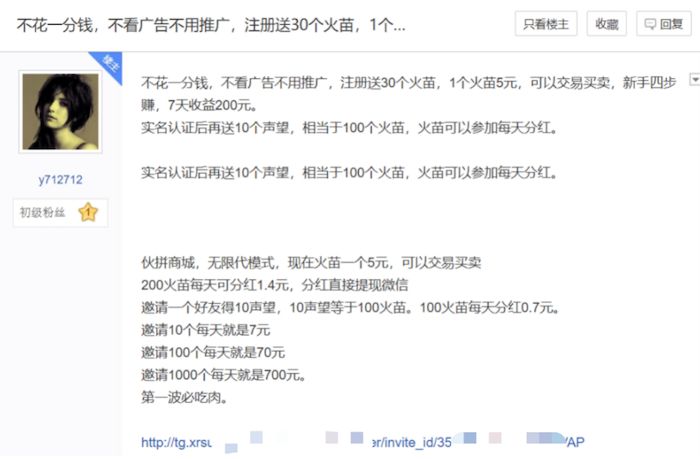 A typical fund disk poster in a blockchain game bar
In addition to the invitation code and promotion link, some fund promoters also like to leave their own WeChat or WeChat QR code in the post to direct traffic to WeChat.
"This may be related to the product form of Tieba. Tieba is not suitable for communication and the relationship chain is weak. Traders prefer to add interested players to WeChat to facilitate MLM." Zhang Wei said.
However, in his opinion, there is a big benefit to posting it-the search weight on Baidu platform is very high. Traders are posting in the post, and have the opportunity to get free diversion from Baidu search.
In addition to the blockchain-style post bar, the fund trader will also create an exclusive post for his own project.
Quark chain letter, GEC, have their own exclusive stickers. As of March 4, 2020, the chain post posted nearly 20,000 followers, with a total of 140,000 posts.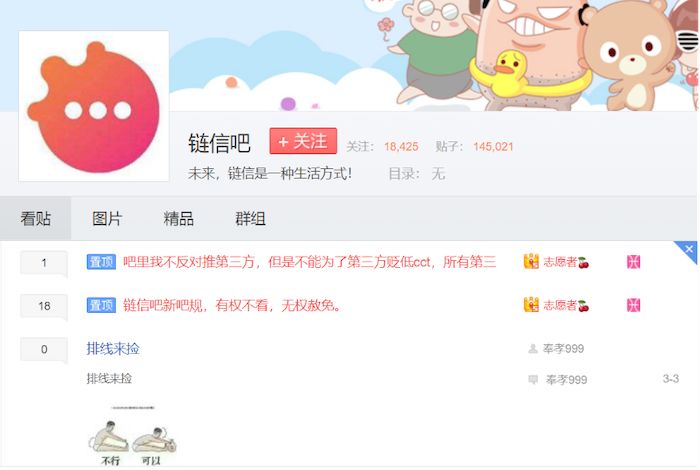 Chain letter bar screenshot
"Baskets of funds such as Lianxinba are basically posted by the project owner to publish gameplay and tutorials." Zhang Wei said.
The users of these post bars are mostly players of fund disk projects. The content of the post covers project introduction, gameplay guidance, etc. There are also novice and veteran players posting help posts and trading posts here.
However, these posts that specifically recommend a certain project will eventually evolve into rights protection posts.
Bell Chain Bar is a typical example. After Bell Chain ran, now the content posted by Bell Chain is basically based on abuse and remorse.
In addition to Free Fish and Baidu Post Bar, there are many platforms that have been invaded by funds.
"Alipay has also been penetrated, and players in the money market are really pervasive." Recently, an Alipay user told a blockchain.
He said that when searching for the term "blockchain" on Alipay, there will be multiple "life circles" with the theme of blockchain.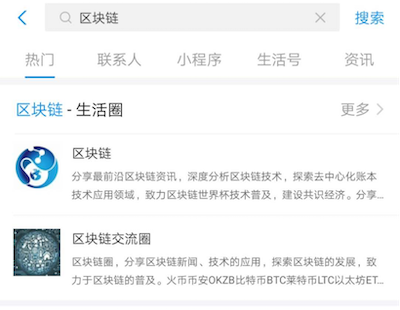 Search results for "Blockchain" in Alipay
What is a "life circle"?
The form of this product is similar to forums and posts: here, users can interact and share with other users through dynamics, and can post text, comments, pictures, videos, etc.
A blockchain survey found that in the three Alipay life circles related to the blockchain, almost all of the content is related to fund projects and speculation.
Taking the blockchain communication circle as an example, the first two items are "there are no blockchain projects that make money".
Screenshot of Alipay blockchain communication circle
And these so-called "profitable blockchain projects" are funds.
The second post asked directly: "Are there any better apps than PlusToken? Let me introduce you."
The following discussion is very lively, with 50 responses, all of which are recommending fund projects.
"WoToken can learn about it." "ATB can learn about it, there is a government shadow, a business license, and the project party does not sneak." "Is anyone playing ChainChain?" "YouBank." "The fun step is a fake GEC."
What's even more ironic is that as of now, the funds listed in the discussions of the post, such as PlusToken, WoToken, YouBank, and ATB, have all ended.
The quark chain letter and GEC, which are currently active, will eventually escape.
In the same city as the life service platform 58, there is also a blockchain fund disk.
As long as you search for "blockchain project" in the search box here, multiple fund disk ads will appear.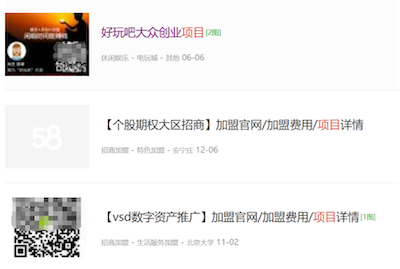 58 Tongcheng Network Search "Blockchain Project" Results
In these search results, there are not only the resonant currency VDS that has already run away, but also the popular "fun".
"Fun is a virtual mining machine mining fund." Zhang Wei said.
On this platform, players only need to register to get a virtual miner worth 200 yuan, and the "diamonds" dug out can be sold and withdrawn.
However, if players want to get higher income, they have to pull their heads or invest in real money to buy virtual miners.
The Fun Bar app divides members into five levels: one star, two stars, three stars, four stars and five stars. The more heads a member pulls, the higher the star rating and the higher the profit.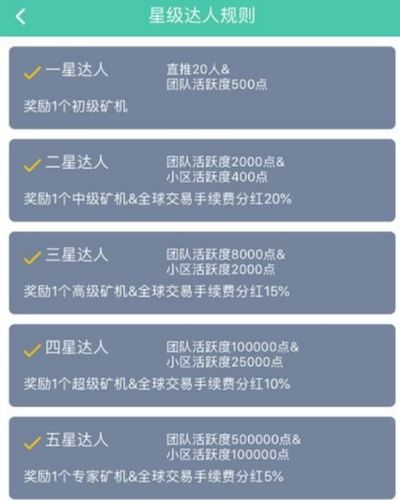 Fun app hierarchy
"Like a lot of money disks like fun bars, there were a lot of them last year, and most of them have already run away." Zhang Wei said.
From walking to earning money to liking and making money, the funds under the banner of blockchain are full of tricks.
And their promotion information has penetrated into every corner of the Internet. Almost all Internet traffic platforms may become the site for traders to harvest.
Precisely cracking down on capital funds still requires the cooperation of various platforms.
* Respondents in the text are pseudonyms.
We will continue to update Blocking; if you have any questions or suggestions, please contact us!
Was this article helpful?
93 out of 132 found this helpful