Production: CoinVoice
Hero love
Born in 1976, Jack Dorsey is also the CEO of Twitter of the United States and the CEO of Square, an electronic payment platform. The $ 4 billion Silicon Valley elite has now encountered a major career challenge.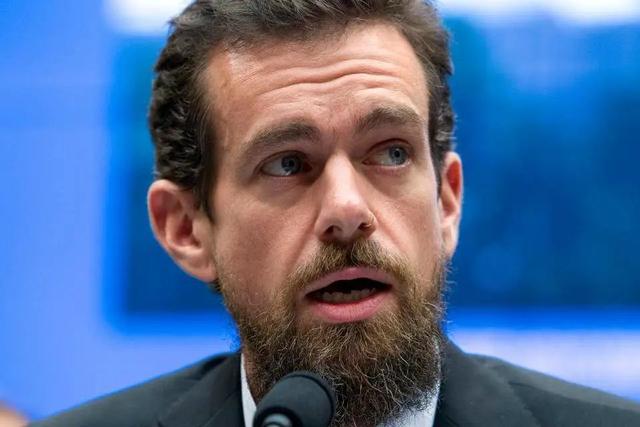 According to Bloomberg, Twitter's new shareholder, Elliott Management Investments, already holds a significant portion of Twitte's shares and plans to drive change for the social giant, including replacing current CEO Jack Dorsey.
Things in Silicon Valley still have to be voiced by people in Silicon Valley. Elon Musk, the "Silicon Valley Iron Man", tweeted in support of the little brother yesterday and said: I just want to say that I support Jack Dorsey to continue to be the CEO of Twitter, Jack Dorsey Have a kind heart. "
In fact, before that, the two Silicon Valley big guys often praised each other on social media. At an event earlier this year, Dorsey also asked Musk, who has more than 31 million followers, how to make Twitter better.
In fact, it is not difficult to understand that Musk's solidarity is very strong. Looking back on the dispute over the equity of Baoneng and Vanke, Li Kaifu, Luo Yonghao and other big men also survived Wang Shi. Therefore, whether it is China or the United States, heroes always cherish heroes, and capital is irrelevant.
Crisis of Confidence
Rome was not built in a day, nor was resentment built up in a day.
On Friday, Bloomberg quoted a report showing that executives of Twitter's new shareholder Elliott Management hedge fund privately contacted Twitter executives in San Francisco and had a constructive discussion about the future of Twitter .
Elliott's dissatisfaction with Dorsey is manifold. In terms of innovation, Twitter has always lagged behind rival Snap, which has been actively developing filters and "story" that are popular with users, and Facebook's social service Instagram. In terms of market value, Twitter's stock performance has been relatively sluggish for a long time; Dorsey is also the dual CEO of Twitter and Square. Elliott seems worried that Dorsey will not be able to focus on the development of Twitter. Elliott's head Jesse Cohn and portfolio manager Marc Steinberg said their main concerns now are: Twitter needs a dedicated CEO.
Twitter management had three directors to be re-elected earlier this year. Although not sure of the exact size of Elliott's shares, Elliott recommended four directors to Twitter's eight-member board. To address many of its concerns. The Wall Street capital was forced into the palace, and the Silicon Valley elite was deeply in crisis of investors' trust, and a palace fight began.
The smoke of the weekend has not yet dissipated. With the US stocks rising sharply on Monday afternoon, the three major stock indexes rose more than 2.7%. Here, Elliott pushed the top of Twitter, and Twitter's stock price also rose by nearly 8%. The market value has increased by more than $ 2 billion, bringing it to $ 28 billion. As if investors told Twitter with market results: Please value the voice of investors.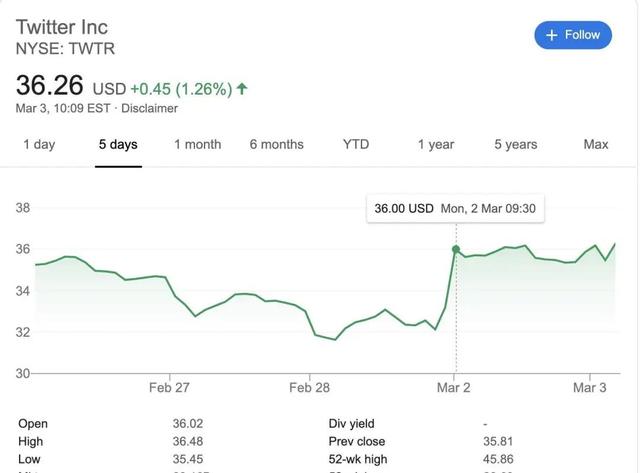 Harder than peers
As the saying goes, flies don't sting seamless eggs.
Elliott is not the only investor who has expressed concerns about the governance of Dorsey and Twitter. In December 2019, as an investor holding more than 300,000 Twitter shares, Scott Galloway, a professor of marketing at New York University, wrote a letter to Omid R. Kordestani, the current Twitter executive chairman, expressing that His dissatisfaction with the current CEO.
Galloway bluntly stated in the letter: The main goal of the letter is to replace the current CEO Jack Dorsey. At the same time, the letter also provided convincing data. Since Mr. Jack Dorsey took office in July 2015, Twitter's performance on all indicators has lagged behind its peers by several years. Shareholder returns are -15%, compared to Google + 153%, Facebook + 129%, S & P 500 + 50%, Dow Jones US Media Index + 29% and MSCI Technology Index + 115%.
Due to the market's loss of confidence in the management, the board of directors and the company's prospects, Twitter's stock has experienced substantial profit shrinkage many times. From the perspective of the company's market value, Twitter's earnings multiple today is lower than other media giants. Today, Tencent, Facebook, Google's The market value is already 17 times, 24 times and 39 times the market value of Twitter.
Comparing Facebook and Twitter over the same period, the gap in leadership is even more evident. Since Dorsey became TwitterCEO in July 2015, the company's stock price has fallen 6.2%, and under the leadership of Zuckerberg, Facebook's stock price has risen more than 121% during the same period. (Red line is Facebook, black line is Twitter)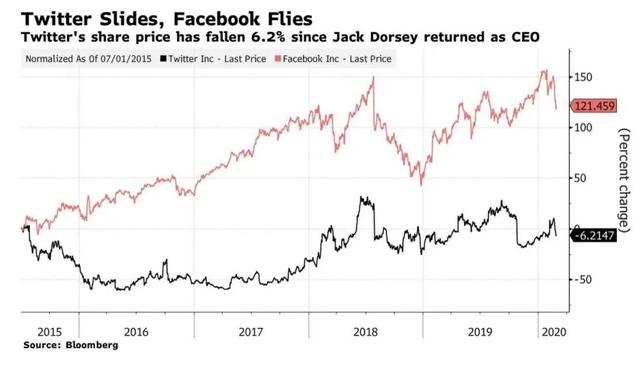 Looking back on the past five years, I have to say that in the face of investors' doubts, the results of Twitter led by Dorsey were not too bright. In 2018, Twitter achieved its first profit, but it was still plagued by the decline in the number of users. Competitors like Facebook and Snapchat are slow. In an interview with CNN Business in 2018, Dorsey stated: "We are ready to question all kinds of information on Twitter, which has been overwhelmed by spam, misuse of information and misinformation."
1 billion first
On February 6, this year, Twitter released the company's fourth-quarter and full-year financial results as of December 31, 2019. The financial report shows that this is the first time that Twitter has achieved a quarterly revenue breakthrough of US $ 1 billion. Revenue in the fourth quarter was US $ 1.007 billion, an increase of 11% from US $ 909 million in the same period last year. The growth rate was slightly higher than 9% in the previous fiscal quarter, but lower than 24% in the same period last year.
As of the end of December, Twitter had 152 million active users who could make money daily, an increase of nearly 21% from 126 million in the same period last year. Twitter Chief Financial Officer Ned Segal said during a conference call with Wall Street analysts:
"Q4 is a strong end to this year, and the growth of daily users" is largely driven by product improvements. "
There is no harm without comparison. In contrast, Facebook had sales of $ 21 billion and billions of users in the same quarter. Comparing the financial reports of Facebook, Twitter, and Snap, Facebook 's average daily active users worldwide can contribute quarterly revenue of $ 12.5 to the company, which means that an active user can contribute $ 0.59 to Facebook 's daily revenue, and the realizing ability is 1.7 times that of Twitter , Snap 4.8 times. In the US market, FB's per capita income is even more exaggerated, 3.2 times that of Twitter and 11.8 times that of Snap.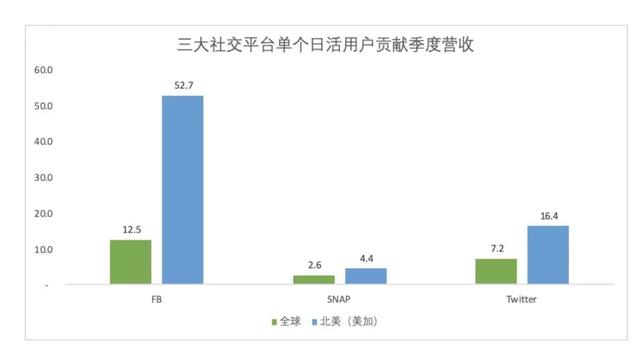 At present, although the growth of TwitterQ4 users is strong, commercialization still has a long way to go.
Favorite Square
God is fair, giving everyone the same 86400 seconds a day.
Whether it's Facebook's Zack Burke or Snap's Spiegel, most CEOs of technology companies are just heads of the family, and as Elliott questioned, Dorsey, as CEO of both companies, is sufficiently focused on Twitter The time is indeed a question mark.
According to Forbes statistics, 98.2% of Dorsey's current wealth comes from stocks owned by the two companies. 60 million Square shares account for up to 85% of its net assets. Square is undoubtedly more rewarding for investors and Mr. Dorsey.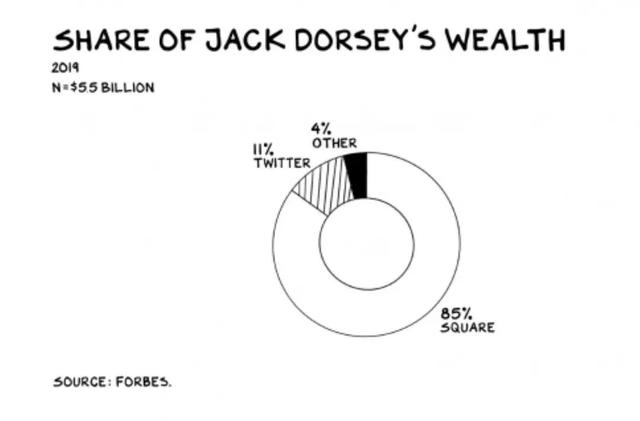 On the other hand, in the past two years, the fate of the two companies under Dorsey's leadership has also been very different. Although Twitter has been blamed for failing to reduce malicious attacks and hate speech, Square has made great strides in point-of-sale hardware and peer-to-peer mobile payments. Square was also named the best company of the year by Yahoo Finance, and Square's stock rose 58%. And Twitter's stock has fallen 6% in the past two years, even behind the S & P 500 index.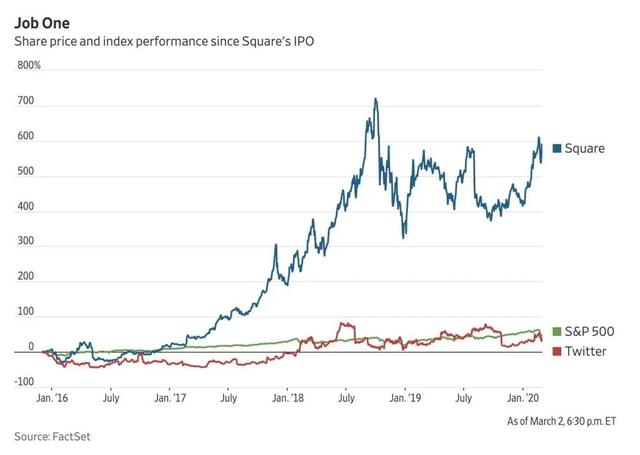 Regardless of shares or achievements, Dorsey seems to prefer Square.
Crypto Sweet
Taste of sweetness is the motivation to move forward.
For the crypto world, this traditional Internet tycoon is also a non-negligible existence. In the "Crypto Industry Most Influential People" selected by Coindesk in 2019, Dorsey ranked first. Compared to other traditional big guys who just came to the platform and shouted slogans, Dorsey was the one who tasted the sweetness in the crypto world, and it was the favored Square that made him taste the sweetness of encryption.
Square is actually a hidden US mobile payment giant, often referred to by Chinese investors as the "US version of Alipay."
On February 26, Square announced its financial results for the fourth quarter of fiscal 2019. Data show that Square 's total net revenue for the fourth quarter was $ 1.313 billion, an increase of 41% from $ 933 million in the same period last year; net profit was $ 391 million, compared with a net loss of $ 28 million in the same period last year. Realize a year-on-year loss.
Square's main business is processing payments for businesses and individuals. However, while the company is looking for new revenue opportunities, it also offers a range of other financial services. For example, the company has established a money transfer platform called "Cash App" that allows people to send and receive cash.
It is worth noting that the Cash App has a built-in Bitcoin transaction function. This feature allows users to buy and sell Bitcoin within the app. The Cash App Bitcoin trading service brought Square revenue of $ 178 million in the fourth quarter of last year. For the full year of 2019, this payment company registered more than $ 516 million in bitcoin transactions, which translates into a gross profit of $ 8 million, a 50% increase over the previous two quarters.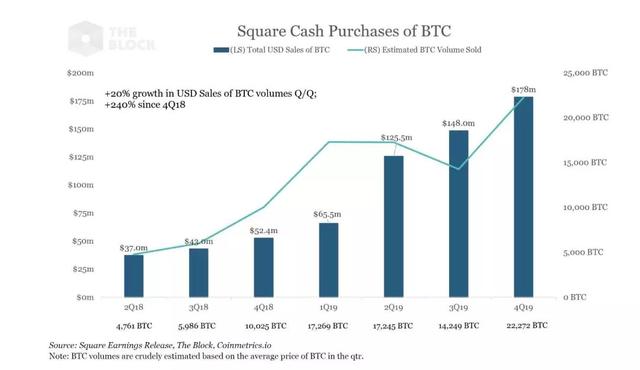 Square Q4's transaction volume data means that Bitcoin demand is surging, and CFO Amrita Ahuja said that once cash users start using the app's Bitcoin or investment features, their income is often Two to three times the average user.
Gartner analyst Avivah Litan also said, "If Square can successfully develop its bitcoin business globally, especially in regions that are not easily accepted by merchants, and in countries where hyperinflation is occurring, the company will be better than its Competitors in payment processing have an advantage. "" It will be able to develop payment businesses in some of the fastest-growing and most promising economies in the world, mainly in Africa. "
Coincidentally, Dorsey really has the intention. In December 2019, he commented on Twitter that "Africa will define the future (especially Bitcoin!)." He also revealed that he plans to spend six months on the African continent in 2020.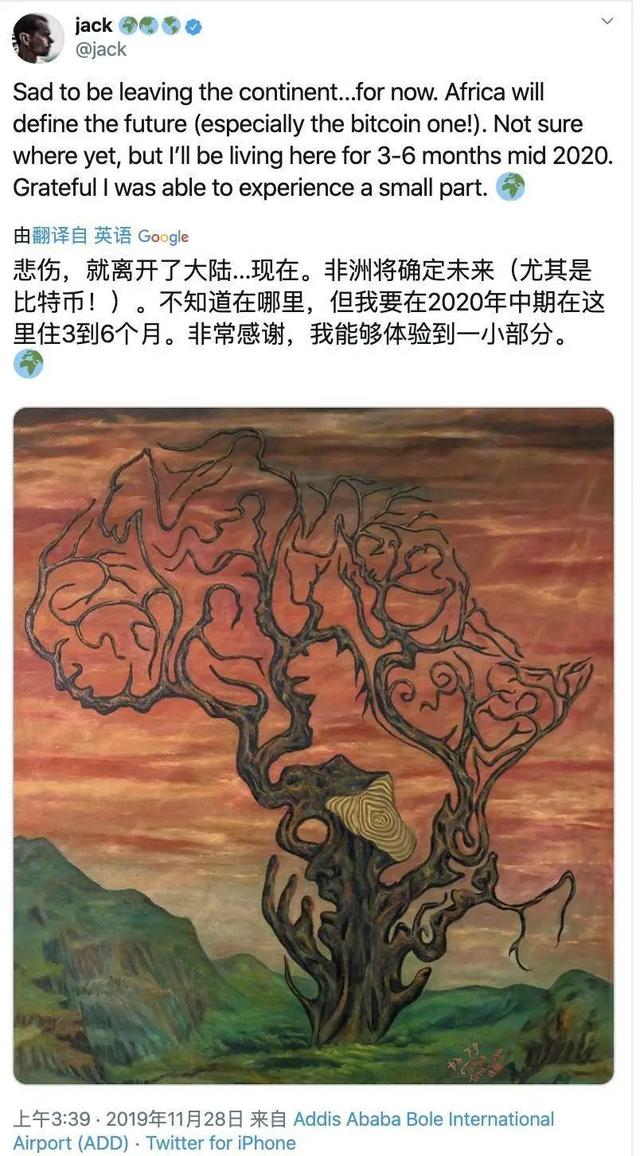 Dorsey's obsession with bitcoin is no secret. New Africa and Bitcoin are swaying in their dreams, beckoning to Dorsey together, there is the crypto sweetness he has tasted.
However, this tweet not only surprised executives but also angered investors who were frustrated with the company's performance. "A company CEO first moved to Africa? The New York University professor Galloway said in his letter that it was enough.
Twitter's performance on all indicators lags behind its peers for several years … Despite the fact, Twitter's decline has ……… Twitter has become our iconic brand and global heartbeat in the information age.
Can be fired
Because the two sides are already in negotiations, it may soon determine the fate of Dorsey. Elliott and Twitter currently do not comment on the future of Twitter.
In fact, Elliott is one of the most successful activist investors in the world, and they aim to persuade the management team to make a major change in the stock price. Elliott said that as long as Dorsey is willing to give up his Square CEO job, Elliott may let Dorsey continue to be the CEO of Twitter. But sources say Dorsey is unlikely to do that. The game situation between the two sides is beginning to emerge.
The bad news is that Twitter's ownership structure is actually quite detrimental to Dorsey, because many Silicon Valley technology companies such as Facebook, Google and other public companies generally issue two types of stocks, one is for ordinary investors to buy A shares, and the other is for management. Class B stocks, but the two classes of stocks have different voting rights. Therefore, this two-tiered equity structure means that a few people can still control a listed company even if they do not own most of the company's stock.
But Twitter only issues common shares, giving shareholders the same voting rights as management. Bloomberg commented that Twitter is vulnerable to acquisitions by activist investors like Elliott Management because the company has only one class of stock, limiting Dorsey's voting rights within the company. If radical shareholders buy a lot of stock, Twitter's internal board will be hit.
The good news is that Twitter is still united. Lara Cohen, Twitter 's head of global partnerships, wrote on Twitter: "Never underestimate how many people a company supports for a strong leader. Jack told We show who we are and why the platform is important. It's not just facial filters, it's actually serving the public conversation #WeBackJack.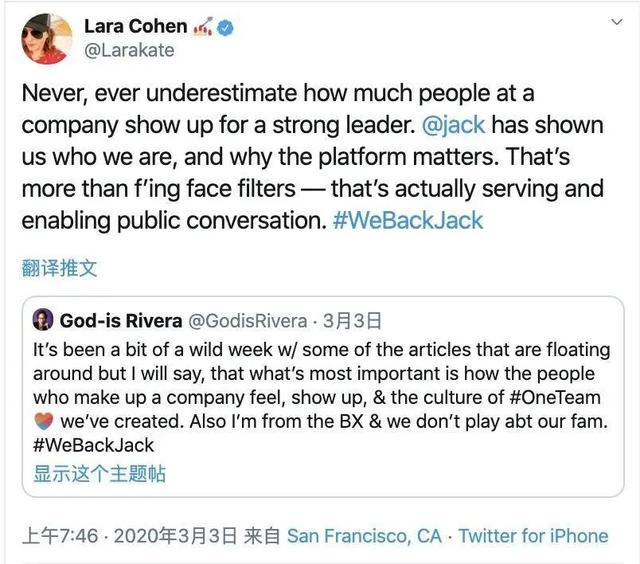 A source close to Twitter said that the #WeBackJack discussion started with Slack within the company and then turned to Twitter, who said there were no top-down instructions requiring employees to support Dorsey. A current Twitter employee, who asked not to be named, said that while they remain skeptical of Dorsey's rejoining Twitter as part-time CEO, they praised Dorsey for setting the company's direction and empowering its current executive team.
The WeBackJack topic is full of stories from the Twitter team and comments praising Dorsey. On Monday, as people became increasingly worried about the spread of the coronavirus around the world, Twitter encouraged its 4,800 employees worldwide to stay home from tomorrow.
This is perhaps the best evidence that Elon Musk has said that Jack Dorsey has a good heart. But Wall Street's capital will not care about kindness, it is another big show in the technology industry, wait and see!
© This article is CoinVoice's high-quality original content. Unauthorized reproduction is prohibited.