Cryptocurrency payments in Australia have been increasing over the past few years and recently set a new record. According to the latest report, in February this year, crypto-based merchant trade across the country reached nearly $ 74,000. Of the cryptocurrencies accepted by Australian companies, Bitcoin Cash has by far the largest share of retail crypto spending and transactions.
Bitcoin Cash accounts for 97% of Australian retail cryptocurrency spending
As part of a regular monthly survey, Bitcoinbch.com's latest Cryptocurrency Expenditure at Retail Businesses report highlights the importance of merchant adoption for all cryptocurrencies that want to become a global electronic cash system. This study investigates the consumption of Bitcoin Cash (BCH) and other major cryptocurrencies at physical merchants in Australia.
The latest data shows that total cryptocurrency transactions increased in February 2020, reaching $ 73,769.41 , up from $ 44,087.57 in January. Last month, bitcoin cash usage accounted for a record 97.01% of all commercial transactions covered by the study, up from 90% in October and 93% in November. BCH accounts for more than $ 71,500 in total monthly expenses.
Relevant information on BCH spending is collected from users of the Hula platform . The Hockings Underwriting Logistics app facilitates the instant conversion of Bitcoin Cash to local fiat currencies , protecting businesses from price fluctuations . Hula pairs BCH investors with merchants to accumulate BCH on the platform in a simple way. Currently, Australian retailers who want to accept cryptocurrencies can use the service.

Bitcoinbch.com also collects data by surveying physical merchants across the country. This approach allows the portal to more accurately describe its turnover, which is usually a peer-to-peer nature for BCH. Many retail outlets also use other products that facilitate the storage and payment of Bitcoin Cash , such as the Bitcoin.com wallet and the Bitcoin Cash Register application.
Over 81% of Australian retail crypto transactions use BCH
The report also tracks usage of other major cryptocurrencies, which comes from Travelbybit, Australia's crypto payment processor. Bitcoinbch.com CEO Hayden Otto has concluded that the proportion of various currencies has decreased since last month. The combined BNB of Bitcoin Core and Lightning Network, Ethereum, Litecoin, and crypto trading company Binance accounted for only $ 2,205 of total sales .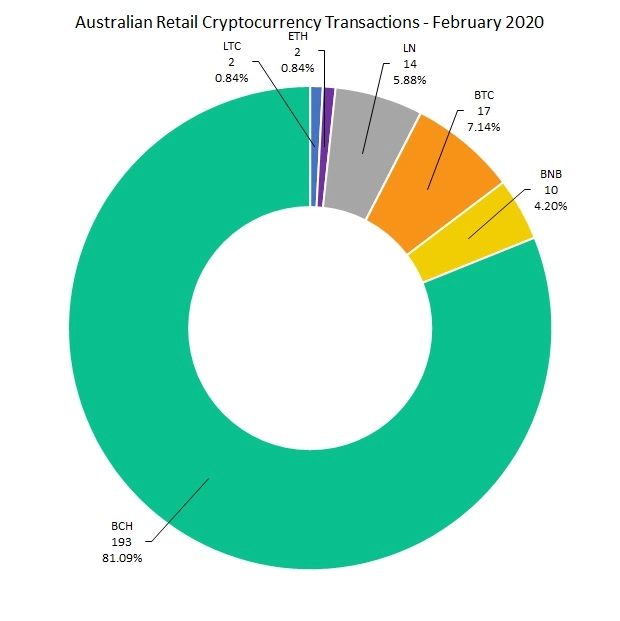 Bitcoin Cash is also a leader in retail crypto transactions , with a total of 193 (81.09%) registered transactions in February, followed by BTC's 17 transactions (7.14%) and Lightning Network's 14 (5.88%) , BNB's 10 transactions (4.20%), ETH and LTC each have 2 transactions (0.84%), while BSV and DASH have not yet appeared in the surveyed merchants. BCH trading volume spiked on the 13th and reached its highest point on the 27th at the end of February. On February 24, total Bitcoin cash spending exceeded $ 12,000.
Thanks to the services mentioned in the report, Australia has become an important cryptocurrency destination, with more and more online merchants and physical stores accepting decentralized assets. Cryptocurrencies have also been recognized by listing hundreds of digital asset trading companies and a recent court decision describing them as a form of investment. Bitcoinbch.com's regular monthly survey shows that Bitcoin Cash is the main driving force for the popularity of cryptocurrencies, and more and more businesses are accepting Bitcoin Cash as a payment method that is useful to themselves and their customers.

"Today's Topic"

What do you think of the cryptocurrency spending report on Bitcoinbch.com?

Welcome message
More exciting on Bitcoin.com
Original link: Australian crypto merchants set a monthly record of 74K US dollars, BCH payment rate reached 97%
Disclaimer: This article is translated from news.bitcoin.com's official website. If you need to reprint the content, please contact the official WeChat: BitcoinComChina, and mark the original link at the end of the article. Thank you for your support.