The currency market and the stock market fell, and the bitcoin that was suddenly sold out was caught up in the "oil war"?
Author: Joyce
Source: Blockchain Outpost
Introduction: "The stock market plummeted" and "Bitcoin plummeted" have been listed on Weibo. Neither the stock market nor the currency market escaped the plunge. "We are entering a period of extreme turbulence and fear in the global market," said Hodlonaut, founder of the Lightning Torch.
Since yesterday, the price of Bitcoin has been falling all the way, and today the price fell below $ 8,000 at noon. Coin Coin data shows that the entire network has sold out more than $ 500 million in the past 24 hours, of which BTC has sold out $ 310 million. The Bitcoin price has lost an amazing 18% over the past two days. Tokens such as ETH, XRP, BCH, and LTC have also fallen by more than 10%, and the entire crypto market has evaporated more than $ 200 billion. At the same time, blockchain concept stocks also fell by 5.10%.
The price of bitcoin plummeted, and the hashrate of the entire Bitcoin network reached a high of 122.10 EH / s. With the rise of computing power, the ant mining machine S9 series, core moving mining machine T1, T2 series, and Avalon A841, A821 and other mining machines have reached the shutdown price, and the ant mining machine T15, S17 and other series of mining and electrical costs accounted for It has also exceeded 50%.
Forbes wrote that the drop was caused by a sudden sale of bitcoin, but the specific situation is not yet clear.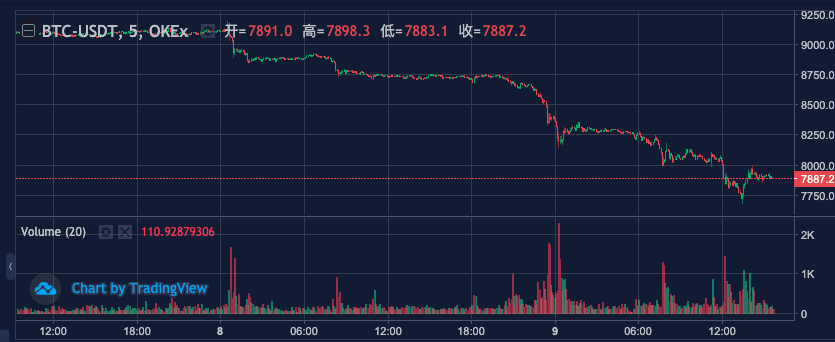 Bitcoin price trend
Bitcoin trend is beginning to approach the stock market
On March 6, OPEC and Russia failed to reach a new agreement to reduce production. Since April 1, oil-producing countries can arrange production plans on their own. Saudi Arabia voluntarily launched a price war over the weekend, with the biggest reduction in crude oil prices in more than 30 years, and plans to increase oil production next month to levels far exceeding 10 million barrels per day. This led to a 30% plunge in crude oil at the opening of the market and triggered a global stock market plunge. The S & P 500 and Dow Jones have fallen 5%.
"The prognosis for the oil market is even worse than at the start of the last price war in November 2014, because the coronavirus epidemic caused a sharp drop in oil demand," Goldman Sachs analysts said.
Google Hot Search for "Bitcoin Corona Virus" has surpassed "Bitcoin Halving". Everyone seems to have identified the new crown pneumonia epidemic as the main reason for the ups and downs of global capital markets. However, Jiang Chao, chief economist at Haitong Securities, pointed out that the epidemic is only appearance, and vulnerability is the essence . The root cause of the soaring financial markets is also the lack of momentum in global economic growth, limited policy space, and high previous market valuations. In this context, in the event of an emergency, large fluctuations in global financial markets can easily be triggered.
According to Skew data, since the stock sell-off last week, the correlation between Bitcoin and the S & P 500 has been sloping, and concerns over the epidemic have pushed the correlation between the two to a three-month high .
Travis Allen, an engineer with more than 1.9 million followers on Twitter, summarized the status quo in the United States: the stock market is crashing; airlines have cancelled thousands of flights; oil prices have fallen by 25%; 10-year U.S. Treasury yields have fallen to record lows; The port is empty; six states have declared a state of emergency.
dForce founder Yang Mindao said that financial markets are all connected, and everyone is equal in the face of liquidity. Bitcoin is more sensitive to liquidity, and its conduction path is very short and immediate.

As of 15:00, an overview of the global market, source: Flush
"Hedging properties" of Shi Ling and Shi Ling
Faced with the turbulent economic situation, many investors hope to avoid risks in the bitcoin market. But this time, Bitcoin still hasn't emerged from the independent market when the market plummeted like gold. Gold broke $ 1,700 for the first time in many years today. This once again sparked discussions about whether Bitcoin is a safe-haven asset.
Dr. Nouriel Roubini tweeted that US and global stock markets fell by 2-3% last week, and Bitcoin fell by 8% on the last day, a drop far more than global stock markets. Another piece of evidence suggests that Bitcoin is not a good hedging tool during periods of risk aversion. During risk aversion, it actually falls more than risky assets.
Jon Deane, CEO of Infinigold, a physical commodity digitization company, said that BTC's performance over the past 5 days shows that it is a risk-seeking asset, not a risk-averse asset. Gold is considered a safe-haven asset because it is negatively correlated with the performance of global stock markets over time and is therefore considered a safe haven.
Hong Shuning, director of the Jinqiu Blockchain Research Institute, believes that the price of gold only reflects short-term risk aversion behavior, and Bitcoin only exhibits a hedging nature in the long run. Why is the Bitcoin trend seen now negatively correlated with gold? Because there is no financial crisis or economic crisis now, the recent plunge in the stock market is just an overreaction of the market to the epidemic, and the fundamentals of the world economy have not changed substantially.
Although the correlation between bitcoin and the stock market has strengthened in the past three months, looking at the 12 months, compared with the US dollar, gold and the S & P 500 index, the correlation between bitcoin and Bitcoin has not exceeded 0.3 and Below -0.3.
Some people believe that Bitcoin is starting to create its own financial ecosystem. When investors enter this space, they have no specific relevance to the broader stock or commodity markets.
Coinbase researcher Max Bronstein said that in the market for rapid reconfiguration of security assets, the crypto market is relatively unaffected, even if it does not receive a bit of support. In fact, there are some macro-favorable factors that are emerging to generate new demand for another financial system.
This may be an explanation of Bitcoin's hedging function that is sometimes effective and sometimes ineffective.
Well-known cryptocurrency trader Josh Rager said that Bitcoin's horizontal support is between $ 7,700 and $ 7,995, which means that it may be sought after in this range and may rebound to $ 8,550.
Even though Bitcoin cannot yet become a safe-haven asset, its value storage function has been widely accepted. Jehan Chu, co-founder of blockchain venture capital firm Kenetic Capital, said: "For those with a long-term investment vision, Bitcoin is definitely an investment worth buying."
Hint: Bitcoin is risky, so invest with caution.
Source link: https://mp.weixin.qq.com/s/CfX_NDBxMZd8Uf2qH5qCDw
We will continue to update Blocking; if you have any questions or suggestions, please contact us!
Was this article helpful?
93 out of 132 found this helpful