On Monday, the S & P 500 index fell 7.6%. The decline in early trading was so great that trading was temporarily suspended earlier in the day. This is a rare phenomenon, the purpose of which is to prevent a stock market crash. At the same time, the Dow Jones Industrial Average fell 2,000 points, or 7.8%.
The VIX Volatility Index, the main risk indicator for the stock market, spiked to 55 on March 9. This is the highest level since 2009. At the same time, Saudi Arabia's consultations with OPEC member Russia failed, which in turn triggered competition for oil price cuts. This led to the international oil price benchmark Brent crude oil trading price of 36.20 US dollars, down 20% from the previous trading day. This caused the international oil price benchmark (Brent crude oil) to drop to 36.20 US dollars, a 20% drop from the previous trading day.
The fire broke out in the east, and the west smoked. The yield on the 10-year Treasury fell below 0.5% for the first time in history. This number reflects investors desperately looking for a safe haven.
Gold and Bitcoin in a global panic
The price of gold started at $ 1.673 per ounce yesterday after reaching an all-time high of $ 1,700. In March of this year, the price of gold rose by 5.6%, performing well during the current global epidemic of the new crown virus. At the same time, Bitcoin fell 13% in 48 hours, to its lowest level of $ 7,750 since early January.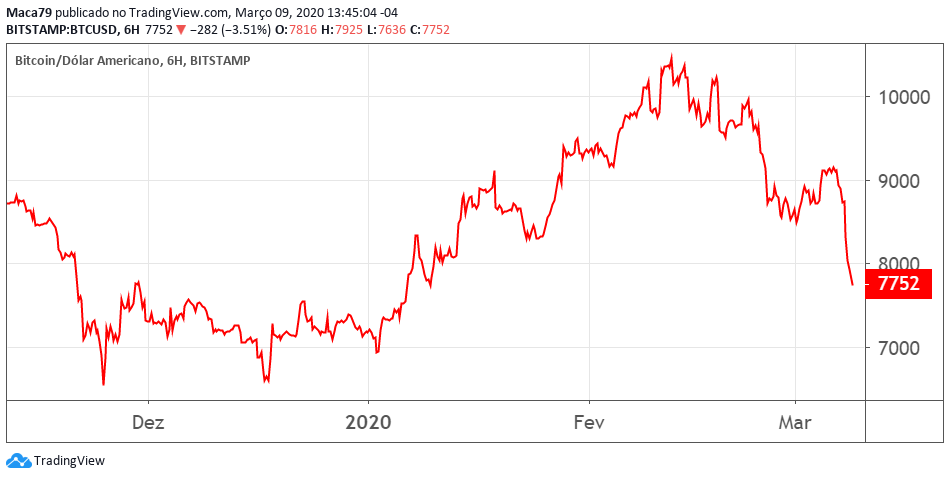 Coinbase co-founder and CEO Brian Armstrong also tweeted that he was shocked by recent bitcoin price volatility and wrote: "It is surprising that we have seen Bitcoin fall in this situation, I thought the opposite would happen. "
BlockTower co-founder Ari David Paul also tweeted, "Although the price of Bitcoin has fallen by 25% in the last 30 days, it has maintained a 7.5% increase so far this year."
Analysts warn financial crisis could intensify
In response to the potential crisis in the current market reaction, Dennis Dick, head of market structure and proprietary trader at Bright Trading LLC, sent a red flag. The possibility of a sharp drop in oil prices over the weekend has also begun to be valued by the public. "
As the price of Bitcoin has risen, altcoins have also suffered huge losses. Ether (ETH) was down 8.86%, and Bitcoin Cash (BCH) was down 7.72%. At the same time, Litecoin (LTC) fell 10.42% and was trading below $ 50.
As of now, the total market value of cryptocurrencies is $ 222.2 billion, and Bitcoin's market dominance is 64%.
Compilation: Lin Shihao
Image source: Cryptoslate
This article is from bitpush.news. Please reprint the source.