Bitcoin plummeted 10% again, is the "halving market" over?
This past weekend is undoubtedly very bleak for the entire cryptocurrency market. Along with the sluggish trading volume, Bitcoin has once again plummeted, plunging more than 10%.
So, is the "halving market" that people are expecting to end earlier? Or has it not officially started yet?
4 hours K line
On March 5, Bitcoin broke through the descending channel at one time, and then retested the channel's support line multiple times. But just three days later, the price of Bitcoin has once again returned to the descending channel.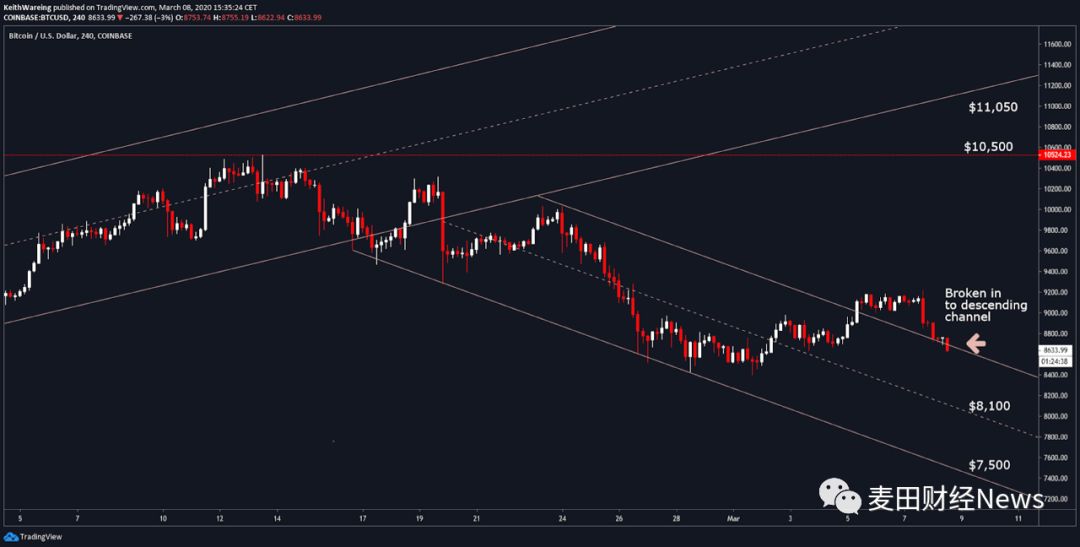 This also allows Bitcoin to have two very real downside targets in the short term: $ 8,100 and $ 7,500; and upward resistance first needs to break through $ 8,700 to break the downtrend channel, then $ 10,500 and $ 11050, respectively.
Relative Strength Index (RSI) indicator
On the 4-hour chart of Bitcoin, the RSI indicator is currently slightly above 31, which indicates that there may be some distance to fall. But on the other hand, it also indicates that Bitcoin is approaching severe oversold. Historically, the RSI indicator will fall below 30 before it will reverse.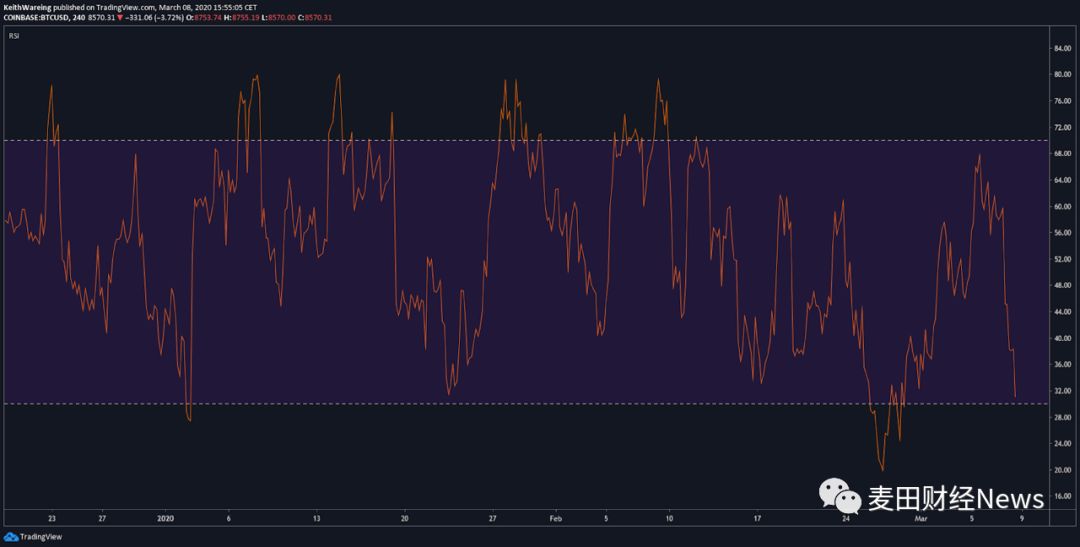 However, the 1-hour K-line RSI indicator has shown severe oversold, currently 18.62, which is the lowest level since February 15.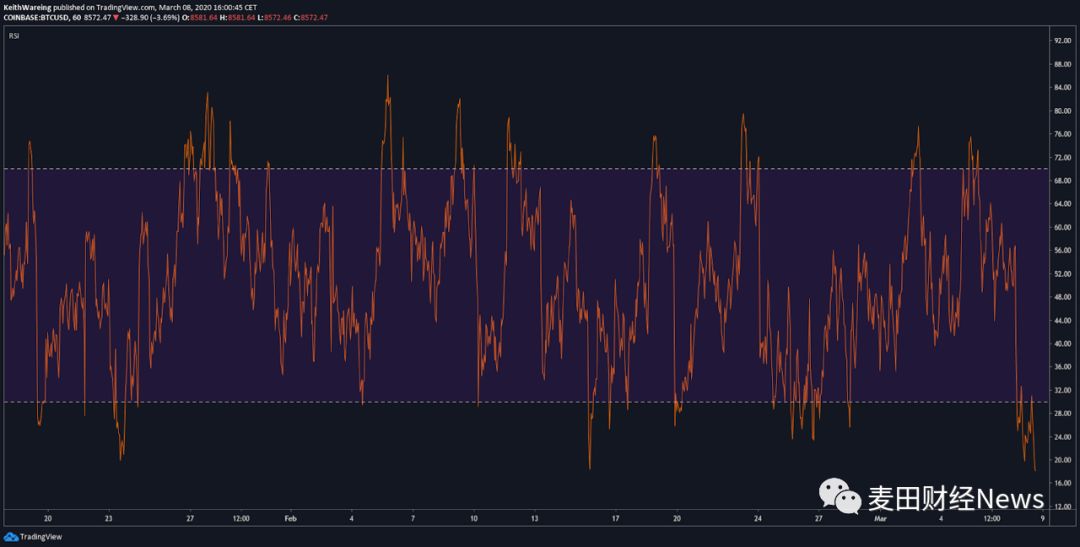 Of course, one would definitely like to see price reversals at current levels. However, on February 15th, the RSI indicator also showed a serious oversold phenomenon, but the Bitcoin price did not reverse. In the next two weeks, the Bitcoin price continued to fall from $ 9,700 to $ 8,400. .
MACD indicator
I have mentioned many times before that the MACD indicator on the Bitcoin weekly chart is a good indicator of bull-bear conversion. In January of this year, the weekly MACD indicator once again showed a golden cross, but I was more worried at the time that this week's MACD golden cross was very similar to the fake bull market stage we saw around August to September 2018.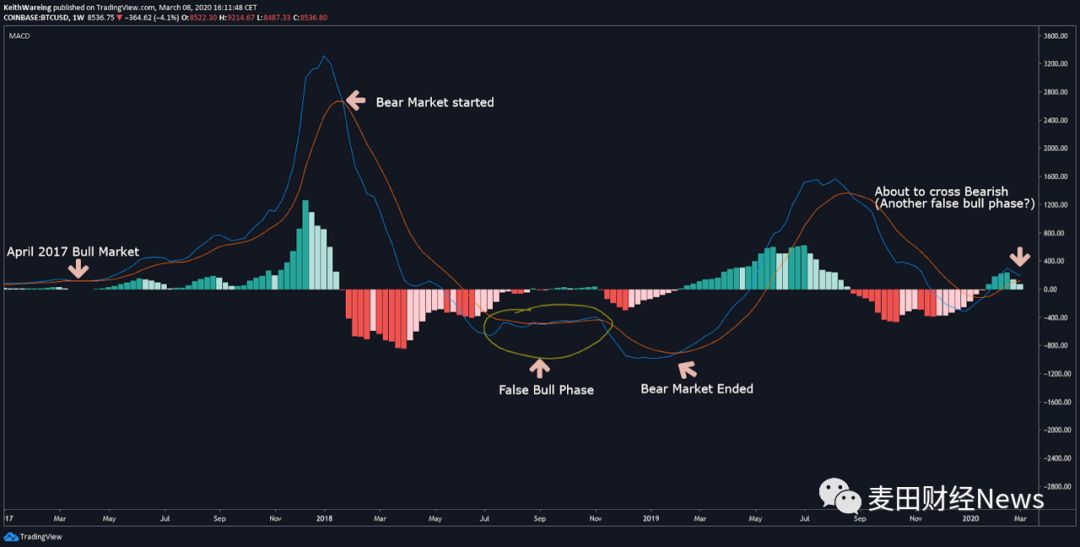 At that time, the weekly MACD had a golden cross, which also made people think that Bitcoin would rise again, but then Bitcoin fell from more than 8,000 US dollars to less than 4,000 US dollars within a few weeks.
However, the decline of Bitcoin at that time was mainly due to the BCH hard fork, and this year, Bitcoin is about to usher in a third halving, so it is uncertain whether history will repeat itself.
In the coming week, we should be able to find the answer. If the price of Bitcoin does not rebound significantly next week, perhaps we need to start paying attention to the reality that the potential global economic slowdown has a very negative impact on Bitcoin prices.
CME Bitcoin futures gap
Since the Chicago Mercantile Exchange's Bitcoin futures are closed every Friday night, once the Bitcoin price fluctuates significantly on the weekend, a gap will appear on the CME's Bitcoin futures contract chart.
Previously, the CME Group's Bitcoin futures contract left a gap of nearly $ 500 above $ 9,700, and this weekend, the CME Group's Bitcoin futures left an over A $ 1,000 gap.
Historically, 90% of the gaps in CME Group's Bitcoin futures contracts have been filled, so will there be exceptions this time?
Of course, this is not the only bullish indicator, and there is another more reliable indicator that may also drive the Bitcoin price rebound, that is, the difficulty of mining.
Mining difficulty will increase next week
Next week, Bitcoin's mining difficulty will increase by nearly 8%, which is the largest increase in the past six months, so this should be a very positive sign for the price of Bitcoin.
Since the beginning of 2020, Bitcoin's mining difficulty has increased by 4% to 7% every two weeks, and in turn, the price of Bitcoin has also risen accordingly; and usually, this will happen on the same day.
So next week, when the difficulty of bitcoin mining rises again, will the price of bitcoin usher in a rebound? Probably only time will tell.
All in all, Bitcoin's trend in the coming week is quite important. However, in the current global financial panic, there will be many irrational behaviors. Therefore, technical analysis may be completely useless at present, which is very realistic.
However, considering the future week, the need for CME Group's Bitcoin futures to cover the gap and the increasing difficulty of mining, we can still remain relatively optimistic about this week.
In terms of upward resistance, Bitcoin first needs to stand above $ 8,700 to break the current downtrend channel.
On the downside, $ 8,100 and $ 7,500 are the two levels most likely to form support. If $ 7,500 fails to hold, it will undoubtedly cast a huge shadow on Bitcoin's prospects this year.
We will continue to update Blocking; if you have any questions or suggestions, please contact us!
Was this article helpful?
93 out of 132 found this helpful