Source: Yunnan Network, original title "Blockchain technology in the post-epidemic era will promote the development of digital economy in Yunnan"
Reporter: Zhao Gang
What role will the digital economy in the post-epidemic era, especially the emerging blockchain technology, play in improving and innovating the digital society governance mechanism and methods? How can Yunnan Province accelerate the application of new technologies to reshape? Recently, Professor Hu Kai, a professor at Beijing University of Aeronautics and Astronautics and director of the Digital Economy Research Center of Yunnan Innovation Institute of Beihang University, said in an interview: "In the post-epidemic era, Yunnan Province will face significant opportunities for digital technology development. Emerging blockchain technology, innovative digital society governance mechanisms and methods to promote economic development. "
Digital technology changes traditional social governance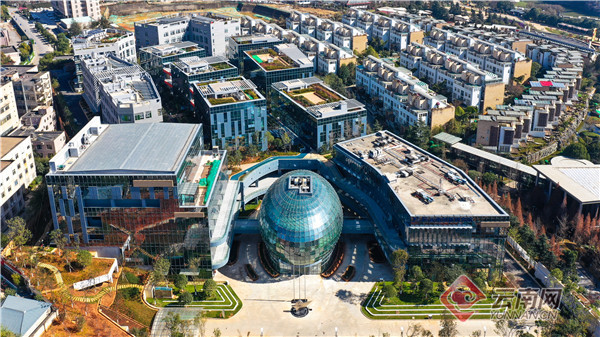 Aerial panorama of Yunnan Innovation Research Institute of Beihang University
According to Hu Kai, the sudden outbreak of new coronary pneumonia is destined to become a major historical event in China's socio-economic development. In this epidemic, big data analysis and prediction, student online courses, home collaborative office, e-commerce services, etc., as well as information announcements based on 5G mobile communications, and high-speed community organizations have changed the traditional way of social governance. Digital technology has or is changing the way we live and work. And every time a major disaster occurs, digital technology takes a leap forward.
The emerging blockchain technology is recognized as the infrastructure of the future digital economy. Regarding the application of blockchain technology to epidemic prevention and control, including the use of blockchain to provide epidemic prevention and control information and data services, the application of blockchain technology to the tracing of charitable donations, insurance business and online office, blockchain epidemic warning, block Chain public opinion monitoring, providing services for epidemic prevention and control enterprises, blockchain public safety monitoring, making epidemic monitoring faster, etc., including information transparency in digital governance, trust mechanisms, item traceability, reasonable data sharing, privacy protection, etc.
"Yunnan Province can occupy the commanding heights of technological development and improve and innovate the development model of the digital economy through the three important development paths of the blockchain." Hu Kai said.
Blockchain infrastructure construction
Promoting the application of the blockchain requires the establishment of the underlying chain. At present, the most important thing in Yunnan is to establish a blockchain infrastructure that is integrated with the centralized system. With the rapid development of the digital economy, Yunnan Province should lead and encourage the establishment of a new digital infrastructure with independent intellectual property rights, quickly lay out a complete and longest technical chain that is autonomous and controllable, and promote the improvement of digitalization and governance systems. Innovate to build blockchain infrastructure across industries and companies.
"Building a public basic platform based on blockchain technology, innovating government management methods, and improving the efficiency of government duties, can effectively promote the modernization of government governance system and governance capabilities." Hu Kai said.
Building a Digital Ecology Based on Blockchain
Just as the physical social community and industry operate and organize, a digital society must also establish a digital community and industry ecology. Blockchain technology is the most applicable distributed technology that connects the industry's upstream and downstream and related businesses through a horizontal and horizontal approach to establish a digital ecosystem.
Blockchain can solve the trust problem in the community ecology at a lower cost, higher efficiency, and more securely, and can better support the main ecological business such as information flow, logistics, and capital flow.
"Community governance rules can be written in the blockchain, consensus generates operating rules, and open and fair transactions can be achieved through various smart contract presets, thereby establishing a new digital business model. This distributed business model will be easier. Expansion, trust, efficiency and fairness. "Hu Kai said.
Big data governance based on blockchain
The emergence of blockchain technology will break the data silos and solve problems such as legality and regulation, intelligent operations and service agility. An online data opening, sharing, and trading platform developed based on multiple technologies such as blockchain encryption, distributed computing, and storage can form a unified foundation for trusted data management, development, and trading on the blockchain.
"Mastering the correct concept of blockchain development and adopting comprehensive methods of laws, standards, technologies and administration to build the three foundations of a blockchain-based digital ecology, governance rules, and data management system are the development of blockchain. Properly can promote the development of digital economy in Yunnan. "Hu Kai believes.