Every time PlusToken changes, the crypto market is stormy?
A butterfly in the tropical rainforest of the Amazon Basin in South America, occasionally flapping its wings, can cause a tornado in Texas, USA, two weeks later. ——Edward Lorenz, American meteorologist, 1963.
Author: Gray 49 degrees
Edit: Black Earth
Source: Carbon Chain Value (ID: cc-value)
In June 2019, PlusToken, the "butterfly" in the cryptocurrency industry flapped its wings.
Compared to the burning sun, PlusToken investors were more anxious last summer. On the evening of June 27, 2019, many PlusToken investors suddenly found that their wallets could not be withdrawn, and then it was reported that Vanuatu police forces arrested six Chinese nationals for illegal Internet fraud and was preparing to return them to China And these six people are members of the founding team of PlusToken: Chen Bo, Ding Zanqing, Peng Yixuan, Wang Renhu, Gu Zhijiang, Yuan Yuan.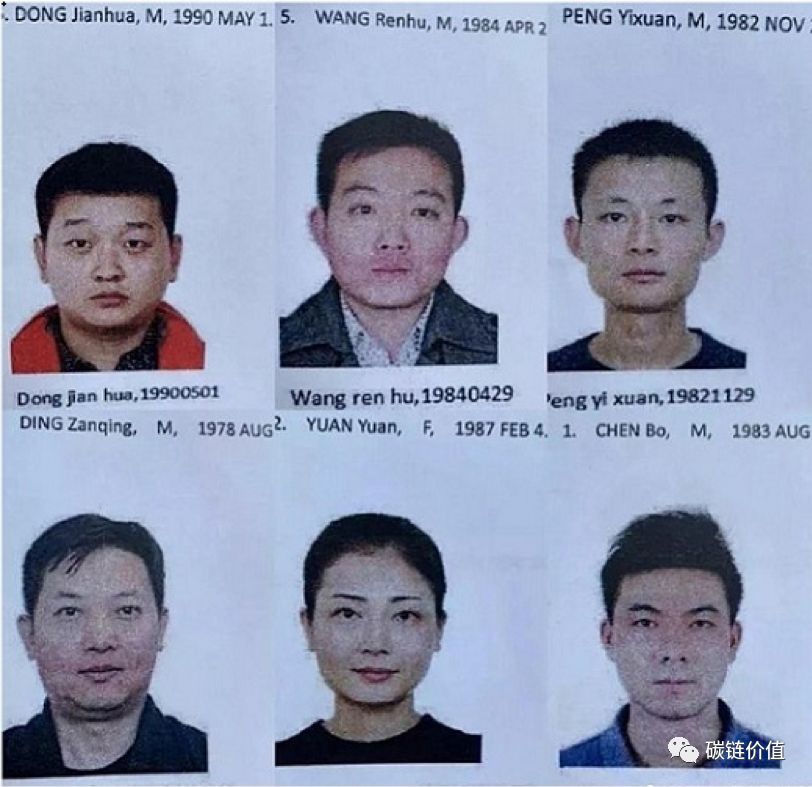 Let's briefly review this crypto project that once claimed to be the "world's first blockchain ecosystem". PlusToken has always claimed to build a "one-stop" blockchain ecosystem, which includes a multi-currency cross-chain wallet, A series of functions and services such as a centralized trading platform, global payment, intelligent arbitrage, mining power, and blockchain industry chain. However, in fact, PlusToken still uses the Ponzi scheme to absorb user funds by promising high interest rates and cashback, but what PlusToken is "dreading" is its so-called "multi-currency cross-chain wallet" because it involves To a variety of digital currencies, including Bitcoin, Ethereum, Litecoin, Ripple, EOS, etc.
Although PlusToken has not yet specified the specific amount involved in the case, it is said to have exceeded RMB 20 billion. According to Beijing Lian'an analysis data, the Ponzi scheme has absorbed a total of 200,000 BTC and about 1.32 million ETH.
01 Every time Plustoken changes, the crypto market is stormy?
On July 10, 2019, the persons involved in the Plustoken fund disk were repatriated by the Vanuatu Police and handed over to the Yancheng Police.
On July 11, 2019, users could no longer connect to the PlusToken APP.
On August 17, 2019, the official website of the People's Procuratorate of the Yancheng Economic and Technological Development Zone released information that Chen Bo, Ding Zanqing, Peng Yixuan, Wang Renhu, Gu Zhijiang, and Yuan Yuan who were suspected of organizing and leading pyramid scheme activities have been approved for arrest in accordance with law.
With the black hands behind the scenes of this scam, people are becoming more and more worried about the huge amount of cryptocurrencies stored in the PlusToken wallet, because once these funds are "washed out" through the exchange and flow into the cryptocurrency market, it will inevitably cause prices. The shock could even trigger a selling panic.
The value of the carbon chain has sorted out the bitcoin price trend of the time node related to the PlusToken event (data source CoinMarketCap). Perhaps we can find some correlations from it:
July 10-12, 2019: After the PlusToken involved confirmed that the arrested returned country, the price of Bitcoin fell rapidly from a high of 13,102.69 USD to 11231.61, a drop of 14.28%. (As shown below)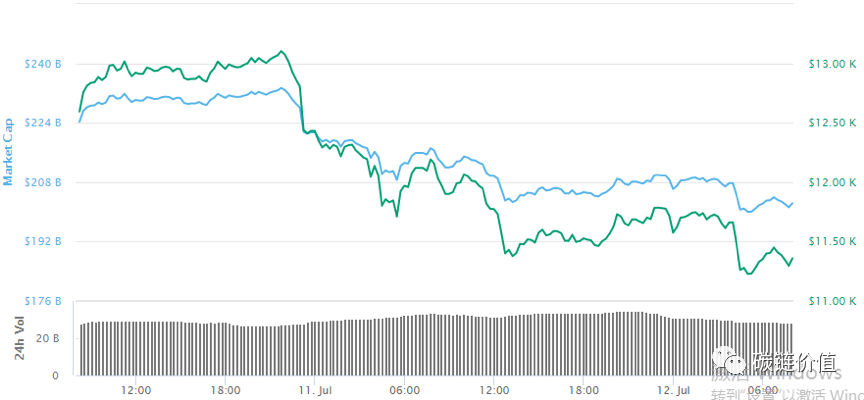 August 11-15, 2019: Between August 12 and 15, 2019, two major BTC wallet addresses of PlusToken changed, and a total of 28,500 BTC were transferred. One of the main wallet addresses beginning with "33FKcwFh" will be 22922 BTC was transferred to four new addresses with amounts of 4922 BTC, 5000 NTC, 6000 NTC, and 7000 BTC. During this time, the price of Bitcoin dropped from a high of $ 11,503.71 to $ 100,51.70, a drop of 12.62%. (As shown below)
August 26-28, 2019: Just after the major transaction of the PlusToken part of the key address, the relevant address was frequently divided into a large number of small addresses ranging from 0.1-10BTC on August 26-28 , Was further transferred out, and some of the bitcoins sold through the OTC OTC platform have been whitewashed and then flowed into exchanges such as Binance. During this period, the price of Bitcoin dropped from a high of $ 11510.27 to $ 10088.19, a drop of up to 12.35%. (As shown below)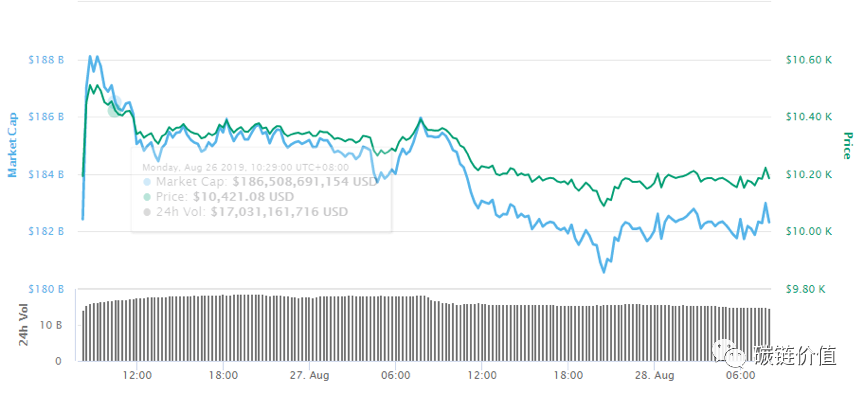 September 10-11, 2019: At 22:00 on the evening of September 9, 2019, the suspected PlusToken-related address 1Li4mUc3hCGMB6cgQiJCwTvLMYwkfKHZY8 began to transfer again, and successively transferred out three large Bitcoins of about 4000 BTC to independent addresses, accumulating 12646 BTC. After 11 o'clock on September 10, 2019, these large amounts of bitcoin began to split the transfer again and split the single-digit BTC. During this time, the price of Bitcoin dropped from a high of $ 10,387.86 to $ 10,027.16, a drop of 3.47% (as shown in the figure below), especially after the market found this event on September 11, and it plummeted in a short period of time. $ 225.
September 16-17, 2019: Suspected PlusToken related address 1Li4mUc3hCGMB6cgQiJCwTvLMYwkfKHZY8 transfers again, basically "empty", while another related address uses a similar strategy to initiate the split. At 23:08 on the evening of September 16, four large transfers of 3000 ~ 3800 BTC were continuously transferred on the same block, and each transfer was split into about 300 new addresses. During this time, the price of Bitcoin dropped from a high of $ 10,382.94 to $ 10,191.09, a drop of 1.85%. (As shown below)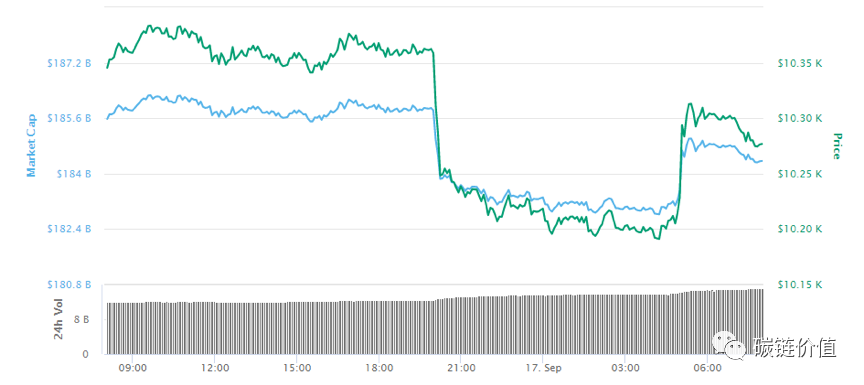 December 17, 2019: Bitcoin experienced a short-term plunge in the early hours of the day, and the transaction price once reached US $ 6,833.81. Some market analysts believe that the slump may be related to Chainalysis's release of the PlusToken Ponzi scheme, which said that there are still 20,000 Bitcoin (valued at approximately $ 137 million) and 790,000 Ethereum (valued at approximately $ 102 million). It may be controlled by PlusToken fraudsters, and bitcoin worth $ 185 million has been liquidated, causing market concerns.
February 10-11, 2020: At 17:14 on February 11, several consecutive transfers of PlusToken money laundering addresses occurred, involving 12,423 bitcoins. During the period of February 10-11, the price of bitcoin plummeted again, from a high of $ 10,156.91 to $ 9784.56, a decrease of 3.67%. (As shown below)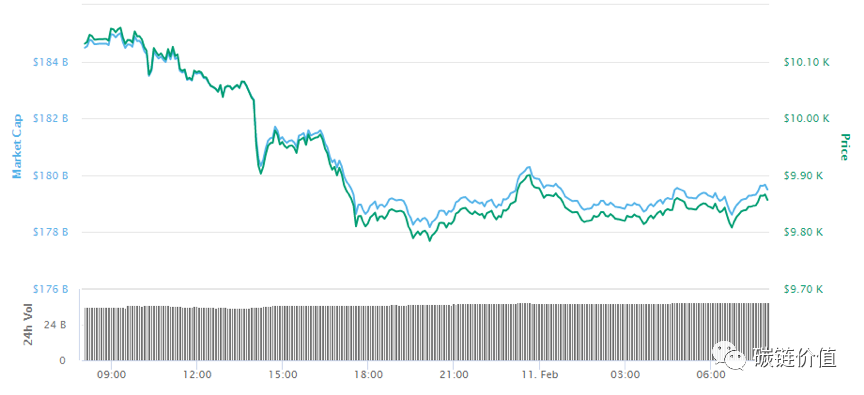 March 4-5, 2020: At 09:27 on March 5, 2020, the funds on PlusToken's running funds 15pyB7 and 1Gc91z began to change. The funds were transferred in two installments to a total of 13112 BTC to 15Z1sT and 1CkuKa. New address at the beginning. During this time, the price of Bitcoin fluctuated more frequently, from a high of $ 8,842.78 to $ 8,714.25, a decrease of about 1.45%. (As shown below)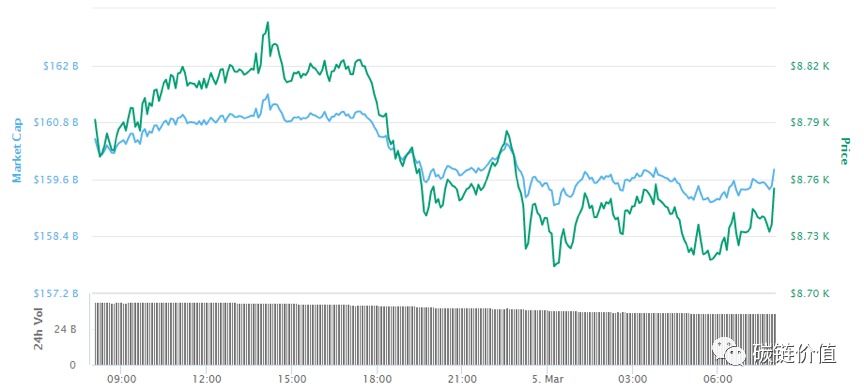 The numbers don't lie. In general, every time there is a bit of trouble in the Plustoken Bitcoin address, the market does more or less shake, and the power of this "butterfly" is also evident.
02Bitcoin plunge: is it PlusToken Ponzi scheme?
Regarding this Bitcoin crash, some people think that it is not all PlusToken's fault, but that there are some problems with market liquidity. In particular, some investors in the United States have previously bought too many exchange-traded funds in the traditional market. When the market is cold and it is impossible to clear the exchange-traded funds in time, these investors must sell other assets to ease liquidity, including bitcoin. currency.
In fact, the market volatility will inevitably accompany the market panic, causing many retail investors to follow suit and sell assets. In the current market environment, most of them will choose to sell Bitcoin. From this perspective, in addition to the potential factors of PlusToken, how much bitcoin's decline has something to do with other asset sales in the past few weeks. After all, the current market depth of bitcoin is far less than that of traditional markets. Before the writing of this article, the Federal Reserve has issued an additional 168 billion US dollars to stimulate the economy, which has exceeded the current total market value of Bitcoin), so it is not surprising that its decline has exceeded expectations.
On the other hand, we can't ignore the seller's pressure brought by PlusToken, because the fraudsters are likely to like to "monetize" stolen money and transfer funds, and as seller pressure increases, it is also difficult to escape the risk of market downturn.
In any case, the wings of the "butterfly" of PlusToken have been flapping, and the results it brings are still unknown-our only hope is that this "butterfly" should not be turned into a "bat".
We will continue to update Blocking; if you have any questions or suggestions, please contact us!
Was this article helpful?
93 out of 132 found this helpful