Author: Joyce
Source: Blockchain Outpost
"The biggest difference with Celo compared to Facebook is the decentralization."
On March 11, cLabs, a Silicon Valley crypto startup that uses Ethereum and Libra as models to design global currencies, announced its members of the cryptocurrency alliance, including five key members of the Facebook Libra Association, Coinbase Ventures, Andreessen Horowitz, Bison Trails , Anchorage and Mercy Corps, many people think that the members of the Facebook Association have gone bad, and cLabs has quickly become the focus of public attention in China.
Phone number becomes a cryptocurrency payment address
cLabs was founded in 2017 by MIT's Rene Reinsberg, Sep Kamvar and Marek Olszewski and currently has more than 60 employees. Andreessen Horowitz is one of the investors who helped launch it. Celo specializes in mobile payments and Celo blockchain projects, and has raised $ 36.4 million . Some well-known investors include LinkedIn founder Reid Hoffman and Twitter / Square CEO Jack Dorsey.
Similar to Facebook's goals, Celo also aims to build a global financial system that helps everyone, especially those in developing countries who don't have a bank account, make remittances, while addressing remittance delays and high transaction fees.
But cLabs founder Rene Reinsberg said Celo is "fundamentally different" in its approach.
Celo uses new encryption technology, allowing people in even data-constrained areas to connect to the Celo network with minimal data requirements through "ultra-light" clients. The "ultra-light" client allows people to use the blockchain network by connecting devices with "full nodes" (ie computers that collectively maintain the history of network transactions). Celo officials say that the Celo protocol approach can reduce the amount of data required to synchronize with other networks by 17,000 times.
The most troublesome part of sending cryptocurrencies is lengthy encrypted addresses. In order to solve this problem, in the digital wallet issued by Celo, the user's phone number is mapped to the encrypted address through "address-based encryption" technology to simplify the transfer process. This is considered to be the biggest difference from similar projects.
Users use phone numbers to transfer money, and phone numbers also become a digital identity and part of their reputation system.
It is reported that the Celo wallet can be applied on iOS and Android systems. Celo users can transact with anyone on the phone's contact list and allow payments to contacts who are not logged in to the Celo network. At the same time, Celo allows users to pay transaction fees in the currency used in the transaction.
Celo states that building a flexible application network will not scare regulators like Libra, making it easier to deliver applications through the blockchain.
How does Celo's stablecoin remain "stable"?
Of course, more important is the stability of this global cryptocurrency. Celo emphasized that it is not a central entity that controls issuance and redemption, but rather uses a stable agreement based on smart contracts to automatically expand or shrink its collateral supply.
The Celo agreement has two types of assets: flexible supply stable value assets Celo Dollars and fixed supply variable value assets Celo Gold.
Celo Dollars is pegged to the US dollar. When its market price is greater than one dollar, the agreement expands the supply of Celo Dollars by creating new Celo Dollars for sale on the open market in exchange for Celo Gold until the market price reaches the peg of one dollar. Conversely, supply was reduced by destroying Celo Dollars until the market price reached a peg to the dollar.
Celo Dollars' initial over-guaranteed reserve will include Celo's local assets, Celo Gold, as well as other liquid cryptocurrencies such as Bitcoin and Ethereum, which will be used to pay validator fees and some additional incentive expenses.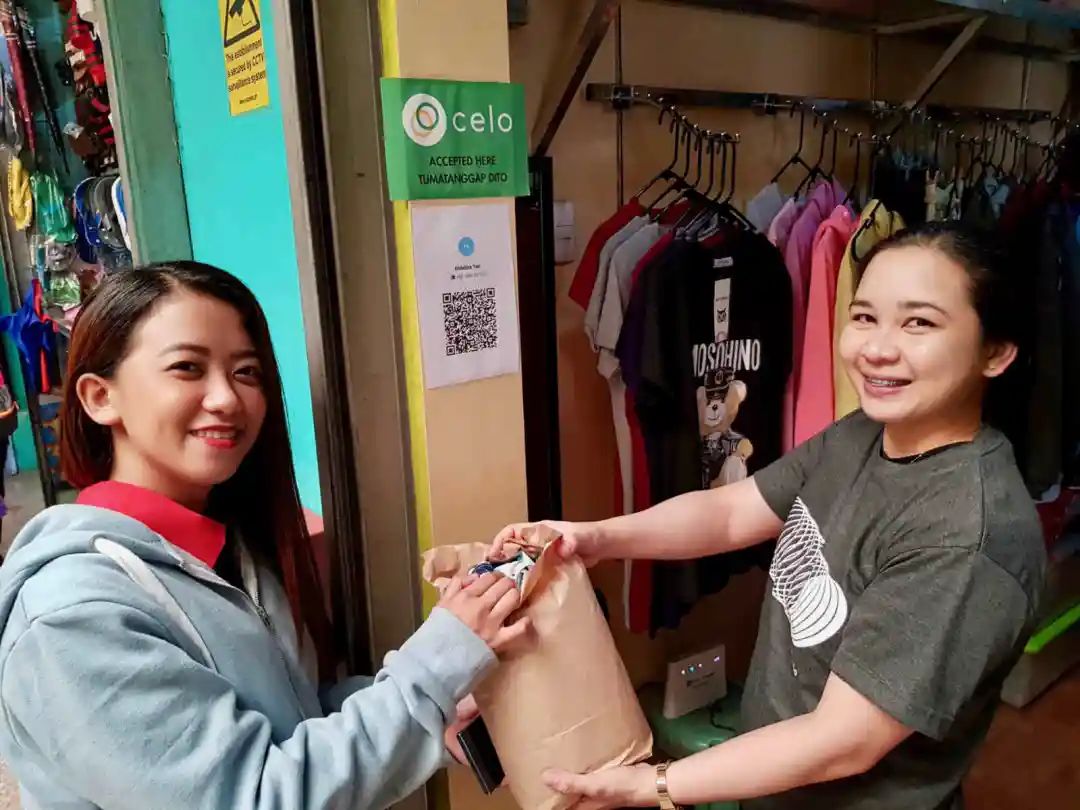 Merchants accept cGLD during pilot in Philippines, source: Celo
People exchange other cryptocurrencies for Celo Gold, and then exchange them for Celo Dollars that can be spent. Celo Dollars can be sold at the market price equivalent to Celo Gold, and Celo Gold can also be sold at the same price as Celo Dollars. The flow model between the two refers to Uniswap. If Celo Gold and Celo Dollars are out of sync, arbitrageurs can use the spread to make money.
Compared to Libra, which is directly linked to a basket of fiat currencies, Celo Dollars poses much less of a threat to the world financial system. However, there may be some risks in its own design: if the demand contraction for Celo Dollars exceeds the total value of the reserve, the Celo agreement will not be able to sign enough orders to meet the reduced demand.
On anti-money laundering, cLabs has hired Jai Ramaswamy, former head of corporate risk management at Capital One, to manage it. Celo founders Marek Olszewski and Rene Reinsberg founded the machine learning startup Locu at MIT and sold it to GoDaddy. There is also Sep Kamvar, the inventor of EigenTrust and a former MIT Media Lab professor.
Celo stated that instead of supporting centralized issuers of bank fiat currency and price, they have built a full-stack platform that can provide an unlimited number of stablecoins supported by reserve crypto assets.
Currently, Celo has not sold any tokens, but it will soon sell its application token Celo Gold through Coinlist. Coinlist has sent email invitations to registered users, and the website has also opened the registration process for public offerings. Citizens in the United States and China cannot participate in this public offering.
The open source Celo platform is still in beta, and its mainnet is scheduled to officially launch in April. After the mainnet is launched, 600 million Celo Gold will be put into use, and another 400 million will be realized through "epochal rewards" like block rewards.
Why join the Celo Alliance?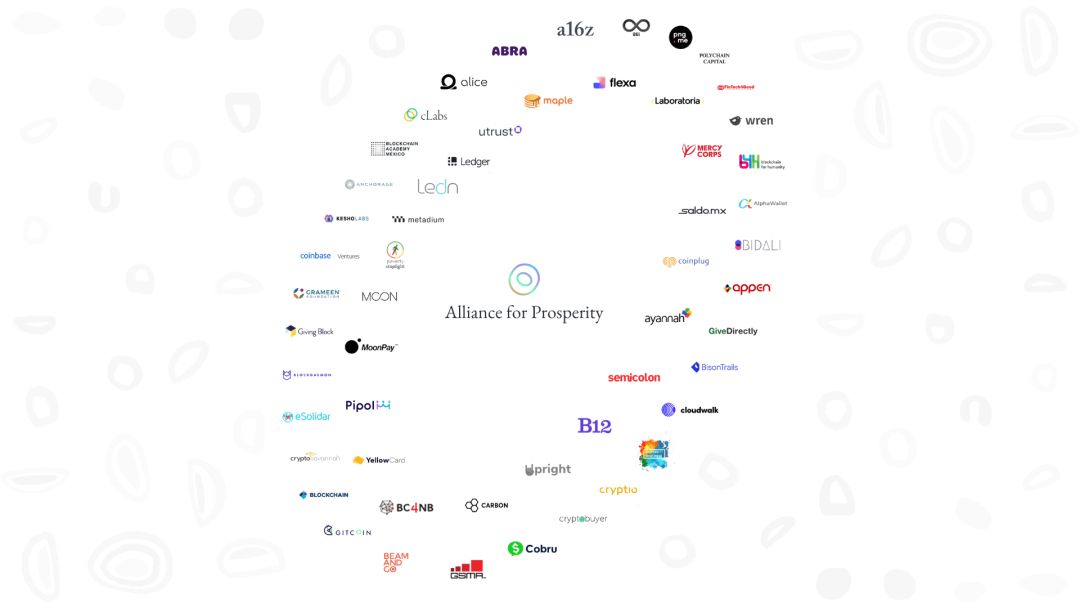 50 alliance members, source: Celo
The 50 members of the Celo Alliance include Nobel Prize-winning global microfinance institutions, Brazil's highly innovative payment processors, companies that implement mobile recharge with Celo Dollars around the world, global humanitarian aid organizations, Africa supports exchanges of 9 fiat currencies, two of the largest blockchain wallets, leading blockchain infrastructure providers, and two of the most respected investment companies.
The goal of the alliance is to make more people use digital currency, so that anyone with a phone number can move towards a secure future. These members will build mobile device-friendly financial tools on the Celo open blockchain platform. According to Celo statistics, the influence of these 50 alliance members can currently reach 400 million people.
Olaf Carlson-Wee, member of the alliance and CEO of Polychain Capital, said, "For me, the alliance proves that Celo is not only able to deliver complex, user-friendly products globally, but also enables member organizations to deliver products on the Celo platform. . "
Other notable partners include Carbon, givedirect, Grameen Foundation, Maple, and Polychain. According to Chuck Kimble, cLabs' head of business development, these partners have made commitments to support project development, infrastructure construction, integration of asset projects, realization of required use cases on the platform, community promotion, etc.
In addition, anyone can apply to join the Celo Open Network without the prerequisites of a $ 10 million minimum financial investment like the Libra Association.
For five companies that have joined the Libra Association, joining two cryptocurrency projects at the same time may create some conflicts of interest, including which cryptocurrency and developer platform they promote to portfolio companies, integrate it into their products or Focus on which asset provides financial services to those in need. But this may also give them a way to hedge their risks.
Diogo Monica, president of Anchorage, said Celo and Libra each have unique concerns and approaches, but they both have one goal: to provide banking services to people without a bank account. "As an advocate for a fairer and more open financial system, we have a responsibility to support every cooperation that our customers want to participate in."
At present, the Libra Association has lost almost all heavyweight members in the past, including VISA, MasterCard, eBay, mobile payment company Square, Vodafone, and so on.
According to cLabs' business development executive , Celo's big difference compared to Facebook is decentralization . The Celo Alliance is a completely decentralized, task-oriented organization. Without a central management agency to determine the development of Celo, people will be able to vote on the development of Celo.