PlusToken still has more than 60,000 BTC unsuccessfully transferred, or it will affect the crypto market
Source of this article: Caiyun Blockchain
Author: iris5625
Editor's Note: The original title was "More than 60,000 Bitcoins still have not been successfully transferred in the PlusToken fund scam"
According to digital asset survey company OXT Research, PlusToken, known as the largest money scam in the currency circle, may still have 61,229 bitcoins (valued at approximately $ 369 million) that have not been successfully sold and transferred, which may be sometime in the future. Point influences the crypto market.
The staggering take-off of nearly $ 3 billion worth of Bitcoin and other digital currencies, the PlusToken Ponzi scheme, has recently appeared on the detection radars of media and blockchain research companies, especially when they are ready to act. After nearly a month of detailed analysis, OXT Research conducted an in-depth study of what they described as "the first Ponzi scheme in the history of cryptocurrencies exceeding $ 1 billion."
The latest analysis reached the following conclusions:
PlusToken-related funds usually have a path characteristic from secondary mixing of mixed coin services and then distribution to multiple other markets for selling. Bitcoin and other digital currencies after the distribution transfer are likely to be sold shortly after being transferred to the exchange.
Several other digital currency or coin deposits from other projects have also been discovered, so that the total amount of PlusToken reserves controlled by the founder reached about 200,000 BTC.
Since the January report, the number of newly transferred bitcoins is about 14,000 BTC (the number of bitcoins deposited in exchange wallet addresses). There are still approximately 23,319 Bitcoins that have not been mixed.
There are still about 33,872 bitcoins in the coin mixer, and there are about 3853 BTC in the process of coin mixing transfer.
Therefore, a total of 37725 BTC is about to enter the coin mixer, but has not yet been transferred to the exchange.
By analyzing the daily distribution rate, it can be concluded that Plustoken's large-scale Bitcoin transfer action-reached the highest price intensity in September and November 2019, reaching a peak of nearly 4,500 BTC per day, while the market price fluctuations were weak October and December are "off" or "paused."
Therefore, the Plustoken fund scam is "highly sensitive" to the price when transferring Bitcoin, and may increase the price's continued performance intensity in the short term.
In January and February 2020 Plustoken transferred a total of 19440 Bitcoins.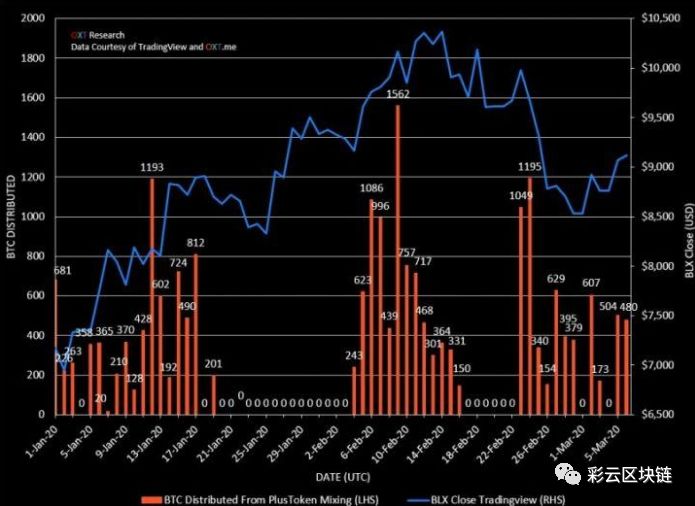 Between August 2019 and March 6, 2020, the scam team has sold about $ 1.3 billion in bitcoin.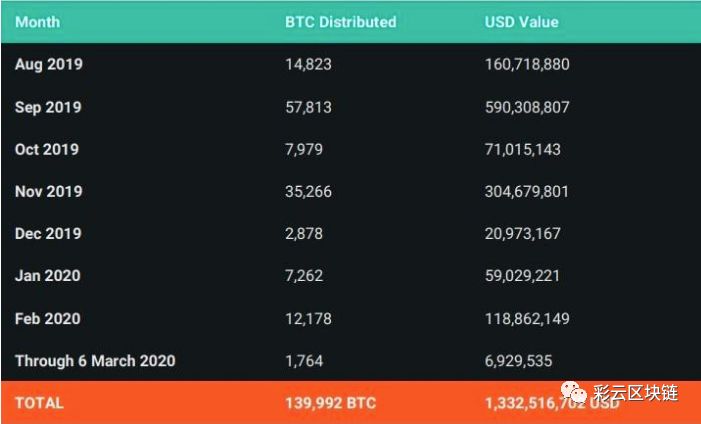 OXT Research, PlusToken's monthly Bitcoin transfer record
Since the beginning of August 2019, Plustoken has distributed 80% of digital currencies entering the mixed currency service, with a total value of about 139,922 BTC. Coins that entered the mixed state (BTC 37,725) may continue to be distributed and transferred to the exchange.
However, if you add the remaining 23,504 bitcoins that have not yet entered the mixed state, there will be about 61,229 bitcoins that have not been successfully transferred and washed, and these tokens may still have an impact on the market.
According to OXT Research, the OKEx exchange may be a new important destination for Plustoken-related digital tokens. The amount of funds sent to OKEX in February accounted for nearly 50% of the total transfer. In August last year, Binance and Bittrex experienced a small inflow of funds, and Huobi is still one of the most frequented transaction destinations for Plustoken.
Since the new year, other Ponzi schemes include "PlusToken imitators" WoToken and CloudToken. The WoToken-related tokens have been directly mixed with the digital currency of the PlusToken fund, and now it has also been proven to be related to the recent PlusToken fund transfer-it is speculated that this may be the fund of two Pond's scams controlled by the same entity project.
Six core perpetrators related to the PlusToken large Ponzi scheme were arrested in June last year, but the stolen funds are still being transferred from one wallet to another every day, and are allegedly operated mainly through Huobi and OKex Independent OTC brokers conduct fiat currency cash.
We will continue to update Blocking; if you have any questions or suggestions, please contact us!
Was this article helpful?
93 out of 132 found this helpful