James Bond also issued coins? None of the stars issued coins successfully, the price of coins dropped by 99.95%
Text: Ratchet Pizza
Source: A blockchain
"007 coins issued!" A few days ago, James Bond's actor Daniel Craig in the 007 movie rumors of "distribution" have spread widely.
In fact, this is a false advertisement of a project suspected of being funded under the name of Craig.
However, there are really stars who have issued "star coins" in history, and even artist companies have tried to issue coins precisely to star fans.
But in the end, none of these projects were successful, and the price of the currency was almost zero, leaving only one feather.
"'007 James Bond' has even issued a coin." Recently, some British YouTube users said on social media.
They found that some YouTube videos featured ads for the "Bitcoin Era" project. In the advertisement for the project platform, it is the actor of "007" James Bond-British actor Daniel Craig.
Due to the epidemic, the release of 007's latest movie "No Time to Die", which was scheduled to be released on March 31, was postponed, and 007 became a hot topic. Advertising in the Bitcoin era is also the subject of this.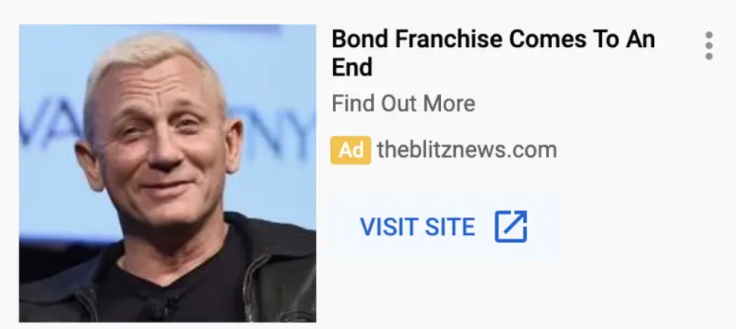 Ads in the Bitcoin Era on YouTube
When the user clicked on the ad, they saw a captivating headline: "Special Report: Britons following Craig's advice have already made millions of pounds at home."
The article also promised: "As long as 4 months, the Bitcoin era can make anyone a millionaire."
For this kind of publicity, players in the currency industry in China are no longer familiar with it. "This is to make it clear to everyone that we are a capital disk." A coin player told a blockchain.
The Bitcoin era claims that it is a fully automated high-frequency quantitative trading software that can generate profits for users through intelligent transactions with big data. Users only need to invest more than 250 US dollars to get at least 5% of daily income.
Based on this calculation, its annualized income is as high as 1825%.
This model is exactly the same as PlusToken. In the bitcoin era, there is a high probability that it will be a fund scam.
"Is Craig over-exposed, or is he short of money? Why advertise the funds?" Someone questioned.
Just when people were puzzled, the ad disappeared. The US media "Business Insider" quoted YouTube insiders as saying that the ads were withdrawn by YouTube due to inaccurate content.
It turned out that Craig did not give money to the platform, but instead stole the name-omnipotent James Bond, and became a trader's tool for collecting money.
In addition to Craig, Bill Gates and Tesla founder Elon Musk were "forced on the platform" by the Bitcoin era.
There are still a lot of celebrities who have been used by funds and digital currency scams.
In September 2019, many Facebook users in Hong Kong were screened by a Tan Yonglin ad.
In the advertisement, Tan Yonglin said that he has been earning tens of thousands of Hong Kong dollars in bitcoin speculation recently. He also recommended a bitcoin trading platform.
In response, Tan Yonglin quickly publicly rumored that he had never recommended any digital currency trading platform and called on the public not to be deceived.
Tan Yonglin's clarification statement on Weibo
In early 2018, someone used the name of TFBOYS to create a website called "TFBOYS.one Blockchain Fan Group" and announced the release of "the world's first digital token based on blockchain technology"- —TFBOYS meal ticket (TFBC).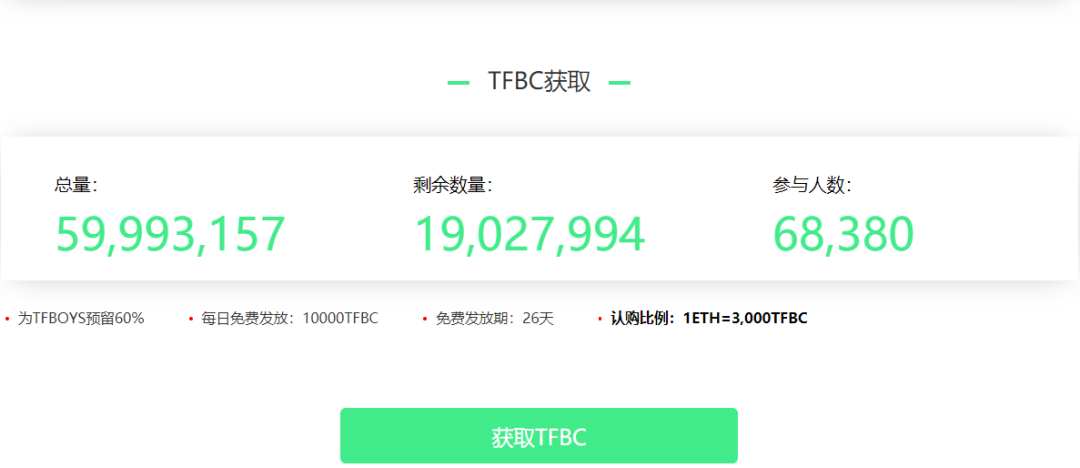 TFBC claims that the three members of TFBOYS will receive 60% of TFBC directly; the remaining 40% will be obtained by fans through free collection and paid subscription. In the future, TFBC can be used to purchase peripherals, participate in VIP fan events, and buy and sell performance tickets.
Official information shows that 1ETH can be exchanged for 3000TFBC. At that time, the price of ETH was around 5,000 yuan. Based on this calculation, the price of a TFBC meal ticket was about 1.7 yuan, and its total market value was as high as 100 million yuan.
Soon, the TFBOYS brokerage company issued an urgent statement: No organization has ever been authorized to issue "TFBOYS meal tickets", and TFBC may be an illegal profit-making activity in which a particular person embezzles a combination.
As of now, the TFBOYS.one website is still accessible. It claims that 10,000 TFBCs will be distributed daily for free, with nearly 70,000 people already participating.
However, this is a lie.
The Ethereum browser shows that a total of 293 transfer transactions occurred at the TFBC contract address, all of which were "0 transfers", that is, the project party did not have any entries.
The act of faking stars to issue coins has been repeatedly exposed. In fact, there are stars who actually issue coins themselves.
In 2018, Real Madrid Football Club star player James Rodríguez announced that he would cooperate with a company to launch a digital asset named after him personally-JR10 Token.
J Luo is also recognized as the world's first well-known star to issue personal digital currency.
However, after two years, JR Luo's JR10 coins did not show any improvement. It has hardly been listed on any exchange, nor can it find the fair price.
It can be said that even with the bonus of star halo, JR10 is still an air coin.
Outside of J Luo, the Taiwanese artist Huang Licheng once issued Mith in 2018, focusing on the concept of social mining.
MITH once sold a high price of 10,000USDT on OKEx, and the price at the initial stage of the online line also hovered around $ 7.
But now two years later, the price of MITH has dropped to 0.00354 USDT, which is 99.95% lower than the price of 7 US dollars, which is almost zero.
Also in 2018, the Korean women's group T-ara announced the release of the team's exclusive token T-ara coin, which will be issued based on the ENT blockchain.
T-ara team member Qri's Weibo
ENT was launched in January 2018, and is an ICO project focusing on entertainment concepts. It once pulled in Korean top star platforms such as Quan Zhilong and Clara.
However, the price of its currency has not been able to shake off its fate. At present, the price of ENT is 0.0002 USD, which is 99.97% lower than the historical high.
After the failure of these stars to issue coins, the industry's discussion on the issue of stars has almost stopped. Until September 2019, South Korea's SM Entertainment began to explore the coin issuance business, and the star issue of coins returned to the public view.
SM is one of the most well-known artist planning and brokerage companies in South Korea. It has created well-known idol groups such as Dongfang Shenqi, Super Junior, Girls' Generation, and EXO.
In September 2019, at a developer conference hosted by a South Korean exchange, a laboratory director of SM's technology department pointed out that the company is studying blockchain.
He said that SM hopes to develop a blockchain network so that fans can invest in the works of celebrities through digital currencies and participate more deeply in the entertainment ecosystem.
However, fans are not paying for it-SM's control over artists has made many fans quite dissatisfied. Some people believe that SM coin is a squeeze on artists.
"Fans only fan stars, they don't fan the company behind stars, and even think that the company is a black-hearted businessman who squeezes stars." An entertainment media practitioner said, "But in fact, stars are originally a tool for companies to harvest fans. From this perspective , SM issues coins to the stars, and fans will still buy. "
A blockchain analysis found that most attempts to issue coins by celebrities occurred in the first half of 2018.
At that time, ICO was regarded as a myth of making money, and many big money circle leaders made a lot of money by issuing coins. At the same time, many leeks went out of business.
For star coins, blockchain practitioners are not optimistic.
"Stars have fans and traffic, and they can also force the coin to use scenarios, such as fan voting, peripheral sales, etc." But Sun Yuan, a blockchain researcher, said that stars need to face a series of difficult issues.
First, it is the economic model of Starcoin.
The celebrity wants to maintain the price of the currency. The star currency cannot keep rising, otherwise fans will hold the currency for a long time, and the so-called use scenario will become an air tower. And the star coin cannot fall all the time, otherwise fans will complain and even take off the powder.
"This time, the star coin can only be maintained in a certain price range, and the issue of coins has no value." Sun Yuan said.
In addition, the issue of coins also faces regulatory issues.
"If a star is blocked for issuing coins, the price is too high." Sun Yuan said.
In 2017, an artist time trading platform called "Second Ah" appeared in China. On the platform, the artist's time can be traded in seconds. After investors have accumulated a certain number of seconds, they can sing or have dinner for investors.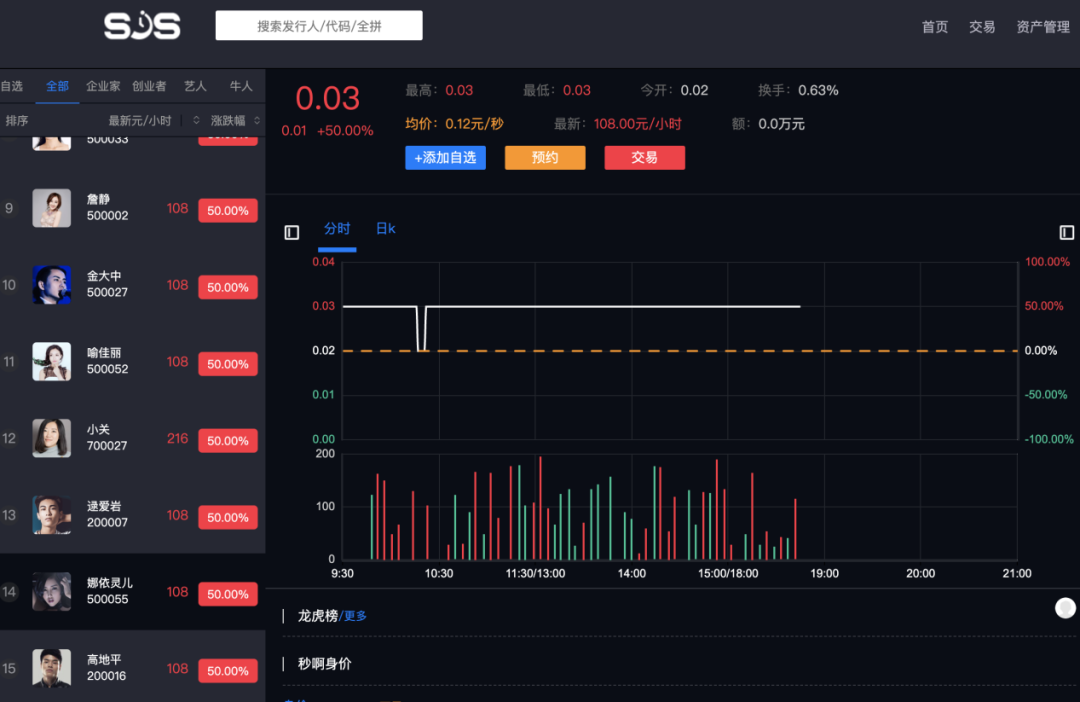 Second trading interface
When the concept of ICO was hot, Sec had announced that it would migrate the platform to the blockchain and would launch an ICO overseas. Therefore, Sec is also regarded as the first "star coin issuing platform" in China.
However, after three years elapsed, the number of artists on the platform was very few, and the transaction volume of most artists was zero for a long time.
The "star-issuing coin" that was once hoped by the industry now has only one place.
Whether it was a scam borrowed from the celebrity name, or the celebrity personally issued a coin, and the digital currency with the celebrity, failed.
"The concept of coin is long out of date." Some blockchain practitioners said.
All digital currency projects that started with a hoe and forcibly bundled the so-called scenes will eventually return to zero.
We will continue to update Blocking; if you have any questions or suggestions, please contact us!
Was this article helpful?
93 out of 132 found this helpful