PA Weekly | FCoin Filed Case in Hunan; Multiple Exchanges Cooperate with South Korean House Investigation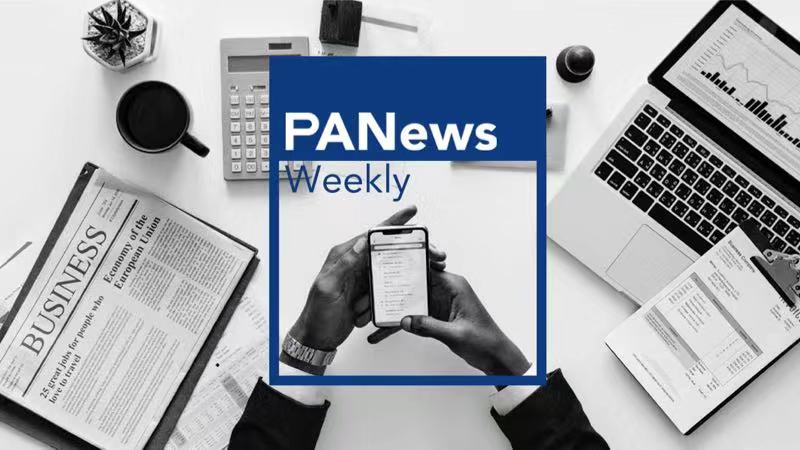 Abstract: South Korea's largest bank will launch crypto asset custody service; a Thai commercial bank issues stablecoin STB on Ethereum; FCoin has been criminally filed in Hunan. 13 listed companies disclosed blockchain-related businesses or plans.
According to PANews statistics, there were 8 blockchain project financings announced last week with a total financing amount of USD 21.42 million (excluding projects for which specific investment and financing amounts have not been disclosed), involving derivatives exchanges, payments, data, games, services And other fields.

1. The latest version of the US Congress 's New Crown Virus Stimulation Act cancels the "digital dollar" proposal
The new version of the US Congress 's new coronavirus stimulus bill has cancelled the "digital dollar" proposal. Earlier news, the US Democratic Party mentioned a clause in the stimulus bill released on March 22. If the clause is passed, it will create a "digital dollar" to provide stimulus funds. (The Block)
2.Many exchanges have been granted PSA exemption licenses by the Monetary Authority of Singapore
March 27th, the Monetary Authority of Singapore (MAS) formally announced on the official website on March 24 that it can be exempted from holding specific payment service licenses for a specific period of time. MAS states that according to the Payment Services Act ("PS Act"), these entities have obtained licenses and operating rights for specific payment services or digital currency-related payment services during the exemption period. Alibaba, Alipay, Amazon, Apple Singapore branches of other large companies are on the list. In addition, nearly 200 digital currency companies including Binance, OKCoin, BitStamp, Binxin, Coinbase, CoinCola, TenX, Upbit, ZB are also on the list, which means that these companies can be exempted before the official license Legal operations.
3.Russia will create "regulatory sandbox" to legalize blockchain and cryptocurrencies
Russia will create a "regulatory sandbox" within which blockchain and cryptocurrencies will be legalized. The "sandbox" will be overseen by Russian banks, and a corresponding bill has been submitted to the country by the Ministry of Economic Development.
4.U.S. CFTC warns about crypto scam related to New Crown virus
The US Commodity Futures Trading Commission (CFTC) has warned the public about cryptocurrency scams that use widespread concerns about the new crown virus. In a statement released on March 19, the CFTC emphasized that fraudsters often take advantage of major news events such as the spread of new crown virus (such as the spread of new crown virus) to increase credibility or manipulate emotions for their scams.
5.International Securities Commission says global stablecoin plan may be regulated by securities laws
A new report shows that the International Securities Commission (IOSCO) believes that the Global Stablecoin Program may be regulated by securities laws. It is reported that IOSCO has studied the imaginary stablecoin managed by the Corporate Governance Committee, which is supported by a basket of global reserve currencies and is based on its own private blockchain. It can only be issued to "authorized participants" who buy and sell stablecoins, and can be passed between users' digital wallets.
6. Hunan Provincial Department of Industry and Information Technology announced the "2020 Hunan Province Big Data and Blockchain Industry Development Key Project"
On March 27, the Hunan Provincial Department of Industry and Information Technology announced the announcement of the "2020 Hunan Province Big Data and Blockchain Industry Development Key Project" Notice. According to the application and evaluation by experts, 86 projects including "Typical Demonstration Application of Big Data and Blockchain in Construction Machinery Manufacturing Industry" were identified as the key projects for the development of big data and blockchain industry in Hunan Province in 2020, of which 16 were Projects in the direction of the blockchain.
7. Shandong: Improving the support capabilities of application scenarios such as blockchain, and making every effort to create a "Chinese calculation valley"
On March 23, the Executive Meeting of the Shandong Provincial Government reviewed and approved the Digital Shandong 2020 Action Plan. The tasks proposed included the preparation of a special plan for the blockchain, and strengthening the construction of key laboratories and technological innovation centers in the field of artificial intelligence and chips. On the afternoon of the 23rd, the News Office of the People's Government of Shandong Province held a press conference to interpret the "Guidelines on Digital Infrastructure Construction in Shandong Province". It is necessary to accelerate the high-level construction of data centers, promote the coordinated development of cloud computing, edge computing, and high-performance computing, and promote data Central space agglomeration, scale development, balance of deposits and calculations, energy saving and consumption reduction, improve the supporting capabilities of artificial intelligence, blockchain and other application scenarios, and make every effort to create a "Chinese calculation valley".
8. Fujian has introduced twelve measures to encourage enterprises and universities to focus on the development and application of blockchain and other technologies.
In order to further coordinate the work of epidemic prevention and control and economic and social development, and to grasp the key tasks of epidemic prevention and control and technological innovation, Fujian Province issued 23 measures to strengthen science and technology support services to prevent epidemic prevention and control and economic and social development, and promote new technologies and new developments. Model new business development. The content includes: Encouraging enterprises and colleges and universities to focus on the development and application of key common technologies in new industries such as big data, the Internet of Things, artificial intelligence, 5G commercialization, and blockchain.
9. Jiangxi Province released 2020 key industry investment projects, focusing on the deployment of blockchain and other information technologies
On March 29, the Jiangxi Provincial Development and Reform Commission released the "2020 Jiangxi Provincial Key Industry Investment Project". In the field of strategic emerging industries, a total of 395 projects were launched with a total investment of 588.9 billion yuan. Among them, electronic information, mobile Internet of things, virtual reality, blockchain, 5G, big data, and cloud computing are the focus of industrial layout, and the number of investment projects has reached 141.
1.FCoin has been criminally filed in Hunan
According to a new coin block report on March 28, FCoin has been criminally filed in Hunan. Previously, many FCoin victims have successfully filed cases in their places of residence, including Beijing, Wenzhou, Guangzhou, Jinan, and so on. Mr. Liu of Huaihua, Hunan said that after depositing more than 900,000 yuan in wealth management on the FCoin platform, the team stated that the user's assets were damaged and could not be withdrawn. On Friday, he reported to the local police and provided the police with information on bank flow, FCoin high-interest financial management information, and the operation team's WeChat. On Saturday morning, Mr. Liu was notified that the case was successfully filed.
2.Telegram seeks Gram token distribution waiver from non-U.S. Investors
Telegram once again responded to the court's decision to ban Gram coins, asking the court to clarify the scope of its decision. Telegram filed another lawsuit on March 27, and a lawyer representing Telegram said that the preliminary injunction issued by Judge Kevin Castel only applies to U.S. buyers. Telegram cited the Supreme Court's ruling that applies outside the US federal securities laws that more than 70% of its ICO funds were raised through purchase agreements with foreign investors. For this reason, since the company signed these agreements with institutions outside the United States, it has once again questioned the regulatory authority of the United States Securities and Exchange Commission (SEC). The TON Community Foundation is also discussing possible ways to launch TON without Telegram involvement. Due to protracted regulatory turmoil, many investors have already requested a refund.
3. Beijing News: "Cutting Chives" Routine Frequently Out of Virtual Currency Trading Platform
On March 25, the Beijing News reported that according to the investigation, the virtual currency trading platform "cut leek" routines frequently appeared, including fraudulently deceiving customers into the market through fake transactions, and then forced customers to liquidate their positions by manipulating market prices and malicious downtime. Some platforms have even become a tool for criminals to launder money. The article summarizes the routine as follows: 1. The transaction volume is abnormally high, which attracts customers to enter the market through false transactions; 2. The malicious downtime forces the leveraged transaction to "sell out" to manipulate the market; 3. Utilizes the characteristics of virtual currency anonymization and decentralization, Money laundering for criminals; 4. The project owner and the exchange are "like one another" and have a team full-time "pulling and smashing the disk"; 5. A new financing method is launched, and people are suspected of pyramid schemes.
4.Thailand Siam Commercial Bank will issue stable coin STB anchored in Thai Baht based on Ethereum
Thailand's largest commercial bank, Siam Commercial Bank of Thailand (SCB), stated publicly during the DeFi Bangkok blockchain event that the bank is designing a stable currency (STB, Stable Thai Baht) that anchors the Thai baht. According to related reports, the stablecoin will be based on Ethereum, with a 1: 1 equivalent anchored in Thai Baht, but it needs to be reviewed by SCB's KYC and AML. An unnamed SCB executive has confirmed the plan, but did not disclose specific partners.
5.Multiple Korean digital currency exchanges are actively cooperating with the police in the investigation of the "House N" case
According to South Korean media Decenter, South Korean cryptocurrency exchanges, including Bithumb and others, have received a notice from the police asking them to assist in the investigation of the "House N" case. Bithumb said it is identifying a list of users and is committed to actively assisting police investigations. It is reported that the suspect operated multiple private chat channels called "room N" on Telegram, taking the threatened women as sexual slavery, illegally taking sexual videos and photos in the room, and collecting cryptocurrency as room entry. Field fees. South Korean users including Bithumb, Upbit, Huobi, Binance, and Kucoin have stated their willingness to actively cooperate with the investigation.
Related reading: After Room N angered the crowd, I noticed this …
6. Alipay has applied for multiple patents for participating central bank digital currencies
From February 21 to March 17, Alipay Information Technology Co., Ltd., a subsidiary of Alibaba Group, has disclosed five patents related to the digital currency of the central bank. After consulting these patents, it was found that Alipay participated in the four major functions of the central bank's digital currency. This includes undertaking digital currency placement and transaction bookkeeping functions, assisting in the supervision and handling of illegal accounts, supporting digital currency wallets, and supporting anonymous transactions.
7. Gree applies for robot-related patents involving blockchain technology
According to the data of Tianyan Inspection, recently, Zhuhai Gree Intelligent Equipment Co., Ltd., which is wholly-owned by Gree Electric, has added a number of patent information. The company has applied for a "method and device to prevent robot recording data from being tampered with" patent, which relates to blockchain technology, and uses this method and device to achieve extremely high security against tampering of robot application recording data.
8.Microsoft files cryptocurrency mining related patents
Microsoft has filed a patent entitled "Cryptocurrency System Using Human Activity Data", which discusses a cryptocurrency that can be mined using human activity data. This cryptocurrency has not yet been sufficiently practiced, and May only apply to Microsoft. Microsoft claims that the patent can use brain waves or body heat emitted by users to view advertisements or use certain Internet services for mining.
9.HSBC has put a $ 10 billion paper private placement record into the R3 blockchain
HSBC has put a $ 10 billion paper private placement record into R3's Corda blockchain, and plans to expand the project this year and next. The company had previously announced that it would invest $ 20 billion in the platform by March 2020.
10.World chess competition will introduce blockchain technology to eliminate cheating
The 2020 Yekaterinburg Chess Championship in Russia was postponed due to the coronavirus, but organizers have started discussing how to use blockchain technology to advance the sport. Ilya Merenzon, CEO of the World Chess, said cheating in chess is still a problem, and blockchain technology can help identify and stop this unethical behavior.
11. South Korea's largest bank will launch crypto asset custody service, trademark applications have been filed
Korea's largest bank, KB Kookmin, will launch crypto custody services for assets such as Bitcoin (BTC) and Ether (ETH). Korean media Digital Today reported on March 27 that the bank had submitted a trademark application for "KBDAC" (KB Digital Asset Custody) to the Korean Intellectual Property Office. According to reports, an application filed on January 31 indicates that the bank may launch the service soon. Generally speaking, a trademark application means that an entity has begun to brand products and services, and most of the development work has been completed. In addition to providing crypto hosting services, KB can also provide other digital asset related services such as trading, investment consulting and asset management.
12.Hunan announces key projects for big data and blockchain industry development
On March 27, the Hunan Provincial Department of Industry and Information Technology announced the "2020 Hunan Province Big Data and Blockchain Industry Development Key Project", and the "Longping Chain (Longping Mathematics)" project was on the list. The "Longping Chain" project is led by Hunan Longping Hi-Tech Supply Chain Management Co., Ltd., and the company is chaired by Academician Yuan Longping. It mainly builds an open supply chain platform based on the blockchain to realize the digitalization of the agricultural industry, the digitalization of the industry, and the monetization of digital value, that is, the "three modernizations" serve the three rural areas.
1. Gangbao shares reached strategic cooperation with distributed technology
On March 20, Gangbao (Jiangsu Jinmao Gangbao E-Commerce Co., Ltd.) and Onchain Distribution Technology (Shanghai Distribution Information Technology Co., Ltd.) signed a strategic cooperation agreement. The two parties will discuss blockchain technology, business operations, and new technologies. Fintech has conducted in-depth cooperation in the supply chain financial business and applications in the bulk sector.
2. Qingdao Intermediate: Layout in the domestic focus on blockchain traceability and other fields
Qingdao Zhongcheng (SZ300208) stated on the platform of the director that the company implements the development strategy of "one body with two wings and two-wheel drive at home and abroad". On the domestic front, in accordance with the national strategic emerging industry layout and the requirements of Qingdao's industrial upgrading and development, intelligent manufacturing holding subsidiaries were established to carry out the layout in advanced manufacturing and high-tech fields, focusing on big data applications, artificial intelligence, and blockchain traceability. The technological R & D and market-oriented application areas of such technological innovation industries have been laid out, and the domestic market has never been abandoned.
3. Runjian shares: The blockchain patent applied with Guangxi University has not yet obtained a certificate
On March 29, Runjian Co., Ltd. (002929.SZ) stated on the Shenzhen Stock Exchange-Interactive Easy platform that investors have asked questions that the patent for "blockchain-based wireless spectrum access method and system" with Guangxi University has not yet been applied After obtaining the patent certificate, the blockchain business is in the cooperative research stage, which has no impact on the company's operating performance.
4.Auspicious days blockchain medical and health service platform under Ruikang Pharmaceutical is launched
On March 24, Jixiangtian Blockchain Medical and Health Service Platform (hereinafter referred to as "jixiangtian platform"), which is a subsidiary of Ruikang Pharmaceutical (002589), was officially launched and began to provide services to the outside world.
5.Shanghai Port Group and COSCO SHIPPING Co., Ltd. use the blockchain to realize the paperless import process
During the anti-epidemic period, Shanghai Port Group (600018.SH) and COSCO SHIPPING Co., Ltd. used the blockchain technology's traceability and trustworthy features to realize the paperless import and export process and ensure zero delay for customers' import business.
6. Youxuan Software: New technologies such as blockchain will boost the company's main business income
Youxuan Software (430208) announced that sales of the company's core data protection products have been increasing year by year. The rapid development of new information technology products such as cloud database, cloud platform, and blockchain will drive the company's main business revenue to increase steadily. .
7.Shunfa Hengye: Committed to deep integration of industrial resources such as blockchain with future community development and construction
Shun Fat Hengye (000631.SZ) released a summary of the 2019 annual report. In the company's main business overview, it was mentioned that the company actively promotes industrial strategic upgrades and actively participates in the development and construction and operation services of the major shareholder Sun Energy City in a timely manner.
8.Boss Software: Proposed to establish a joint venture to provide electronic bill business based on blockchain and other technologies
Bosi Software (300525.SZ) issued an announcement saying that the company plans to jointly establish a joint venture company "Fuzhou Bosi Yunyi Intelligent Technology Co., Ltd." with Boyi Tongchuang. The registered capital of the joint venture is 10 million yuan, of which the company invested 5.1 million yuan. , Accounting for 51.00% of the registered capital. The joint venture will provide paperless infrastructure and business intelligence services based on technologies such as blockchain.
9. Caixun shares: Blockchain technology application in the field of industry informationization is still in its infancy
Caixun Co., Ltd. (300634.SZ) replied to investors in Interactive Easy said that based on the accumulation of blockchain technology, the company won the bid of China Mobile Information Technology Co., Ltd.'s "Blockchain-based International Roaming Settlement" project in March 2019. The project has been delivered.
10. Hailian Jinhui: Commercial products and applications will be explored after the digital currency technology reserve regulatory policy is determined
Hailian Jinhui (002537.SZ) answered investors' questions on the Shenzhen Stock Exchange-Easy Interactive, saying that the central bank's digital currency products are mainly led by the state, and other institutions are more users of this product and technology. The company also has some technical reserves in the commercial application of digital currency. After the regulatory policies and related standards are determined, it will actively explore some commercial products and applications.
11. Everbright Bank: A large number of applications such as blockchain to promote digital transformation of banking business
China Everbright Bank Co., Ltd. (601818.SH) released its 2019 annual report. The report pointed out in the main business summary that the implementation of the technology investment doubling plan, the large-scale application of blockchain, cloud computing technology, and promote the digital transformation of banking business.
12. TOPIX Futures will build two core competitiveness through blockchain, etc.
Orient Securities Co., Ltd. (600958.SH) released its 2019 annual report. The report said that in the future, the TOPIX Futures will adhere to the main line of fintech to promote the development of derivatives, and to build two core competitiveness of research and technology through fintech methods such as artificial intelligence and blockchain.
13.State Micro Holdings's revenue decreased during the year due to the suspension of blockchain business in 19 years
State Micro Holdings (02239.HK) released its 2019 annual results. The group's revenue for the year was US $ 38.997 million, a year-on-year decrease of 7.8%. The announcement shows that the decline in revenue during the year was mainly due to the Group's suspension of the blockchain business in 2019.

1. Digital data verification platform Attestiv raises more than $ 2 million, led by Castle Island Ventures
On March 18, the digital data verification platform Attestiv was officially announced. The company has completed more than $ 2 million in seed round financing, led by Castle Island Ventures, with participation from Plug and Play Ventures and Mentors Fund.
2.Japanese gaming giant Square Enix invests in Ethereum game developer TSB Gaming
Japanese gaming giant Square Enix has invested in Ethereum game developer TSB Gaming. It is reported that Square Enix's masterpiece is the "Final Fantasy" series.
3.Indian crypto exchange CoinDCX completes $ 3 million Series A financing
CoinDCX, an Indian cryptocurrency exchange, announced the completion of a $ 3 million Series A financing, led by BitMEX operators HDR Group, Polychain Capital and Bain Capital Ventures. CoinDCX co-founder and CEO Sumit Gupta said the exchange plans to expand its services and plans to double its 50 employees over the next six months. (The Block)
4.Blockchain startup Edufied completes seed round financing, valued at $ 3.92 million
The blockchain-based electronic certificate verification startup Edufied has completed the seed round of financing. The specific amount has not been disclosed, and the valuation is $ 3.92 million.
5.Cartesi announced the completion of the second round of financing, did not disclose the specific amount
On March 27, Cartesi, the Layer 2 universal platform, announced that the company has released the first Linux infrastructure for blockchain, which can bring all the tools and functions available in Linux into a decentralized network. In addition, Cartesi has also completed a second round of financing.
6.Coin Metrics completes $ 6 million Series A financing
Boston blockchain data company Coin Metrics has completed a $ 6 million Series A funding round. The round was led by Highland Capital Partners, with participation from Coinbase, Fidelity, and Castle Island Ventures. The company aims to provide the market with unique data to help institutions invest and hopes to achieve profitability by 2021.
7. Balancer Labs completes $ 3 million seed round financing, led by Accomplice and Placeholder
The unmanaged portfolio management company Balancer Labs has completed a $ 3 million seed round of financing, led by Accomplice and Placeholder, and participated by CoinFund and Inflection. It is reported that Balancer was founded in 2018 and was originally a project of analysis company BlockScience. Balancer is currently undergoing internal testing and will be open to the public at the end of March. According to the announcement, the agreement has been reviewed by the security company Trail of Bits, and smart contracts have been deployed to the main network. (The Block)
8. Blockchain payment project COTI completes $ 3.5 million financing and will release staking 2.0 model
During the epidemic, the blockchain payment project COTI completed a $ 3.5 million financing. Considering that the global recession due to COVID-19 may last for 18-24 months, COTI will use this investment to maintain the project operation and continue to develop.
We will continue to update Blocking; if you have any questions or suggestions, please contact us!
Was this article helpful?
93 out of 132 found this helpful