Original: Decrypt , original author: Robert Stevens
Source: Planet Daily, Translator: Yu Shunsui
Summary:
CB Insights' 2020 Blockchain Report reviews the past year of the blockchain and provides insights into the direction of the industry.
In 2019, DeFi replaced ICO as the main crypto power, and custody, tax and lending services continued to enhance its products.
More and more governments are beginning to value central bank digital currencies, and the development of corporate blockchains lags behind other decentralized projects.
According to CB Insights ' 2020 Blockchain Report , in 2019, unregulated ICOs were replaced by crypto-backed DeFi products.
According to the report, since January 2019, the assets locked by decentralized financial (DeFi) platforms have increased by more than 200% to a peak in February 2020, from less than 300 million US dollars to more than 1.2 billion US dollars. At the same time, the report shows that the amount of ICO financing in 2019 decreased by 95% compared to 2018, and the total financing amount plummeted from more than $ 7.8 billion to $ 371 million.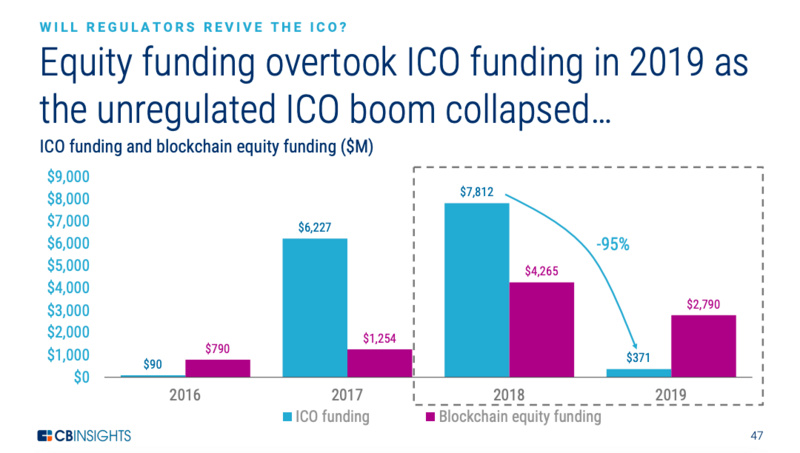 Winners in the DeFi space include the Maker agreement (as of March 2020, with more than $ 280 million in locked assets) and the DeFi loan agreement Compound (with $ 70 million in locked assets).
Overall growth
Although DeFi is still a highly experimental and unstable area, some companies have taken serious steps to protect users-all of which are a sign that a mature industry is starting to take itself seriously.
More and more crypto hosting services including Ledger, Anchorage and Knox now maintain or plan to implement insurance policies to protect customers' property. Coinbase and Gemini now provide customers with more than $ 200 million in criminal activity insurance.
Crypto tax services are also starting to get their attention at the end of 2019-all these signs suggest that DeFi is expected to continue its record. According to the report, ZenLedger, Taxbit and Verady's Ledgible platforms have raised at least $ 8.4 million in funding at an early stage.
Financing focus shifts to China
The report also states that since 2015, U.S. and Chinese companies have dominated the financing of blockchain projects, accounting for nearly 70% of all financing in the past years (2015-2019).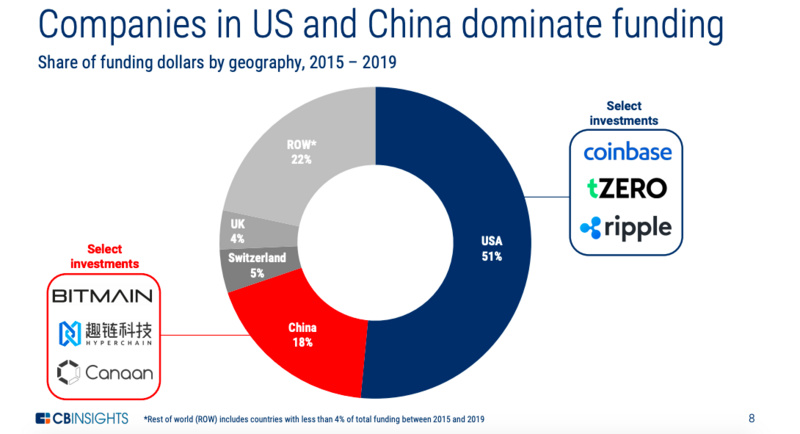 But in 2019, the focus of finance continues to shift to China. In 2019, 31% of financing transaction activity came from the United States, down from 41% in 2017; while China accounted for 22% of transaction activity in 2019, compared with 10% in 2017.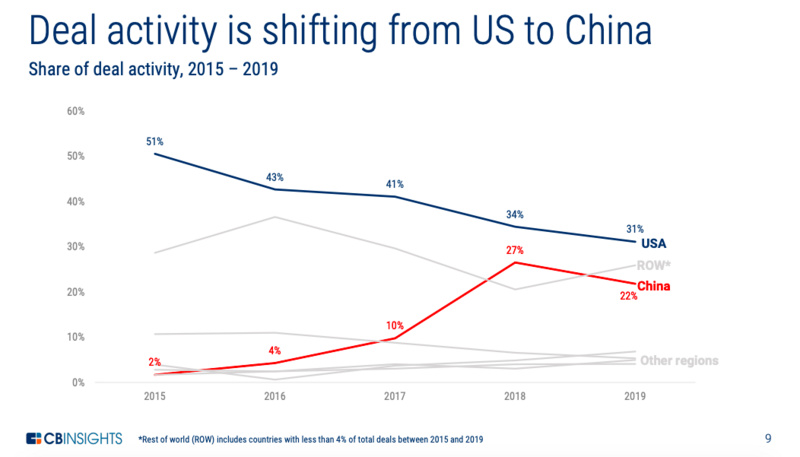 Notable financing transactions in 2019 include: Ripple receives US $ 200 million in Series C financing , with a total financing of US $ 294 million ; IP tokenization project Proxicoin receives US $ 100 million in investment ; and Figure Technologies completes US $ 103 million in Series C financing , estimated At $ 1.2 billion, the company tokenizes home equity and other mortgage products.
Enterprise blockchain financing lags
The report states that blockchain investors have been investing less in enterprise blockchain solutions. CB Insights defines enterprise blockchain as a blockchain designed to improve business efficiency and reduce back-office expenses.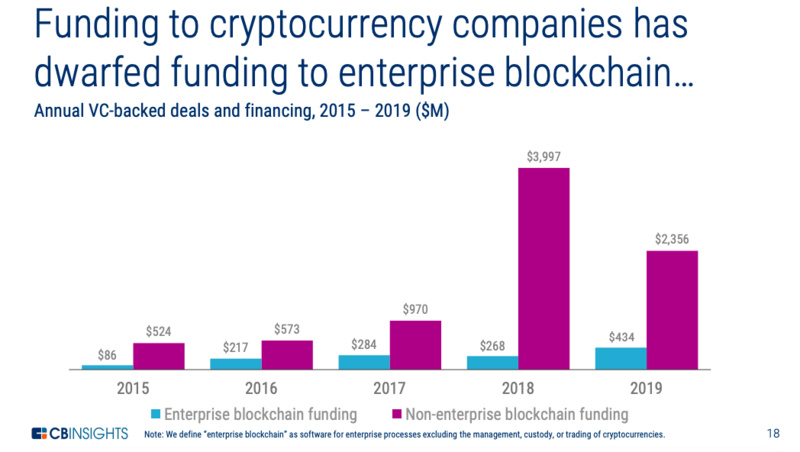 2019 is no exception. In 2019, enterprise blockchains only raised $ 434 million from venture capital firms, while decentralized crypto products and infrastructure projects raised nearly $ 2.4 billion. CB Insights highlights payment service provider Celo and mining management company Bison Trails as big winners in the field of crypto infrastructure and protocol development.
Government progress in the field of blockchain
Globally, CB Insights reports that central banks are increasingly interested in developing their own digital currencies. China is in a leading position and is expected to launch its digital currency in 2020, while France, Turkey and the Bahamas have or will soon launch their own pilot projects.
The R & D of central bank digital currencies in other countries is at different stages. Compared with China, the main competitor, the United States is not as eager.
At a December 2019 meeting of the U.S. House of Representatives Committee, Treasury Secretary Steven Mnuchin said:
"… (Fed) Chairman Powell and I have discussed this in detail-we all agree that in the near future, in the next five years, we don't think the Fed will need to issue digital currencies."
But economists and others believe that if they want to ensure that the dollar remains the world's reserve currency, the United States must accelerate its pace.
Is the ICO gone forever?
ICOs may be outdated, with less than 5% of financing in 2018, but will they really disappear forever?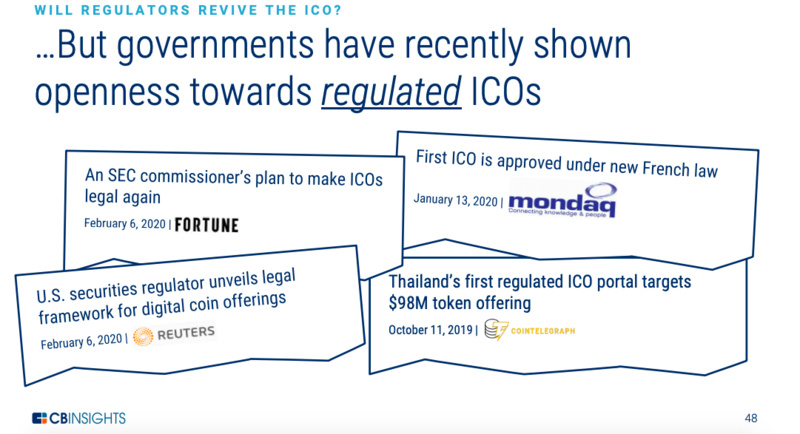 CB Insights has found hope that France and Thailand 's small fundraising activities under new government regulations and the latest progress in the legal framework being developed by the United States have indicated that governments have recently been open to regulated ICOs.
The report states that this development may be driven by the continued development of blockchain monitoring services, such as Chainalysis, Elliptic, and CipherTrace, which raised more than $ 68 million in 2019.