Original author: Mitchell Moos
Translator: Nin Yin Si Tang
Editor's Note: The original title was "How much money is God V? 》
Summary
-The cryptocurrency held by Vitalik Buterin constitutes a large part of its wealth and is valued at approximately $ 82 million at today's prices;
-Vitalik Buterin also holds a large amount of cash, estimated at $ 12 million; in addition, his annual salary is between $ 140,000 and $ 250,000;
-Vitalik Buterin also owns two multi-million dollar startups Clearmatics and StarkWare. The exact value of these investments is unclear.
Vitalik Buterin (known as V God) is one of the most influential figures in the crypto world. As the co-founder of Ethereum, he has accumulated a lot of wealth. We have estimated its net assets.
Before the creation of Ethereum, Buterin was not wealthy. His first fortune was in 2014. That year, Buterin, 20, received a $ 100,000 Thiel Fellowship, but then dropped out of school. Since then, he has begun the road to wealth accumulation.
Note: Thiel Fellowship is a scholarship created by Peter Thiel through the Thiel Foundation. It was originally named "20 under 20" and was founded in 2011. The scholarship is designed to provide a total of $ 100,000 in funding for students under the age of 23 (20 years old) and provide entrepreneurial guidance and other resources. These students must all drop out of college and perform other jobs that may involve scientific research. The project selects about 20-25 researchers each year with an admission rate of less than 1%. Peter Thiel is an investor and entrepreneur who founded PayPal with Iron Man Musk and was the first to invest in Facebook.
Ethereum crowdfunding began in July 2014, when $ 18.3 million worth of Bitcoin was raised. Since then, Buterin has been able to get a six-figure salary from the Ethereum Foundation.
However, his main wealth comes from ETH distributed by Pre-mine. This is slightly less than 12 million ETH for the foundation and its founders, and currently accounts for about 11% of the circulating supply.
Note: Pre-mine (Genesis before mining): When ETH was initially issued, the price was anchored to Bitcoin, and it was sold at 1 BTC (Bitcoin Units) = 1337 ~ 2000 ETH. From July to August 2014, Raised approximately 72 million ETH. These coins are called "pre-mine". 0.099X (X is the total sales amount) will be allocated to financing and other early contributors involved in the development, and another 0.099X will be allocated to the R & D staff of long-term research projects. After the crowdfunding phase, the annual output of ETH is 72 million * 25%.
Although God V did not disclose his financial situation publicly, his wallet address and public statement are enough for us to make similar estimates.
Cital currency held by Vitalik Buterin
Looking at Buterin's main wallet address, he can see that he owns about 352,000 ETH and is currently worth $ 46 million. His three major wallets also hold ERC-20 tokens worth over $ 900,000.
These ERC-20 tokens include Augur (REP), Maker (MKR), Kyber Network (KNC), and OmiseGO (OMG).
However, in February last year, he also stated that the value of BTC, BCH, Zcash and Dogecoin he held exceeded "10% of the value of ETH I hold."
Crypto Briefing calculated Ethereum held by Buterin on the day of the statement. Although he did not specify the specific investment amount of each ERC-20 token, for simplicity, we allocated an average of 15% of the ETH value to each token, and adjusted it based on historical prices.
Adjusting its ETH holding back to the level of February 2019, the cryptocurrencies held by Buterin are roughly: 2000 BTC, 58000 BCH, 140,000 ZEC, and 3.6 million DOGE.
Assuming he holds all of these cryptocurrencies, at current prices, this will account for 37% of Buterin's portfolio, or about $ 35 million.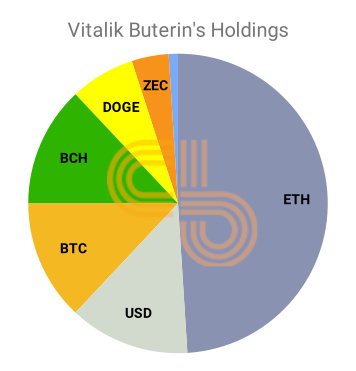 Since then, the prices of these cryptocurrencies have fluctuated significantly as the market moved. At its peak in early 2018, Buterin's cryptocurrency portfolio was worth more than $ 500 million.
Today, Buterin's cryptocurrency portfolio is valued at approximately $ 82 million and is composed primarily of Ethereum, Bitcoin, Bitcoin Cash, DOGE, and Zcash.
What is the salary of Vitalik Buterin?
In addition to holding cryptocurrencies, Buterin also revealed that he received a 6-figure salary from the Ethereum Foundation. The last time he commented on his salary, he revealed that his annual income was about $ 144,000.
Although this may seem high to some, Buterin claims that he would have been able to earn a higher salary but did not accept it. "The rest of the foundation (that is, the members who actually decided these salaries) offered me a salary of $ 185,000, but I refused." That said, the pay seemed relatively low.
Buterin's current salary is between $ 140,000 and $ 250,000.
Cash and equity held by Vitalik Buterin
Buterin's wealth doesn't stop there. In addition to cryptocurrencies, he also holds a significant portion of cash. In March 2019, in a tweet that has now been deleted, Buterin stated that he held "fiat currencies well below $ 30 million", which was related to the $ 8 million charity donation disclosed by Buterin.
From Buterin's other financial situation, Crypto Briefing estimates his fiat currency assets to be $ 12 million, bringing his net worth to $ 94 million.
But that's not all Buterin's wealth-he also owns "important company shares" in Clearmatics and Starkware. Clearmatics is a London-based company focused on designing protocols for DeFi; StarkWare is using zero-knowledge proofs to build privacy software.
Buterer did not disclose the specific amount of investment, nor did he disclose his shareholding in each startup. According to Crunchbase, Clearmatics has raised $ 13 million to date, and StarkWare has raised $ 36 million.
Integrating Vitalik Buterin's cryptocurrency, cash and equity information, it can be seen that his net assets are about $ 100 million.
This article is translated from https://cryptobriefing.com/how-rich-is-vitalik-buterin/ .