Text: Interchain Pulse
On March 27, Zhongqingbao (300052) released the "2019 Annual Report", which referred to the "blockchain" 8 times in the full text, 4 times as the backing of cloud computing, 4 times related to a related transaction, but not once. Appearing in the company's strategy or core business, the blockchain business is the existence of "cutaways."
However, in the past two years, Qingbao's promotion of the blockchain business has blossomed. The company has announced that it has involved blockchain mining, digital currency, games, traceability, government affairs, research, and intelligent manufacturing. Together, they have created a blockchain industry ecology. Zhongqingbao is also regarded by the market as the leader of the blockchain and is sought after by capital.
On the one hand, the understatement of the annual report, on the other hand, it has repeatedly been released in the capital market. What is the true face of Zhongqingbao's blockchain business?
Nonsense business logic
At the beginning of 2018, the concept of blockchain was hyped up, and the stock prices of related stocks soared. On January 11, Zhongqingbao disclosed on the investor interaction platform, "The digital currency mining machine independently developed by the company's controlling shareholder, Baode Technology, is already on sale; Proton Internet, a wholly-owned subsidiary of the company, plans to use the remaining bandwidth and computing power. Combined with Baode Technology's mining machine to form a shared cloud pool, engaged in digital currency mining in the form of self-use or lease. The shared cloud pool business will be launched in the near future. In terms of game innovation, the company's organizational team is based on blockchain technology. Establish a more transparent, fair, and unchangeable game mechanism for the game's winning and losing probability, and create a good game environment. Such games will be released overseas by wholly-owned subsidiaries in the near future.
As soon as this news came out, on January 12, Zhongqingbao's stock price quickly pulled an daily limit, and the second trading day continued to rise 4.05% on January 15.
This surge has caught the attention of investors and regulators.
On January 17, 2018, Zhongqingbao announced that the digital currency mining machine produced by Baode Technology was mainly used for mining digital currency, and currently has no relationship with the company's main game industry and cloud computing business.
As a result, Zhongqingbao's first blockchain project ended here, and there is no more.
However, the window for Zhongqingbao to use blockchain technology to bless its game business is still open. In the announcement on January 17, that year, "For the development of blockchain game products, it is based on the company's original chess and card games to add blockchain technology algorithms to create a new type of blockchain chess and card games. The expected development time is Released in Southeast Asia for 3-6 months, this type of game is still in the exploration stage. "
On March 27 of the same year, at the Zhongqingbao Shareholders' Meeting, Wen Yi, secretary of the board of directors and deputy general manager, stated that the company is conducting a study on the combination of blockchain and games. The stage is still a strategic judgment.
In the week of March 27, Zhongqingbao rose for a week.
However, at the time when the game mentioned above had to be delivered, Zhongqingbao did not deliver it, but according to the information disclosed by Zhongqingbao later, on August 30, 2018, Zhongqingbao's subsidiary Proton Internet and Shenzhen counterparts helped Heyuan The headquarters signed a "blockchain + product traceability chain" system license contract with a contract value of 400,000 yuan. The system was launched two months later. In December of the same year, Shenzhen counterpart Fufu Heyuan Command entrusted Proton Internet to develop the "Blockchain + Capital Supervision Chain" and "Blockchain + Industrial Project Management Chain" systems. The contract amount was 450,000 yuan.
From the mining of blockchain 1.0, to games of 2.0, to the application of 3.0, Zhongqingbao has caught up.
But how exactly do these two projects work? Interlink Pulse could not find any information, saying that its "three nothings" project was not excessive. "Nothing": No technical introduction. Exactly what kind of blockchain system is used, it is unknown whether the nodes are credible and whether the data collection technology is credible; "Two None": No blockchain browser. Therefore, we cannot see the data of the blockchain operation, how many businesses are on the chain, and how many transactions are generated;
In spite of the "three noes", Zhongqingbao is still regarded as the leader of the blockchain, catching up several times in 2019, with daily limit for three consecutive days since September 16, with a cumulative increase of 43% in a single week. The share price doubled from August 15 to September 24.
Just like mining and games, Proton Internet and Heyuan's cooperation is gone.
External cooperation is gone, internal cooperation is possible. On December 12, 2019, Proton Internet and Doujiu Winery signed a "Blockchain + Smart Winery Project Software Development Contract" for the "Blockchain + Smart Winery" project. Dou Jiu Wine Industry has paid for software services of RMB 4 million. Dou Jiu Liquor is a company of Li Qingjie, the actual controller of Zhongqingbao. However, this cooperation did not disclose what role the blockchain plays in the smart winery. But no matter what, Zhong Qingbao's story of blockchain can continue to be told.
Observing the blockchain business that Zhongqingbao is involved in, it seems that they have fallen from the sky. There is no connection between them. There is no inheritance of technology. There is no replication of products. There is no operation of the following.
Zhongqingbao disclosed the list of blockchain business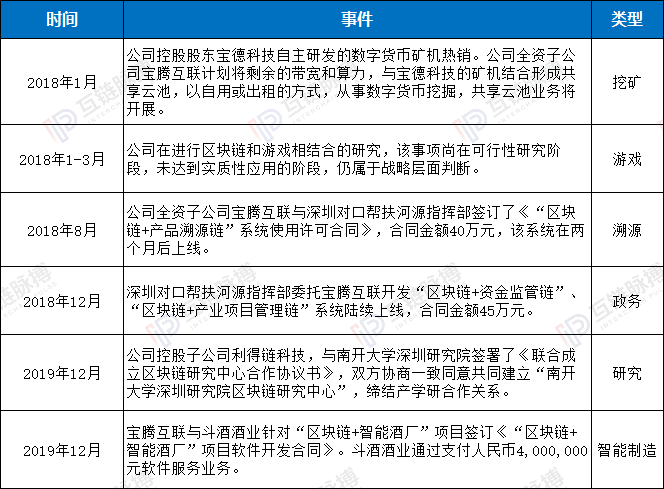 (Tabulation: interlink pulse)
The purpose behind
It is worth noting that the related party transactions between Zhongqingbao and Doujiu are based on the needs of their respective entities?
As we all know, after continuous trial and error, the blockchain has started to produce actual value in some areas, such as supply chain finance, trade finance, asset securitization, etc. But for most areas, it is still being explored. The "Blockchain + Smart Winery" project to be built by Proton Internet and Doujiu Wine Industry has never seen the ancients before, and I don't know how long it will take until later. For Doujiu wine industry, 4 million yuan is not a small amount.
Shenzhen Baode Group acquired Jinsha Ancient Wine in 2011. At that time, it planned to make Jinsha Ancient Wine become an excellent sauce-type liquor company with sales of more than 2 billion yuan and become a listed company with a scale of 10 billion yuan.
However, the operation of Doujiu wine industry is much lower than expected. According to the data of enterprises, the Doujiu wine industry has continued to lose money since 2015. Its operating income in 2018 was as low as 2.21 million yuan, and its net profit was -2.6 million yuan.
However, according to the disclosure of Zhongqingbao, the net profit in 2018 was 12,998,800 yuan, and the first three quarters of 2019 were 12,24,900 yuan.
Even if calculated according to the data disclosed by Zhongqingbao, the 4 million yuan paid by Doujiu Wine Industry to Baode Internet is equivalent to one-third of the company's 2018 profit. For a project with unclear earnings and no one has verified it, it is doubtful that the wine industry is so famous.
(Data source: Announcement of listed companies by companies)
But for Zhongqingbao, it is good. From the layout of the blockchain in January 2018 to December 2019, nearly two years, the contract revenue of Zhongqingbao Blockchain was only 850,000 yuan, but if the wine and liquor industry paid, Zhongqingbao Blockchain revenue would immediately increase. 370%.
At least after this news was announced, Zhongqingbao's stock price began to rebound again, from 14.29 yuan closed on December 12, 2019, rose to a high of 17.75 yuan on December 25, an increase of 24.2%.
Some financial data of Zhongqingbao
(Source: Zhongqingbao Annual Report)
According to data disclosed on March 27, Zhongqingbao's annual report, its net profit after deducting non-operating profits and losses was only 18.988 million yuan, a 93.22% decrease from 2018. Most of its revenue and profit growth comes from non-operating businesses such as investment, and it is not sustainable.
The impact of Zhongqingbao's non-operating business on profits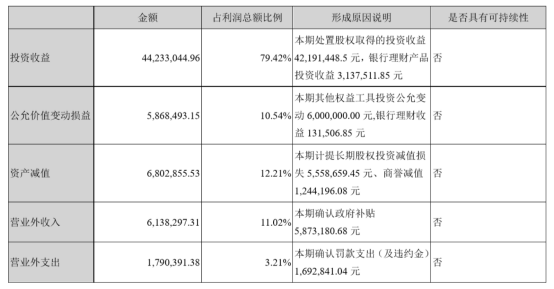 (Source: Zhongqingbao Annual Report)
The main profit has converged, and the non-operating profit is unsustainable, but the stock price of Zhongqingbao has increased by 50% in the whole year of 2019, and the market has doubled in the middle.
However, in the past year, the actual controller Li Ruijie and Shenzhen Baode Investment and Baode Group under its control continued to reduce their holdings.
(Source: Zhongqingbao Annual Report)
This article is the original [Interlink Pulse], please indicate the source when reprinted!