Edit | Wen Dao
Before the end of the small holiday, Bitcoin broke through $ 7,000, which was the price at the beginning of this year.

After "3 · 12" BTC was cut back and back, the $ 7,000 was a big boost for the market. Statistics show that the large-scale BTC transaction volume contributed to this breakthrough.

At the CME Group where institutional investors gather, BTC futures trading volume has increased nearly three times in a day. The trading volume at the 100,000 USD level has also surged in the last week, increasing by 2.55 billion USD in 5 days. However, from the perspective of the transaction price of funds selected at this level, less than 7,000 US dollars dominates.

Analysts also value this breakthrough. They believe that if Bitcoin can turn the $ 7,000 resistance level into a support level, there will be enough momentum to continue to break through. Bears are still not to be underestimated.

Large-scale transactions increased by US $ 2.55 billion in 5 days

After oscillating at around $ 6,000 for half a month, Bitcoin finally broke through $ 7,000 again on April 6.

At 2:00 pm on April 6th, Beijing time, OKEx showed that BTC stood at US $ 7005, and the price fell back to US $ 6957 after 45 minutes. However, it maintained an upward trend and pushed the 24-hour high price to US $ 7164.

Cryptoslate 's analysts excluded common traders from pushing up prices based on Bitmex 's closing data. "On April 2, Bitmex 's open positions actually decreased, indicating that traders are not in this short-term rebound. The promoter behind. "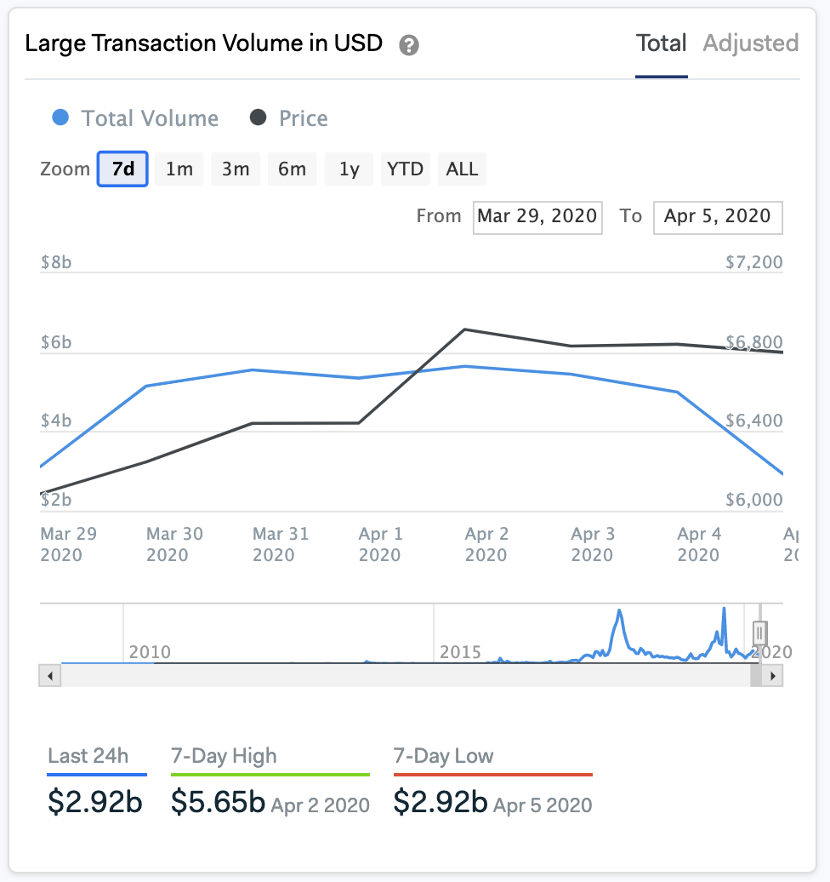 100,000 USD BTC trading volume surged in 5 days
BTC large-amount transaction data is often an observation indicator of the entry and exit of large funds. The data and analysis platform IntoTheBlock shows that the number of large BTC transactions defined as transactions worth more than $ 100,000 has soared from a low of $ 3.1 billion on March 29 to a high of $ 5.55 billion on April 2. March 29 is also the fourth time BTC has fallen to around $ 6,000 after entering March.

The identity of traders with large amounts of funds is often directed to institutional investors. Compared with Bitmex, which is a gathering of retail traders in the currency circle, the BTC futures trading market that attracts institutional traders is more concentrated on such traditional platforms as the Chicago Mercantile Exchange (CME).

CME's recent BTC futures trading volume has also increased significantly. According to Skew data, on April 1, CME's BTC futures trading volume was 88 million US dollars; the next day, this data soared to 347 million US dollars.

Due to the high entry barrier for CME futures trading, only qualified investors and institutional investors can enter the market. Therefore, the increase in BTC futures trading volume on CME also shows that this round of BTC upward breakthrough is more likely to be driven by institutional funds.

People in the traditional financial sector have also considered including BTC in asset allocation.

Raoul Pal, a former head of Goldman Sachs' equity derivatives business, said in a recent podcast show that he is transferring part of his wealth to Bitcoin. This consideration is based on the impact of the new coronavirus pneumonia on multiple economic sectors. He said that among the available net liquid funds, the allocation of funds in the next 12 months or more may be 25% bitcoin, 25% gold, 25% cash and 25% trading opportunities.

The market is still in extreme panic shorts have not disappeared
After the collapse of the currency market on March 12, BTC's return to the $ 7,000 price mark will indeed boost market confidence. However, some analysts have warned that the downward trend still needs to be watched.
Cointelegraph analyst Keith Wareing believes that although the price is struggling to break through the key resistance of $ 7,200, it can still be seen that this breakthrough has been rejected, "I can definitely believe that Bitcoin has returned to the second half of 2019. Forming a descending channel. "
Wareing said that if Bitcoin cannot break through $ 7,200, the bears may regain control before the much-anticipated halving event. "This will allow $ 5,500 such as cheap corn to reproduce the key price before the menu."
Large capital transactions are concentrated in the price range below $ 7,000
If you also look at the trading volume of large funds, the day of the "3 · 12" plunge was also the day when BTC traded at the 100,000 USD level since March, reaching 13.03 billion USD. This year, the highest point of this level of transaction volume was 14.08 billion US dollars, which occurred on February 7, the price of BTC was 9700 US dollars. Since March 12, the BTC trading volume of large funds has occurred below 7000 USD.
The data observed by analyst Michaëlvan de Poppe also shows that BTC enthusiasts on social media still expect BTC to fall back to $ 6,400 before $ 7,600.
The analyst stated on April 5 that if the area between $ 6,966 and $ 7,217 can become a solid support, this will be a key factor in changing his original bearish position.
Wareing also values ​​the support near $ 7,000. "Bitcoin needs to convert the resistance of 7K to support. From here, $ 8200 will look like the next level of resistance."
The Alternative display of the statistical panic and greed index shows that on April 6, the index 12 was the same as the previous day, and the degree of panic was still "extreme panic." The power of bears should not be underestimated.
When buying and selling BTC, do you have the experience of "eating meat" with Zhuang?