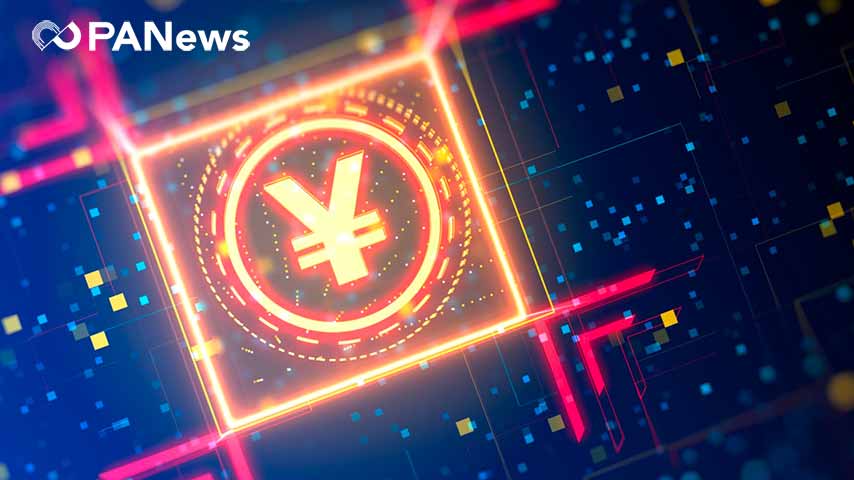 Article | Li Zheong Edit | Tong Source | PANews
As last Friday (April 3), the central bank held a meeting to mention the strengthening of top-level design again, and unswervingly promote the research and development of legal digital currency. After the holiday opened today (April 7), the digital currency sector opened multiple shares across the board. Daily limit, up to 7.81% as of the close.
Huachuang Securities pointed out that the central bank's digital currency may be launched after the epidemic. The digital currency pilot is expected to take the lead among the five major banks. Digital currency will bring new systems to the bank. In addition, it includes the bank's core system, database, and ATM machine. The banking software and hardware inside are facing transformation, there is also a need to replace personal mobile phones and other terminals and POS machines, and the issuance of digital currency will also promote the promotion of electronic bills. In addition, encryption technology will continue throughout the entire industry chain.
The Global Times overseas edition also recently quoted sources as saying that the People's Bank of China may have cooperated with some private companies to complete the basic functional development of sovereign digital currencies, and is currently drafting relevant regulations to pave the way for subsequent issuance.
PANews learned through the "patent search and analysis platform" of the State Intellectual Property Office that as of press time, the People 's Bank Digital Currency Research Institute of the Central Bank has obtained 76 digital currency related patents. If the patents currently under review are counted, the firm holds There are up to 86 patents related to digital currency.
It is particularly noteworthy that since December 2019, the Institute has successively announced "a digital currency quota recovery method and system", "a digital currency quota delivery method and system", "a digital currency circulation Four patents: "Method and System" and "A Digital Currency Generation Method and System". Since the Central Bank of China's digital currency (hereinafter referred to as CBDC) is a "two-tier delivery system", from the perspective of the role of the central bank's "one-tier issuance", DCEP's technical level preparations for issuance may be ready.
However, the successful birth of the central bank's cryptocurrency not only requires continuous efforts at the level of the central bank, but also the support of the supporting issuance, release, circulation and other link institutions is indispensable.
PANews noticed by querying the "Patent Search and Analysis Platform" that Alipay and ICBC had many patents in CBDC in the past two years, which constituted the main force to help DCEP come out. The three major telecom operators, other state-owned big banks, and WeChat previously reported by the media did not have any directly related patent disclosures on DCEP.
According to public information, PANews sorted out the status quo of preparations made by third-party institutions on the advent of the central bank's digital currency.

Patent evolution: Institute leads, ICBC speeds up
Judging from public information, China's DCEP accelerated significantly after the Libra white paper came out last June. After nearly a year and a half of "silence", the DCEP Institute restarted patent application in August 2019. In the same month, Forbes reported that China's DCEP will be released as early as the Double 11 Shopping Festival that year, and confirmed that several institutions, including Alipay, WeChat Pay, and the four major banks and three major operators, will participate in the central bank's cryptocurrency for the first time. Release.
However, in December of the same year, Finance reported that the institutions involved in the pilot of the central bank's multi-currency project were the four major banks plus three major telecommunications operators, and Alipay and WeChat were not among the list.
National-level financial technology products such as Alipay and WeChat Pay are absent from the absence of DCEP's "Genesis Block". The disclosure of Alipay's series of patents after the Spring Festival this year also seems to be preparing for DCEP.
Since February 2020, Alipay has successively announced five DCEP-related patents, covering issuance, transaction records, digital wallets, anonymous transaction support, and assistance functions in monitoring and handling illegal accounts. Basically achieved complete support for DCEP issuance.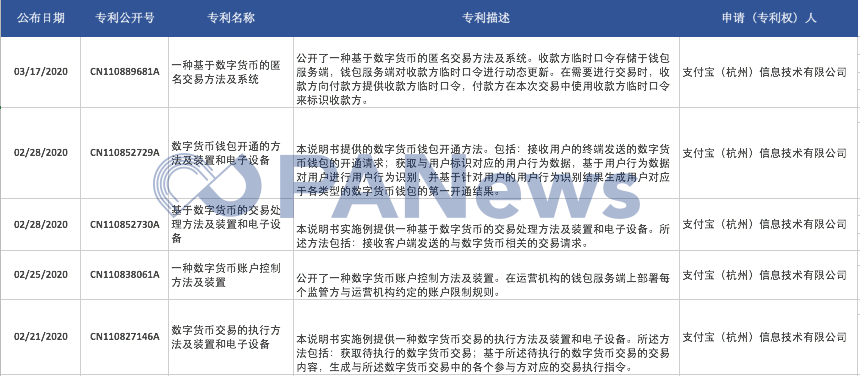 Alipay's patents directly related to DCEP | Source: State Intellectual Property Office, PANews Tabulation
Different from Alipay's "latecomer first" posture, ICBC, as the head of the four major banks, continues to maintain its leading position in DCEP related patents.
China's DCEP has multiple characteristics: M0 attributes, centralized management, forensic, non-repetitive spending, controllable anonymity, non-manufacturability, dual offline payment, etc. If the first few items can be achieved through legislative and operational means or have relatively mature technical solutions, then dual offline payment is a major difficulty-it is difficult to imagine how to complete the collection of both parties in the place without any signal payment?
ICBC announced two sets of patents between 2018 and 2019 to facilitate this feature. "Offline payment method based on digital currency, terminal and agent placement equipment" and "Offline payment system and method based on blockchain", respectively, through non-blockchain and blockchain methods, through payment identification, digital certificate, Key technologies such as asymmetric encryption realize the characteristics of "dual offline payment".
Combined with the patent of the Central Bank Digital Currency Research Institute in this regard (methods and systems for offline payment using digital currency chip cards, mainly using chip cards, such as Bluetooth IC cards, mobile security SD cards, etc.), ICBC relies more on software level The design may have a larger basis for marketing.
In addition, the ICBC's "A Merchant Acquiring Method and System Based on Digital Currency" patent allows merchants to receive users' digital currency even without a digital currency account. From a circulation point of view, this breaks the barrier for DCEP's "wide sinking".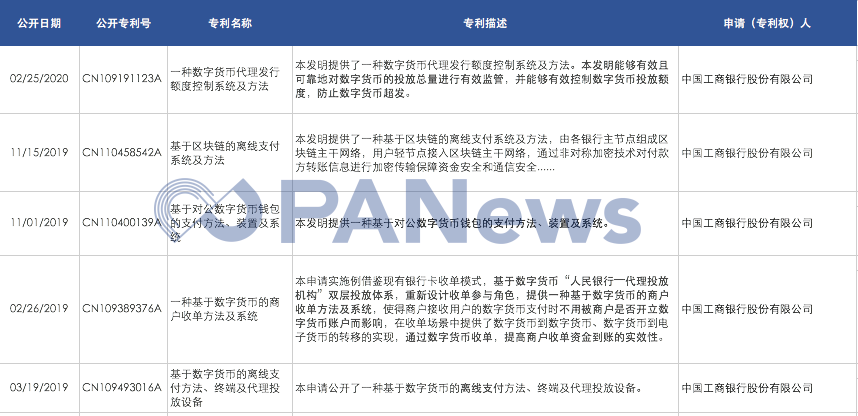 Industrial and Commercial Bank of China patents directly related to CBDC | Source: State Intellectual Property Office, PANews

The central bank counts upstream and downstream, and there are many large enterprises
Although institutions outside Alipay and ICBC have not seen any patents related to DCEP, they have also frequently acted in the blockchain field in recent years, or indirectly contributed to the popularization of DCEP.
Public information shows that CCB launched a blockchain trade finance platform in 2018. As of October 2019, the platform supports more than 360 billion yuan in business; Agricultural Bank has launched a blockchain-based agricultural Internet e-commerce financing system. " "e-chain loan", while actively promoting the construction of financial digital credit system; Bank of China launched the BOCwallet electronic wallet based on distributed ledger technology in 2017.
From 2018 to 2019, China Unicom successively launched "Digital Currency Transaction Optimization Methods and Systems" and "A Digital Currency Transaction Method and System" to conduct research on the opening of digital currency wallets and digital currency transactions.
There will be dozens of companies participating in the upstream and downstream of the central bank's digital currency. Others have been announced one after another. For example, in November 2019, Huawei signed a strategic cooperation agreement with the Central Bank's General Clearing Center and signed a financial agreement with the DCEP Institute. Memorandum of cooperation in scientific research. Changliang Technology stated on February 25 that the company has conducted normalized research and technical reserves for DCEP.
It is worth noting that Sifang Jingchuang, a listed company, once responded to the investor question and answer in November 2019, said that the company has the ability to develop similar businesses of "dual offline payment". According to the "patent search and analysis platform" of the State Intellectual Property Office, the company holds 8 patents related to blockchain, two of which are directly related to digital currencies and wallets.
As more patents are announced, it is believed that the list of companies related to the DCEP industry chain will continue to expand.

Blockchain or non-DCEP promised land?
As China's DCEP is getting closer to its birth, the blockchain that inspired central banks to issue cryptocurrency seems to be slowly being abandoned.
In February this year, the research group of the Central Bank Digital Currency Research Institute issued a "Development and Management of Blockchain Technology", stating that "the decentralized nature of blockchain conflicts with the central bank's centralized management requirements. The payment services provided by the central bank Leaving the centralized account arrangement needs to be built on a centralized system, which conflicts with the decentralized nature of the blockchain. Therefore, it is currently not recommended to transform the traditional payment system based on the blockchain. " Yi Gang, the helm of the central bank, also said at a press conference on September 24 last year that "the central bank's digital currency does not presuppose a technical route."
In other words, blockchain is not a must-have option for DCEP, and other technical routes are also under consideration. ICBC's plan to realize "dual offline payment" through non-blockchain technology is a proof.
Coincidentally with the Bank of China, the Bank of England also published a discussion paper (CBDC: Opportunities, Challenges and Design) in the discussion paper (CBDC: Opportunities, Challenges and Design) released this month.
"Although many CBDCs are associated with distributed ledger technology (the technology used by the blockchain), the UK CBDC does not necessarily have to be based on this, and there is no reason to suggest that centralized institutions cannot construct CBDC."
Relevant media said that this is the first time that the Bank of England has expressed its position or does not adopt blockchain-related technologies since it set foot in CBDC in 2014.
As the two most important central banks in the world, the adjustment of the blockchain's position in CBDC during the same period obviously needs to attract market attention. It remains to be seen what technical route the CBDCs of major countries including China will ultimately take, how they will interact with the upstream and downstream industries, and how they will affect the market.
However, it should be pointed out that no matter whether it is China or the United Kingdom, there is no final conclusion about the positioning of blockchain technology in CBDC.
Yao Qian, director of the China Securities Regulatory Commission's Technology Supervision Bureau and former head of the Central Bank's Digital Currency Research Institute, wrote in "First Financial" today that the current CBDC research and development program has not been able to take advantage of the distributed operations under the central bank's central control. The perspective of distribution is from top to bottom, and the perspective should be adjusted to achieve the goal of "centralized management and control, distributed operation".
Yao Qian pointed out that at present, the central bank digital currency experiment based on blockchain technology in various countries is progressing rapidly, and the content has already covered a wide range of topics such as privacy protection, data security, transaction performance, identity authentication, coupon payment, and payment payment.
There is reason to believe that with the approach of the planned birth date of CBDC in various countries (such as China 's CBDC is expected to be launched in 2020, Sweden 's CBDC is expected to be launched in 2021), and Libra 's maturity, the upstream and downstream cooperation around CBDC The situation will become more intense.