Author | Rohit Chatter jee
Translator |
Produced | Blockchain Base Camp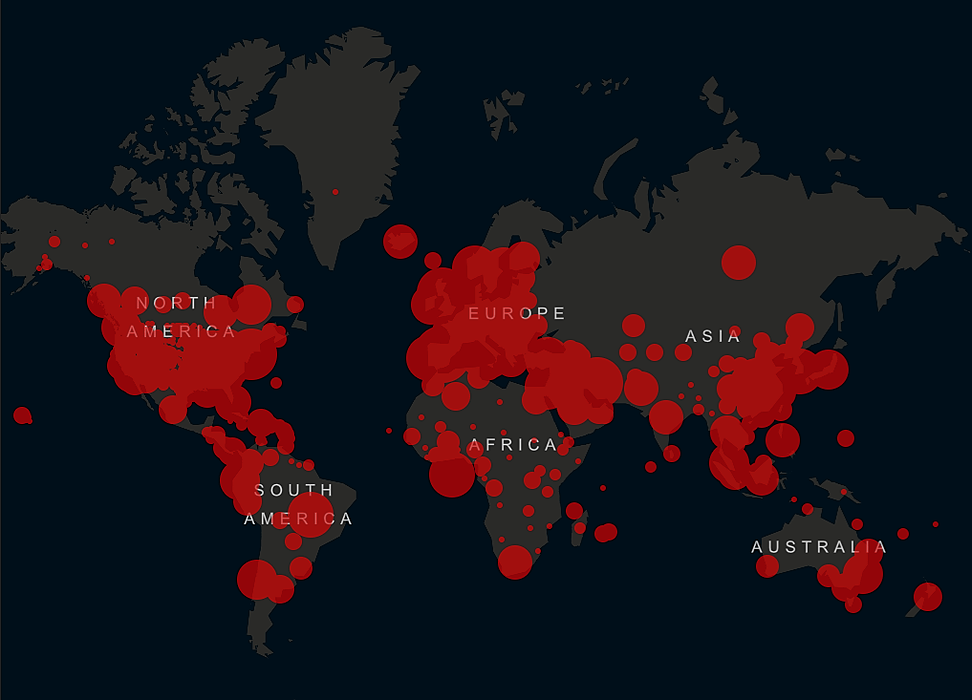 Today, new coronary pneumonia is the most important topic in everyone's mind. Browse our social media updates or check the official website to keep up to date with the latest news about the disease has almost become our second nature. Any discussion or telephone conversation at the dinner table is inseparable from the confusion caused by this disease.
From an endemic flu-like disease, the outbreak of coronavirus has developed into a global crisis. On March 11, the World Health Organization (WHO) announced the pandemic. Two days before the announcement, the Italian government had blocked the country to control the spread of the disease. On March 14, Spain also followed. Recently, on March 25, the entire India was also blocked.
In fact, according to this report, one-third of the world's population is now blocked!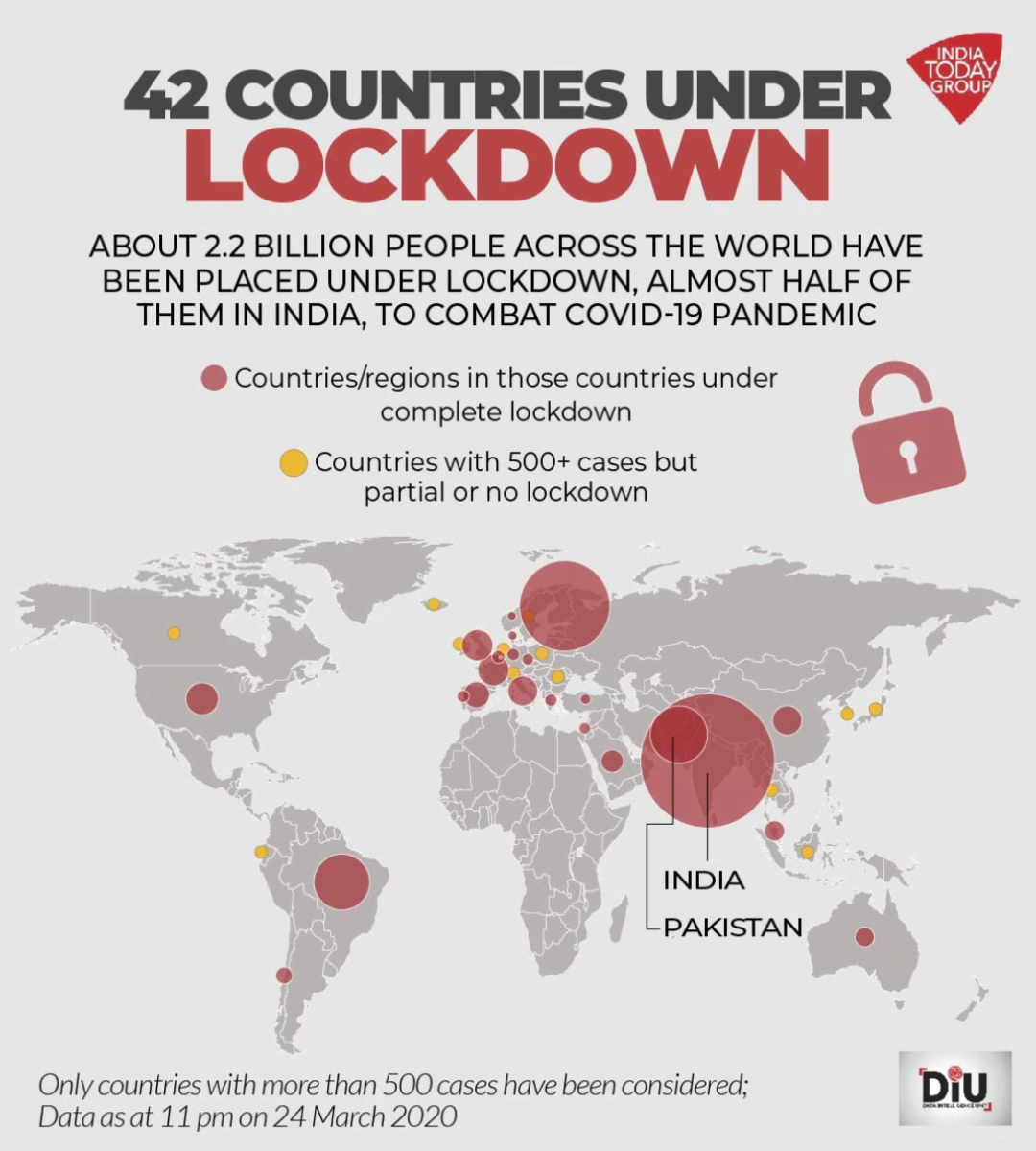 One third of the world is currently blocked, there may be more in the future
Labor costs
The new coronavirus was first discovered in Wuhan on December 31, 2019. The disease has plunged the world into fear and panic. As of 3:30 on April 9, 2020, Beijing time, there were 1500,830 confirmed cases and 87,706 deaths worldwide. The United States has become a new infection center, with more than 420,000 confirmed cases and 14,529 deaths (data (From China Economic Net), and the number is likely to continue to climb.
The initial symptoms of the new coronavirus include cough, fever and shortness of breath. If left untreated, it will soon escalate to pneumonia. At this stage, this involves how strong the personal immune system is. Antibiotics are also useless, and many patients who eventually die from the disease are either in poor health or old age.
Milan 's Duomo Square is usually bustling, but now it 's particularly deserted

Economic chaos
As countries around the world are struggling to control and reduce the losses caused by new coronary pneumonia, the global economy has been hit hard. In the past few weeks, every single market-stocks, precious metals, cryptocurrencies, has fallen sharply.
The Dow Jones Industrial Average, a stock market index that measures the performance of the US stock exchange, fell nearly 20% after a record 11-year bull market.
The price of Bitcoin has plummeted from nearly 10,000 US dollars in mid-February to below 4,000 US dollars, and is currently trying to maintain the 6,000 US dollar mark. Oil prices have fallen to multi-year lows. Even gold prices, which have always been regarded as safe havens by investors, have shown signs of falling.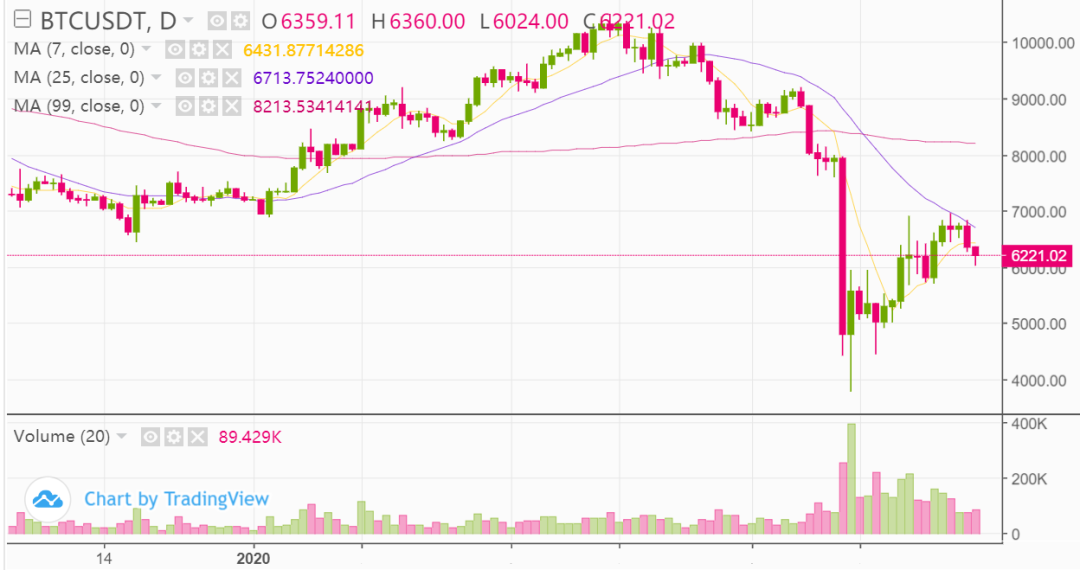 Bitcoin has depreciated nearly 40% in the past few weeks
As part of preventive measures, countries have imposed international travel restrictions on their citizens and banned foreign visitors. In addition, as countries enter the blockade mode, domestic air travel has also suffered greatly. The global aviation industry is expected to lose $ 29 billion.
Global manufacturing has also slowed down. Since February, China's manufacturing and service industries are in trouble. This has inevitably had a knock-on effect on countries with close economic ties to this Asian giant, and when other countries have also spread the virus, they have also caused problems such as local logistics and supply chain interruptions. Workers are required to stay at home. Many factories have been temporarily closed.
While countries are strengthening their medical facilities and resources, they are facing not only medical and humanitarian crises, but also economic crises.
The International Monetary Fund (IMF) was forced to reduce its 2020 global economic growth forecast from 3.3% to 2.9%. Experts worry that the global economic recession is coming.

Medical warrior
Doctors, researchers, medical engineers and healthcare professionals around the world work day and night, not only to find an effective vaccine, but also to develop effective testing, testing and isolation methods for large populations with limited resources. Their efforts have achieved some success on their respective battlefields, but the globally accepted cure seems to have a long way to go.
When analyzing data related to this crisis, clinicians, scientists, and researchers complain about the lack of integration of proven data sources. Although there are reliable sources of information (such as the Centers for Disease Control (CDC) and WHO), due to the bureaucratic red tape, most of the data exchanged between hospitals and governments or private institutions are either inconsistent or difficult to share.
A global disaster such as New Coronary Pneumonia requires the joint efforts of decentralized teams that span latitude and longitude.
Real-time data must be shared between all continents in a fast and reliable manner so that the team can independently verify the information and plan ahead in an organized manner.

Blockchain joins the battle
WHO has identified the blockchain as the technology option for building this "COVID-19 information highway". To make it easier for people to see if they have been in contact with anyone infected with the new coronavirus COVID-19, the World Health Organization (WHO) has partnered with technology giants IBM, Oracle, Microsoft and decentralized platform Hacera to create an open data zone Block chain center.
MiPasa was developed on HyperLedger Fabric, using the IBM blockchain platform and IBM Cloud. Industry giants such as IBM, Oracle, and Microsoft, as well as Johns Hopkins University, the European Center for Disease Control and Prevention, the US Centers for Disease Control and Prevention, and the Chinese Center for Disease Control and Prevention have joined the plan.

MiPasa-COVID-19 Information Highway
MiPasa is designed as a global control and communication system that will help to quickly and accurately identify new coronavirus carriers and infection hot spots. This will be achieved through the use of advanced technical tools and dedicated user applications to seamlessly and completely privately share information among individuals, state governments, and health agencies.
MiPasa has been designed as a global control and communication system that will help to quickly and accurately detect new coronavirus carriers and infection hot spots. This will be achieved through the seamless and completely private information sharing between individuals, national authorities and health institutions using advanced technical tools and dedicated user applications.
According to the website, "MiPasa can help monitor and predict local and global epidemiological trends, and discover possible asymptomatic carriers by providing big data on infection paths and occurrences to powerful artificial intelligence processing programs around the world."
MiPasa is using data analysis and privacy tools, which were previously only available to elite financial institutions. The public will be able to report inconsistent or bad data, thus providing public health officials with a seamless way to analyze and respond to public sentiment.
This will greatly simplify the collection, collation and research of information on the spread and containment of the epidemic. MiPasa hopes that this will help public health officials, the scientific community, and the general public to respond more effectively to the ongoing new coronavirus pandemic.
MiPasa also builds a map of patients with new coronary pneumonia through a private self-reporting function, which will enable individuals to upload data about the time and exact location of infection in a cautious manner. This data will enable users to check whether they have been in contact with any infected person without revealing any personal information.
Public health officials can use these map data to calculate exposure risks, help hospitals prioritize resource allocation, and let individuals know if they really need to be tested. MiPasa will soon launch a series of publicly accessible analysis tools.
to sum up
Without using blockchain, people are also trying to create a database to track the spread of new coronary pneumonia. The European Commission has always relied on European telecommunications companies to share their customers 'aggregate location data to analyze how contacts move and analyze the risk of infection.
India is also developing an application that will use the location data of the user and Bluetooth to determine whether the user is close to the person infected by the virus. The downside is that in both cases, personal location data must be required, leading to privacy concerns.
On the other hand, the blockchain is circumvented in nature and keeps the user's identity secret. It has been deployed to help fight new coronary pneumonia. The UAE Ministry of Community Development (MOCD) uses DLT-based tools to authenticate and publish official documents so that customers can interact with MOCD from a secure home.
China also uses blockchain technology in many applications, such as tracking the spread of disease, medical records, and the distribution of medical supplies. However, these are local applications and have limited scope.
MiPasa is much broader in scope because it is intended for researchers, government officials, health personnel, and even the general public worldwide. It promises to release the full power of blockchain technology. It is hoped that more institutions will join this cause and turn MiPasa into a game-changer in the battle against new coronary pneumonia.
Note: The author does not receive any interest in MiPasa or any related institutions or companies.
Original: https://hackernoon.com/the-war-against-covid-19-where-we-stand-and-how-blockchain-could-help-us-u43v32r6
This article is a CSDN translation, please reprint the source.