Source: LongHash
Editor's Note: The original title was "This year," Bitcoin has halved Google search volume ")
According to multiple estimates of mining factors, a new round of block reward halving will occur in Bitcoin after about 35 days. As a result, the original 12.5 BTC reward for each bitcoin block mining will be reduced to 6.25 BTC, and its inflation rate will be halved accordingly. Some investors believe that this halving will push bitcoin prices higher, because a reduction in supply tends to stimulate price increases.
Now, more and more people are interested in this halving (which is also the third reward halving of Bitcoin). According to data from Google Trends, searches for "halving bitcoin" and "halving" have increased significantly in recent months.
The chart below shows that in the past 12 months, the global search interest for "halving bitcoin" has risen from 19 in April last year to 78 at the beginning of this month, and not long ago reached a peak of around 100 in mid-March.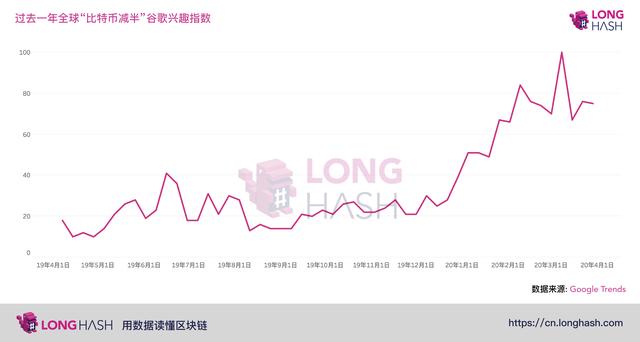 Google's trend report scores the search volume according to the highest point of a given time and region, according to 0-100, and analyzes people's interest in searching for a certain keyword. For example, looking at the data of the United States in the past year, the search volume for "halving Bitcoin" in mid-March reached 100 points, the highest record in the past year. In early April 2020, the keyword search volume was 78 points, a 22% drop from the highest record day.
This growth trend has been visible since December last year. The search volume in December was 22 points, and then rebounded to 85 in mid-February.
This surge in keyword search is related to Bitcoin's rebound from a low of $ 6,400 in December to $ 10,500 in mid-February, indicating that this round of halving speculation is likely to have played a catalytic role. Of course, this relationship broke down afterwards. Affected by the new global pneumonia, panic markets appeared panic, and the bitcoin price collapsed to $ 3800 in March.
However, the data performance is getting better.
According to Google Trends data, the search volume for this keyword is expected to hit a new 12-month high at the end of the week during the week of April 5-11. Detailed data from the US is more interesting. Google expects Americans to halve bitcoin search volume this week to double that of last week.
Charts: Google Trends
Since this week is not over yet, it should be noted that the above chart is only a forecast, as shown by the dotted line at the right end of the chart.
This increase in keyword search volume seems to be related to the recent halving of frequent news reports.
To give two examples, well-known cryptocurrency investors such as Mike Novogratz of Galaxy Digital and Mark Yusko of Morgan Creek Digital mentioned the term "halving" in recent interviews with media such as CNBC and Bloomberg, which may also stimulate everyone to pay attention to this Factor of an event.
Let me tell you another interesting thing, how powerful is this wave of Bitcoin halving publicity? My grandfather, nearly 90 years old, called me and asked me about halving-I wasn't kidding, he asked me what the principle of halving is and how it would affect the price of Bitcoin. Later, I asked him how the elderly knew about it. He said that it appeared in the news, especially some articles of CNBC.
The reason why the halving of Bitcoin has caused heated discussion is also related to the so-called "halving the market"-that is, the impact of halving on the price of Bitcoin.
The effect of halving on Bitcoin prices
The most common claim is that Bitcoin halving will drive prices up: PlanB, an anonymous quantitative analyst in the digital cryptocurrency field, shared a chart in March 2019, pointing out that the scarcity of Bitcoin is related to its value (regarding scarcity, He uses the most intuitive ratio of existing supply to annual inflation rate to display, which is the so-called S2F model, that is, the stock-to-flow ratio.
In fact, PlanB found that according to his logistic regression analysis, the more scarce Bitcoin is, the more exponentially its value increases. For example, the model predicts that after Bitcoin is halved, the fair value of its network will rise to 1 trillion-2 trillion US dollars, that is, the price of 1 BTC will reach 55000-110000 US dollars.
Although many people are beginning to believe in PlanB's model, some people think that the statement that "the output will decrease and the price will soar" is not very reliable.
The famous cryptocurrency analyst and economist Alex Krüger explained in October 2019:
"In the long term, there is a huge loophole in the concept of 'miner block rewards will decrease and Bitcoin prices will rise'."
He attributed his idea to a simple fact: miners also have to eat. In other words, miners have to sell coins to pay for electricity to maintain operations.
However, some people think that this is a gimmick and nothing will happen in the end.
Strix Leviathan, a Seattle-based hedge fund, explained in a recent report that there is currently no definite evidence that the halving event will certainly drive Bitcoin prices higher.
He says:
"Bitcoin's supply plan is its main selling point for cryptocurrency evangelists … Market participants have been expecting to halve since there was only one participant in the circle in 2009. However, previous research by Strix Leviathan has shown that According to market sentiment, the impact of the halving event is not so obvious. "
Regardless of the final result, after the halving occurs, Bitcoin's inflation rate will be 2% lower than the target inflation rate of the US dollar.
LongHash , use data to understand the blockchain .