Source of this article: Caijing.com
Author: LornaQ
HTC announced that it will cooperate with Midas Labs, and its Exodus series of blockchain smart phones will add mobile phone miner function. In this regard, the V god who once tweeted for his platform said that mobile mining is a game of fools.
Recently, HTC International Corporation (HTC) announced that it has cooperated with ASIC chip design company Midas Labs to launch the DeMiner application to its blockchain smartphones Exodus and EXODUS 1S in the second quarter of 2020. Added DeMiner app to mine Monero (XMR).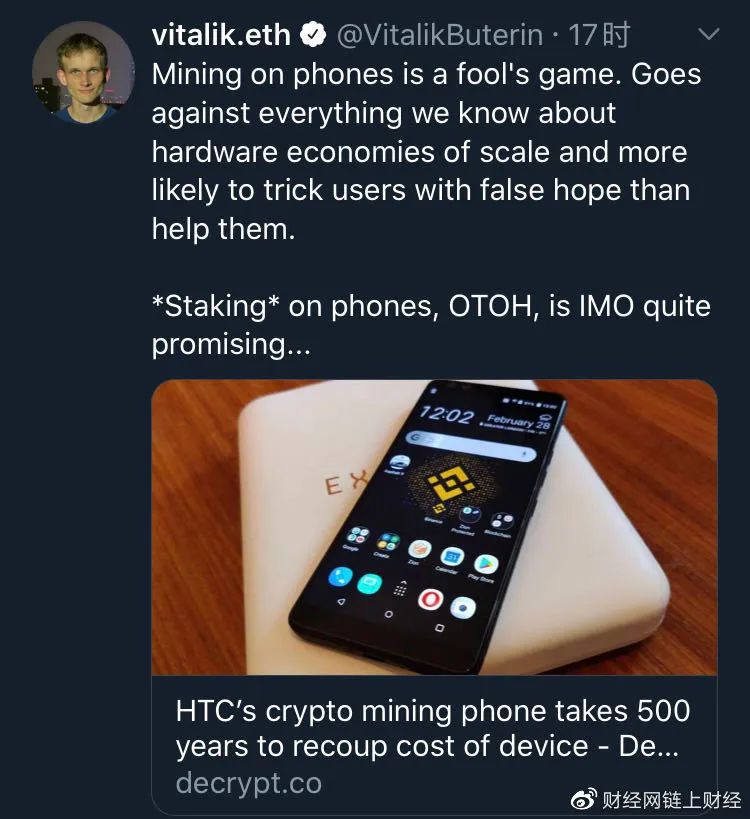 In response to this, Vitalik Buterin, the founder of Ethereum, the platform of Exodus 1 on his blockchain phone, tweeted: "Mobile mining is a game of fools, which is related to the economies of scale built by mining through hardware devices (such as , Mining Bitcoin) runs counter to this. Mobile mining may deceive users through false hopes, rather than help them. "
He explained: "The POW (Proof of Work) operating mechanism requires miners to obtain wealth through labor, that is, there is work, and mobile mining is more like deceiving users to spend money to buy hardware, that is, hardware instead of mining, there is no work. This is contrary to POW. "
Moreover, according to the data provided by Midas Labs, assuming that the price of XMR remains unchanged, users need to "mine" for nearly 500 years to recover the cost of purchasing equipment.
Jri Lee, founder and CEO of Midas Labs, said, "Midas Labs enables EXODUS 1S users to mine at least US $ 0.0038 of XMR per day, while electricity costs are less than 50% of it (ie US $ 0.0019)." $ 1.39, given that the EXODUS1S device is priced at $ 700. Assuming that the price of XMR remains unchanged (53.38 USD / piece), users use the mobile phone to mine without stopping, and it will take nearly 500 years to recover the equipment cost.
Prior to this, both Candy Mobile and Changhong Group had successively launched "mobile phone mining" blockchain mobile phones in 2018, but the response was mediocre. In addition, the efficiency of mining with mobile phones is far inferior to that of specialized integrated circuit miners. There are opinions that whether it is "safe" or "mining", the symbolic significance of HTC's launch of blockchain mobile phones is greater than practical significance. User demand is not high.
As for "security", Douglas Schmidt, vice chairman of the Department of Computer Science and Engineering at Vanderbilt University, once said that it may not be safe for users to store personal information on Exodus phones, and HTC may profit from customer data.
He said: "If HTC can gather a large number of user groups to use blockchain on mobile phones, then HTC may be able to profit from customer profiles. The use of blockchain to obtain user information and sell user data is similar to Facebook or Google. Merchants can better target ads, and HTC can track transactions to gain marketing insights. My guess is that they are trying to establish a private network of HTC customers similar to Venmo, using their devices to obtain special transactions, such as no transaction fees, "
In July 2018, HTC's revenue shrank significantly, down 37% month-on-month and 77% year-on-year, setting the worst revenue record since August 2003. Since then, HTC's transformation of blockchain mobile phones has opened the road to self-help.
At the end of 2018, HTC launched Exodus, the first blockchain mobile phone. According to the HTC financial report, HTC's full-year revenue in 2018 was NT $ 23.7 billion (approximately RMB 5.6 billion), and 2019 HTC's annual revenue was NT $ 10.01 billion (approximately RMB 2.35 billion), year-on-year It fell by 57.8%.