After Bitfinex was "broken grain", the market was polarized: some people cashed in 340 million US dollars, and 700 million dollars wanted to get on the bus.
Event development is often unexpected.
After the court banned Bitfinex from diverting USDT funds to fill its 850 million losses, some users responded by escaping Bitfinex.
Official documents show that since the ban was issued, Bitfinex customers have taken at least 30,000 bitcoins (BTC) and 1 million Ethereum (ETH) with a total market capitalization of more than $340 million.
Interestingly, however, there is no shortage of funds to believe in Bitfinex. Today, Zhao Dong, one of Bitfinex's shareholders, said that Bitfinex IEO currently has a subscription intention of $600-700 million.
The opposite phenomenon seems to indicate that the market's trust in Bitfinex is polarizing.
Was accused of misappropriation by the New York authorities and has been stopped borrowing money from USDT
The incident originated on April 24, and the New York Attorney General's Office filed a petition and related documents about Bitfinex and Tether to the New York State Supreme Court in Manhattan. According to the 23-page lawsuit, Bitfinex and Tether managed to withdraw funds from the Tether Reserve Fund to fill the $850 million in Bitfinex losses. The data shows that at least $700 million of Tether's reserves have been pumped away.
The New York Attorney General's Office issued a press release on the matter, and New York Attorney General Letitia James revealed that he had obtained a court order against iFinex Inc. (Bitfinex parent company) to stop violating New York law and deceiving New York residents.
According to the Wall Street Journal, the court ordered Bitfinex to stop transferring funds from Tether's reserves to Bitfinex's bank account, prohibiting Bitfinex from borrowing from Tether, ending any dividends or other dividends to executives, and handing over documents and information.
Subsequently, Bitfinex issued a statement replied that the court documents of the Attorney General of New York were maliciously written and full of false assertions, including the $850 million "loss" allegedly incurred at Crypto Capital. Instead, we have been told that these encrypted capital amounts have not been lost, but are actually sealed up and protected. The announcement also stated that Bitfinex is working hard to release these funds, and Bitfinex and Tether are in good financial condition.
Later, Bitfinex sent the user an email to re-guarantee their financial situation. Reddit user GooseG17 will post the message, some of which are as follows: "In fact, just before yesterday, we have been fully cooperating with the New York authorities to investigate our business. … The allegations that we 'loss' $ 850 million are absolutely wrong. We are actively working to exercise our rights and remedies to thaw these funds. We are confident that we can provide clear, consistent and convincing arguments for the recovery of these funds. Please be assured that we will do this in the documents of the Office of the Attorney General of New York. The false assertions raise strong questions."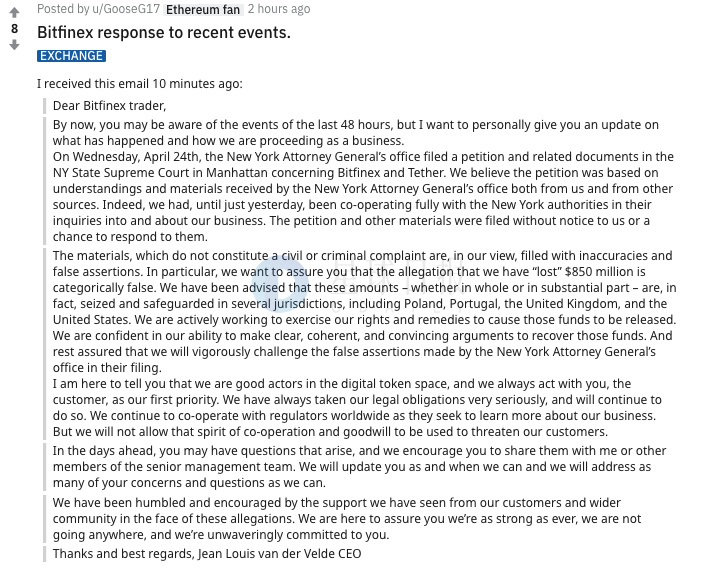 James said that Bitfinex's $850 million fund loss investigation began in 2018, when the company handed over $850 million in customer and corporate funds to Crypto Capital to process customer withdrawal requests. But in the next few months, Crypto Capital failed to successfully dispose of Bitfinex's requests because the funds were frozen in several different banks in Portugal, Poland, and the United States. The reason for the current freeze is not yet clear.
The user is replaced by a hard currency and exits the exchange.
Obviously, from the follow-up reaction, some users do not believe in the financial status of Bitfinex.
Although the USDT has suffered a flashback, it is still strong. On the contrary, Bitfinex's bitcoin and ETH are not calm.
Recently, a lawyer from Bitfinex, a cryptocurrency exchange, published a document saying that since the ban was issued, Bitfinex customers have taken at least 30,000 bitcoins (BTC) and 1 million Ethereum (ETH) with a total market capitalization of more than $340 million. The exchange has a "very large" impact. Within one hour of the April 24 ban, the total market value of dozens of cryptocurrencies evaporated by $10 billion. Several lawyers said the ban would cause great confusion for Bitfinex and USDT issuer Tether, eventually damaging all cryptocurrency market participants that the New York State Attorney General should represent.
It sounds a bit strange, affecting BTC and ETH, not the protagonist USDT.
In this regard, Cryptopotato believes that the best explanation comes from Bloq co-founder Jeff Garzik's previous analysis: "This is an exit purchase. If you want to exit the exchange, when the legal currency withdrawal method begins to expire, people must buy 'hard currency'. – BTC. Therefore, BTC is more expensive on dying exchanges. In the past encryption history, we have seen this data pattern many times, including but not limited to the Mentougou exchange." Cryptopotato article analysis said that Given all the suspicious activity of Bitfinex, any rational investor will be happy to pay a premium to get funding from the exchange.
Bitfinex's Bitcoin price currently has a premium, Bitcoin is trading at Coinbase Pro and Bitstamp for about $5,766, while Bitfinex is trading at $6,100. There is a premium of more than 5%. Due to the high premium of Bitfinex's BTC, the CoinMarketCap website has excluded Bitfinex's BTC price data. After the incident, the bitcoin quotes on the Bitfinex exchange were discounted for the first time since the beginning of the year.
LongHash also said that the price anomaly of Bitfinex may be due to the uncertainty of the solvency of the exchange caused by various inferences in recent media reports, and traders only want to be cautious about the place where they deposit funds.
Civic CEO Vinny Lingham compared this premium to the premium of Mt. Gox that year. Lingham said: "Who remembers the time when Mt. Gox began to form a market premium? It was a wonderful past." It is reported that this "good past" refers to the early period from July 2013 to January 2014. stage. During this time, the Mt. Gox premium was above 10%. Although the price was gratifying during that time, theft occurred later, after which the bear market lasted for a year.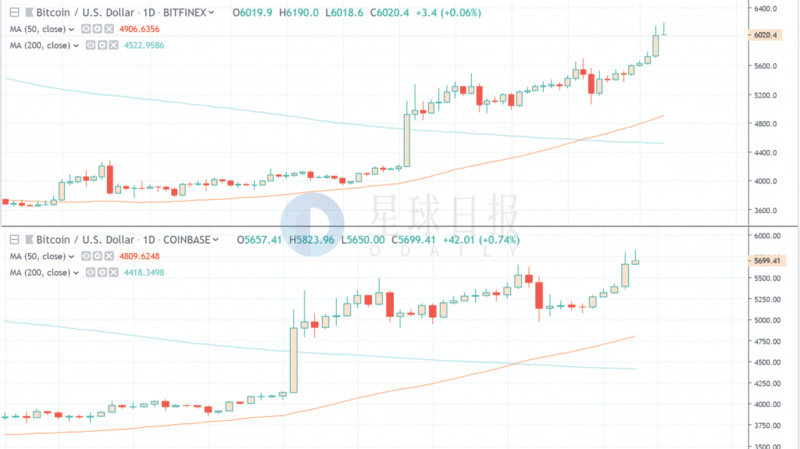 Bloomberg said that if the authorities find evidence of any misconduct at Tether, or if the trader loses confidence in the company's ability to exchange 1 Tether for $1, the USDT may soon lose value.
According to Diar's latest report, Tether is currently a controversial stable currency due to recent negative news, and its reserves have been cut by 26%, barely maintaining its expected dollar peg level. Kraken is one of the only exchanges with USDT / USD trading pairs, and arbitrage opportunities are up to 5% for traders who are willing to set up and exit Tether positions in Kraken.
However, the current price of USDT is still close to $1. According to OpenMarketCap, the USDT price plummeted from $1 to less than $0.97 after the Office of the Attorney General of New York released a preliminary report on its investigations. After May 1st, it almost rose to an anchor price of $1. The current price has once again fallen to the left of $0.99. Previously, TokenInsight analyzed that the negative news of the stable currency caused the USDT to fall the most in the past six months, but the net outflow of OTC only declined slightly.
The other side: the platform financing has exceeded $600 million.
Some users have fled Bitfinex, and some users have bought their platform coins.
After the incident, Bitfinex responded quickly and was preparing to release the platform currency LEO to deal with the crisis. Today, Zhao Dong, one of Bitfinex's shareholders, said that Bitfinex IEO currently has a subscription intention of $600-700 million. But for ordinary investors, each person can only pre-purchase up to $1,000 through everyone. At the same time, he said that he was not sure whether he would make a public offering.
On April 28th, Zhao Dong suggested that Bitfinex release platform currency on Weibo to raise the frozen USD 850 million. On the 30th, the news that Bitfinex will issue the currency was heard. Zhao Dong confirmed this news:
Bitfinex's Token will be a hybrid of BNB and BFX Debt Tokens. In addition to the logic of the reference BNB, Bitfinex will repurchase the token with full thawing funds in the future. A total of 1 billion, a Token of 1 US dollar, has now subscribed for 500 million US dollars. Subsequently, it also revealed that the Token name was LEO.
Soon, on the morning of May 4, this thing became. According to Bitongx shareholder Zhao Dongfa, the name of Token is LEO, and the fundraising accepts USDT instead of BTC and ETH. Subsequently, it posted on the Weibo "Bitfinex IEO White Paper (Draft)" issued to DGroup.
The white paper shows that LEO totals 1 billion, is issued globally, and has a repurchase destruction mechanism. The repurchase cycle is in monthly units, using X% of last month's profit, repurchasing LEO according to the current market price, X is not lower than 27, no deadline limit; "frozen assets are thawed to trigger destruction" and "stolen bitcoin" The return trigger triggers the destruction mode. Two events will trigger the destruction.
In addition, LEO serves as the platform currency for several cryptocurrency exchanges of IFinex. The holders can enjoy the privileges of transaction fees, lending fees, withdrawals and recharge fees. The Bitfinex team does not hold LEOs and allocates them to investors.
However, the sale of LEO is not a public offering, but a private offering. Private placements are only for those who receive the IEO white paper, and public offerings will only take place when private placements are insufficient and there is still a share of tokens remaining. This means that most investors may miss LEO.
Fundstrat co-founder Tom Lee said that I heard that Bitfinex's LEO was oversubscribed… Reconfirming our feelings, Bitfinex has won the trust of customers… and generally praised them. Earlier, for Bitfinex's upcoming $1 billion IEO, he said it could have a short-term negative impact on Bitcoin and other cryptocurrencies because the market needs to absorb the supply. Unless the buyer is a newcomer to the cryptocurrency industry, it doesn't make much sense. The miners sell $7 million a day, so the $1 billion IEO is actually equivalent to the miners selling 142 days of tokens a day.
Text: Heart
Source: Planet Daily
Original article; violation of the law will be investigated.
We will continue to update Blocking; if you have any questions or suggestions, please contact us!
Was this article helpful?
93 out of 132 found this helpful