In April 2019, the number of blockchain application projects disclosed worldwide reached an all-time high.
According to the incomplete statistics of the Inter-Chain Pulse Institute, in April 2019, the number of blockchain application projects in the world reached 92, an increase of 53.3% from March.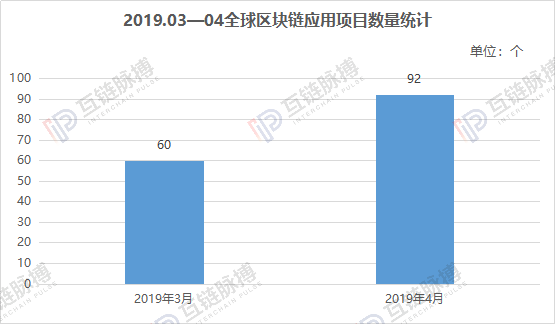 Mapping: Mutual Chain Pulse Research Institute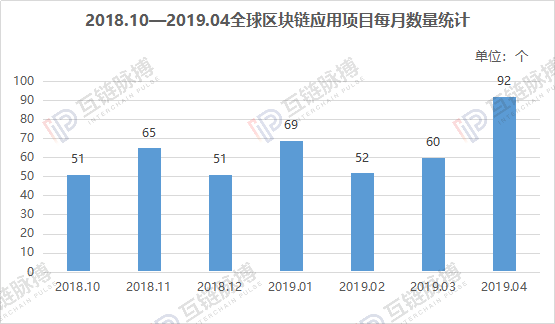 Mapping: Mutual Chain Pulse Research Institute
Among them, the number of disclosures of China's blockchain application projects has grown the fastest. Of the 92 applications disclosed in April, 47 were in China, accounting for 51.08%. Followed by the United States, there are 13 disclosure applications, followed by Thailand and Japan.
In terms of industry distribution, global application projects remain concentrated in government and finance in April. According to statistics from the Mutual Chain Pulse Institute, in April 2019, the number of applications disclosed in the two major areas of government and finance accounted for 22.8% and 21.7% respectively.
In terms of government applications, China has the largest number of projects, and blockchain applications are mainly focused on taxation, justice, notarization, commercial registration and real estate registration.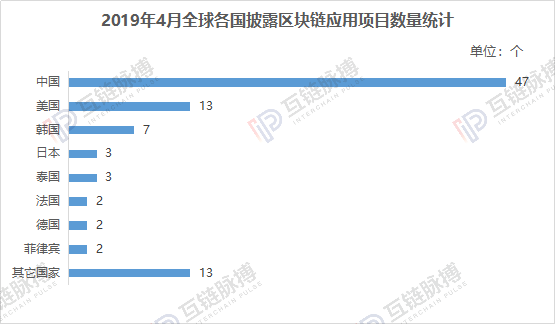 Mapping: Mutual Chain Pulse Research Institute
For example, the "Taxis Assistant" small program created by Shenzhen Public Transportation Administration, Shenzhen Taxation Bureau of the State Administration of Taxation and WeChat Payment will be officially launched, and all block invoices can be issued. The first Internet Court in Beijing adopts "balance chain". The judgment was released, and the Qingdao Arbitration Commission is making every effort to build an Internet arbitration platform based on blockchain technology. In April, Hangzhou Internet Notary Office established the "Hangzhou Internet Notary Public Information Service Platform" and launched the first blockchain. Notary public lottery system.
The application of foreign government affairs is relatively slow, and the application fields are also very scattered, mainly focusing on election voting, vehicle registration and combating tax evasion. For example, the Democratic Party of Korea is considering the operation of blockchain technology to upgrade the voting system of the Democratic Party members platform. The State Administration of Transportation of Bahrain announced the implementation of the blockchain vehicle registration plan, while New York, USA plans to use blockchain technology to track the stamp duty on cigarette packs.
In financial applications, cross-border settlement, cross-border remittances, etc. are popular application scenarios. HSBC, Fujian Branch of Construction Bank, Industrial Bank, Bank of Thailand and other domestic and foreign banks have opened or completed pilot projects for cross-border business based on blockchain technology.
In addition, supply chain finance that solves the financing problems of SMEs is also a hot scene of "blockchain+finance". Zheshang Bank Shanghai Branch operates blockchain technology to solve problems such as registration and confirmation of accounts receivable of private enterprises, helping upstream and downstream enterprises to revitalize accounts receivable and solve the financing problems of private enterprises; and the financial credit book was launched in April. "Accounting through the intelligent supply chain financial platform", through the blockchain multi-level credit penetration, etc., fundamentally solve some of the financing problems of SMEs.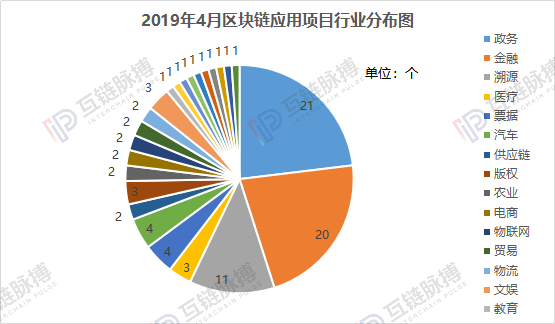 Mapping: Mutual Chain Pulse Research Institute
The traceability field is still the third largest application scenario after government and finance.
In April, there were 11 global blockchain traceability applications, mainly in the food sector. In China, including Chongqing Fuling mustard, Guangxi Luzhou Liubao Tea, Hangzhou West Lake Longjing, etc., the blockchain brand traceability system has been launched; in foreign countries, France, Carrefour, Texas steak chain Fogo de Chao, Royal Dutch Fitz Both Lanzhou and Cambodian rice have been traced back to food safety.
In addition to the above three areas, the number of blockchain applications in the fields of automobiles, copyrights and bills is gradually increasing.
In the automotive sector, Hyundai Kia plans to use blockchain technology to prevent security incidents, while GM and BMW use blockchain technology to share their auto-driving car data with other automakers. In terms of copyright, CCTV is implementing copyright protection through blockchain technology, and Visual China has also applied blockchain technology in the process of copyright confirmation.
This article is [inter-chain pulse] original, reproduced please indicate the source!