LianGuai Daily | FTX Claims Portal Website Has Resumed Operations; JPEX Temporarily Shuts Down All Functions of the Gaming Hall
LianGuai Daily | FTX Claims Portal Website Resumes Operations; JPEX Temporarily Shuts Down Gaming Hall Functions
Today's News Highlights:
1. FTX Claims Portal Website Has Resumed Operation
2. JPEX: Game Hall Features Temporarily Suspended, Urgent Withdrawal Requests to be Processed Soon
3. Ethereum Holesky Testnet Expected to Restart in One or Two Weeks
4. ABCDE Labs Takes Legal Action Against False Information Regarding Co-founder BMAN's "Imprisonment for Securities Fraud" and "Operating a Ponzi Scheme"
5. Whale Deposits 27,116 COMP Tokens to Binance Again
6. VanEck: August DeFi Trading Volume Decreased by 15% to $52.8 Billion Compared to Previous Month
Regulatory News
NRL Players and YouTube Celebrities Reach Settlement in FTX Collective Lawsuit
NRL quarterback Trevor Lawrence and YouTube KOLs Kevin LianGuaiffrath and Tom Nash have chosen to settle with FTX investors, although the terms of the settlement have not been disclosed. Other celebrity defendants in the collective lawsuit include American football player Tom Brady, Gisele Bündchen, investor Kevin O'Leary, former NBA star Shaquille O'Neal, tennis star Naomi Osaka, and former Boston Red Sox player David Ortiz. Court documents show that FTX is considering how to recover marketing compensation paid to star athletes and sports teams for promoting the cryptocurrency exchange before going bankrupt in November 2022. The documents reveal that Trevor Lawrence received $205,555, Shaquille O'Neal received approximately $750,000, and Kevin O'Leary topped the list with $2,348,338 in expenses.
Custodial Platform Ceffu Opposes Allegations of Providing Custodial Services to Binance.US-Related Companies
In response to the SEC's allegations that Binance.US did not cooperate with an investigation and questioned whether Binance.US's use of custodial services provided by Ceffu violated previous agreements aimed at preventing asset flow overseas, custodial platform Ceffu strongly opposes these allegations. Ceffu states that it is committed to providing digital asset custodial solutions for institutional users outside the United States. Additionally, Ceffu's operations and services are clearly independent of BAM and BHL. In light of the SEC's claims, Ceffu emphasizes its commitment to compliance and maintaining a transparent and secure business environment.
In previous news, the SEC stated that Binance.US did not cooperate with an investigation and its use of Ceffu's custodial services may violate previous agreements.
NFT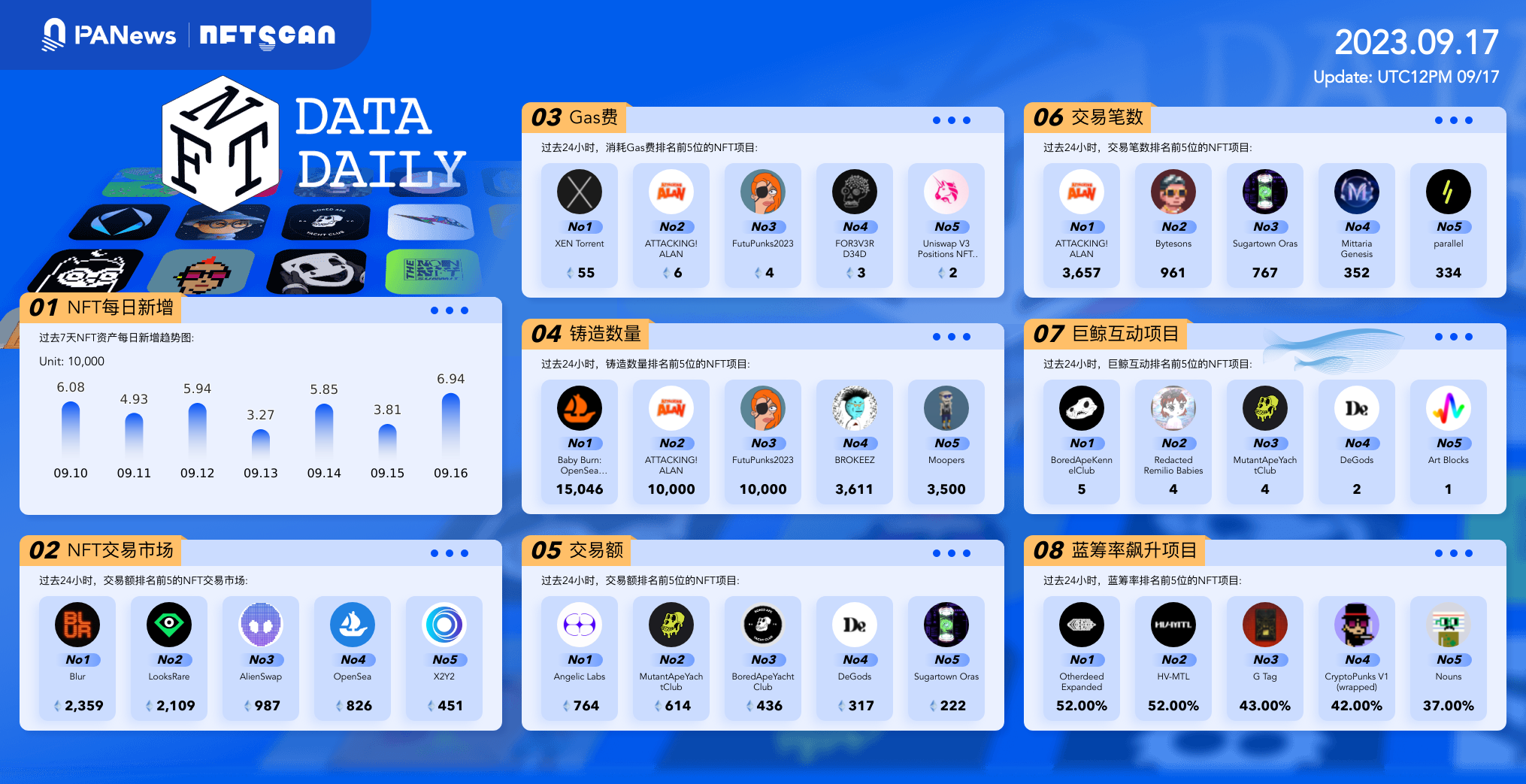 Project Updates
Tether CTO: Bitcoin Mining Platform Moria Testing Launched with Initial Miners
Tether CTO LianGuaiolo Ardoino tweeted that the Moria Bitcoin mining platform has been launched with the initial miners in containers. Currently, all power distribution unit (PDU) management and interactions with miners (frequency settings, power, etc.) are fully software-controlled, and all actions require multi-signature approval. According to previous reports, Tether's development team had nearly completed the creation of a JavaScript library for mining hardware control, which would interact with WhatsMiners, Antminers, and Avalon miners. The development team is now working on the core architecture of the Moria mining farm orchestration tool, based on Holepunch technology, with the aim of eventually expanding to energy production monitoring. These libraries are specifically designed to facilitate commands and signals to Bitcoin mining hardware, including devices such as WhatsMiner, AvalonMiner, and Antminer.
The Holesky testnet of Ethereum is expected to restart in one or two weeks.
Nethermind, a blockchain tools and infrastructure developer, tweeted that developers will relaunch Holesky in a week. Meanwhile, Ethereum contributor Michael Sproul stated in a pull request on GitHub that the estimated relaunch date for Holesky is September 28th. According to previous reports, Christine Kim, Vice President of Galaxy Research, tweeted that the Holesky testnet of Ethereum failed to start due to network configuration errors, but there is no problem with network capacity, and developers plan to restart it soon.
The FTX claims portal website has resumed operation.
After a serious network security vulnerability incident, FTX has restored its claims portal website. This incident targeted Kroll, a third-party agent handling claims for FTX creditors. However, FTX quickly responded by freezing affected user accounts. The vulnerability originated from a "SIM card swap" attack, which led to unauthorized access to files containing detailed information of BlockFi, FTX, and Genesis claimants. Kroll ensures that FTX passwords and KYC data have not been leaked. With the full recovery of the claims portal, FTX has confirmed the implementation of additional security protocols. In addition, FTX customers must submit proof of claims to Kroll before September 29th.
ABCDE Labs: Taking legal action against false information about the imprisonment of co-founder BMAN for "securities fraud" and operating a Ponzi scheme.
ABCDE Labs tweeted that during TOKEN2049 held in Singapore, an individual claiming to be a Chinese zk developer sent false information and rumors about ABCDE co-founder BMAN to ABCDE collaborators. ABCDE officially clarified that BMAN founded BISS Exchange in 2019. Due to the innovative product "purchasing stocks with cryptocurrencies" involving securities trading, BMAN assisted relevant authorities in investigations at the end of 2019. After a comprehensive investigation lasting 37 days, BISS ceased operations, and BMAN and the team were acquitted. The information claiming that BMAN was imprisoned for "securities fraud" and operating a Ponzi scheme is maliciously fabricated.
ABCDE Capital is a licensed and compliant fund in Hong Kong, with the fund manager being NewHuo Asset Management (Hong Kong) Limited, a subsidiary of the Hong Kong-listed company NewHuo Technology. NewHuo Asset Management (Hong Kong) Limited holds licenses issued by the Hong Kong Securities and Futures Commission in Category 4 and Category 9. ABCDE Fund strictly adheres to the licensing and regulatory requirements of the Hong Kong Securities and Futures Commission and conducts a series of compliance checks on every LP, including KYC and anti-money laundering, to ensure compliance with regulatory requirements. These malicious rumors have caused significant damage to BMAN and ABCDE's reputation, and the company's lawyers are taking relevant legal actions.
JPEX: Temporarily closing all functions of the gaming hall, urgent withdrawal requests will be processed as soon as possible.
JPEX, a virtual asset trading platform, issued two special announcements stating that it is currently adjusting some business processes in accordance with the instructions of the Hong Kong Securities and Futures Commission to comply with regulatory requirements. As of 00:00 on September 16th (Beijing time), all functions of the platform's gaming hall have been temporarily closed. During the adjustment process, the trading function of the platform will still operate normally, and all relevant information will be closely monitored and updated in a timely manner. JPEX states that the platform will not go bankrupt and will continue to operate steadily. In addition, another announcement states that since the publication of the emergency priority withdrawal request form, the platform has received a large number of urgent withdrawal requests from users. After the dedicated team received the requests, they have been promptly reviewing, consolidating, and processing related data and information, hoping to assist users with urgent needs to complete priority withdrawals.
Important Data
Data: Circle USDC circulation increased by $100 million in the past week
According to official data, Circle issued a total of $1.2 billion USDC and redeemed $1.1 billion USDC in the past 7 days, resulting in a circulation increase of $100 million. As of September 7th, the total circulation of USDC is $26 billion, with reserves of $26.1 billion, including $1.8 billion in cash, and Circle Reserve Fund holding $24.3 billion.
VanEck: DeFi trading volume in August dropped to $52.8 billion, a 15% decrease compared to the previous month
According to the analysis by investment management company VanEck, the DeFi trading volume dropped to $52.8 billion in August, a decrease of 15.5% compared to July, due to the reduction in on-chain economic activities. The analysis believes that despite the underperformance of DeFi tokens in August, there were positive developments in the ecosystem throughout the month. These developments include the dismissal of the collective lawsuit against Uniswap Labs, as well as the growth of stablecoins from Maker and Curve.
In addition, VanEck pointed out that the current global interest rate levels, especially in the United States, continue to put pressure on stablecoins. The total market value of stablecoins decreased by 2% to $119.5 billion in August.
Data: A whale transfers 27,116 COMP tokens to Binance
According to Spot On Chain monitoring, a whale address starting with "0x171" transferred 27,116 COMP tokens to Binance, worth $1.1 million. Since September 9th, the whale has deposited a total of 92,751 COMP tokens to Binance, with a value of $3.74 million.
LianGuaiNews APP Points Mall officially launched
Hardcore prizes for free redemption: imKeyPro hardware wallet, First Class Research Report Monthly Card, Ballet REAL series wallet, AICoin membership, various peripherals, and hundreds of selected research report collections. First come, first served, experience now!
We will continue to update Blocking; if you have any questions or suggestions, please contact us!
Was this article helpful?
93 out of 132 found this helpful