Bittrex seems to be in conflict with IEO, three times IEO, three times frustrated, while being condemned by investors, and the brother Bitfinex suffered the same trouble, the New York Financial Services Authority stared, into regulatory difficulties, internal and external troubles.
Can this old exchange, founded by American Chinese Bill Shihara, get out of the storm?
IEO plunged 79%
Do you know that participating in IEO, breaking the 79% opening is an experience?
Investors who participated in the Bittrex IEO project told the action: It was anger and despair.
On April 30th, the Bittrex Exchange launched the IEO token sales of the Ocean protocol, which sold 56.4 million tokens for $0.12 and raised $6 million.
On May 3, Ocean was officially launched. When investors were filled with joy and prepared to meet the multiple returns of IEO, what they waited for was that the market broke, and Ocean fell 75% within 10 minutes.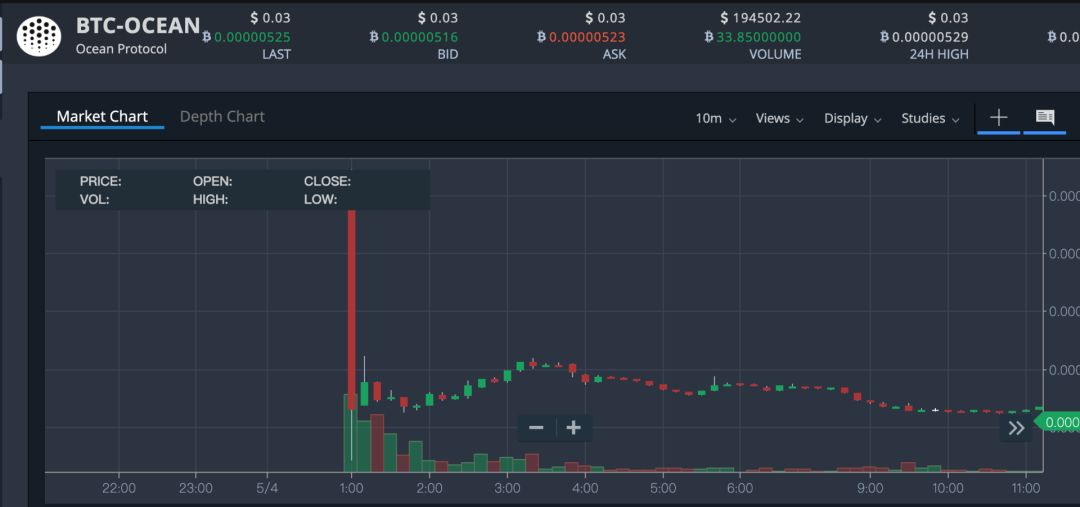 Angry Chinese investors flocked to the Ocean protocol telegraph group to express their dissatisfaction and protest against Bittrex with Chinese greetings.
In addition to greetings from China, foreign investors have also protested in the telegraph group, "Please return my money", asking the project party to pay back.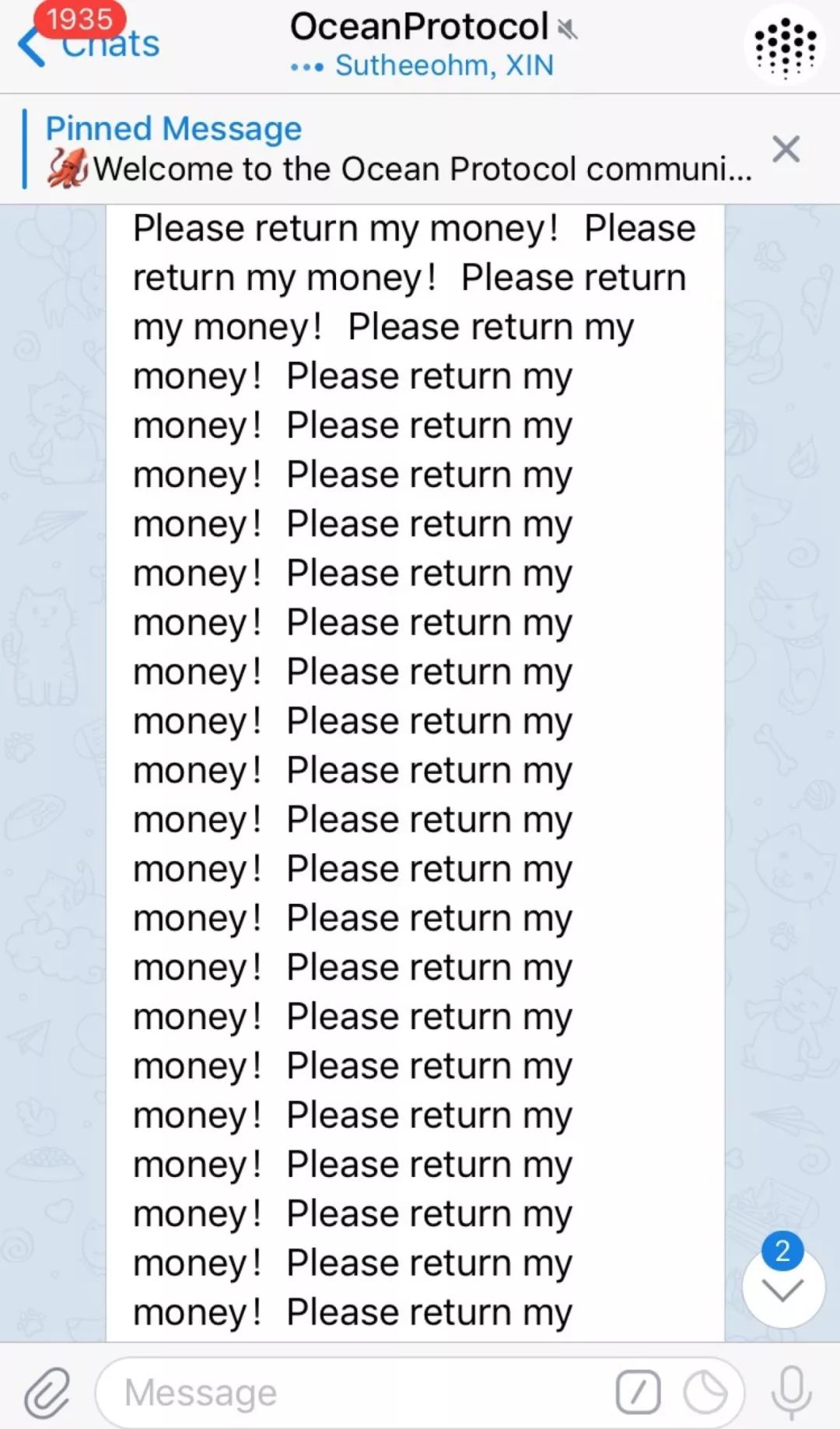 The world's leeks family, foreign investors are also actively planning complaints, they pin their hopes on the "green master" – the SEC SEC, some investors are preparing to write to the SEC to report Bittrex and Ocean protocol.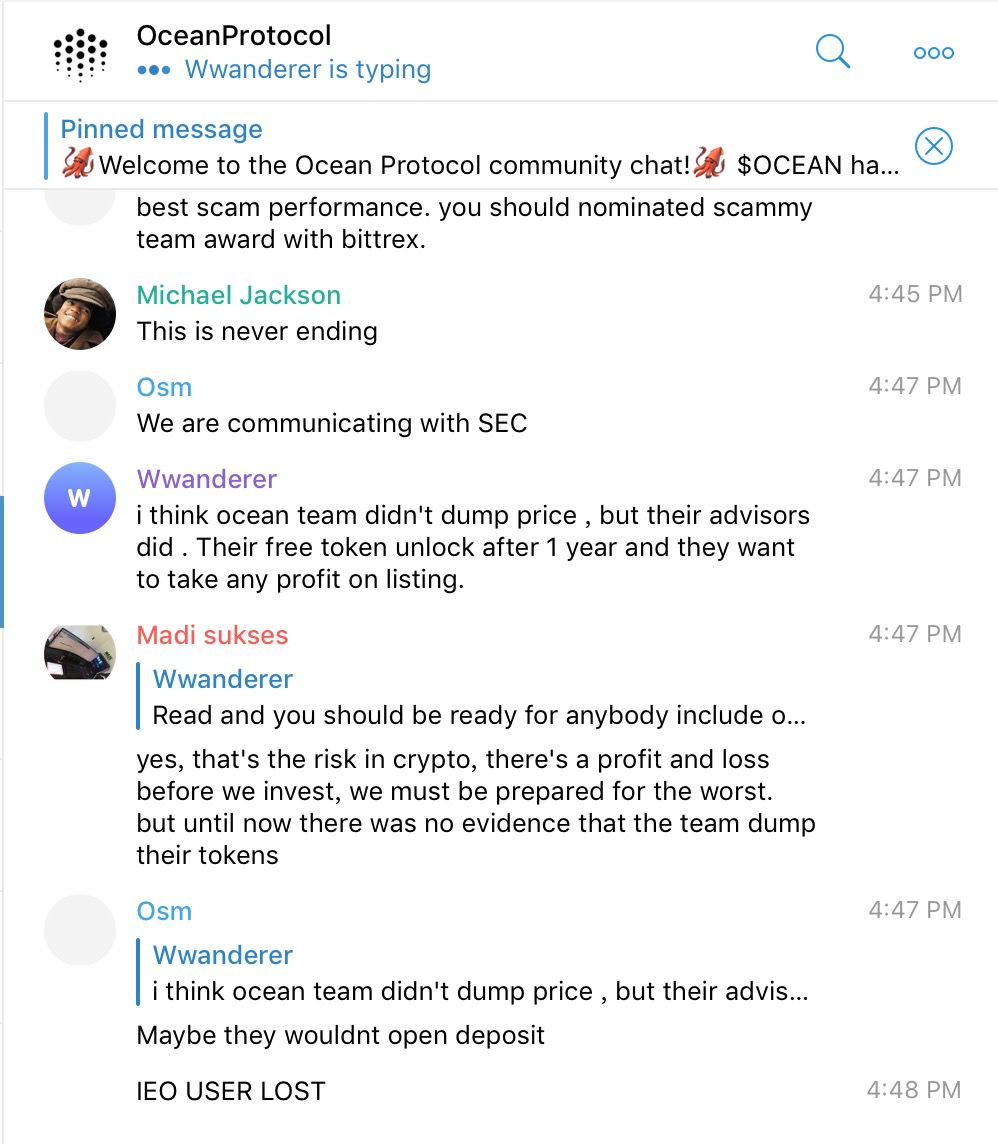 After this battle, Bittrex fell into a credibility crisis. On Twitter, Bittrex was called "Shittrex."
For most domestic users, Bittrex is a bit strange, but in the eyes of the old leeks, Bittrex is the old exchange with the same name as Bitfinex, Bitfinex is the big B network, and Bittrex is the small B network.
In 2014, Bittrex was founded in Seattle, USA, and was founded by Chinese-born Bill Shihara and two business partners. They used to be security professionals at Microsoft. Therefore, BitTorrex is the strength of Bittrex, 80%-90% of all funds. They are all offline, and Bittrex has never been hacked to steal money since its inception, which is what they are most proud of.
Prior to founding Bittrex, Bill worked at Microsoft for 11 years, working on the Windows operating system and trusted security team, then as Amazon's security engineering manager and BlackBerry's security threat analysis and security engineering manager, who promoted the BlackBerry ecosystem. Anti-malware and security automation strategies.
Bill's first cryptocurrency-based business was GiftcardBTC. The site was designed to be simple. BTC purchased gift cards/phone cards and received fee income. When they decided to allow Litecoin to pay on their platform, they realized that LTC to BTC has no way to trade directly, which is why Bittrex was born.
As a well-known and established exchange in the world, why is Bittrex's IEO so miserable?
Obviously, Bittrex does not understand the essence of IEO. The opening of the IEO project must be pulled by someone else. Otherwise, there will be a unilateral one-sided situation. Bittrex does not do any market value management.
The root cause is that Bittrex does not have platform currency. It uses BTC to raise funds. It does not have the motivation to raise its platform currency and protect its disk. After the IEO project goes online, it will do nothing and let it go its own way, and the project side will pay for Bittrex. Cost, so it needs to be liquidated and recycled.
For a moment, the 75% drop shattered the hearts of investors and smashed Bittrex's signature.
Scam and break
This is not the first time that Bittrex has been frustrated by the IEO. Prior to this, Bittrex had already lost IEO twice.
At the beginning of March, IEO's spring breeze blew, Bittrex on the other side of the Pacific could not sit still. On March 11, Bittrex International, a subsidiary of Bittrex, announced the launch of IEO products, and will launch its first project RAID at 9:00 on the 15th. .
In the early morning of March 15, only seven hours left on the token, Bittrex announced on Twitter that it would cancel the release of the first IEO token. The founder of Bittrex said that after an in-depth investigation, it was discovered that RAID is fraudulent and not a real project.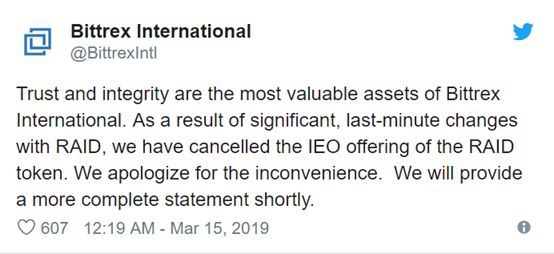 According to the official introduction, RAID is a blockchain game data provider registered in Singapore, issued by ONERAID PTE. LTD.
The survey found that the company with the registered name was not found in the business registration office in Singapore. The information about the co-founder or other employees on the website could not be found on LinkedIn or Facebook, and even the information of co-founder Cheonwoo Park could not be found. The information shows that he is the founder of OP.GG.
However, after opening OP.GG's website, on its official website, a notice said: "OP.GG has nothing to do with RAID Coin, and there is no economic and technical cooperation with RAID Coin. In addition, OP.GG has no intention to use RIOT GAMES data. Develop any blockchain related business. OP.GG will take all possible legal measures against individuals or organizations that disseminate false facts related to this."
A more serious problem is that according to official announcements, the initial liquidity of RAID is 34.5%, of which Bittrex is 17%, the parent company is 3%, and the remaining 14.5% is unknown.
After the first IEO bowling abortion, Bittrex did not give up and turned to the second IEO project – VeriBlock (VBK).
On April 3, Bittrex and the South Korean exchange Upbit opened the VBK snap-up. Like almost all IEO snaps, VBK was snapped up.
According to data released by Bittrex, 70 million VBKs were snapped up in 10.4 seconds. A total of 855 users grabbed quotas, of which 142 users grabbed a maximum of 200,000 VBKs.
Bittrex does not have platform currency, but uses BTC for crowdfunding. VBK's crowdfunding price is 0.000023BTC, which is equivalent to US$0.10. After the official launch, VBK once rose to 0.0000699BTC, and the increase rate has increased by 3 times.
The short-term rise did not lead to sustained prosperity. Just four hours after the opening, VBK fell below the issue price. Since then, it has been sluggish and has been falling. As of now, VBK has fallen 67% from the issue price.

Trapped in New York State
Internationally, Bittrex is not an obscure small exchange. According to BTI data from the Blockchain Transparency Institute, Bittrex is the fifteenth largest cryptocurrency exchange in the world, but such a US-born exchange. However, it has not been recognized by the official state of New York.
On April 10, the New York Financial Services Agency refused to issue a cryptocurrency license, BitLicense, to Bittrex and ordered the suspension of all operations in the New York State.
Bittrex immediately countered in the media, saying that NYDFS has fulfilled the requirements for exchange regulatory compliance, and the four-year BitLicense application process has not slacked off.
The two sides are caught in a public opinion battle.
The New York Financial Services Authority first made a public attack on Bittrex in the media.
The New York Financial Services Authority said that they repeatedly used the letter to inform Bittrex's regulatory rules and the areas that were not perfected so that the company could solve the problem. Bitrrex has repeatedly promised that they will be compliant, but in the end did not do it. Bittrex also tried to convince the Financial Services Authority that Bittrex is different from other exchanges and they do not need to comply with these conditions.
Bittrex's application was not passed because there were a lot of problems, including insufficient customer background checks, lack of transaction monitoring, and no staff hired for regulatory compliance.
When the Financial Services Bureau conducted a sample check of the account in 2019, it was detected in a small sample that two Iranian accounts had been active in Bittrex.
In response, Bittrex also issued an open letter stating that the New York Financial and Financial Services Authority is deliberately martyrating Bittrex, which has surpassed its role as a regulator.
The Financial Services Authority has attempted to require Bittrex to implement existing BitLicense and cash business licenses in its regulatory agreement. Bittrex has partnered with other state regulatory agencies and obtained licenses. No other state financial services bureaus require New York. Implement business 瘫痪 terms.
At the same time, Bittrex also denied the New York Financial Services Authority's allegations of the presence of Iranian users, saying that since 2019, no Iranian citizens have used the Bittrex platform.
Similar to the fate of Bitfinex, Bittrex is also in a regulatory predicament in New York State. The New York Financial Services Authority is really a trader killer. If the IEO accuses the storm and causes SEC attention, the days after Bittrex may be even more difficult.
Wen Hao is not bright
This article is the original deep chain Deepchain ( ID: deepchainvip) . Unauthorized reproduction is prohibited.