88% increase! 2019 Forbes global blockchain top 50 list, you may not understand these 3 details
Not long ago, Forbes announced the list of the top 50 blockchain, and is one of the most important releases of Forbes in the blockchain field in 2019. The list selected 50 companies with the strongest applications in blockchain technology, and the list also covers entrepreneurial companies in the blockchain sector.
The criteria for inclusion in the list is that each company has a minimum valuation or sales of more than $1 billion and has certain business operations in the United States.
This list includes: Allianz SE, Amazon, Anheuser-Busch InBev, Ant Financial, BBVA, Bitfury, Cargill, Citigroup, Coinbase, Facebook, Fidelity, Foxconn, Google, HTC, IBM, ING, Intel, JPMorgan Chase, Maersk, Microsoft, NASDAQ, Oracle, Ripple, Samsung, SAP SE, Siemens, VMware, Wal-Mart, etc.
*Complete list address:
Https://www.forbes.com/sites/michaeldelcastillo/2019/04/16/blockchain-50-billion-dollar-babies/#586e6a0857cc
Recently, the foreign blockchain data platform BLOCKDATA found three interesting details by in-depth investigation of the companies on this list:
The most popular development platforms are Ethereum and Hyperledger Fabric, and two-thirds of companies use these two technologies;

Most companies on the list use a variety of technologies;

Global blockchain technology spending is expected to reach $2.9 billion in 2019.
Today, the battalion commander takes everyone to re-examine the list and dig out the details that are easily overlooked to see how big the value of this list is.
Ethereum status is still difficult to shake
Let's take a look at what these unicorn companies love most. Figures show that 22 companies in the Forbes blockchain top 50 use the Ethereum development blockchain application . This result is not surprising. Ethereum itself is designed for decentralized applications and smart contracts.
Following the Ethereum is the Linux Foundation's Hyperledger Fabric superbook. The appeal of the superbook is that its code is open source, but it also has local authorization. Large companies will find attractive blockchain platforms like the Hyperledger Fabric superbooks attractive. Although Ethereum has a similar configuration, from the root, Ethereum is more utopian.
Corda is second only to Ethereum and HyperLedger Fabric and is used by 14 companies. Corda is a distributed ledger technology released by the R3 Alliance, which consists of the world's 200 largest banks and multinational companies.
Jor Morgan's enterprise-level blockchain project, Quorum, has helped global bank members in 75 interbank information networks. At the same time, the project was also adopted by 11 companies in the Forbes list.
Like Ethereum, Hyperledger, and Corda, Quorum is open source, and developers around the world contribute code. IBM is the main supporter of Hyperledger, and the top five companies on the Forbes 50 list use the IBM blockchain platform for project development .
The most interesting trend among the top 50 companies is that almost all companies will build multiple blockchain technology platforms . Although these companies may eventually focus on developing a single technology, such as ant wealth or Oracle, it is clear that they will also hedge through multiple platforms.
Over $450 million in cross-border payments in 2019
In addition to the Forbes 50, many other companies are actively promoting the development and use of distributed ledger technology on a global scale.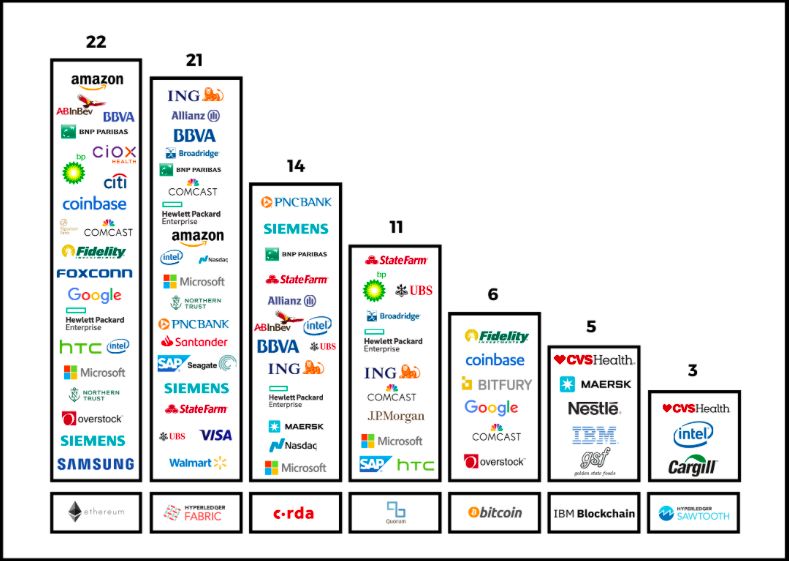 IDC predicts that global blockchain development spending is expected to grow by 88%, from $1.5 billion in 2018 to $2.9 billion at the end of the year. It is estimated that by 2022, total expenditure will increase by 76% annually to reach US$14.4 billion.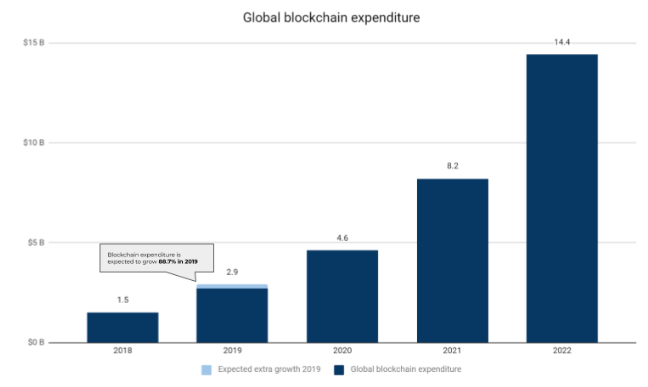 Global blockchain spending trends
These investments will be dominated by the financial services sector. The most widely used case in 2019 was cross-border payment and settlement, with investments of more than $450 million.
As we have predicted in the past, the technology that began to solve inefficiencies can be used not only for intra-bank or inter-bank payments, but also for individuals to immediately remit funds abroad, greatly reducing individual remittance rates.
The use of blockchain technology will increase the remittance market to more than $1 trillion over the next three years .
The fastest growing areas of global blockchain spending are: other, cross-border settlement/payment, deposit, asset management, supervision
Second only to cross-border payments and settlements, trade finance and trade/post-trade settlement are significant areas of attraction for investment. The current value of this plate is 16 trillion, but most of the current processes are still on paper.
So it is not surprising that the entire industry calls for disruptive technology for comprehensive innovation. According to our observations, many alliances are promoting the use of distributed ledger or blockchain technology to improve the efficiency of the old system.
The fastest growing areas of blockchain investment are manufacturing and resources, with a compound annual growth rate of 77.6% . Investment in manufacturing and resources is mainly used for asset management, source tracking, and identity management.
In addition, payment companies may also become mainstream. For example, there is a startup company called Moon, which announces that Amazon users can use Bitcoin to pay for things through Lightning Network.
With just one Chrome extension, users can pay in Bitcoin like a trading wallet like Coinbase.
The seller will also receive payment for the corresponding legal currency amount. It's not clear whether Amazon users can use a payment platform like Moon, but it's certain that direct encrypted payments will not be far away.
Do you think Forbes's list of the top 50 blockchains has a reference value? What interesting places do you see from it? Let's talk about it!
Source | BLOCKDATA
Compilation | Jia Ruiting
Editor | Aholiab
Produced | Blockchain Base Camp (blockchain_camp)
We will continue to update Blocking; if you have any questions or suggestions, please contact us!
Was this article helpful?
93 out of 132 found this helpful