First place DeFi and Staking? Read the investment path of 1confirmation
Nick Tomaino, founder of 1confirmation, once said to LP (investors): "If you want to get in touch with the best early projects in the world, you should invest in me because this is something you can't do." Nick's self-confidence and madness, know that 1confirmation includes only two employees, including the boss.
Like the a16z, it sounds like 1confirmation is also an atypical institution name. The name of the agency often flashes in the financing news of some DeFi projects and Staking projects, but it is not known to blockchain enthusiasts in China.
Today, we will introduce the name of this strange investment institution – 1confirmation.
01
The world's second blockchain venture capital fund
When it comes to names, let's look at the industry's conventions. The term "blockchain" originates from Bitcoin. Blockchain English Blockchain is composed of block block and chain chain. Bitcoin English Bitcoin consists of byte (bit) bit and currency coin. In the entire industry, most new enterprises are named after block block, chain chain, byte (bit) bit and so on. This phenomenon is like Internet companies like to add the word "technical" to the name of the company.
But 1confirmation didn't do that. 1confirmation is a venture capital fund specifically for the blockchain, founded by Nick Tomaino, a former Coinbase employee. Through this quirky name, Nick Tomaino demonstrates its understanding and investment philosophy for the entire blockchain industry.
The name 1 confirmation shows the company's understanding and positioning of venture capital: to invest in the best and first-class projects in the industry, but also means that it is the earliest blockchain investment institution; and the confirmation is translated into Chinese. "Confirmation" means "confirmation" is a very important thing in Bitcoin and even blockchain. Taking Bitcoin as an example: Bitcoin has established six blocks to confirm the longest chain mechanism when set. After six blocks are confirmed, the transaction can be basically regarded as safe. (Of course, there are confirmation mechanisms in other currencies, but not all of them are confirmed by six blocks.) In addition, "confirmation" also implies that the venture capital fund has a deep understanding and conviction about the projects it invests in.
Although Nick Tomaino has named the company 1confirmation, this blockchain venture capital fund is not the earliest. According to WSJ Pro Venture Capital, 1confirmation is the second venture capital fund in the cryptocurrency sector; the first is Placeholder Capital, together with Joel Monegro, a former venture capital analyst at Union Square, and Christopher Burniske, a former blockchain product manager at ARK Investment Management. Founded. The establishment time of the two venture capital funds differed by less than a month.
02
Born at the heart of ICO's madness: we still need institutions
Let's take a look at the resume of 1confirmation founder Nick Tomaino. Nick Tomaino's highest degree is a master's degree from Yale School of Management. He graduated from this university in 2014 with a degree.
Prior to Nick's master's degree, he joined North Atlantic Capital, a venture capital firm that helps American innovation and technology companies. Nick has a good eye and an adventurer's temperament. After two years at North Atlantic Capital, Nick decided to leave and joined Coinbase in 2013, where he worked as a product manager for companies that have trained countless talents in the cryptocurrency industry. When joining Coinbase in Nick Tomaino, the number of users on the entire site was less than 300,000; but when it left Coinbase, the number of users on the site has increased tenfold to more than 3 million.
Nick is not a person who is willing to work for the boss for a long time. When he left Coinbase, he did not choose to start a business directly, but he can already see that he has the intention of standing on his own, because he chose to join Runa Capital. There are two reasons for Nick to make such a choice. One is that Runa Capital is made up of experienced entrepreneurs Serguei, Dmitry, Andre, Peter, and Ilya, and they can learn more about their experience as a founder. Another reason is that the company has partners in the United States, the United Kingdom, Singapore and Russia, and can have an international perspective. In addition, Runa Capital did not invest in the blockchain field at the time, which is suitable for Nick to make a big impact in this field.
In the middle of 2017, ICO was on the rise. At that time, there was such a wave of thought: Everyone is an investor, and everyone believes that professional investment institutions will perish, especially venture capital funds. As a cryptocurrent veteran, Nick Tomaino's view is completely contrary to the public. He believes that the market now needs professional venture capital funds more than ever, because it has more time and energy to understand the project and analyze the market. At this point, Nick Tomaino not only had a unique understanding of the entire cryptocurrency industry, but also how to run a fund, so he decided to leave Runa Capital and create a venture capital fund himself.
The first fund of 1confirmation ended on December 27, 2017, and this is the crazy time of the market. The fund will use the $26 million raised to invest in the initial phase of the decentralized project. The fund's design aspects are in the areas of pass, equity, SAFTs and SAFEs.
03
Mixed background of Coinbase and Runa Capital
1confirmation has launched a total of two funds, namely 1confirmation Fund and Moonbase 1c. The 1confirmation Fund raised $26 million and the Moonbase 1c raised $7.34 million.
The first phase of the fund 1confirmation Fund was funded by Mark Cuban, Peter Thiel, Chris Dixon, Marc Andreessen, Peter Briger, Balaji Srinivasan, Brendan Eich, David Vorick, Andre Bliznyuk, Josh Guttman, Pawel Chudzinski, Semil Shah, Steve Jang, Sam Hinkie John Borthwick, Horsley Bridge, Runa Capital, and Real Ventures.
If you are a loyal reader of carbon chain values ​​and read other articles on encryption investment institutions that we have written before, you will find this list very familiar. There are partners of a16z, CTO of Coinbase, etc. In addition, there are partners in Runa Capital on this list. From this list, we can see the shadow from the founder's former owner and the wide network of Nicks.
Of course, the most interesting thing on this list is Mark Cuban. Mark Cuban is the owner of the NBA Mavericks (officially translated as Dallas Lone Ranger) and is also a billionaire with a personal net worth of $3.5 billion. It founded Broadcast.com in 1998 and sold it to Yahoo in 1999 for $5.9 billion.
Mark Cuban believes that bitcoin is a bubble and hates bitcoin and gold, thinking that the two will not be viable alternatives to the currency. He once said in public that hatefulness is not enough to explain his attitude towards Bitcoin. Perhaps extreme prejudice is his view of Bitcoin.
Of course, the set behind the mouth is the literacy of professional investors, and Mark Cuban is no exception. Mark Cuban's Mavericks announced in early 2018 that they would support the purchase of tickets using encrypted digital currency. And Mark Cuban also uses a portion of the assets to invest in cryptocurrencies. After investing in 1confirmation, he changed his mouth. "I think Nick Tomaino is very smart and understands this field. This is one of my unique investments and provides me with more learning opportunities."
For investors, it is still more real money. Listen to their words and watch their money.
04
Bold vision: extensive layout of DeFi and Staking Economy
1confirmation only invests in the initial stages of the project. In explaining the difference between 1confirmation and other funds, Nick believes that most funds are 80% invested in bitcoin, 15% invested in Ethereum, and the rest invest in other tokens, but he will not do so. He even advised investors not to pay according to the traditional fund's 2-and-20 model (paying the fund manager 2% management fee and 20% performance fee).
Nick Tomaino once said to LP (investors): "If you want to get in touch with the best early projects in the world, you should invest in me because this is something you can't do." This shows Nick's confidence and Crazy, you must know that 1confirmation includes only two employees including the boss.
Based on publicly disclosed information, carbon chain values ​​are organized into 1confirmation investment projects: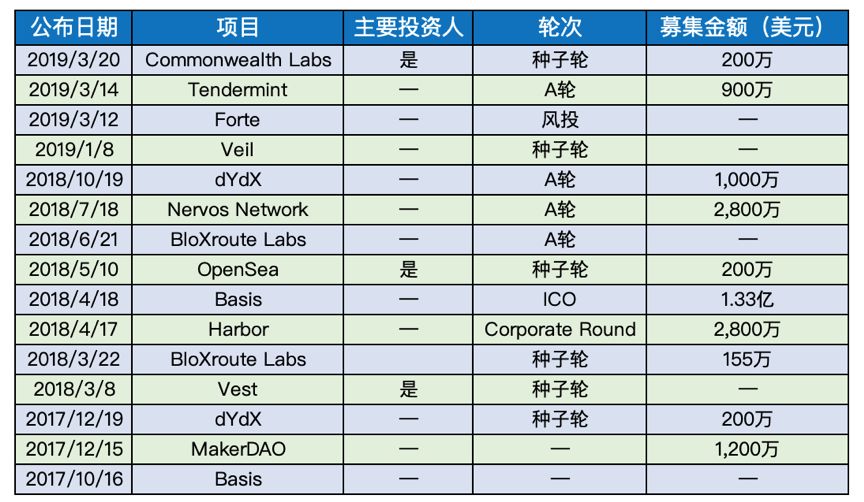 The chart shows that 1confirmation has invested a total of 15 projects, and the first investment in the Basis Stabilized Coin project has been suspended due to supervision.
Most of the projects invested in the early 1confirmation were DeFi projects. At the end of 2017 and the beginning of 2018, the concept has not been popularized. The investment target of most investment institutions is still the public chain. But by 2019, DeFi has drawn more and more attention. When the investment institutions went back to see the track, they found that the first-class projects and teams on the track, 1confirmation almost all involved, such as the MakerDAO of DeFi King. And like the DeFi project dYdX and so on.
In addition to the DeFi project, 1confirmation also has a lot of Staking projects, and Vest is a good example. Vest is the first Staking equity pledge service platform. It has just recently launched Series A financing, with a value of US$12 million. Its official website has been changed to Cambrian.dev. Staking Economy started in 2019, but as early as March 2018, 1confirmation aimed at Staking's service platform. Nowadays, Nick Tomaino's vision is not long-term, and the understanding of the industry is indeed deep enough, so it can make a judgment that is 1-2 years ahead of the industry.
The times belong to those who can see where the dawn is.
[1].1confirmation Crypto Venture Capital Fund Seeks $20 Million.https://www.ethnews.com/1confirmation-crypto-venture-capital-fund-seeks-20-million
[2].Mark Cuban Invests In Newly Launched Crypto Venture Fund 1confirmation.https://www.forbes.com/sites/laurashin/2017/08/21/mark-cuban-invests-in-newly-launched-crypto-venture -fund-1confirmation/#25be64c81e8a
[3].Why one analyst is bolting the world of start-ups to take on bitcoin and ethereum.https://www.cnbc.com/2017/07/13/ex-union-square-analyst-joel-monegro- Starts-crypto-fund-placeholder.html
[4].I'm Joining Runa Capital.https://medium.com/@ntmoney/im-joining-runa-capital-afa65b7b37b9
[5].Introducing 1confirmation.https://thecontrol.co/introducing-1confirmation-5fed4099fdc3
[6].Billionaire Mark Cuban Hates Bitcoin and Gold Equally: 'I'd Buy a Pet Rock First'.https://www.ccn.com/billionaire-mark-cuban-hates-bitcoin-and-gold-equally- Id-buy-a-pet-rock-first
[7].Stablecoin project Basis is shutting down and returning nearly all capital raised to investors
Https://www.theblockcrypto.com/2018/12/12/stablecoin-project-basis-is-shutting-down-and-returning-the-majority-of-capital-raised-to-investors/
Author: hydrogen 3
Source: Carbon chain value
We will continue to update Blocking; if you have any questions or suggestions, please contact us!
Was this article helpful?
93 out of 132 found this helpful