Twitter Featured: BSV soars 200%, EOS parent company brings 65 times earnings to investors
U.S. Copyright Office "Certified" Oban Cong CSW as author of Bitcoin White Paper
Last night, a news about the U.S. Copyright Office's recognition of Own Cong's CW as the author of Bitcoin White Paper triggered a hot debate in the community. The price of bsv also rose from 60 US dollars to a maximum of 195 US dollars, an increase of 200%. Maintain it at around $100.
Let's take a brief look at the process:
Last night, Coingeek issued a message saying: Bitcoin creator CSW (alias Nakamoto Satoshi) obtained a US copyright registration for the Bitcoin white paper and code, confirming it as the author of the white paper and code.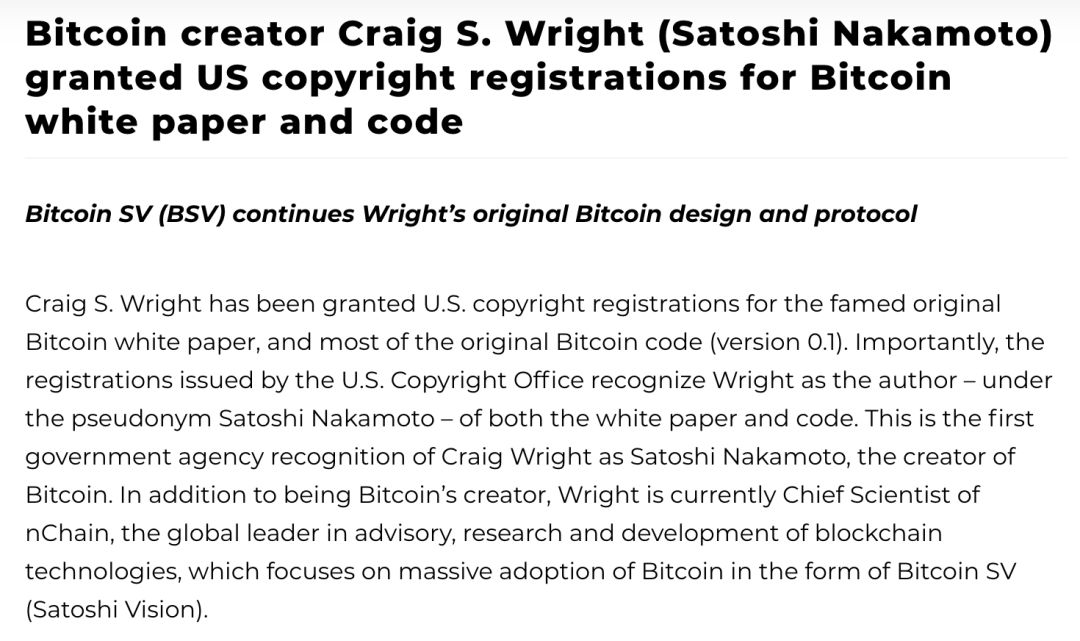 However, in the reports of media such as Coindesk, CSW only applied for copyright registration and did not obtain copyright.
Coincenter executive director Jerry Brito said: Registering copyright is just a form to fill out a form. The Copyright Office will not investigate the authenticity of the application, but will apply. Unfortunately, there is no official way to challenge a registration. If there is a contention for the same copyright claim, the Copyright Office will register the names of all claimants.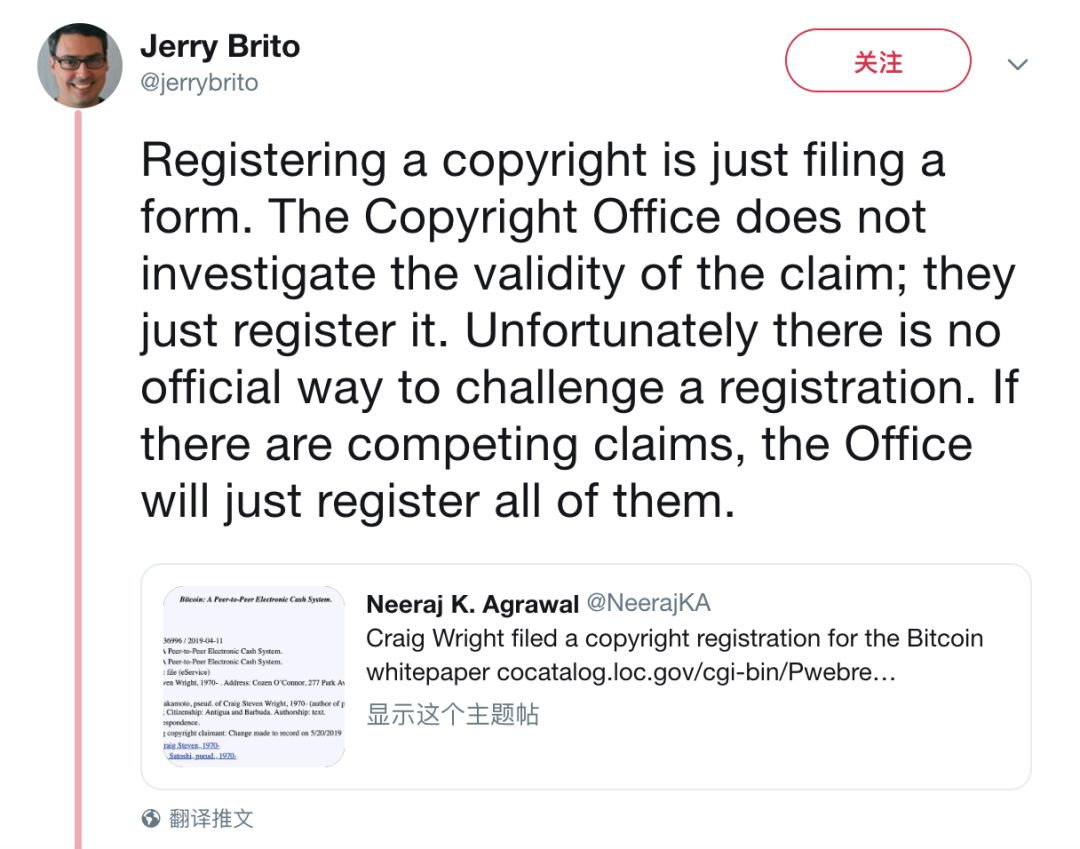 For Aoben Cong, the author of the Bitcoin white paper, the community depreciated more than the award.
User Chardy tweeted: "Imagine spending $35 to register the copyright to prove that you created Bitcoin, rather than signing Bitcoin to create a block signature."
Dr. Peter McCormack tweeted: "The creator of the open source protocol bitcoin is now applying for copyright?"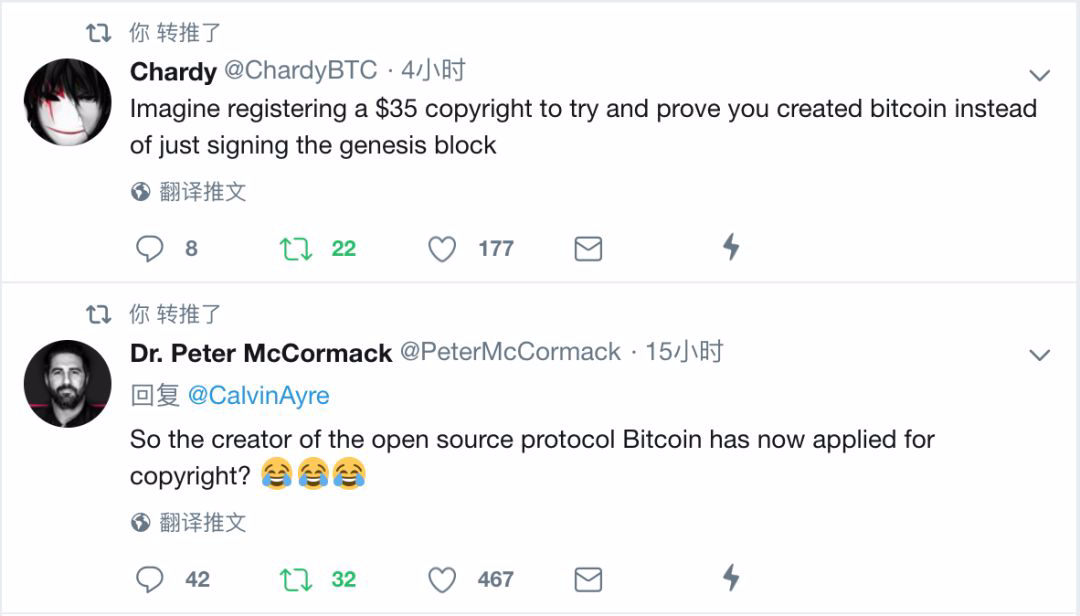 CoinText's CTO Vinarmina said: "It's very shameless. This is contrary to what Bitcoin stands for. Bitcoin is not determined by such bureaucracy (here the US Copyright Office) to determine legitimacy and ownership, derived from mathematics. Consensus can determine the truth. They are slag."

Morgan Stanson founder Pomp said: Anyone trying to protect Bitcoin or white papers from copyright can't be Nakamoto. This proves that they do not understand Bitcoin.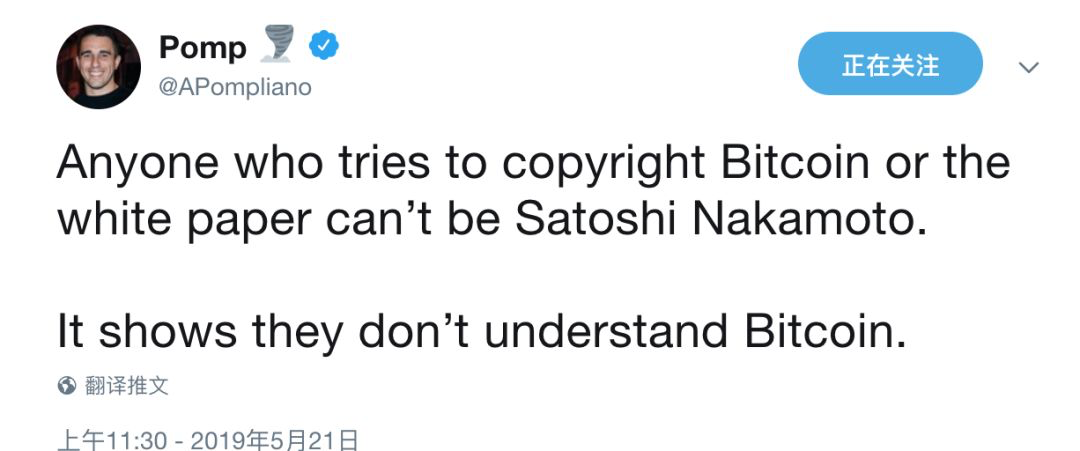 02 Ethereum builders praise the development of Ethereum
Anthony Sassano, founder of Ethhub.io:
On April 5, 2019, the price of Ethereum was $150. I compared it to the indicators of Ethereum's first breakthrough of $150 (May 22, 2017). (See the table below for a detailed comparison?)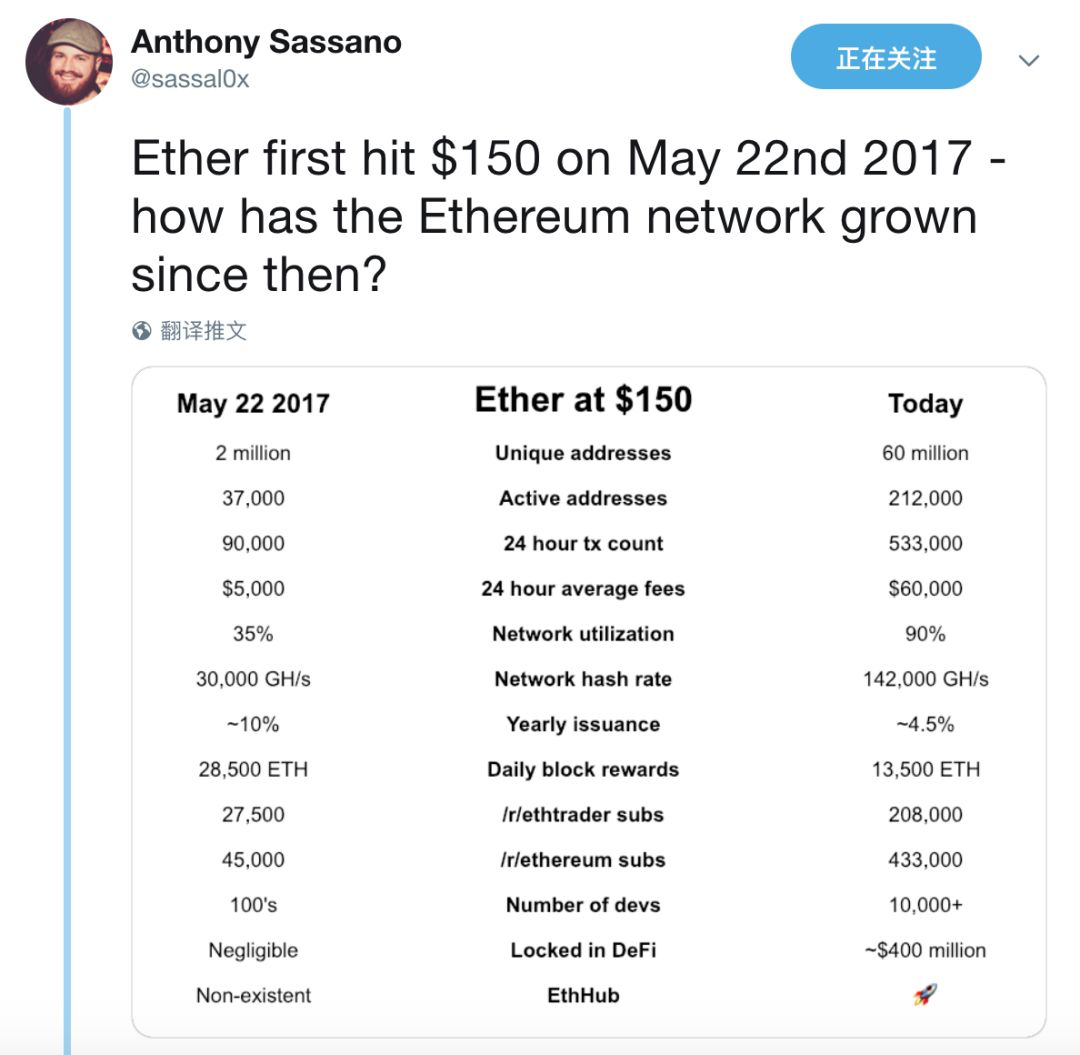 Since then, the price of Ethereum has risen by 70%, so I updated the table to show the continued growth of Ethereum over the past 7 weeks.
The table compares the indicators of Ethereum. Compared to April 5, so far, Ethereum has prices, independent addresses, active addresses, 24-hour transactions, network utilization, network hashes, etc. obvious improvement.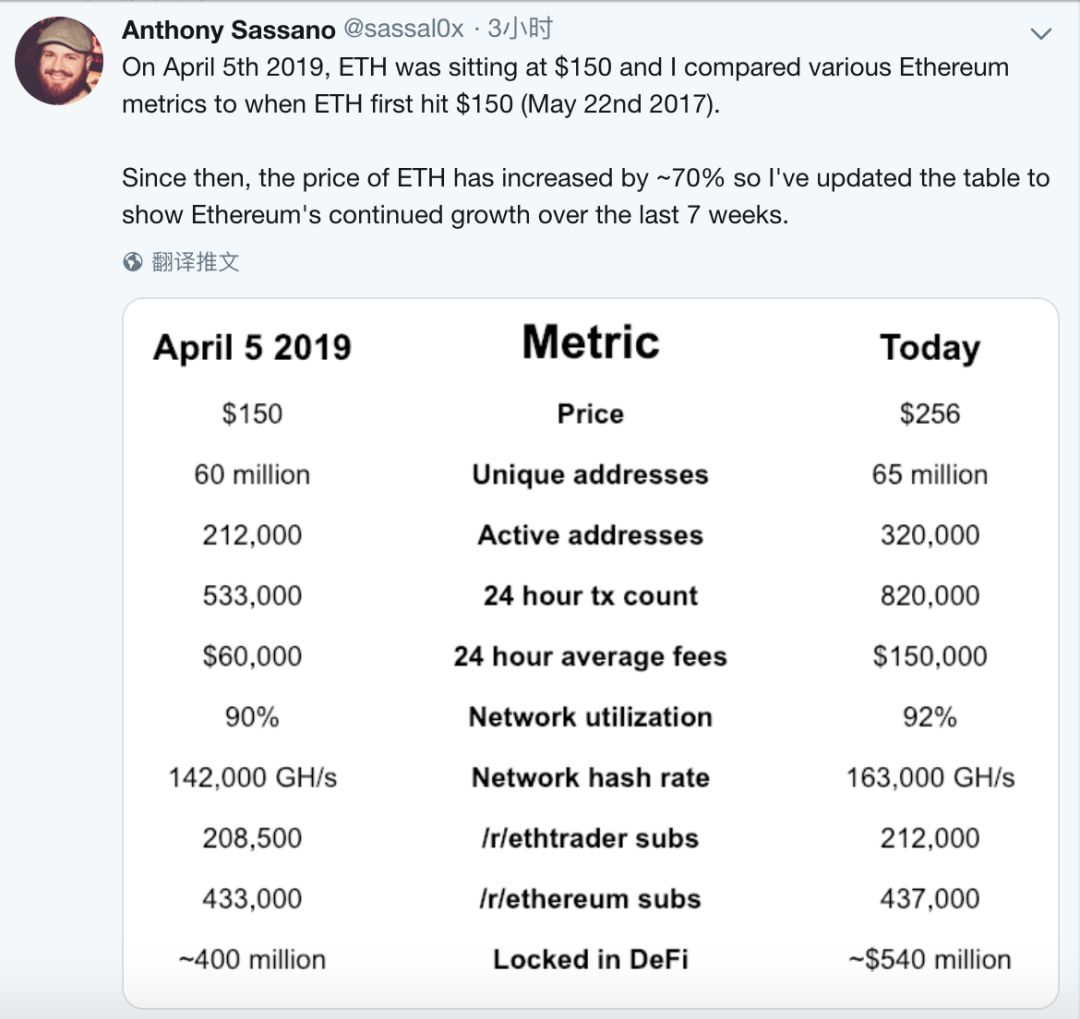 Ryan Sean Adams, founder of mythoscapital:
(Eafangfang) from the top of the previous round of bull markets:
– Ethereum's release has been reduced by a third (note: here is the block production cut, block rewards changed from 3th to 2eth)
– Defi's scale has grown from zero to $530 million
— ERC-20 stable currency issue reached US$880 million
— Ethereum fuel use reaches new heights
— Microsoft/Amazon AWS Support Ethereum
— Samsung mobile phone integrated Ethereum wallet
— Ethereum 2.0 test online line
The next bull market in Ethereum will be more wild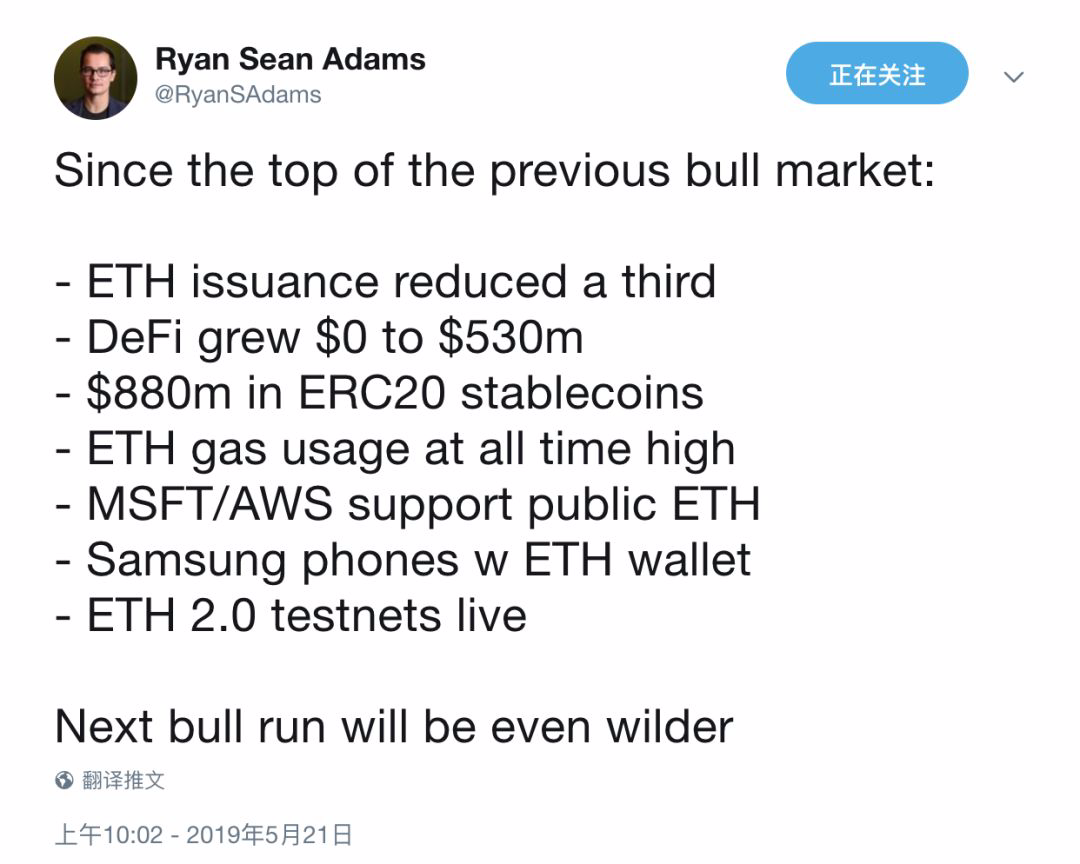 03 Block.one brings 65 times return to early investors
According to Bloomberg, Peter Tiel and other early equity investors in Block.one will receive a return on investment of 6567%. (Note: Li Xiaolai, who is well known to us, is also an early investor in Block.one.) In the detailed report, I also revealed more information about Block.one and eos.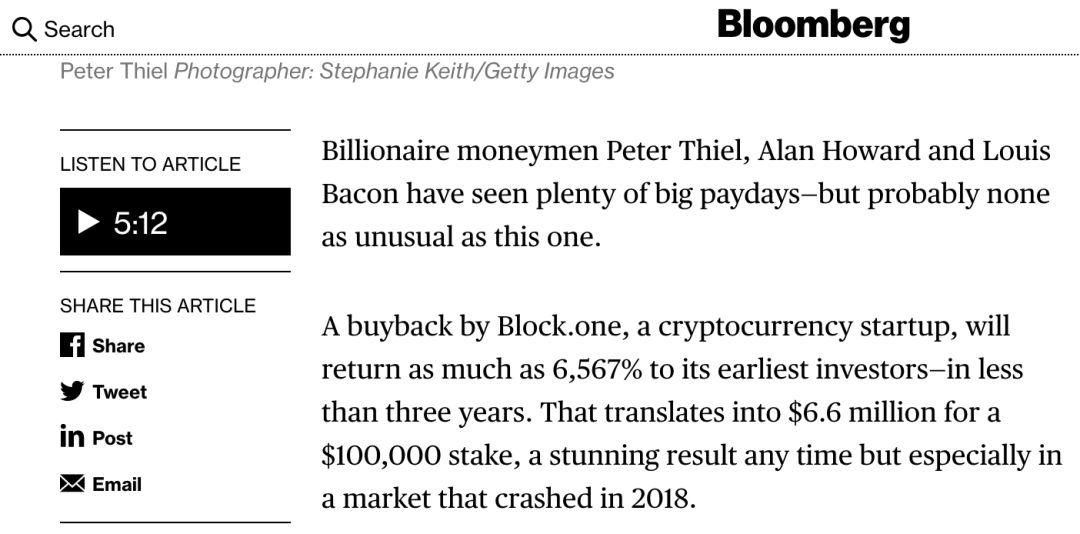 Su Zhu, CEO of Three Arrows Capital, summed up and wrote:
Interesting tidbits in the report:
1) (Block.one) holds $2.2 billion in legal currency assets, most of which invest in US Treasury bonds
2) Hold 140,000 bitcoins
3) A total of 174 million US dollars of venture capital investment has been conducted so far
4) Novogratz sold shares with a return of 123%; the earliest investor returns were 6567%
5) Currently repurchased 10% of the shares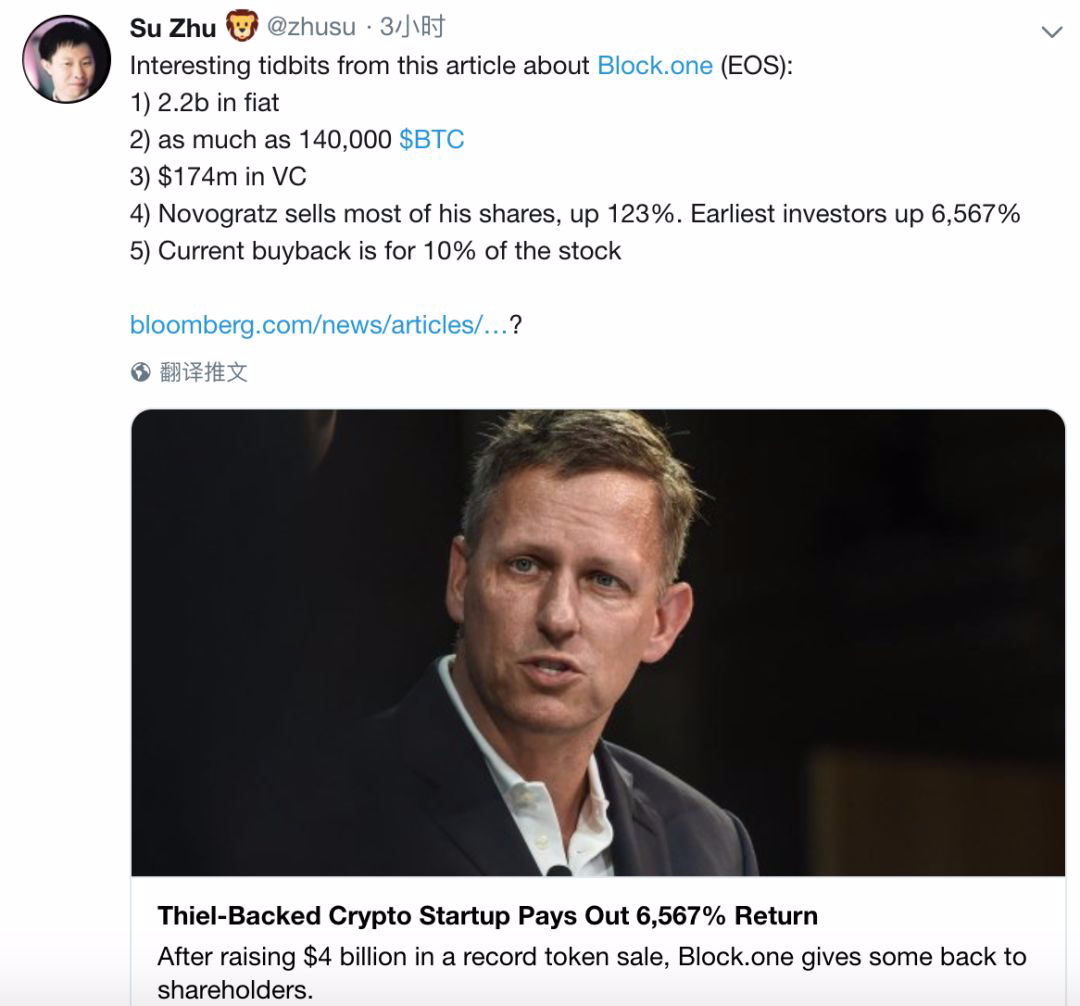 1. According to CoinDesk, the Ethereum Foundation introduced a $30 million spending plan that includes a $19 million spending plan for Ethereum 2.0, Plasma and other projects over the next 12 months.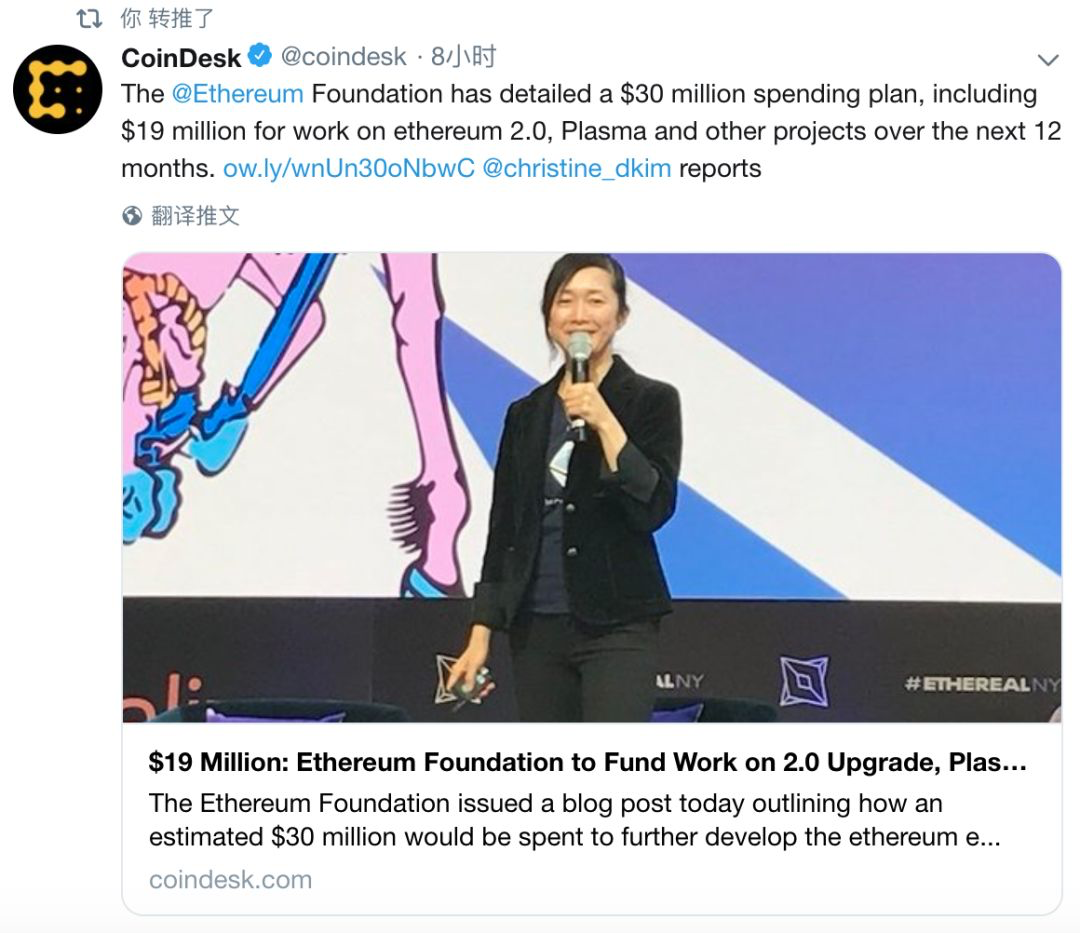 2. According to Larry Cermak , an analyst at The Block , Tether admitted in court that he had used some of his reserves to buy bitcoin.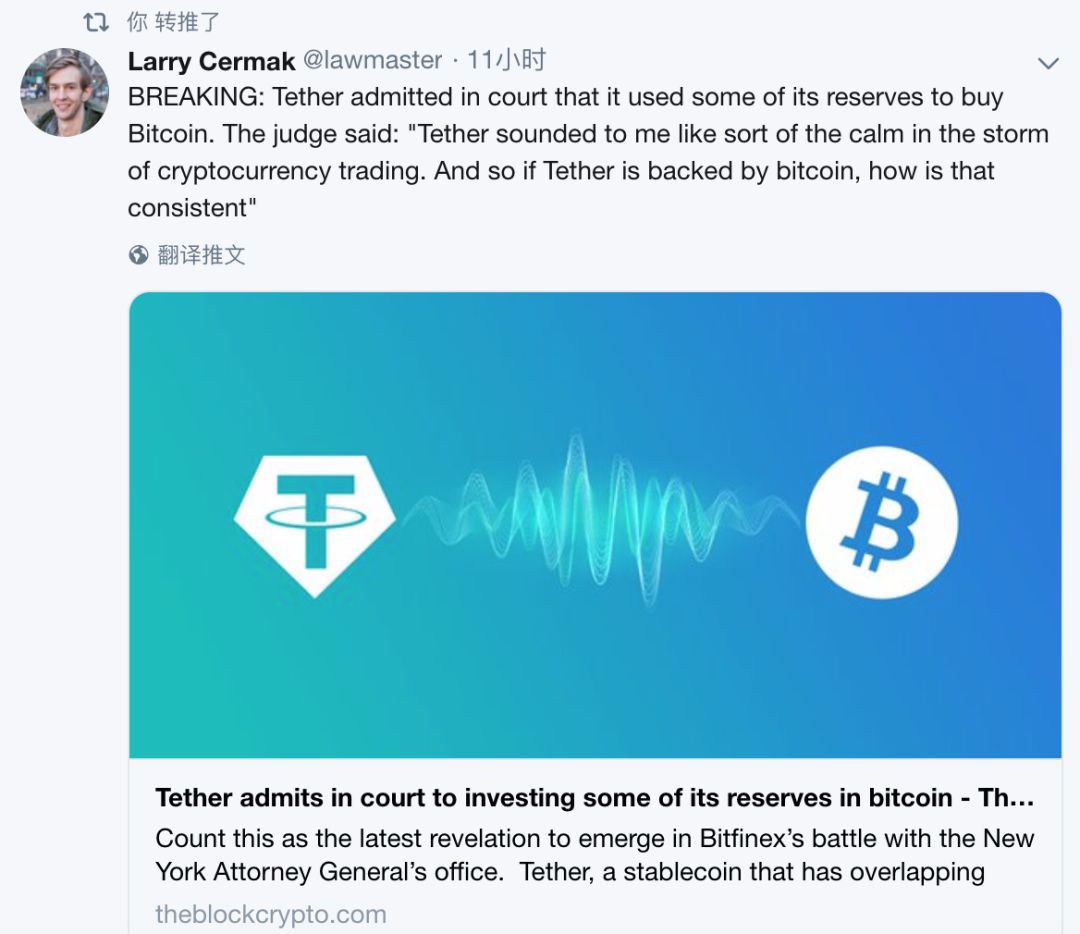 —— End ——
Turn around every day and see the big coffee point of view, bringing you the freshest and most interesting points.
Source: Public Number of wildflowers said; Author: Wang both March.
We will continue to update Blocking; if you have any questions or suggestions, please contact us!
Was this article helpful?
93 out of 132 found this helpful