Encrypted whales start a recent rally?
Foreword: Bitcoin rebounded quickly in just one month, with the highest increase of more than 3,000 US dollars. Today's increase is even more amazing. Have the encrypted whales been awake? The author, Faisal Khan, believes that encrypted whales have a significant impact on market volatility. This article was translated by the "SL" of the "Blue Fox Notes" community.
After a long period of calm, the price of encrypted assets has recently rebounded sharply. In other articles, I talked about possible factors that led to a breakthrough after a long period of consolidation. It's time to see how this price action is achieved. Obviously, someone is transferring money in cryptocurrency.
Like other financial markets, big players like big banks and hedge fund managers use basic financial instruments to control price behavior because they have a large enough amount of money. When these so-called "whales" wake up from dormancy, they can see positive price volatility periods, either triggering a buying spree or triggering a sell-off.
I say dormancy is because whales tend to hold their assets rather than trading assets on a regular basis. I regularly trade in the foreign exchange market, and the bias of a particular trading pair is determined by the institutional investor's position on the retail trader. Although the latter is much more numerous, the trading bias in the trading pair is determined by the whales.
Going back to the recent recovery of cryptocurrencies, we know some common reasons, such as the adoption of mainstream people, the achievement of technological milestones, and changes in investor sentiment. But who triggered this trend? We can talk about these whales.
As prices have fallen throughout the year, the boom in Bitcoin's $20,000 mark at the end of 2017 has disappeared in 2018. Then, by April 2019, Bitcoin reached a 10-month high of more than $8,300 (Blue Fox notes: the manuscript has reached around $8,800). According to the tracking report of the cryptocurrency trading website Whale.net, on the evening of May 11, a 44,000 bitcoin value of 340 million US dollars was transferred.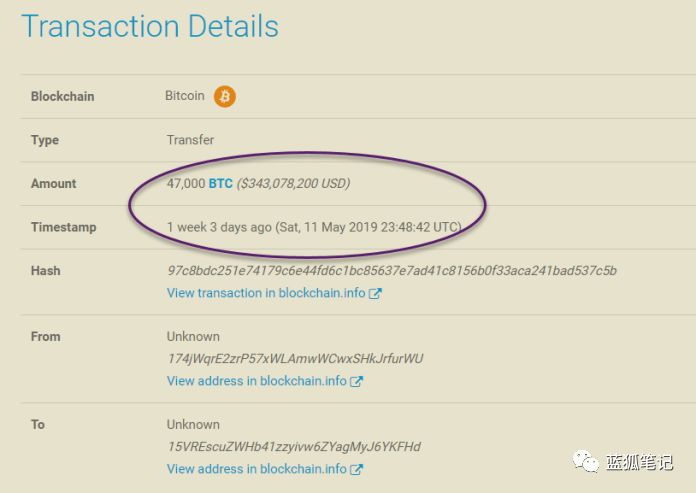 Coinmarketcap recorded this huge cryptocurrency movement, which caused the BTC price to soar from $6,378 to $7,204, a 13% increase, and a 50% increase in trading volume. Such transactions are usually driven by "whales" who seek liquidation margins or retail traders who use leverage to obtain high-risk returns, with the result that only $84 million of shorts are liquidated on the Bitmex exchange.
There is another theory that has surfaced, about what started the bull market that began in April. IEO is a new way to raise funds for encryption and blockchain projects, and leading digital currency exchanges are at the forefront and center of this phenomenon. Since IEO participants need to register on the exchange, this will result in an increase in the trading activity of the exchange. So far, Fetch.AI has raised $7.1 million, the Celer Network has raised $4 million, the Matic Network has raised $5 million, and Newton has raised $28.5 million. The actual impact of these activities on the encryption market is difficult to quantify, but according to Autonomous Next's report, overall token sales increased by 220% from February this year.
Going back to the topic of encrypting whales, it's not just limited to bitcoin. A recent report from the encryption compliance and survey platform, Chainalysis, shows a high concentration of wealth among crypto asset holders. More than 30% of Ethereum is held by "whales", while the proportion of bitcoin is 20%. The report also stated that these whales do not have a direct impact on ETH prices, but they are certainly related to intraday price fluctuations.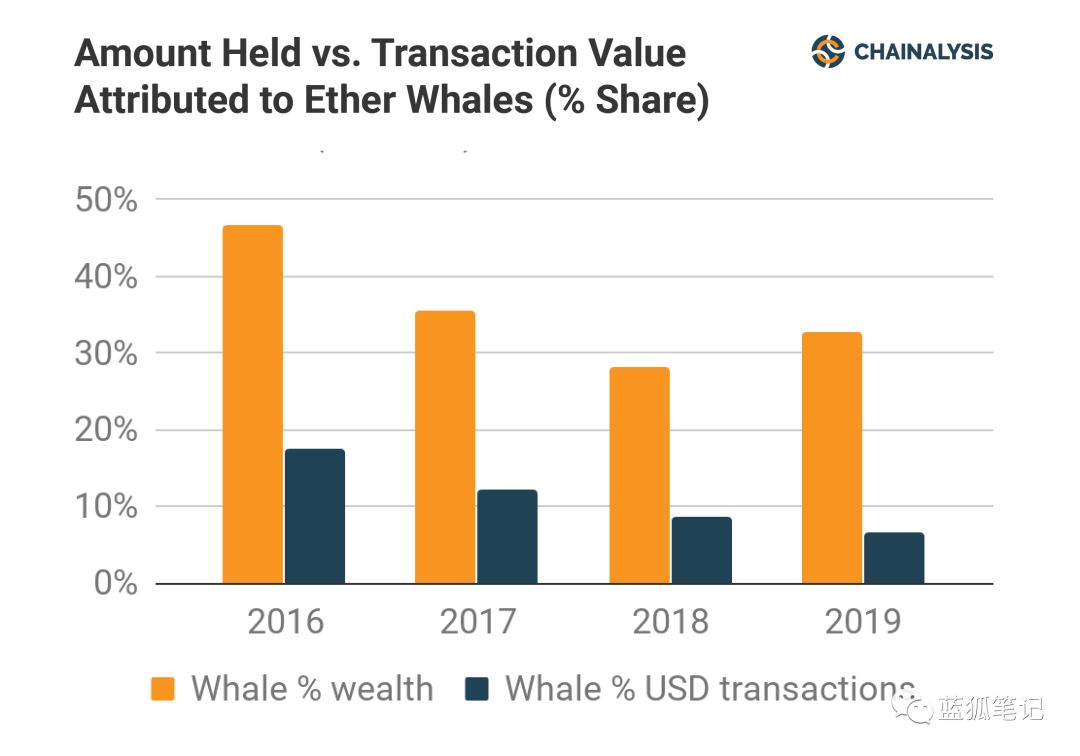 Chainalysis defines "whales" as the top 500 cryptocurrency holders. According to the latest data, 124 of the top 500 ETH holders are service organizations, and 376 are individual whales. They control about 33% of the circulation in 2019, which is lower than 47% in 2016, but higher than 2018. 28% of the year.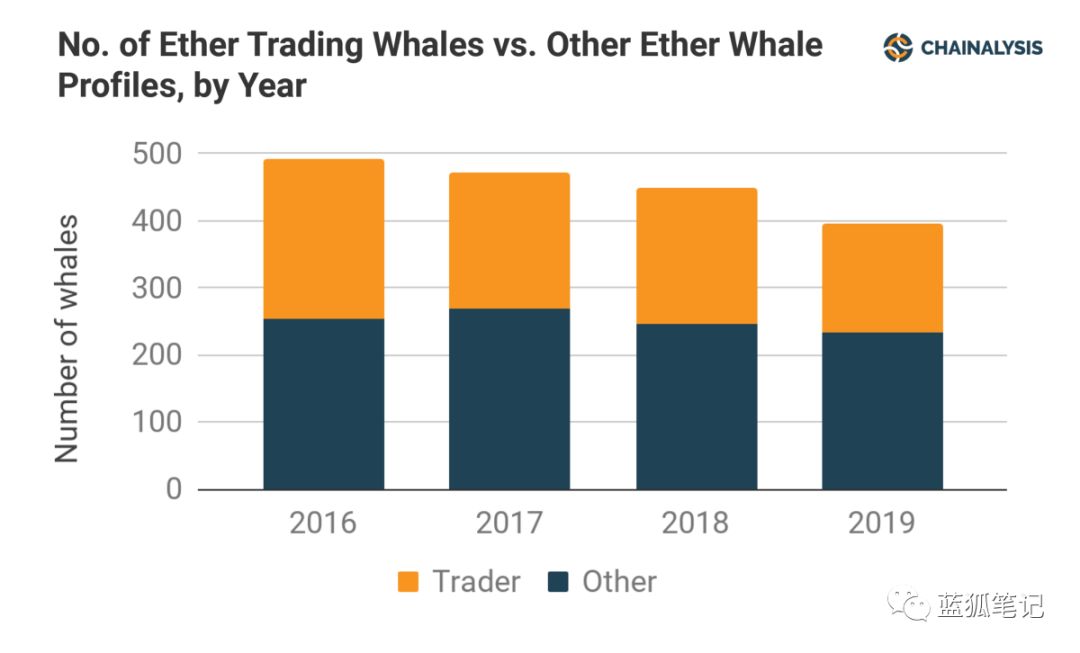 The findings of this report are consistent with the academic research on the large fluctuations in trading volume caused by other financial instruments (such as stocks), which often affect volatility rather than price. Although the whale's long-term impact on the price of the underlying assets may be a bit too much, they will certainly trigger a price shock on a certain day.
——
Risk Warning: All articles in Blue Fox Notes do not constitute investment recommendations . Investment is risky . Investment should consider individual risk tolerance . It is recommended to conduct in-depth inspections of the project and carefully make your own investment decisions.
We will continue to update Blocking; if you have any questions or suggestions, please contact us!
Was this article helpful?
93 out of 132 found this helpful