Novogratz is undoubtedly one of the most devout cryptocurrent believers on Wall Street. It is also an early investor in Ethereum, buying ETH for $1 and investing EOS to achieve 123% of investment income.
Recently, Bloomberg revealed that the developer Block.One, the developer behind the mainstream encrypted digital currency EOS, will spend 10% of the shares of its early investors. The digital currency investment bank Galaxy Digital, as an important early investor in Block.One, responded to Block. .One's share repurchase offer, Galaxy Digital sold a portion of Block.One's equity and earned $71.2 million, achieving a 123% investment income.
This has made many institutional investors and retail investors gay with Galaxy Digital, but not everyone can have such good luck.
Galaxy Digital is a digital currency investment bank that was established in early 2018. It was listed on the Growth Enterprise Market of the Toronto Stock Exchange on August 1, 2018. The road to listing is full of twists and turns. They also lost $272.7 million in the full year of 2018.
How can a newly established investment bank be so powerful that it can be listed in less than half a year after its establishment? Behind this is the helm of the post-opening, and the "trader" of former Goldman Sachs partner Michael Novogratz. Michael Novogratz has been listed on the Forbes World Billionaires list for two consecutive years, and Michael Novogratz is also a partner of Fortress Group, a leading US investment institution.
Michael Novogratz once took the financial crisis with the Fortune Investment Group, but it was planted in 2015, predicting that "Brazil interest rates will fall and the central bank will cut interest rates". This caused the company's losses to be serious, and he also left Wall Street.
He left Wall Street and did not give up, but turned to the currency circle. At the end of 2017, Novogratz announced that it would develop its trading business into a full-service bank, Galaxy Digital, which focuses on digital currency investment and blockchain. He also dug up Goldman Sachs vice president Richard Kim and Goldman Sachs' previous hedge fund analysis. Luka Jankovi joined, and because of this, Galaxy Digital has also been dubbed the "Golden Ring".
Let's take a look at Michael Novogratz's personal experience. How does a traditional Wall Street professional hedge manager become interested in the cryptocurrency industry? How to establish a cryptocurrency investment bank Galaxy Digital? And what is the mentality of Michael Novogratz after the cryptocurrency market has plummeted? How do Wall Street's smart macro hedges deal with the unstable factors in the cryptocurrency world?

Wrestling captain, US Air Force pilot,
Hedge fund manager
Michael Novogratz is a former hedge fund manager and formerly the investment company Fortress Investment Group. He was named a billionaire by Forbes in 2007 and 2008.
On November 26, 1964, Novogratz was born in Virginia. When he was in high school, he was the captain of the school wrestling team and won the second place in the state wrestling competition.
Novogratz's college time spent at Princeton University. During college, he devoted almost all his time to the sport he loved. As the captain of the school's wrestling team, he won the "Ivy League" league twice, and there is no rival in the National College Sports Association. Novogratz's love of wrestling is so frenetic that many people call him "mad". After graduating from college, he joined the US Air Force, became a helicopter pilot, and later joined the New Jersey National Guard.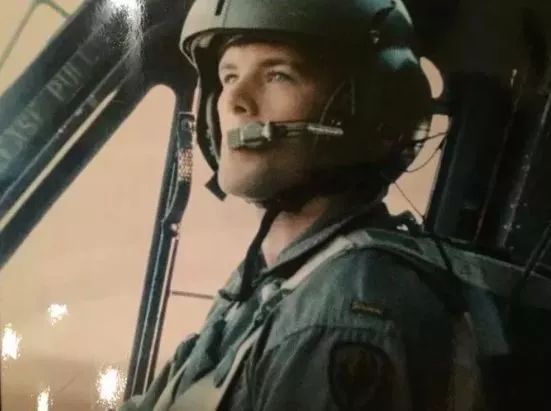 It is difficult to judge when Novogratz began to have an interest in finance, but it turns out that he has also achieved success in the financial sector.
Novogratz ranked 407th on the Forbes Global Billionaires list in March 2007, including his 66.6 million Fortress Investments, including Edens, Kauffman, Nardone and Briger Billionaires. In September 2007, Novogratz was ranked 317th in the Forbes 400 and had a net worth of $1.5 billion. He ranked 962th on the Forbes World Billionaires list in March 2008 with a net worth of $1.2 billion. By 2012, his net worth had shrunk to $500 million after Fortress's share price fell.
Some hedge fund managers who worked with Novogratz once commented on him: "He appears to be a prophet, but he is a salesman in his bones." However, some people disagree with the idea that Novograt "is looking at models, Analysis of the causes and effects has an unusual ability. When others see only a mess, he can see the connection between a butterfly in Tokyo and the tsunami in Singapore.

Set a precedent and lead the Fortune Investment Group
Listed on the NYSE
What is the power of the Fortune Investment Group? Why is it possible for Novogratz to board the Forbes Billionaires list?
Fortune Investment Group opened the first public listing of US hedge funds. Fortress Investment Group was founded in 1998 and listed on the NYSE in 2007.
As the first investment company listed in the United States, Fortune Investment Group owns a number of private equity funds and hedge funds, with private equity, credit, liquidity hedge fund investment and traditional asset management, with assets under management of $71.1 billion. There are 14 offices in the United States, Europe, Asia and Australia.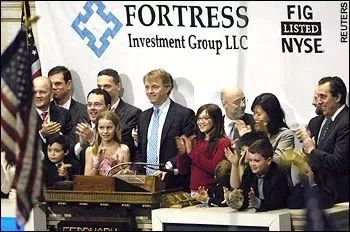 Prior to joining Fortune Investment Group, Novogratz was a partner at Goldman Sachs.
Novogratz joined Goldman Sachs in 1992 and Novogratz started his career in the risk control department of fixed income, currency and commodities. From 1992 to 1999, the working and living experience of the elderly in Hong Kong and the close contact with the "Asian Financial Storm" in 1998 laid the foundation for his understanding of emerging markets. In 2000, he was promoted to Chairman of the Goldman Sachs Group's Latin American operations, opening a window to his global vision. Someone familiar with him said that he is a guy with great ability in the eyes of Goldman Sachs.
When Goldman Sachs went public in May 1999, it also offered a share placement for Novogratz. But just a year after Goldman Sachs went public, he and Goldman Sachs parted ways. According to media reports at the time, the reason was "lifestyle issues."
In 2002, Novogratz left Goldman Sachs to join the Fortune Investment Group, founded by Wesley Edens and others, and obtained a seat from a partner. But Goldman's experience led him to choose to operate his hedge fund in a macro hedging.
Like many macro hedge funds, Novogratz uses the basic judgments of the macroeconomic situation around the world to identify the imbalance of financial asset prices: first, the macroeconomics must make the most reasonable explanations they think, and then based on this explanation, Fixed-income, commodity, currency, and securities markets look for markets with price deviations and enter when prices deviate to a certain degree until the imbalance is corrected.
After joining Fortune Investment Group, Novogratz managed the hedge fund business, including the Fortress Macro Fund and the Drawbridge Global Macro Fund, both of which are macro hedges that invest primarily in high liquidity markets. Fund, at the time, the assets of the two funds reached $4.3 billion.
On Wall Street, five Fortune Investment Group partners, including Novogratz, are considered to be smart people. Some people commented: "They are not B-level players." In addition, they are also super confident in their ability.
Based on this self-confidence, in early 2007 they made a move to open Wall Street and put the Fortune Investment Group on the market. This move proves that they do not want to be submerged in the sea of ​​hedge funds.
On February 9, 2007, Fort Investment Group officially listed on the New York Stock Exchange. The issue price was US$18.50. Due to the enthusiasm of investors, the company's share price soared to US$35 on the first morning of the listing transaction.
Fortress Investment Group is not the world's first listed hedge fund company, but its listing is the first move of the global hedge fund's strongest US market, so it has brought a lot of shock to the financial market. At the time, people saw its listing as a historic moment, because it marked the beginning of the US hedge fund to the public.
After the listing of Fortune Investment Group, Steve Schwarzman's Blackstone Group and Daniel Och's Och-Ziff Asset Management Company were also listed.
For the partners of the fortress, they created more wealth for themselves through the IPO. Before the IPO, they sold 15% of the company's shares to Nomura Bank of Japan for US$888 million. It has been speculated that before the IPO, each of them had an average of $400 million in cash.

Established "Golden Digital"
Novogratz took Lehman's collapse with the Fortress Investment Group and survived the financial crisis. Novogratz was planted in 2015, predicting that "Brazil interest rates will fall and the central bank will cut interest rates". This has led to huge investment losses for the company. In the same year, the Fortune Investment Group collapsed and Novogratz once again left Wall Street.
He used to be worth more than $2 billion and became only a few million dollars. However, how can a person who loves tossing easily leave the battlefield where he has fought for more than 20 years?
In 2017, it was very important for Novogratz. Because of this year, he caught up with a financial event that made everyone unable to touch his mind: the rise of cryptocurrency. This brought Novogratz back from the pretending "retirement life" and earned hundreds of millions of dollars in digital currency, returning to the public and the media.
At the end of 2017, Novogratz announced that it would develop its trading business into a full-service bank, Galaxy Digital, which focuses on digital currency investment and blockchain. He also hired Goldman Sachs Vice President Richard Kim as the chief operating officer and used to act as a hedge fund at Goldman Sachs. Analyst Luka Jankovic also joined the encryption investment bank.
From the beginning of the traditional finance to the field of cryptocurrency, a transformation from the successful prediction of the value of Bitcoin in 2013, the successful investment in Bitcoin also made him a bitcoin value in the world. One of the highest people.
In 2013, when the price of Bitcoin was only $100, he invested $7 million to buy bitcoin, which was up 80 times at current market prices.
According to Forbes estimates in 2018, he has a cryptocurrency value of $700 million.
"I invested 10% of my net worth in Bitcoin." Novogratz said at a forum held in 2017 by the Harvard Business School's New York Club.
He is undoubtedly one of the most devout cryptocurrent believers on Wall Street. In the "Markets Now" program on May 9, 2018, he even asserted that everyone should have 1-2% cryptocurrency in their portfolio. Not investing in Bitcoin "is simply irresponsible."
But at the same time he also said that cryptocurrency may also be the biggest bubble in your life. The way to prevent it is the old trick on Wall Street – don't put eggs in a basket. For example, Novogratz was also an early investor in Ethereum, and he said that when he bought ETH, the price was only about $1.
In January 2018, Novogratz announced a series of plans for the creation of cryptocurrency commercial bank Galaxy Digital. When he announced that he would establish Galaxy Digital, a cryptocurrency commercial bank, he said he would use the "deep relationship" with Bitcoin and Ethereum and other agreed communities to take advantage of the market opportunities brought by the development of digital assets from four core business segments. — Reward in trading, direct investment, asset management and consulting.
When Galaxy Digital appeared, it was called "Golden Circle Goldman Sachs" by the outside world, because its founders mostly came from the background of Goldman Sachs. Novogratz dug up Richard Gold, the vice president of Goldman Sachs, as the chief operating officer of Galaxy Digital, and Luka Jankovic, who used to be a hedge fund analyst at Goldman Sachs, joined the digital currency investment bank.
From the 2018 financial report, Galaxy Digital's business is in full swing – reverse takeovers, preparation for listing, investment in token-issuing projects, opening of trading points in Tokyo, consulting business, and even cooperation with Bloomberg's parent company in May 2018. A cryptographic index "Bloomberg Galaxy Digital Crypto Index" was created.
EOS is one of the best projects of this investment bank. On June 5, 2018, the Galaxy Digital Principal Investment Platform and Galaxy Digital Investment Management jointly launched the $325 million EOS Venture Fund (Galaxy Digital EOS VC Fund) to invest in building a platform on EOS's blockchain agreement. the company. On June 7, the fund completed its first transaction and led the investment in HighFidelity D with a $20 million investment.

Encounter Waterloo, Galaxy Digital
"Blood" loss listed
Novogratz's bet is not always correct.
In October 2017, Novogratz predicted that Bitcoin would break through the $10,000 mark before the end of the year, and this prediction was realized in November.
He then predicted that Bitcoin would break through $40,000 by the end of 2018 and plan to create a $500 million digital money fund, and then meet the bitcoin price of the end of 2018.
According to CoinMarketCap.com, Bitcoin plunged 40% in 2018, and the overall market value of cryptocurrency fell by 51%.
For Novogratz, which invests in multiple cryptocurrencies, it's like you know you don't put your eggs in one basket, so put them in several baskets, but these baskets are on a big truck. The big truck was overturned in the middle.
Just a few weeks after Bitcoin peaked, he sold Galaxy Digital shares at $5 per share through private placement and announced in February 2018 that he would raise $250 million in the first phase.
After that, bitcoin prices began to plummet.
According to Galaxy Digital's Q1 earnings report released on July 25, 2018, Galaxy Digital lost a total of $134 million in the first quarter of 2018.
In addition to the sharp dip in the market value of cryptocurrencies, another source for Novogratz's efforts is the Canadian regulator, the Ontario Securities Commission (OSC).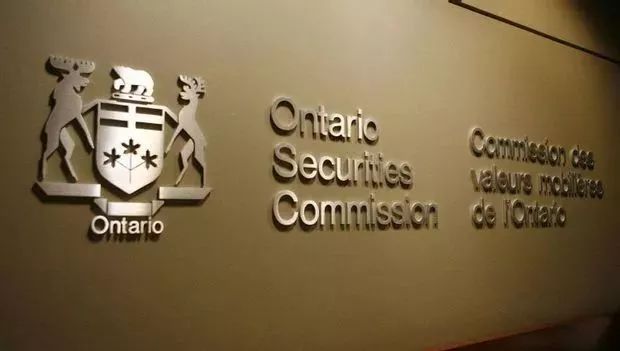 In the United States, an IPO requires at least two years of financial auditing, and it is clear that the newly established Galaxy Digital does not meet the conditions.
Therefore, through the reverse takeover, Novogratz merged Galaxy Digital with BBradmer Pharmaceuticals Inc., a shell company listed on the Toronto Stock Exchange, in order not to submit a series of securities companies to the securities regulator. Financial Statements.
So when the plan was officially announced in January 2018, he was optimistic that it would be available in April 2018.
What happened later was also very good. When Galaxy Digital applied for approval, OSC decided to conduct an additional review of the company and put forward a lot of requirements that were very "grinding" in the words of Novogratz. The time to market was delayed from April to April. August.
The cooling of the cryptocurrency market has left investors in a dilemma, and the listing on the other side has been postponed. Galaxy Digital has had to supplement its earnings the day before the listing.
Although Novogratz said that he will not regret it and continues to be optimistic about the revolutionary potential of the blockchain in the financial sector, his eight-month rally is a warning to those who want to use the Canadian capital market as a shortcut to the market. .
Brady Fletcher, director and general manager of the Toronto Stock Exchange, said regulators need to find a balance: you want to get listed quickly and must achieve a satisfactory level of corporate structure.
Finally, on August 1st, Galaxy Digital went public and broke on the first day.
The issue price is 5 Canadian dollars, and the opening price is 2.7 Canadian dollars. This is also the highest point of the day. After the minimum price dropped to 1.9 Canadian dollars, it finally closed at 2.3 Canadian dollars, thus ending the first day of listing.
In fact, Novogratz is also psychologically prepared for the initial results of the listing.
In an interview with the media on August 30, 2018, Novogratz said that, given that bitcoin has plunged about 40% since the beginning of the year and the demand for encryption investment has weakened, it may be difficult for investors to assess the value of Galaxy Digital's non-current assets. Trading stocks at the price of January is "unrealistic". The next few weeks may not be easy.
"I am sorry that the bull market is no longer, but I believe that everything will come back." The mentality of the old fox on Wall Street is better than the general hedge fund manager's mentality.
With the current trend of Bitcoin re-stacking $8,000, the entire cryptocurrency market is beginning to pick up, and the bull market that Novogratz is waiting for may soon come.

Dismantling the Galaxy Digital Portfolio
According to Coindesk's April 29 report, according to the latest documents submitted by Galaxy Digital to Canadian securities regulators, Galaxy Digital's third quarter 2018 net loss has been expanded to $76.7 million, with a loss of $97 million in the fourth quarter. In 2018, the total loss was $272.7 million, of which $101.4 million was lost in the sale of digital assets.
Galaxy Digital also had a book loss of $75.5 million, including a drop in the price of the cryptocurrency it held, $8.5 million in unrealized investment losses, and $88.4 million in operating expenses.
By the end of 2018, Galaxy Digital had 9724 BTC ($36.4 million), 92,545 ETH ($12.3 million), 2.4 million EOS ($6 million) and 60,027 Monroe ($2.8 million). At the beginning of 2018, the company began to increase its investment in Bitcoin and Ethereum, which held 5,902 BTCs and 57,000 ETHs.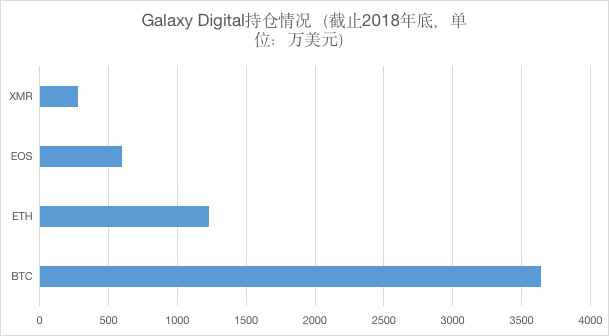 Galaxy Digital also held a large number of Wax ($50.2 million) and BlockV tokens ($17.4 million), but these coins disappeared from the company's preferred portfolio at the end of 2018.
The document shows that Galaxy Digital suffered losses in the sale of BTC ($70.3 million) and ETH ($64.4 million), but some of the losses were earned by Galaxy Digital by shorting some of the cryptocurrency (not sure which one). Ten thousand dollars offset.
At the beginning of 2018, BTC was the largest source of losses for Galaxy Digital, and ETH's investment suffered the most in 2018.
Interestingly, Galaxy Digital lost as much as $47 million due to the depreciation of the Wax token. Wax tokens are an asset that powers virtual item trading platforms in video games.
Several other competitors also experienced price declines before Galaxy Digital was able to make a profit in 2018: Kin (loss of $10.9 million), BlockV (loss of $17.2 million) and Aion (loss of $8.6 million). EOS also lost about $5 million.
In addition to digital currencies, the value of many companies and investment funds in the Galaxy Digital portfolio has also declined.
For example, Pantera ICO Fund LP's stock depreciation resulted in a loss of $14.1 million (Galaxy Digital currently invests $17.4 million in the fund). The company also reduced its Canadian stock of Hut 8 Mining Corp. to $11.3 million and reduced its holdings of the encrypted wallet company Xapo to $11.1 million.
As of the end of 2018, Galaxy Digital holds a $41.9 million stake in EOS development company Block.One. In addition, approximately $5 million was invested in the Galaxy Digital EOS VC Fund, focusing on the ecosystem of EOS.IO.
According to blockchain media The Block recently reported, Galaxy Digital announced on May 22 that it has sold a portion of its equity stake in EOS developer Block.One, earning $71.2 million in revenue and achieving a 123% investment income.
But Novogratz said, "Galaxy Digital is still a Block.One shareholder and holds a large number of EOS. Selling some of the Block.One shares to redeem profits is to rebalance the portfolio. "We will continue to work closely with Block.One. We are an important partner in a number of business areas, including the Galaxy EOS VC Fund, which invests in companies based on the EOS.IO protocol, and are excited about the EOS.IO agreement. "
At the same time, the document said that payment startup Ripple Labs received a $23.8 million investment from Galaxy Digital, including "indirect investment through a special purpose tool."
Galaxy Digital also invested $26 million in mining companies, including Hut 8 Mining and Bitfury; invested $7.5 million in managed and multi-signature wallet provider BitGo; and has not yet launched the New York Stock Exchange parent company Intercontinental Exchange (ICE) Bitcoin futures exchange Bakkt invested $5 million.
Others include investments in Silvergate Capital Corporation, the parent company of the cryptocurrency-friendly Silvergate Bank; token-based startups AlphaPoint and Templum; investment tools Cryptology Asset and Pantera Venture Fund; and Puerto Rico-based Mercantile Global Holdings. The company operates the recently established San Juan Mercantile Exchange.
Galaxy Digital also invested $5.25 million in BlockFi, an encryption lending platform, including a $3.8 million loan.
When it comes to the risks that Galaxy Digital may face in the future, the paper is particularly concerned that the company's power is concentrated in the hands of CEO and key stakeholder Mike Novogratz, who owns more than 71% of Galaxy Digital.
According to the document, in terms of regulatory and market risk, Galaxy Digital is "highly dependent on Michael Novogratz, allowing shareholders to bear significant and unpredictable 'key person' risks" and adding that the CEO's "interests may differ from the interests of shareholders". There is a danger that he "may engage in activities outside of Galaxy Digital or withdraw from Galaxy Digital in pursuit of other goals."
The document also points out that it is also worth noting that Novogratz's public image is more likely to subject Galaxy Digital to substantial regulatory review, regardless of whether Galaxy Digital engages in any illegal conduct, which would be costly and distracting. .

to sum up
"Investment needs to be cautious", although anyone can say the truth, but it has become an insider. Even if you are cautious and re-educated, you can't escape the ebb and flow. With the tide, when you get up, you are getting tides. It is ridiculed in turn, but it is not unusual.
Novogratz hasn't given up yet. For those who have his resume, I don't know how many times I have seen the wealth of myself and others rise and fall in the financial market. Success and frustration may never last forever. One day in the future, if he succeeds in predicting the bitcoin skyrocketing in 2013, he will once again win a big victory. Now these are nothing.
Novogratz is also planning to lead Galaxy Digital in Frankfurt, London and Hong Kong. He hopes that Galaxy Digital will achieve positive cash flow by the end of 2019 and expects the company to achieve net profit in the second quarter of 2019.
It is worth noting that the cryptocurrency market has shown signs of recovery since the beginning of April. Bitcoin once rebounded beyond $8,800. Many people say that it is now the beginning of the bear, and the real big bull market will soon come.
Novogratz still has capital, there are still chips, the market is warming up, he can wait, so he jumps forward without hesitation.
Reference materials:
https://en.wikipedia.org/wiki/Michael_Novogratz
Https://twitter.com/novogratz
Novogratz's Galaxy Digital Crypto Fund Lost $272.7 Million in 2018
$71 Million: Galaxy Digital Sells Stake in EOS Blockchain Maker Block.One
Galaxy Digital CEO Michael Novogratz: Bitcoin Should Cross $20,000 Within 18 Months
Galaxy Digital Backs $5.25 Million Round for Blockchain Staking Startup
Novogratz Buys Another 2.7% of His Galaxy Digital Crypto Fund for $5 Million
"Mike Novogratz Explains Why He's Still All-In on Crypto"
"Mike Novogratz: Bitcoin Will Be Digital Gold, 'Sovereignty Should Cost a Lot'"
Novogratz's Galaxy Digital Backs $4 million Raise for Crypto-Lender BlockFi
Billionaire Mike Novogratz – The Next 3 to 12 Months Will be Very Exciting for Cryptocurrencies
"A look inside crypto firm Galaxy Digital, founded by 'sidelined' Wall Street legend Michael Novogratz"
A Sidelined Wall Street Legend Bets on Bitcoin
"Mike Novogratz Says Bitcoin Won the War of Cryptocurrencies"
"Michael Novogratz: The fortress breaks back from the beginning"

Wen | Wang Ye Edit | Lu Xiaoming
Produced | Odaily Planet Daily
Original article; unauthorized reprinting is strictly prohibited, and violation of the law will be investigated.