Huawei was "enclosed."
After the ban on Huawei in the United States, Google, Microsoft, ARM and other companies are under pressure to stop providing hardware and software updates and other related services to Huawei. Then, the storm continues to ferment. According to foreign media reports, several international industry standards organizations including the SD Association, JEDEC (International Solid State Technology Association), Blue Tooth SIG ( the alliance responsible for formulating and authorizing the Bluetooth industry standard ) , and the WiFi Alliance are actively or forced to Huawei. Reject the door, or terminate membership, or tentative activities.
Despite being suppressed by all parties, Huawei's performance was extremely tough. The reason is that Huawei has already prepared a "prepared tire" many years ago, whether it is a chip or an operating system.
"The practice of American politicians underestimated our strength. Even without Qualcomm and other US chip suppliers, Huawei is no problem, because we have already prepared for this," said Huawei founder Ren Zhengfei in an interview.
He Tingbo, president of Hess, also wrote in a letter to employees: "Today, it is a historical choice. All the spare tires we have built have turned positive overnight."
The enthusiasm and pride of that moment came from the concentrating layout of Huawei for more than ten years.
In 2004 , Huawei, which was begged in the domestic market by betting on GSM , seized the lifeline of the overseas market and rushed out of the encirclement. But chip technology has always been subject to people, making Huawei feel uneasy. So Ren Zhengfei found He Tingbo. "(I) give you 20,000 people, 400 million US dollars of research and development funds every year, must stand up!" At that time, the entire Huawei only 30,000 people, research and development funds less than 1 billion US dollars.
Many years later, Ren Zhengfei recalled the desperate practice of the past, and the cloud was light and windy: insisting on doing systems and making chips, when it was "others broke our food," there was a backup system.
Huawei's "prepared tires" is Ren Zhengfei's vision and vision, and Huawei's peace of mind. For key technologies, Huawei is always persistent, and may be late, but never absent.
The chip, 5G , and the blockchain are also the same.
1. Huawei Blockchain: From Hyperledger to BCS
Before April 2018 , Huawei's presence in the blockchain world was very low.
Although it was once known as the "first year of blockchain application" in 2018 , giants such as BATJ have rushed to block the blockchain and speed up the layout. However, Huawei is still not slow.
Ren Zhengfei said in April last year that the blockchain has not mentioned the agenda for Huawei.
Soon after, on April 17 , Zheng Ye, president of Huawei Cloud BU , announced the "Huawei Blockchain White Paper" at the Huawei Global Analyst Conference in Shenzhen, officially conveying the determination and planning to enter the blockchain field.
At the Global Blockchain (Hangzhou) Summit Forum in 2019 , Huawei's blockchain architect Mu Lichang revealed more details: Huawei's blockchain began to be laid out in 2015 , and a product line was established in 2017 , 2018 The public beta in March was officially released in October 2018 . It can be seen that compared with other companies, Huawei's layout of the blockchain is not too late, but it has always been low-key.
According to the public information, Huawei mainly participated in related technologies and scene research by joining the blockchain alliance in the early stage. As early as May 2016, Huawei, as one of the 25 sponsors, jointly established the Financial Blockchain Cooperation Alliance ("Golden Chain Alliance") and participated in the financial district as the first member of the Open Source Working Group. The underlying platform of the blockchain – the creation of FISCO BCOS .
In October , Huawei joined the Linux Foundation Hyperledger blockchain alliance and made continuous technical and code contributions to its hottest sub-projects Fabric and STL , and was awarded the title of Maintainer by the community. The only one of the two subprojects is the Maintainer from Asia.
Table: Blockchain Alliance / Organization of Huawei Participation
Source: Zero Financial + Binary is organized according to public information
Since March 2017 , Huawei has started cooperation with the well-known blockchain company in China to start the blockchain field. At the end of July , it completed the product testing of Hyperchain 's alliance chain platform Hyperchain , and completed the Hyperchain at the end of August. The deployment of Huawei Cloud is online. Interest Chain Technology has thus become the first blockchain enterprise to enter Huawei Cloud.
In January 2018 , Huawei began research on the energy blockchain, and together with Panda Green Energy and New Energy Exchange, officially launched the blockchain plan to discuss the principle and development status of blockchain technology in physical business applications. Microgrids and smart grid cases in blockchain applications.
So far, Huawei's layout in the blockchain field has been limited to participating in alliances and cooperation research with enterprises, and has not really launched its own blockchain products and tried to implement the scene.
It was not until March 2018 that Huawei officially launched the Blockchain Service ( BCS ) platform based on Hyperledger Fabric 1.0 .
2. Huawei Cloud BCS: The blockchain is ultimately used for cloud services.
In October 2018 , Zhang Ziyi, Huawei's cloud blockchain architect, recalled on the super-book Meetup three choices when Huawei faced the blockchain: whether to do, what to do, and how to do it.
Huawei finally gave the answer with its own actions:
1. Do you want to do it? – Do it. The blockchain is profitable. Countries encourage the development of blockchain technology. In the future, innovative markets may be born or the existing market will be reconstructed and optimized. The blockchain industry will penetrate from digital currency to financial and social fields.
2. What to do? – Alliance chain. Compared with the public chain, the overall chain performance of the alliance chain is further improved, and there is more room for development in some complex scenarios, which will become the main battlefield for enterprise-level applications.
3. How to do it? – BaaS platform. Public cloud is the best carrier of blockchain . The combination of blockchain and cloud computing is more and more close, and BaaS is expected to become a public trust infrastructure.
In fact, before Huawei, both startups and BATJ giants also preferred to cut into the BaaS platform.
Regarding the reason for choosing BaaS, Zhang Xiaojun , director of the Huawei blockchain project, answered this in an interview:
"The blockchain itself is a distributed ledger system, which mainly solves the trusted data value sharing, and the data storage itself is in the data center, and the natural and cloud platforms form a mutual aid relationship."
In other words, blockchain is similar to cloud computing in many respects and has a combined imagination.
From the perspective of network architecture, blockchain is divided into public chain, alliance chain and private chain, and there are three types of cloud computing, namely public cloud, private cloud and hybrid cloud. Among them, public and public clouds emphasize openness, sharing resources and information; private and private clouds emphasize customer independence and are proprietary resources; alliance chains and hybrid clouds emphasize the privateness of data or information, while at the same time Resource Sharing.
In addition, the virtualization technology used in cloud computing enables virtualization of storage, computing, and networking, matching the distributed storage of blockchains and the need for computing.
The combination of blockchain and cloud computing can use the existing basic service facilities of cloud computing or make corresponding changes according to actual needs, realize the optimization of development application process, and meet the requirements of enterprises and institutions for the opening and use of blockchain applications. . On the other hand, "trustworthy, reliable, and controllable" is the "three big mountains" in the development of cloud computing, and the blockchain is decentralized, anonymous, and non-tamperable, and the long-term development of cloud computing is not currently Get together.
Currently, cloud computing mainly provides three types of services, namely IaaS , PaaS and SaaS .
Table: Comparison of three types of services in cloud computing
Source: Zero Financial + Binary is organized according to public information
Specific to the IaaS layer, cloud computing can provide basic distributed storage services for blockchains ; at the PaaS layer, cloud computing can provide services such as development tools and runtime environments for blockchain applications; for the SaaS layer, it can be integrated with modular SDK or plugin tool that provides services directly for blockchain applications. Therefore, blockchain and cloud computing can complement each other in many ways, and the BaaS platform is the product of the combination of blockchain and cloud computing.
The internal staff of Huawei's multi-block blockchain project has publicly stated that the blockchain will eventually be used for cloud services, but the blockchain feature is added to the cloud service. Like Huawei's other businesses, Huawei's cloud blockchain service "doesn't touch applications, and does not touch data."
Although the blockchain service platform launched by Huawei is not called BaS , it is called BCS , but there is no difference in essence. Huawei BCS platform is a high-performance, high-availability and high-security blockchain technology platform for enterprises and developers. It can help customers create, deploy and manage blockchain applications and business intelligence contracts on Huawei cloud quickly and at low cost.
Compared with other BaaS platforms, what are the advantages of Huawei Cloud BCS ?
Zhu Chaohui, director of the development of the blockchain industry in Huawei, said in an interview with Babbitt that the advantages of Huawei's Baas platform are: cloud, tube, end, and core. From the cloud platform to the communication pipeline, to the terminal equipment, to the underlying chip, this is our advantage. Huawei is the only company on the market that has a full industrial chain from the underlying chip to the cloud management business.
In addition, Huawei Cloud BSC platform also has certain advantages in terms of security. Huawei BCS protects blockchain security in three ways: using Huawei cloud security protection blockchain system to operate reliably; Hyperledger- based security system protects through certificate authentication management and chained data structure; State encryption and zero-knowledge proof provide further security protection for users with high security requirements.
Table: Comparison of BATJ and Huawei Cloud " blockchain as a service" platform
Source: Zero Financial • Binary is organized according to the Planet Daily and public information
At the same time, in order to solve the problem of non-uniformity of various BaaS platform standards, on August 17 , 2018 , Huawei and Tencent and Dianrong led the establishment of the BaaS project team of the Trusted Blockchain Promotion Plan, hoping to form a unified consensus among the platforms, for example BaaS framework, standards, interconnection and other aspects.
3. Huawei blockchain, not just BCS
Cloud services are the explosion point of Huawei's blockchain, but Huawei's layout in the blockchain is far more than BCS .
Huawei's "Smart Farm" project is Huawei's attempt in agriculture and traceability scenarios, hoping to use blockchain technology to escort food safety. The "salt-tolerant rice" (commonly known as "sea rice") developed by Yuan Longping's team has been successfully tested in Qingdao with the help of Huawei's cloud platform. The agricultural blockchain is an important part of Huawei's "agricultural fertile cloud platform". It has opened up end-to-end agricultural products from seeds to agricultural products, including seed, agricultural production, agricultural inputs, rice processing, circulation, and taste. Traceability system. At the same time, consumer portraits based on blockchain technology can also guide producers to make corresponding adjustments to market needs.
In addition, Huawei also tried to use the blockchain in the terminal equipment. In May 2018 , according to Bloomberg News, Huawei Mobile will provide BTC.com 's bitcoin wallet in its AppGallery . Alexandra Delato, vice president of business operations at BTC.com, said that AppGallery will be pre-installed on the new Huawei and Glory phones, but not for users in mainland China.
Such a scenario attempt, what is Huawei's selection criteria?
There are at least three principles here: 1. At least a blockchain application scenario involving enterprises with more than three parties and a basic trust relationship; 2. Application of scenarios with financial and data, and use value of blockchain for non-transaction scenarios It is not large, and the cost may be higher than the actual application value; 3 , the alliance chain is the main, and the blockchain application based on the private chain is mostly used as the internal process optimization of the enterprise, and the value generated is limited.
Based on these principles, Huawei stated in the blockchain white paper that Huawei is currently focusing on four typical blockchain application scenarios in four categories.
Table: Huawei's focused blockchain typical scene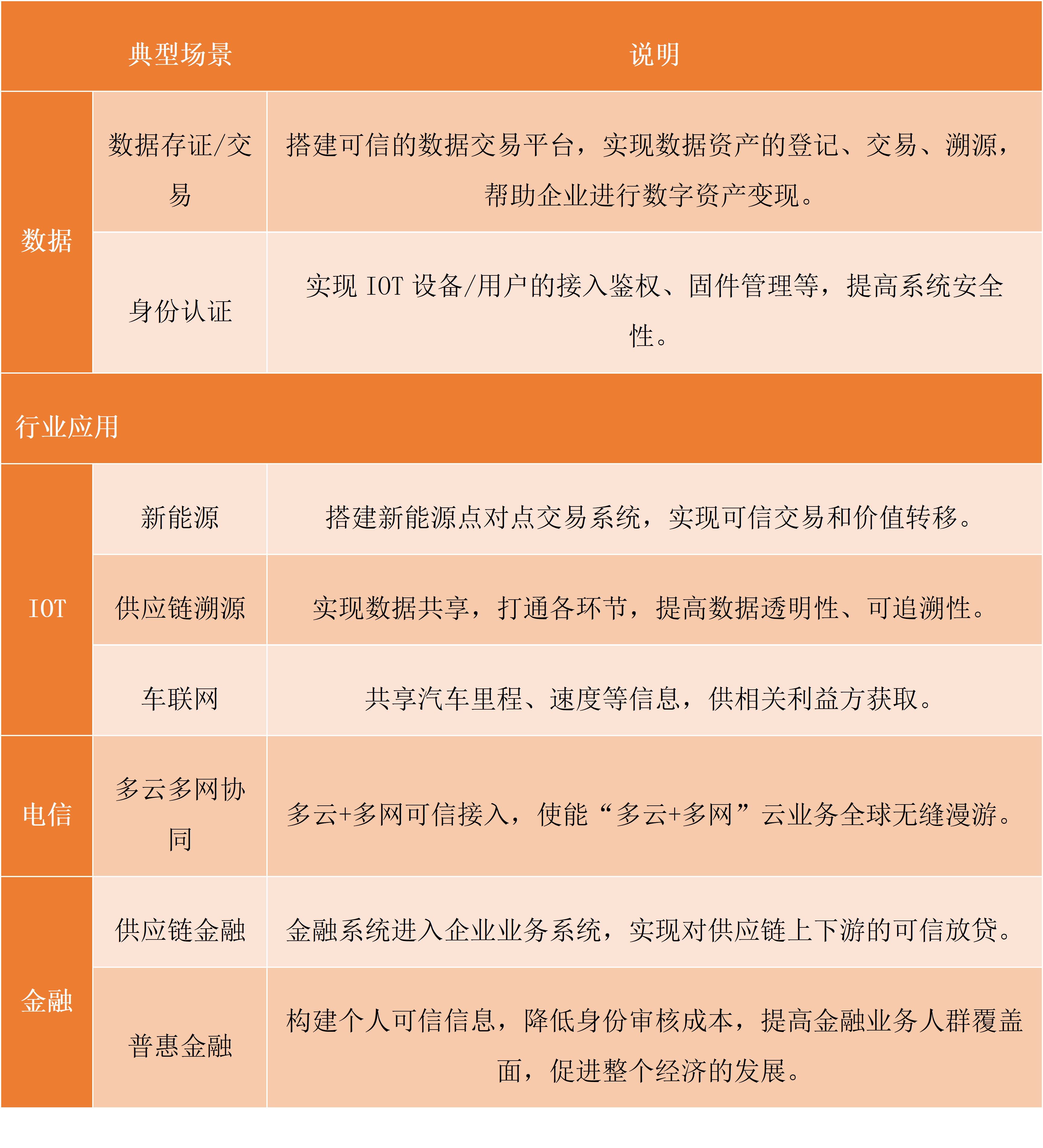 Source: Huawei Blockchain White Paper
Few people now question Huawei's technology, just as few people question Ali's e-commerce and Tencent's social interaction. Huawei is also the same in blockchain technology. Huawei continues to carry out technological innovations in the development of blockchain and enhance its core competitiveness. These innovations are mainly reflected in the three aspects of consensus algorithm innovation, security privacy protection, and off-chain channel.
Table: Huawei's blockchain three types of technological innovation
Source: Huawei Blockchain White Paper
Blockchain technology empowers the real economy and requires a groping process. Today, the industry is clearly in the process. Blockchain technology itself may be sufficient, but regulation, infrastructure services, business model transformation and innovation, and more importantly, the integration with the real economy, still need time to try. Huawei is clearly not in a hurry in this process, but it is very practical.
"Focus on typical application areas, with blockchain platform as the core, joint network and trusted hardware execution environment (terminal + chip), form a three-in-one end-to-end blockchain framework, realize software + hardware combination, provide faster and more A secure blockchain end-to-end solution." This is Huawei's overall vision of the blockchain.
Today, Huawei is on the road.
Reference article:
1. Huawei, "Huawei Blockchain White Paper"
2. Huawei, "Introduction to Blockchain Service Products"
3. Liu Zaiyao, "How to embrace opportunities under the blockchain development boom? ——Taking Huawei Cloud Blockchain Platform Practice as an Example
4. Helen, "Huawei Blockchain Strategy Exposure: Building a Cloud+Network+Terminal Solution"
5, Liu Nan, Liu Lu, "blockchain and cloud computing integration development, BaaS into a general trend"
6. Jung Financial, "What changes will Huawei bring to the blockchain?" 》
7. Qiu Xiangyu, "Huawei Zhu Zhaohui talks about blockchain: 2018 is the process of loosening the soil, and a large-scale outbreak in 2019"
8. Planet Daily Research Institute, "20a BaaS (Blockchain as a Service) Platform Research Report"
9. "The giants are coming: What are Baidu, Jingdong, Huawei, and Tencent doing in the blockchain? 》
10, Fire News Finance, "Unveiling the Major Layout of Huawei Blockchain Business"
Source: Zero Finance · Binary